This Is Extremely Rare! Can the Botched Doctors Figure Out How to Reconstruct A Patient's Face? on Botched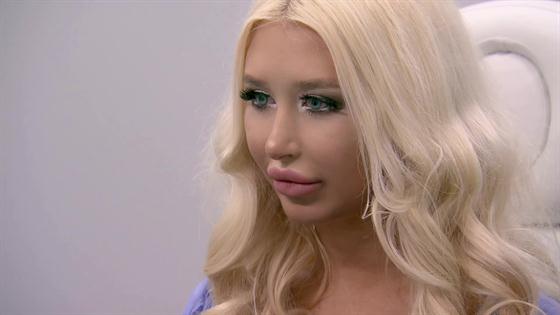 This patient knows her angles. She'd just like fewer to work with.
During Wednesday's new Botched episode, Drs. Paul Nassif and Terry Dubrow team up to help Koffa, a fashion designer who'd been living with a severe case of sarcoidosis (an autoimmune disease that affects the tissue in her skin) for more than half her life.
"I was about 19 years old when my face started changing," Koffa began.
The changes started out slow. First, she remembered her mom noticing some unusual swelling around her eyes and cheekbone area. Then, in 2012, "My face started leaning," she continued. "And it just kept going."
By the start of this week's episode, Koffa's face had been stripped of most of its original structure. After steadily chipping away at her fat cells, sarcoidosis left her with hollowed-out cheeks and a generally bony-looking exterior.
"I have my angles down pat when it comes to selfies, don't get me wrong," Koffa laughed. "But sometimes I feel like giving up. I'm tired of feeling devastated and pissed off, like, 'Why is this happening?'"
That's not the only thing she wanted to talk to the doctors about. In 2009, Koffa had already been living with undiagnosed sarcoidosis for several years. So, in an attempt to revive her confidence, she treated herself to a brand-new set of breasts.
"I couldn't control what was happening with my face, but I could control the size of my boobs," she said. "I thought that was gonna make me happy."
The boob job did Koffa her groove back for a while. Unfortunately, she woke up one day six years later to realize the left implant was encapsulated.
"My breasts still are a huge issue. Both of them look different," Koffa said of her implants, which only became more and more lopsided as the years went on. "They need to be on the same page. They can't be going to different parties, listening to different music anymore. Come on, girls. Get it together."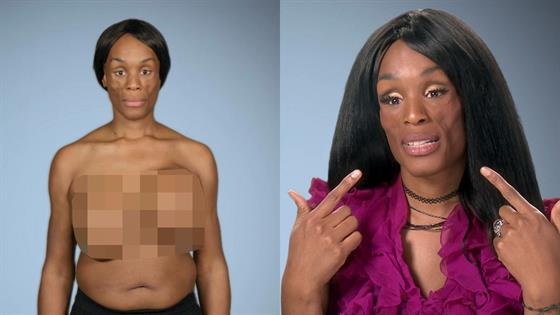 After meeting with Koffa, Drs. Nassif and Dubrow were both on board for surgery. Even though—per the extent of the damage to her face—they weren't sure how much they'd be able to help.
"This is the worst case of sarcoidosis that I've ever seen in person or even in a textbook," said Dr. Dubrow.
"This is extremely rare," Dr. Nassif agreed. "As I'm touching Koffa's face, all I can feel is bones and muscle. The sarcoidosis has completely destroyed her natural tissue."
Luckily, Drs. Nassif and Dubrow worked some collaborative surgical magic to give Koffa the full-body revamp she'd been waiting for. At 10 weeks post-op, she was looking and feeling like her old self.
"Before my surgery, my sarcoidosis took over my life," Koffa said. "But now, my breasts are symmetrical, my face has regained its fullness, I look like myself again and I feel great. My juicy face is back!"
Koffa wasn't the only new patient to receive a surgically-induced confidence booster this week. Still reeling from the results of a tummy tuck procedure gone horribly awry, Robert approached the Botched doctors with an earnest plea for a redo.
"It's not even so much about having surgery to fix the outer anymore," said Robert during an emotional first meeting with Drs. Nassif and Dubrow. "I need this to kind of learn to love myself right now."
Robert explained that he was in the market for an abdominoplasty after having lost more than 200 pounds in roughly five years. Hoping to get rid of some loose skin, he consulted a plastic surgeon whose Yelp reviews and price point both seemed promising. To his dismay, the tummy tuck not only failed to remove Robert's excess skin, it actually worsened the appearance of his abdomen altogether.
Watch a new episode of Botched Wednesday at 9 p.m., only on E!
Source: Read Full Article