A World Record-Breaking Marine Shares His Home Pullup Workout
Two years ago, fitness YouTuber Austin Dunham posted a video that he claimed showed him breaking the U.S. Marine record for most pullups in 1 minute, with what he says was "28 or 29" reps.
That video brought Dunham tons of attention—and now, nearly two years later, he's connected with U.S. Marine Michael Eckert, the former Guinness World Record holder for the most pullups in 1 minute, with an impressive 58 reps. Eckert also competed twice on American Ninja Warrior.
The two got together for an outdoor pullup training session at Eckert's outdoor home gym. Some of the gear was new, as Eckert adjusted during quarantine to fill in for his typical gym training.
"I've got five pullup bars," laughs Eckert as he shows Dunham around.
He brings Dunham to his homemade rock climbing/ninja training tower, nicknamed 'The Arena', where he practices grip strength and climbing.
"I've been climbing for like 12 years," says Eckert.
Then the guys get to their upper body workout, with a warmup that includes weighted sled pulls and pushes, handstands and calisthenics.
After that, they get to Eckert's circuit on 'The Arena', the ultimate challenge for grip strength that requires each guy to hit each side of a square that includes bars, planks, orbs and handles to grab on to to keep them off the ground.
"Guys, that's not only pulling strength, but a lot of finger tips and forearms," says Dunham, out of breath after making it around the square once. "That's something I don[t train a lot. The only training I really get for that is weighted pullups indirectly. I need to work on it."
Next, the guys get to the actual pullups. They work on single-arm pullups, traditional pullups, double bar pullups, and weighted pullups.
After their workout, the guys take a break to talk about the session.
"I crown the pullup as the number one upper body exercise," says Eckert. "If you master that, pretty much everything else in the gym falls into place."
Eckert is a big fan of weighted pullups.
"In any strength gaining protocol, you're going to have to up the weight," he says. Dunham notes that the guys trained in a gym the other day, and Eckert was pulling 135 pounds.
They end their session with a farmer's carry around the block, what Eckert calls 'The Death Walk'.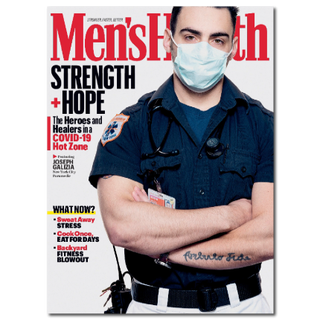 Source: Read Full Article