This Hairspray Was Made For People Who Hate Hairspray
Hairspray can be a rather divisive topic. Some people have never stopped loving it since Aqua Net's heyday in the '80s. Others steer clear of it, relying only on pomades and texturizing sprays to hold their styles together. While I subscribe to the former belief (the higher the hair…) many women identify with the latter — just ask celebrity hairstylist Justine Marjan. She recently asked her thousands of Instagram followers what their honest opinions were on hairspray. She received an overwhelming response from them and most agreed that it was a hard pass on the product. From how it made their hair feel to the way it made their hair look, the reasons for hating on hairspray were plentiful. But Marjan, like me, is a huge fan of hairspray and she was determined to change her followers' minds.
"I could find a million ways to use hairspray because I love it," Marjan tells me, right after proclaiming that it is her "ride or die" product. We are sitting inside an empty Mare salon, which is pretty unusual. The West Hollywood beauty shop is typically teeming with celebrity stylists, colorists, and customers. But today, Marjan and TRESemmé have commandeered the salon to play a friendly trick on some of her followers who shared their distaste for hairspray on social media. TRESemmé recently launched their newest hairspray, the Compressed Micro Mist, which they claim is unlike the stiff, sticky hairsprays of the past. Marjan, a TRESemmé Global Stylist, is convinced she can change her fans' thoughts on hairspray with the new product.
"The old hairspray has been the same formula, the same can, literally since the '80s and it's a cult favorite. Like, people die for it — they will never get rid of it because people know what they're getting and they swear by it, but it's really cool to see their new innovations," Marjan explains. "[The Compressed Micro Mist] still has that classic formula, but it's redesigned so it's got smaller particles, it doesn't sit on the hair, it's not as stiff, it's not as wet, it's not as sticky, it's just more workable and achievable for someone that doesn't want to feel like they have product in their hair, but still want the results that the products give them."
There are four levels of the Compressed Micro Mist. Level one is for texture, which Marjan says she likes to use before styling waves or curls where she "still wants to see movement in the hair."
Level two is for smooth, sleek looks where you want a little hold while still allowing the hair to move. "So if you do a straight look and shake your head around, it's still going to fall into place, but it can still move around and stay straight and frizz-free," says Marjan.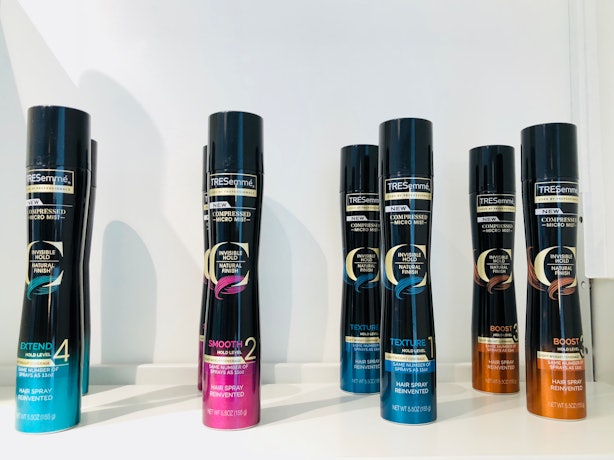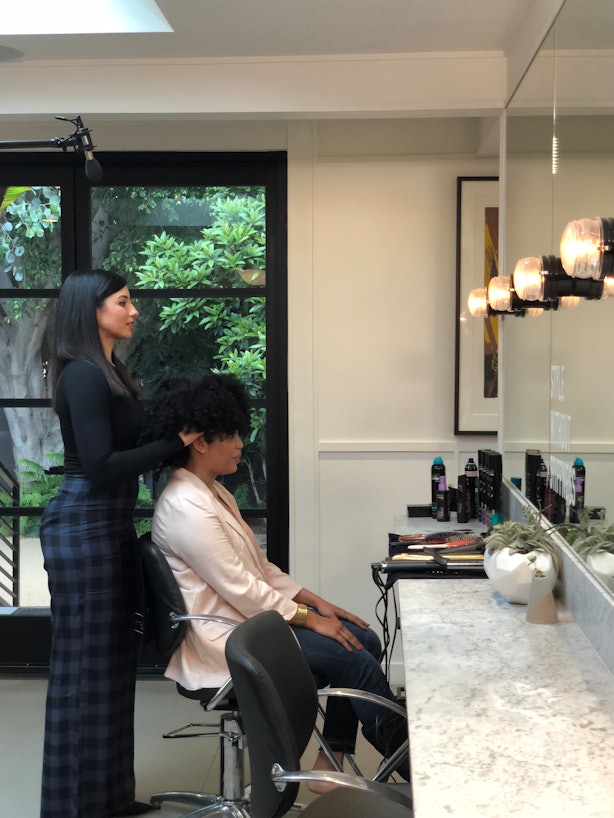 "I think people's first misconception is that it's going to be like the '80s where it's like, shellacking the hair, like stiff helmet head and I think that's what people get really scared of," Marjan tells me. "I think that what's cool about the new hairspray — you can get that natural look, but it just delivers better results. I feel like it's just like a glue and you can layer it, you can use less, you can use more, you can mix and match. I'll spray it before styling, I'll spray it after styling, I'll scrunch it in the hair. The uses are endless. There are so many different ways to use hairspray."
The Compressed Micro Mist was definitely made for people who hate or are afraid of using hairspray. And if you're not afraid of a little hold like me, it's still a great alternative to the heavier, stickier formulas that can sometimes be a little too strong.
Source: Read Full Article