Lala Kent and More Bravolebrities Share Their Moms' Beauty Advice
Moms know best…especially the Bravo variety.
Nobody knows about the value of a good glam session better than Real Housewives of Beverly Hills stars Kyle Richards and Dorit Kemsley…except for maybe their mamas. Ahead of Mother's Day, Bravolebrities, including Vanderpump Rules' Lala Kent, RHOA's Sheree Whitfield and Southern Charm's Cameran Eubanks, shared the best beauty advice they've received from their moms.
If you're like RHONY star Tinsley Mortimer's mom, you know how a full makeup look can leave lasting impressions.
"I think it's always put your best foot forward—just being presentable," Tinsley shared. "To me, that means, you know, I feel more confident when I put makeup on, and I grew up with a mom that woke me up with full glam makeup and lip gloss on."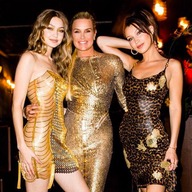 Photos
Celeb-Inspired Mother's Day Gifts for the Cool Mom
While if you're a little more practical, refrain from over-plucking and don't forget to hydrate.
"The best beauty secret that I learned from my mom was to never pluck my eyebrows." Kyle advised. "I had really bushy eyebrows…and she always used to say to me, 'That's your trademark—don't ever do it. Look at Brook Shields."
"My mom drinks a ton of water. And I drink a ton of water. And I think it really helps," added Sheree.
Of course, those who want to look just as good as their beautiful moms when they age should take heed from Cameran and RHOBH star Dorit Kemsley's moms.
"Ever since I was a kid, she's told me, 'You need to wear sunscreen, you need to wear sunscreen," said the Southern Charm star. "The second piece of advice she gave me was to start Retin-A at a young age, so I started using it when I was 26, and I don't know, I think it's maybe helped."
"My mother always said, 'Make sure you always wear a lot of moisturizer. Make sure you take the time to wear moisturizer, so I cover myself head to toe in moisturizer," the RHOBH star added.
Sometimes, Mom may need your advice. Sharing is caring, after all.
"I'm always teaching her beauty secrets," shared Real Housewives of Potomac star Monique Samuels. "I don't think she's taught me anything other than make sure I wash my face before I go to bed. Any time I do anything with my hair, or new makeup, anything, I'll just pass along the information to her. She's always like the first person I call."
(E! and Bravo are both members of the NBCUniversal family.)
Source: Read Full Article