These Lightsaber Makeup Brushes Are Actually Too Cool For Words
Just when you thought that Storybook Cosmetics' unexpected, nostalgic, thoroughly awesome, and pop culture-inspired collabs couldn't get any better. Storybook Cosmetics Star Wars Lightsaber makeup brushes are happening and these tools will add even more fun into your morning makeup routine. The brand released a fabulous image of the brushes and be forewarned. You will be left shook.
With the whimsical brand's killer Mean Girls Burn Book palette or its upcoming Care Bears collection, beauty and book lovers aren't finding it hard to be all in with Storybook.
Storybook Cosmetics, which has crafted everything from ink and quill pen eyeliner to Harry Potter-inspired brushes, posted a tease on Friday, May the Fourth. That was Star Wars Day and several brands dropped intergalactic products — from the Terez leggings collection to AWAY's latest luggage offerings.
Storybook shared an image of five brushes that look like lightsabers, right down to the handles. They would seem to be eyeshadow brushes, thanks to the compact bristles and heads. The brand stated that the pre-order information will be coming soon.
That's pretty much all we know about this brush set right now. More intel — such as whether or not the brushes will be available on their own or as a set and the pricing— should make itself known in the coming days.
Wow! Those are epic and intergalactic. They will also assist in the creation of smoky eyes and in beautifying lids. If anyone can translate the quintessential Jedi weapon into a tool of the makeup trade, it's Storybook Cosmetics.
There is also some controversy brewing in the beauty galaxy regarding the Storybook tease and Her Universe, which describes itself as a "fangirl fashion company and lifestyle brand founded by actress and entrepreneur Ashley Eckstein, whose mission is to create stylish, fashion-forward merchandise for female sci-fi fans."
Her Universe dropped a makeup collection at Hot Topic, which includes a Millennium Falcon palette, a Chewbacca x Wookie grooming kit, and bath fizzies.
Obviously, Disney and Stars Wars have several licensing deals with a variety of companies for co-branded products ahead of the release of Solo: A Star Wars Story.
However, Storybook Cosmetics reportedly issued a since-deleted post on Instagram regarding a situation. Details were a bit nebulous. But since nothing ever dies on the Internet, it lives on via what appears to be a screen grab along with a robust discussion over at Reddit. Some Storybook Cosmetics diehards have been accusing Her Universe of stealing their idea and fast-tracking it into production. Storybook then posted a note asking fans not to harass or bully other brands on their behalf or in their defense.
Meanwhile, Her Universe does not seem to have made an official statement about their makeup collection.
Bustle reached out to both for comment. Via email, Erin Maynard, co-president of Storybook, told Bustle, "We can't make an official statement or comment on the issue, but we are always prepared to protect our brand and stand up for small businesses when it is necessary."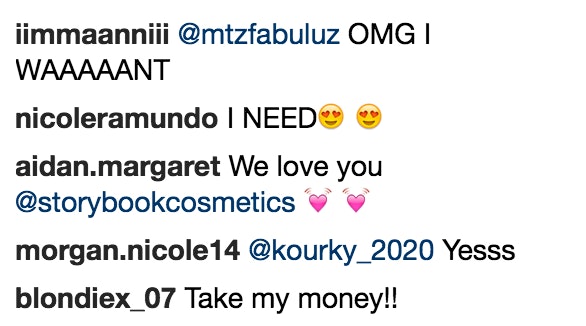 This user is all of us. She admitted to coming back to the image just to gawk at the brushes. That's a totally acceptable and understandable behavior, since these applicators are so gorgeously crafted.
Need further proof of the artistry of Storybook Cosmetics' tools? It's right here. Check out the detail and the craftmanship.
The brand issued brushes that looked like long-stemmed roses. With the crimson hairs and thorn-flecked handles, these were almost too pretty too use.
The black version of the rose brushes were equally as breathtaking. Storybook Cosmetics clearly understands that form and function need not be mutually exclusive in the beauty realm.
The Burn Book palette captured the essence of the classic film.
The brand also created a Charlie and the Chocolate Factory palette last year. Beloved literary works, pop culture icons, and Saturday morning cartoon characters come to life in the beauty world, courtesy of Storybook Cosmetics. Here's hoping we can use the force with lightsaber makeup brushes sooner than later.
Source: Read Full Article