Thandie Newton's Metallic Pink Eye Makeup Was A Win At Last Night's Emmy Awards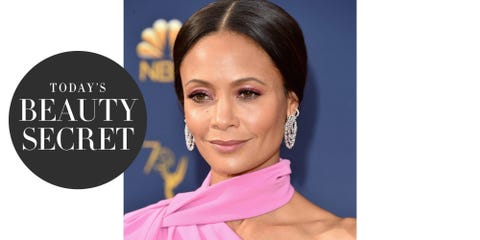 BAZAAR's beauty expert reveals the tricks and must-have products behind the prettiest hair and makeup looks on the red carpet.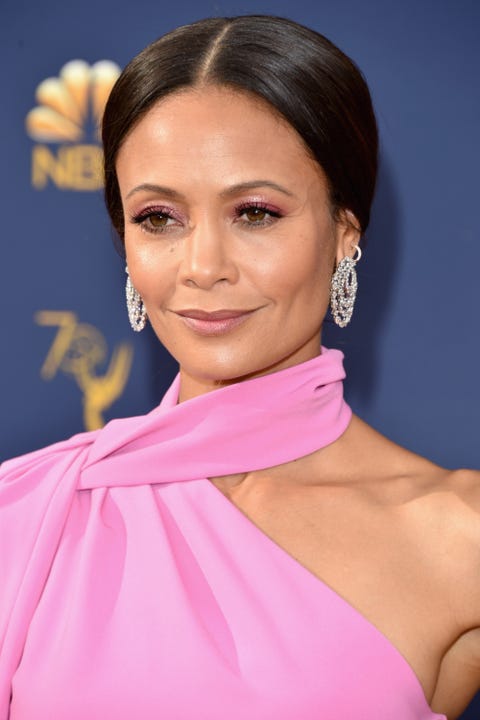 Who: Thandie Newton
What: Metallic Pink Eyes
How: "The eyes were the main event, so I used the new MOTHERSHIP V: Bronze Seduction Palette to create the whole look," says makeup artist Georgie Eisdell who worked with all Pat McGrath Labs products. "I started with 'ENTRAPMENT' on the lid and blended out to the crease. I then added a little 'BLITZ FLAME' to get the exact rose color I wanted to the center lid. I brought both these colors underneath the eye to really get the smoke and gorgeous light reflection. I finished with one of the most stunning shades of pink I have ever seen, the 'ROSE GOLD 005.' I swiped the color across Thandie's eye lid to create an incredible shine that really made the eyes pop. "
Editor's Pick: Pat McGrath LABS Mothership V Eyeshadow Palette – Bronze Seduction, $125, sephora.com.
SHOP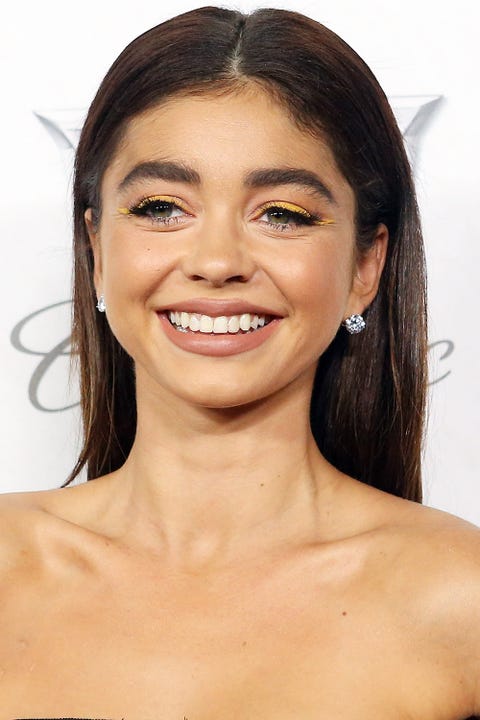 Who: Sarah Hyland
What: Yellow Eyeliner
How: Yellow eyeliner sounds terrifying, but looks insanely gorgeous. Case in point: Sarah Hyland at a pre-Emmy awards party last night. We're crazy about how the pop of unusual color looks against her olive skin and green eyes. Yellow eyeliner upgrades an everyday makeup look—glowing skin, nude-rose lipstick—to something so much cooler and red carpet-ready.
Editor's Pick: Dior Diorshow On Stage Liquid Eyeliner in Matte Yellow, $25.93, nordstrom.com.
SHOP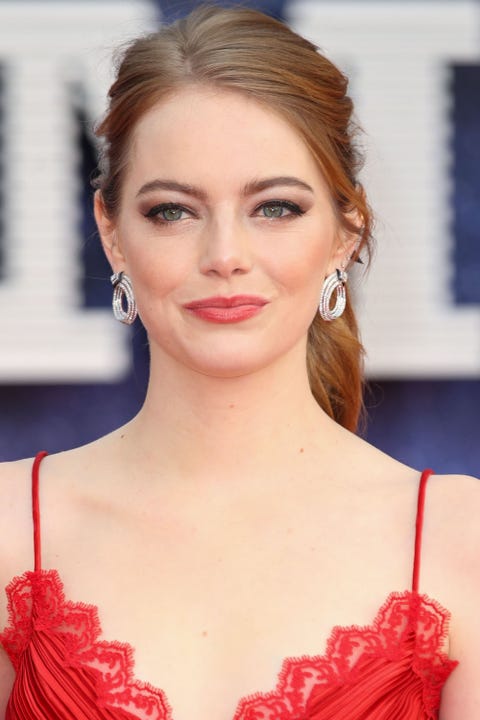 Who: Emma Stone
What: Sheer Red Lip
How: For the premiere of Maniac, Emma Stone wore a sheer red lipstick that makeup artist Rachel Goodwin credited as Nars Cosmetics's Manhunt. Unfortunately, Manhunt is discontinued (but still avail on Amazon!), but there are similar shades you can still buy. We love Gipsy, a sheer berry red that's a little more cool than Manhunt.
Editor's Pick: NARS Cosmetics Sheer Lipstick in Gipsy, $28, narscosmetics.com.
SHOP
Who: Elle Fanning
What: Mod Eyelashes
How: Elle Fanning, never one to shy away from a bold beauty look, stepped out last night wearing eyelashes straight out of the '60s. But because she paired the look with sheer foundation, casual waves, and a laidback ensemble, the lashes look cooler and fresh—not costume-y. If you're not a fan of wearing falsies, you can get the look by using a liquid eyeliner to draw vertical lines along your lower lashline, mimicking the look of longer eyelashes. Use the same liner to draw a standard cat-eye on your top lashline, then coat all your real lashes with about 400 coats of your favorite volumizing mascara. For a more graphic look, pinch and squeeze your lashes in sections while the mascara is still wet.
Editor's Pick: L'Oréal Paris Lash Paradise Mascara, $9.99, ulta.com.
SHOP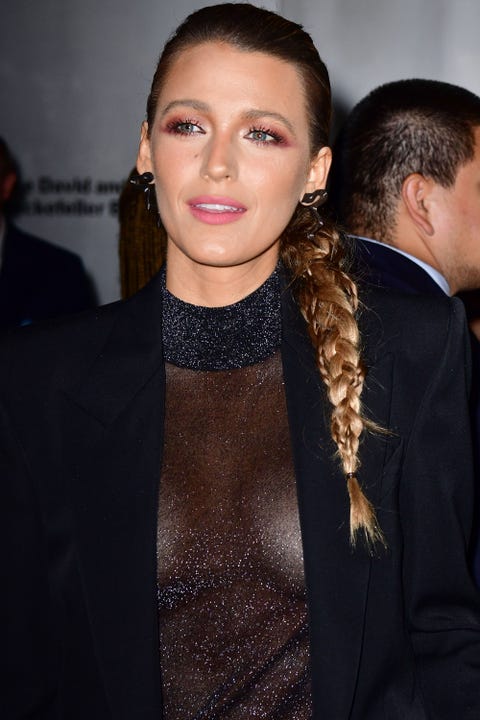 Who: Blake Lively
What: Pink Lips and Warm Smoky Eyes
How: "Blake's look tonight was a hybrid of 70's disco and 1930's Berlin. I wanted her lips to be present but matte, while her skin offsets the lip with its beautiful glowing texture," makeup artist Kristofer Bustle said of the look. On her lips, he used the new Giorgio Armani Rouge d'Armani Matte Lipstick in 500 Fatale. Her foundation was the Giorgio Armani Luminous Silk formula in the shade 6, and her concealer was Giorgio Armani High Precision Retouch in 3· To get the warm smoky eye, he used his namesake Kristofer Buckle Premier Palette.
Editor's Pick: Giorgio Armani Rouge d'Armani Matte Lipstick in 500 Fatale, $38, giorgioarmanibeauty-usa.com.
SHOP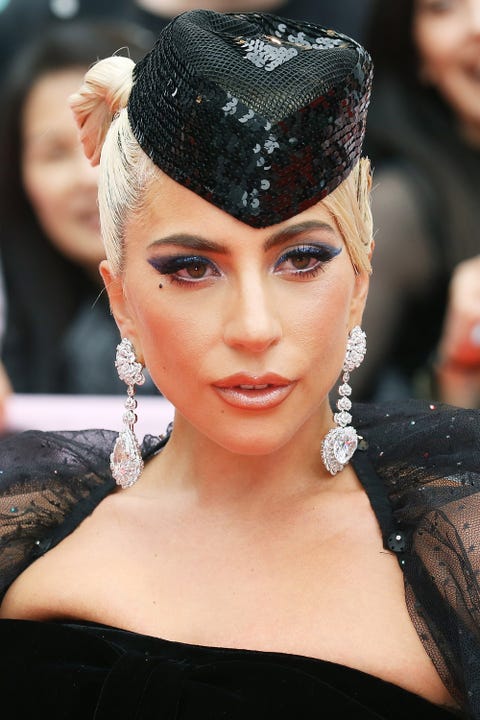 Who: Lady Gaga
What: Navy Eyes
How: Lady Gaga's A Star is Born press tour continued this weekend in Toronto—and she brought along her favorite makeup artist Sarah Tanno. "Using @marcjacobsbeauty to create this classic but modern fun look," Tanno wrote on Instagram. "I love navy paired with all black. It's a nice way to add color to your look."
Editor's Pick: Marc Jacobs Beauty Highliner Gel Eye Crayon Eyeliner in (Wave)Length, $25, sephora.com.
SHOP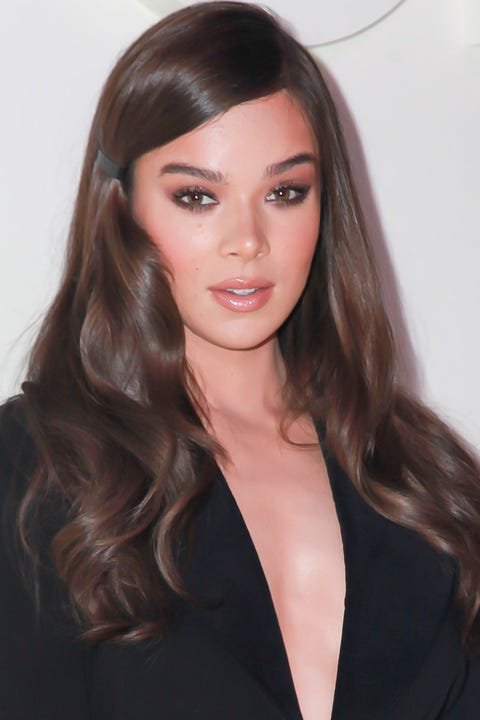 Who: Hailee Steinfeld
What: Single Barrette
How: At last night's Tom Ford show, actress and singer Hailee Steinfeld made a glossy, bouncy blowout look even more elevated thanks to a single black hair clip. We love how the clip turned the otherwise prim style into something high-fashion—it's all about pulling it back into a deep side part and placing the barrette right at the temple.
Editor's Pick: Goody Hair Barrettes, Metal, Assorted Colors, 3-Count, $6.93, amazon.com.
SHOP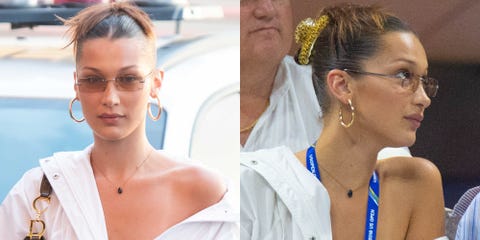 Who: Bella Hadid
What: Claw Clip
How: Bella Hadid knows that the claw clip is the biggest hair trendfor fall 2018—and we love how she really leaned in to the '90s vibe. At the U.S. Openm, Hadid styled a leopard print claw clip (so retro!) with slicked back and parted hair. She tossed the ends of her hair up over the crown of her head loosely, then paired the look with minimal makeup, gold hoops, and skinny sunglasses for a look that would have been young and fun in both 1995 and 2018.
Editor's Pick: French New Leopard Yellow with Black Spots Hand-Printed Claws Celluloid Tortoise Hair Claw Jaw Clip, $14.55, etsy.com.
SHOP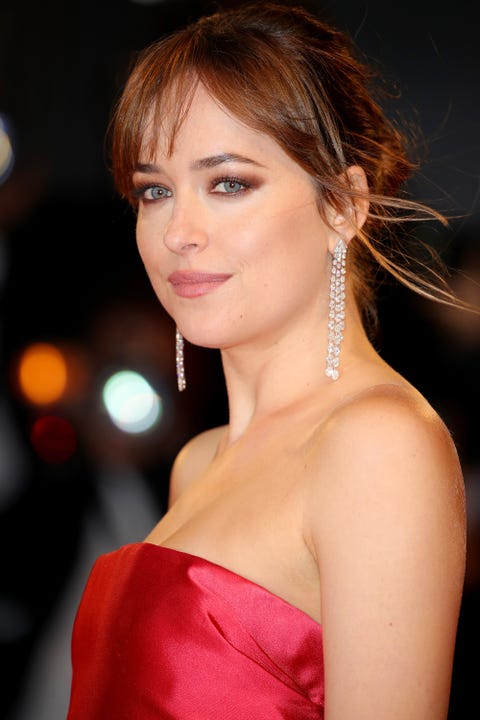 Who: Dakota Johnson
What: Bronze Smoke
How: Dakota Johnson hit up the Venice Film Festival over the weekend wearing the prettiest bronze smoked-out eyeshadow by makeup artist Kate Lee. We love how she chose a metallic bronze to go with a crimson dress—and went with a pinky rose lipstick shade instead of the expected red. The look is soft and natural and fresh, but still film-festival worthy.A dual eyeshadow and liner stick makes a smoky eye quick and foolproof. Just trace it along your upper and low lashes and buff out with a brush.
Editor's Pick: Chanel Stylo Ombre et Contour eyeshadow in Electric Brown, $34, chanel.com.
SHOP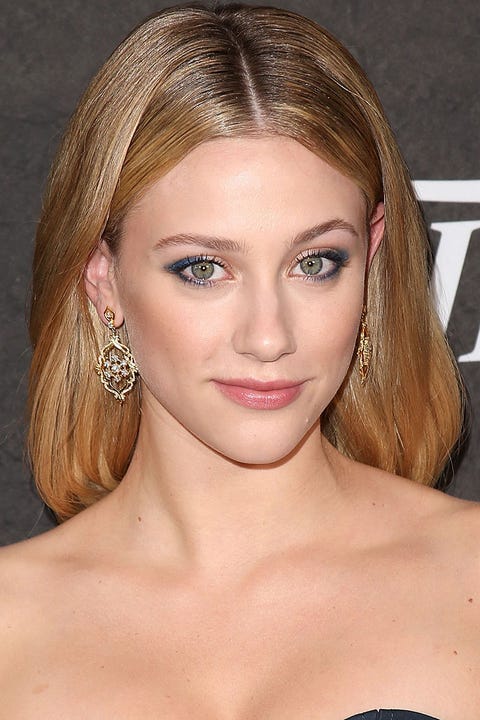 Who: Lili Reinhart
What: Soft Blue Shadow
How: Makeup artist Adam Breuchaud created this soft, expertly blended blue eyeshadow look on Riverdale star Lili Reinhart last night. We love how the pop of color lent the same smoky effect as gray or black, but instead also brought out the color of her eyes. He concentrated most of the color along her outer upper lashline, blending it out into a small wing. He then dragged the same color along the outer corner of her eye and down along the lower lashline, stopping about half-way across. The overall look was fresh, fun, and young (just like Lili!) but still entirely red carpet-ready.
Editor's Pick: NARS Cosmetics Single Eyeshadow in Big Sur, $19, narscosmetics.com.
SHOP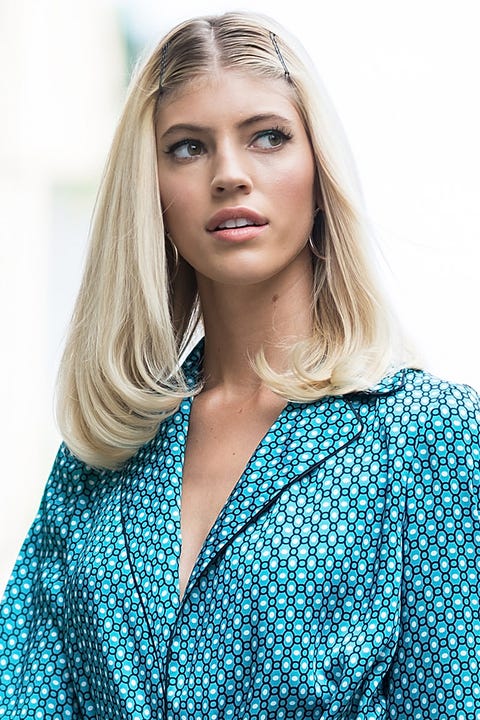 Who: Devon Windsor
What: Black Bobby Pins
How: Bobby pins come in multiple colors for a reason: they're supposed to blend in invisibly with your hair. But model Devon Windsor just proved that sometimes throwing the rule book out the window makes for one killer beauty look. To make a major—and inexpensive—hair statement, gather four bobby pins in a color that contrasts with your hair (so white, blonde, or gold for dark hair and black or brown for blonde hair). Part your hair down the middle then pull the sides back with two bobby pins stacked on top of one another. If you want the pins to last longer without slipping, douse them in hairspray first. Bonus points if you curl your ends under for a wholly '90s look, just like Windsor.
Editor's Pick: Goody Bobby Pins, Blonde, 50-count, $3.51, amazon.com.
SHOP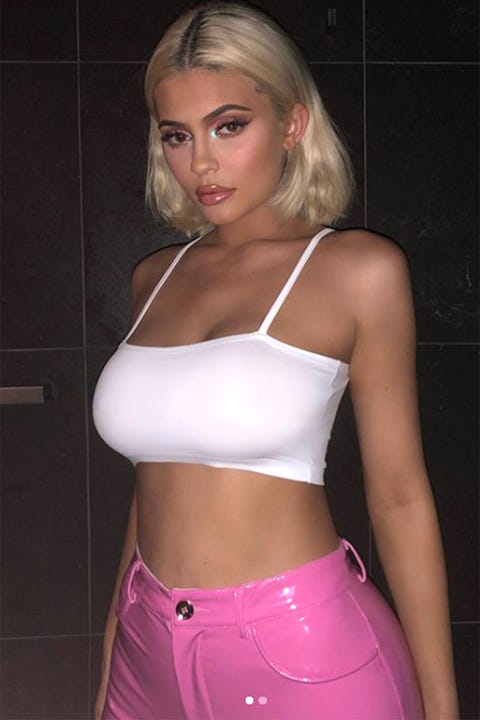 Who: Kylie Jenner
What: Icy Blue Highlighter
How: Kylie Jenner took to Instagram to post a few sneak peeks at her next Kylie Cosmetics collection. The long-awaited collaboration with her best friend Jordyn Woods will finally be launching soon, and it looks like a glossy nude lip and icy blue highlighter are part of the launch. The unusual pop of metallic blue color at the inner corner of her eye is a fun way to upgrade a basic highlighter moment. And if Kylie's vouching for the look, no doubt we'll see it trending in a matter of days.
Editor's Pick: Kylie Cosmetics Ultra Glow in Wisteria, $14, kyliecosmetics.com.
SHOP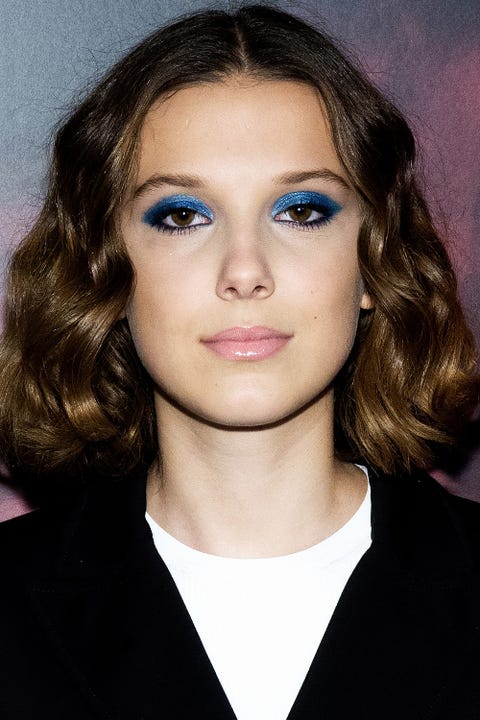 Who: Millie Bobby Brown
What: Cobalt Eyeshadow
How: Some people will see this photo and think that Brown is too young to be wearing this much makeup. To that we say: hush. If you can't wear sparkly blue eyeshadow and pink lip gloss when you're 14, when can you? We love that her makeup artist @GPCBeauty kept the shadow graphic instead of smoky, it makes it more fun and age-appropriate and less sultry. Paired with a pretty pink lip gloss, this is a look worth copying at any age.
Editor's Pick: Pat McGrath LABS Mothership I Eyeshadow Palette – Subliminal, $125, sephora.com.
SHOP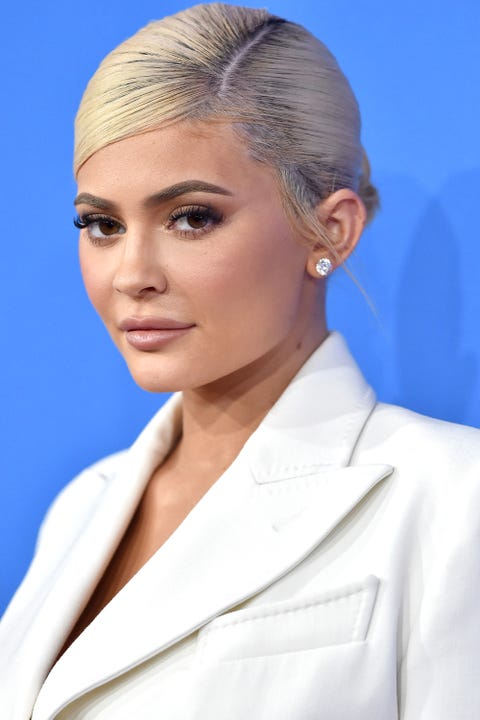 Who: Kylie Jenner
What: Healthy Blonde Hair
How: "Kylie just dyed her hair platinum blonde only days ago so I had to keep that in mind with everything I did tonight in terms of heat and pre-styling products," says her hairstylist Andrew Fitzsimons. "To start I used a heat protectant spray on her damp hair then blow dried using the ghd Air Hairdryer on medium heat with a ghd natural bristle radial brush size 3. I used the brush with natural bristles versus ceramic or metal so that hair would not get too hot and stay damage-free. I then sprayed hair with a bit of additional heat protectant spray and then began straightening hair with the ghd Platinum+ Styler (editor's note: not available until 9/3). Freshly-dyed blonde hair can be more fragile so it was very important to me to use the best styler possible to keep the integrity of her hair and keep damage at bay…Next, I used a hairspray and a ghd oval dressing brush to brush hair in the direction it was going once up. I pulled hair to the back in middle of her head and created a pony. I then pulled out two pieces in the front to create a bit of softness o the pony was not too severe and harsh. I gave the pieces one last sweep with the ghd Platinum+. To create the imperfect, perfect bun, I twisted her pony very softly and secured it with pins. I added a shine serum on top for the final touch."
Editor's Pick: GHD natural bristle radial brush size 3, $30, ghdhair.com.
SHOP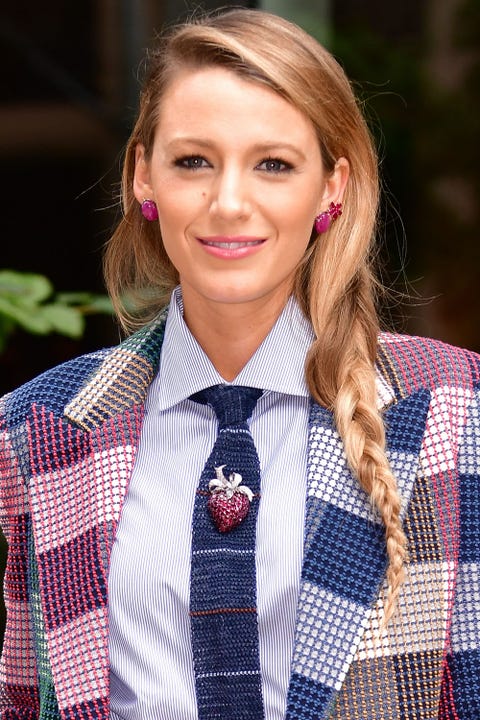 Who: Blake Lively
What: Classic Blake Braid
How: Blake Lively tapped her go-to hairstylist Rod Ortega for her new A Simple Favor film press tour. Ortega created a slew of looks on the actress over the weekend, who is known to be a quick change artist when it comes to fashion and beauty. We love how she wore a loose side-swept braid that was both classic Blake and a little Serena Van der Woodsen. Paired with a menswear-inspired suit and tie, the braid looks soft and feminine instead of simply boho and sweet. To get a style like this to hold, douse hair in texture spray before sweeping to one side and braiding. Secure the end with a clear elastic for all-day hold.
Editor's Pick: Rene Furterer Vegetal Texture Spray, $34, amazon.com.
SHOP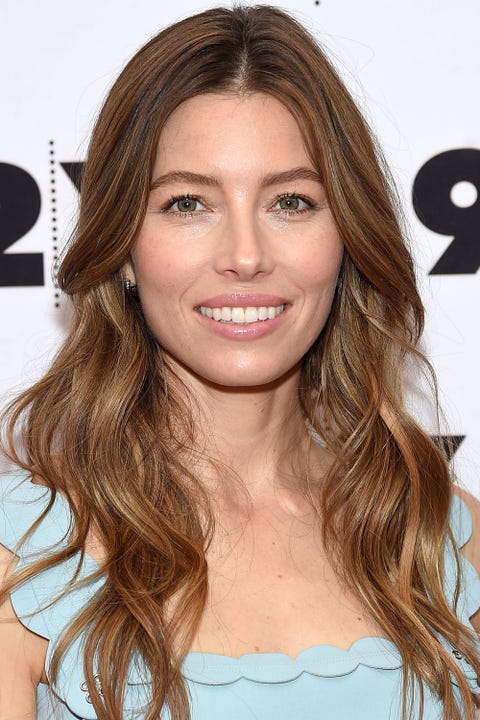 Who: Jessica Biel
What: No Makeup Makeup
How: Jessica Biel looks so fresh and dewy, you'd think she wasn't wearing any makeup. Except that she was—it was just expertly applied and blended by Meghan Markle's makeup artist Daniel Martin. Biel stepped out to promote her show The Sinner yesterday wearing a glossy pink lip and natural makeup. Martin, who works with Honest Beauty, likely used one of the brand's new launches to get this fresh-faced look.
Editor's Pick: Honest Beauty Lip Gloss in Generous Kiss, $18, honestbeauty.com.
SHOP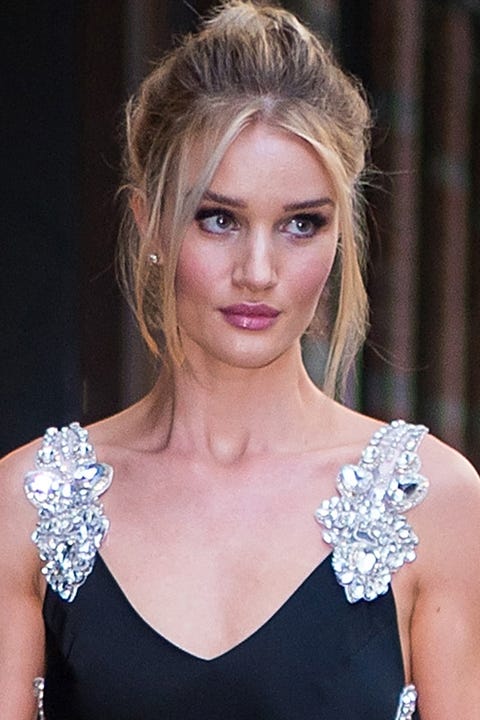 Who: Rosie Huntington-Whiteley
What: Lingerie Hair
How: There's bedhead, and then there's lingerie hair. The difference is subtle but clear: bedhead implies your hair is down and rumpled. Lingerie hair is tossed up into a loose bun and barley pinned, beckoning to be let loose and shaken out. Last night, Rosie Huntington-Whiteley paired a silky lingerie-inspired dress with this look, We love how her face-framing pieces are left loose and messy in the front. It makes the whole look seem impossibly effortless and cool.
Editor's Pick: Playa Endless Summer Spray, $28, sephora.com.
SHOP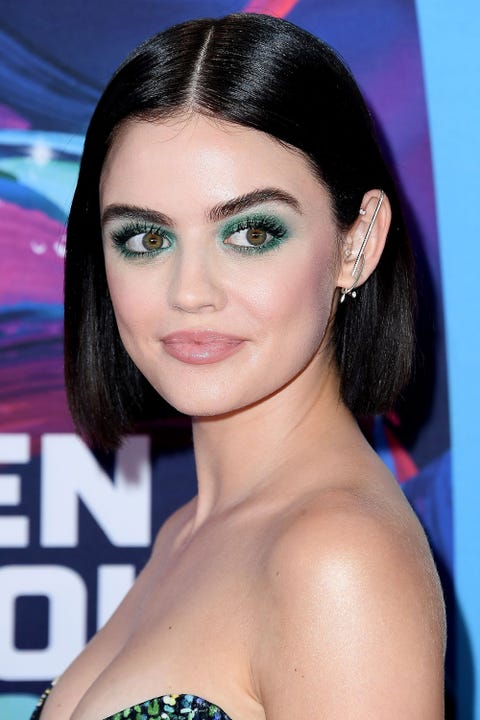 Who: Lucy Hale
What: Emerald Eyes
How: "To begin the eyes I applied Chanel Long Wear Cream Eyeshadow in Vederame all over the lid, crease, and under the lower lashline," makeup artist Kelsey Deenihan wrote on her Instagram. "This acts as a cream base for the other layers of green shadow to stick to. I next applied the top emerald green color from the Kat Von D 10th Anniversary palette and Kryolan Loose Metallic Pigment in Pure Envy to the center of the lid and inner corners of the eyes for a pop of metallic to catch the light. I topped off the eyes with Avon's new LOVE Complex Mascara which created Lucy's dark, full, voluminous lashes."
Editor's Pick: Chanel Long Wear Cream Eyeshadow in Vederame, $36, nordstrom.com.
SHOP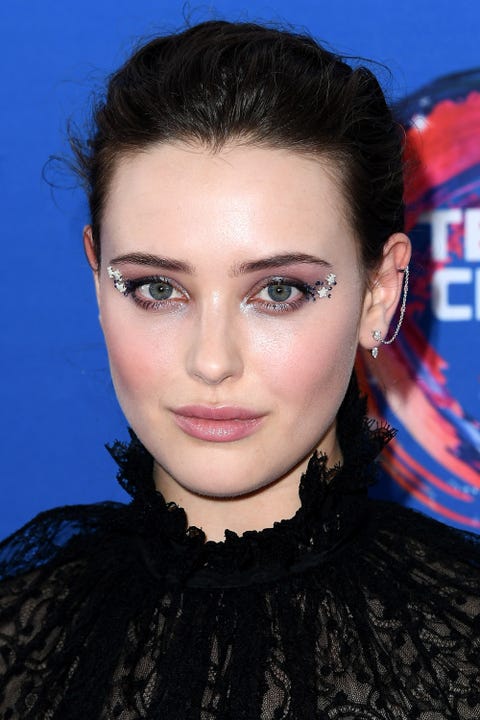 Who: Katherine Langford
What: Starry Eyes
How: Fall's biggest beauty trend can be bought at the craft store. As seen on actress Katherine Langford last night, the glitter trend has gone three-dimensional. Instead of jus swiping on a sparkly eyeshadow, pick up a few rhinestones, stars, or other stick-on shapes and use false lash glue to adhere them around the eyes. We love how Langford grouped stars and gunmetal rhinestones with silver metallic eyeshadow.
Editor's Pick: Duo Eyelash Adhesive, $9, sephora.com.
SHOP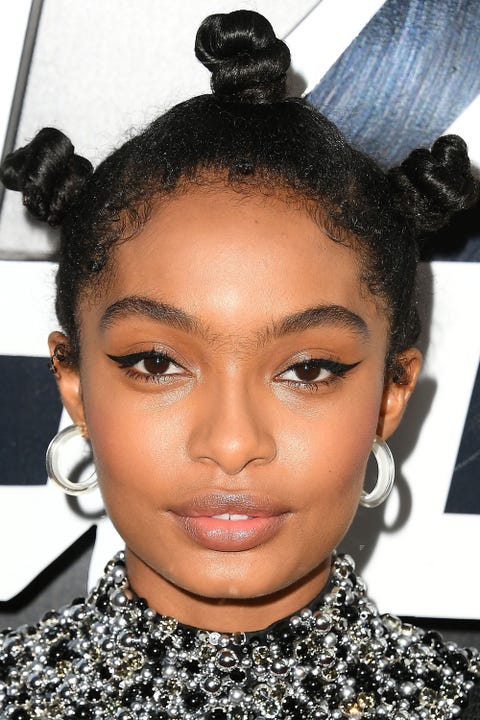 Who: Yara Shahidi
What: Cat-Eyes and Bantu Knots
How: Makeup artist Emily Cheng and hairstylist Nai'vasha Johnson worked together to create this gorgeous and super-cool look on Yara Shahidi last night. We love how the placement of the knots mirrors the angle of the cat-eye liner, and the hoops add an extra element of graphic flare. And yes, Yara is rocking her natural unibrow—and we love her for it.
Editor's Pick: CHANEL CALLIGRAPHIE DE CHANEL Longwear Intense Cream Eyeliner, $35, nordstrom.com.
SHOP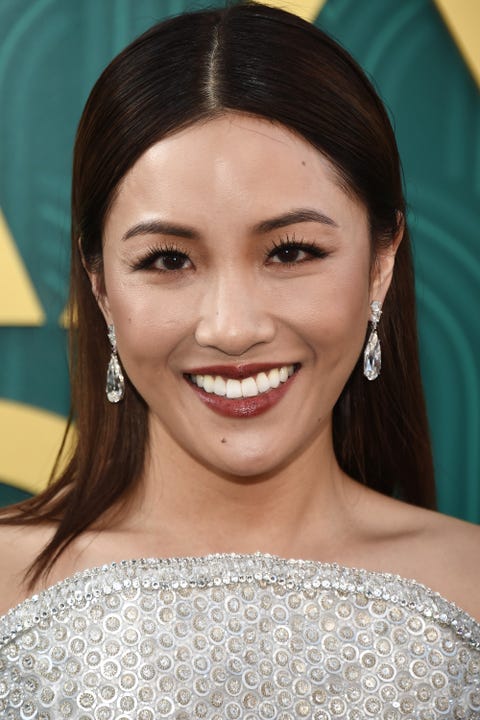 Who: Constance Wu
What: Red Carpet Lashes
How: Makeup artist Molly Greenwald created this curly lash look on Wu for last night's premiere of Crazy Rich Asians. "To get the natural, but luxe look, I used Lashify C14 lashes in the center of the eye, tapering down on either side with Lashify C12-sized lashes," she says. "I affixed the lashes with a black glue, a trick that creates more depth toward the root of the lashes."
Editor's Pick: Lashify C14 Lashes, $20, lashify.com.
SHOP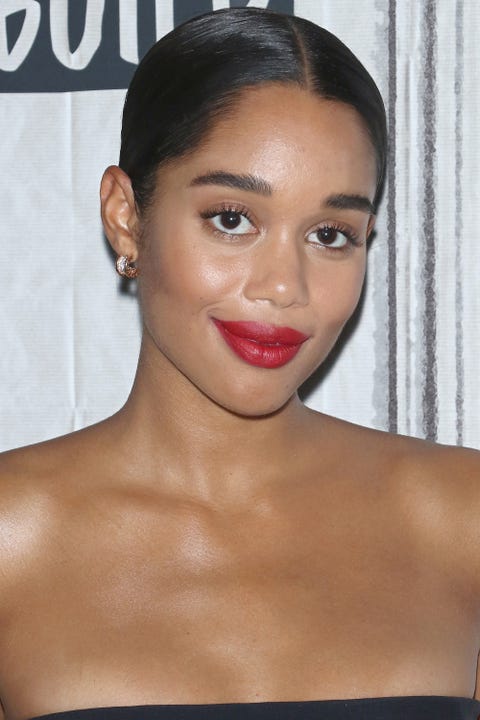 Who: Laura Harrier
What: Bold Red Lip
How: Makeup artist Nina Park created this glowy beauty look on actress Laura Harrier yesterday. We love how her skin is luminous and natural, but her lips bring the drama in a bright ruby red shade. When keeping your skin fresh, choose a lipstick formula that is hydrating and creamy with a slight sheen so the textures don't clash.
Editor's Pick: Dior Rouge Dior Lipstick in 852 Plaza, $37, dior.com.
SHOP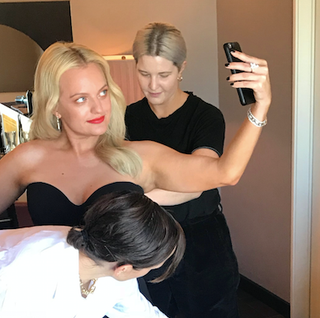 Source: Read Full Article