#TheLIST: 10 Ways to Practice Self-Care This Season
There's no two ways about it: Life can be stressful even on your best days. There's work, family, and social media on repeat—frankly, it's exhausting. While there's no magic bullet to avoiding stress completely, a little you-time can help offset the feeling that you're spinning out of control. From slathering on a pain-relieving cannabis cream to soaking in crystals that ease you into a better night's sleep, these daily acts of self-care will help relax, reboot, and reset your mind, body, and skin.
You know how your skin tends to flare-up when you're stressed? That's because your body kicks into an automatic fight-or-flight response that wreaks havoc on skin. A way to keep it all in check? Applying a detoxifying clay mask like this one formulated with a unique blend of clarifying Japanese Binchotan Charcoal and exfoliating NeoGlucosamine 2-3 times a week. Not only will it help clarify pores, absorb excess oil, and smooth your skin, but it also serves as a 15-minute forced timeout from the day.
Exuviance Detox Mud Treatment, $49, exuviance.com.
SHOP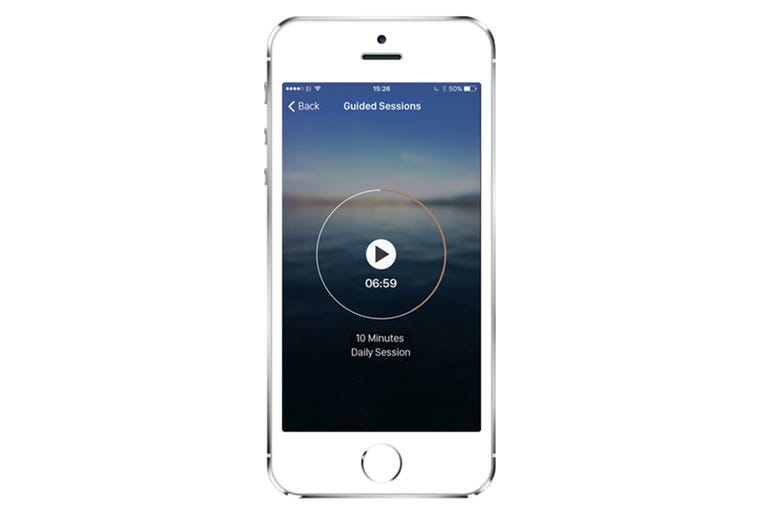 One of the simplest self-care moves you can do: Breathe. But not the involuntary kind that your body does naturally. We're talking deep, mindful breathing with intention. Even just focusing on slowly inhaling and exhaling for five seconds can help you feel calmer, more balanced, and less stressed. If you find it tough to concentrate on your inhales and exhales, an app like BreathGuru that serves up guided breathing sessions anytime, anywhere can get you into the groove.
BreathGuru app, $3.99, app.breathguru.com.
SHOP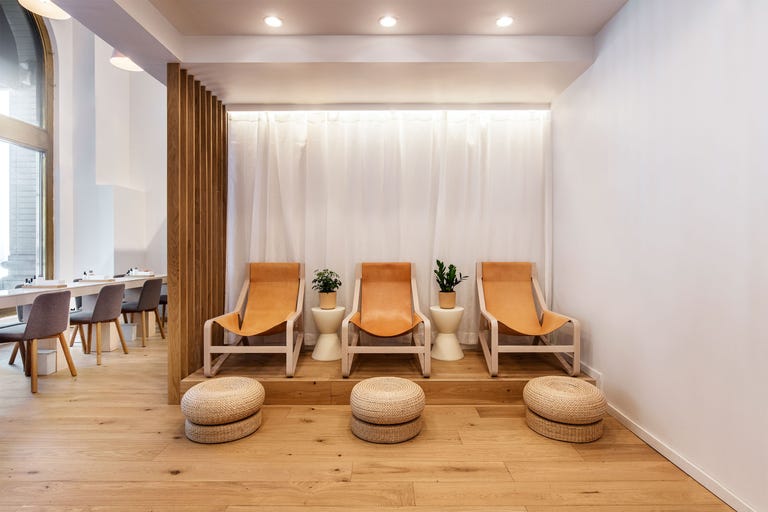 A standing once-a-week mani appointment alone is a great way to indulge in a little self-nourishment. But at the Sundays salon in NYC, they up the Zen factor: their signature mani is paired with guided meditation. Select your polish (all non-toxic and vegan varieties), then pop on a pair of headphones and allow yourself to be guided into a state of relaxation. 25 minutes later, you've got gorgeous nails and way more chill. For a DIY version, simply pop in earbuds post-lacquer and start a session using your own meditation app of choice.
Dear Sundays 3-in-1 Guided Meditation + Hand Treatment, $25, dearsundays.com.
SHOP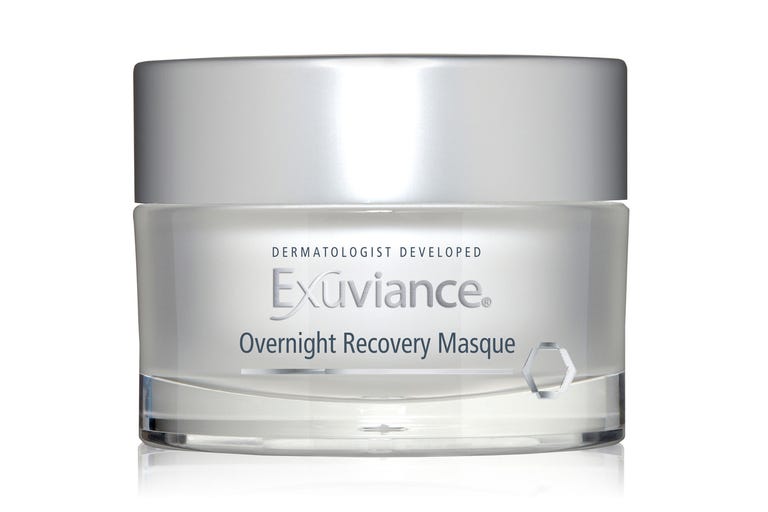 For feeling and looking refreshed, nothing beats a good night's rest. It's when your body actively repairs the damage inflicted throughout the day, resulting in better focus, higher energy, and way more glow. Shoot for a nightly eight-hour stretch and make every Z count by smoothing on a hard-working treatment formulated to help neutralize environmental damage, nourish, and deliver deep hydration to your skin overnight. This sleep mask has a special anti-pollution complex of antioxidant-rich lilac extract, exfoliating Poly Hydroxy Acids, and calming Evening Primrose Oil to deliver a smoother-looking, more radiant mug by morning.
Exuviance Overnight Recovery Masque, $65, exuviance.com.
SHOP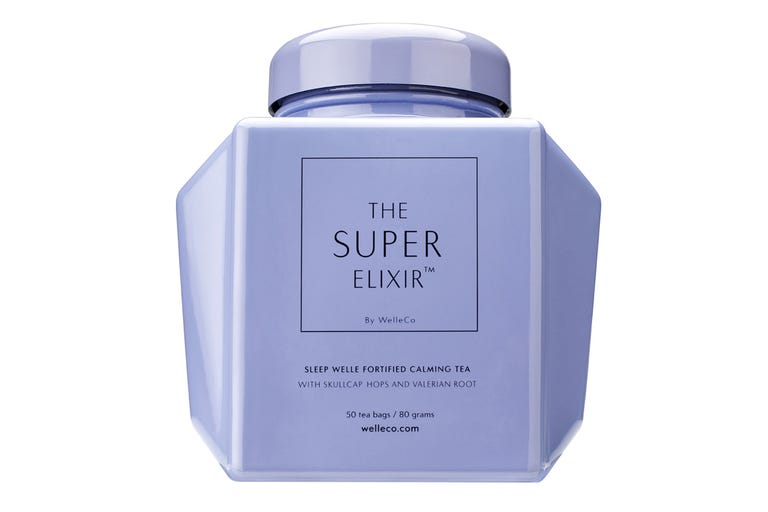 Here's a delicious way to wind down: A mildly fruity drink packed with naturally calming valerian root, hops, and skullcap that promises to reduce stress and anxiety with the added benefits of deeper sleep, balanced hormones, and amped up hydration. Brew a cup any time you're feeling angsty—especially before bed to relax your muscles and mind.
WelleCo The Super Elixir Sleep Well Fortified Calming Tea, $69, welleco.com.
SHOP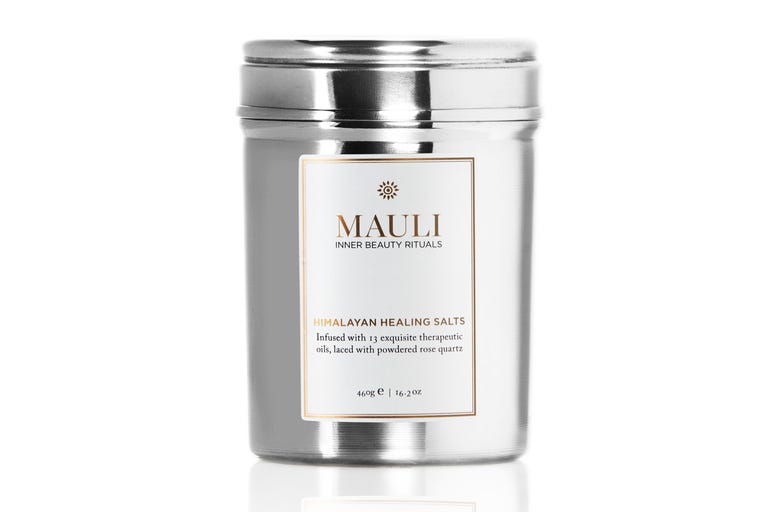 A nice warm bath provides powerful relaxation cues, too—just 10 minutes of soaking can promote better sleep, relieve muscle pain, and calm your mind. To de-stress at home, light an aromatherapy candle, turn on some relaxing tunes, and sprinkle in a handful of therapeutic bath salts. This mix is powered by Himalayan pink salts, lavender and frankincense oils, and powdered rose quartz crystals all aimed at detoxifying, restoring balance, and easing you into a peaceful slumber.
Mauli Rituals Sacred Himalayan Healing Salts, $60, net-a-porter.com.
SHOP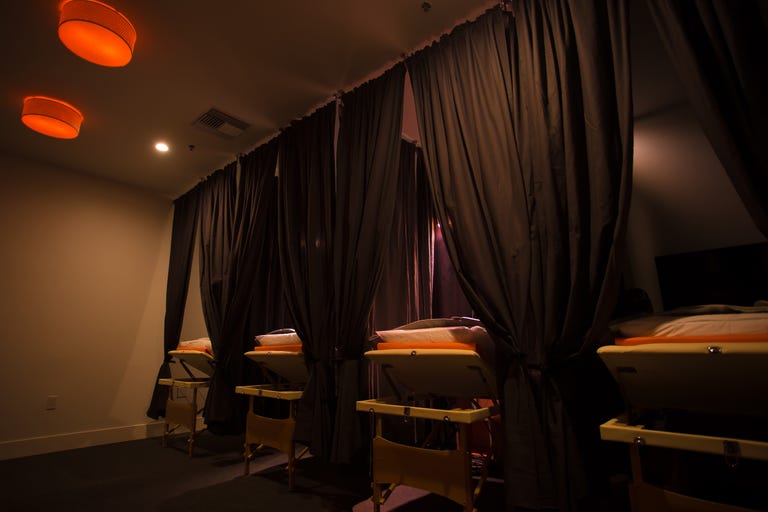 Sweating offers a lot of does-a-body-good benefits—flushing out toxins, releasing endorphins, keeping pores clear—and now there's a new age-y way to reap them without setting foot in a gym. At the celebrity-loved Shape House, you'll relax in peace (or watch your favorite Netflix show) for 55 minutes under swaths of infrared-heated blankets that work to gently warm you from the inside out. You'll walk away feeling like you just finished a high-impact workout: less tense, more relaxed, and exhausted in the best gonna-sleep-like-a-baby-tonight sort of way.
Shape House Infrared Treatment (locations in LA and NYC with more on the way), $70 for a 55-minute session, shapehouse.com.
SHOP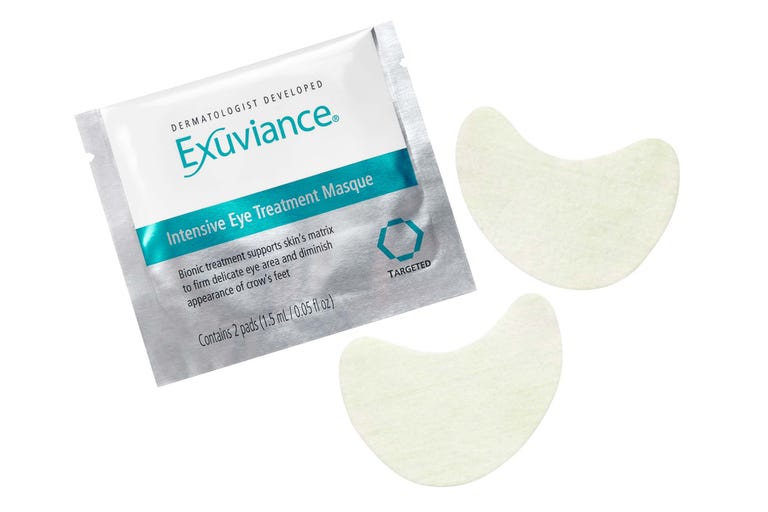 Reading emails all day and scrolling (and squinting) through Instagram at night can take a toll on our eyes in the form of puffiness, dark circles, and fine lines. Short of committing to a digital detox, using a concentrated eye treatment on the regular is your best bet to combat the effects of screen time. Our pick: These quick-fix under-eye patches packed with a brightening blend of Lactobionic Acid and Vitamins A, C, and E to help firm, hydrate, and fight the look of fatigue.
Exuviance Intensive Eye Treatment Masque, $49, exuviance.com.
SHOP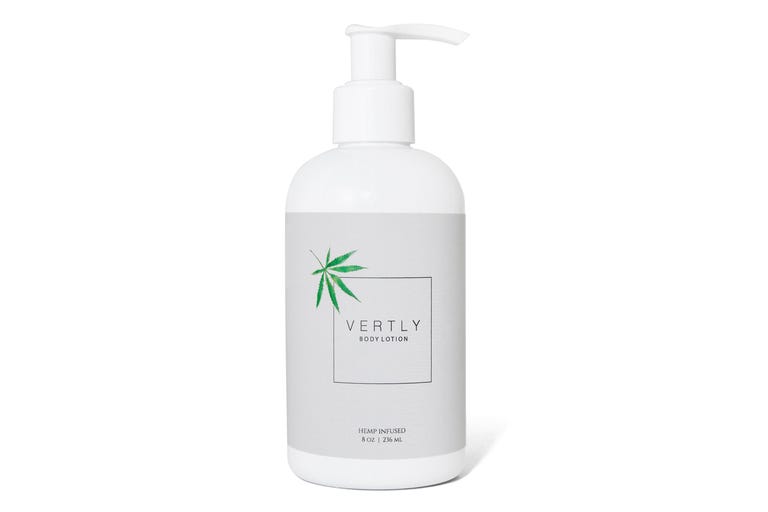 We know what cannabis can do for a person's mood, but turns out it can also give skin a daily dose of R&R. CBD oil, a totally non-psychoactive compound found in cannabis, is now being infused into everything from face creams to body lotions, like this one with a restorative mix of hemp extract, arnica flower, and magnesium oil to help reduce inflammation, relieve muscle pain, and boost circulation. It may not be potent enough to get you high, but it's powerful enough to make you say ahhh.
Vertly Hemp Infused Body Lotion, $50, vertlybalm.com.
SHOP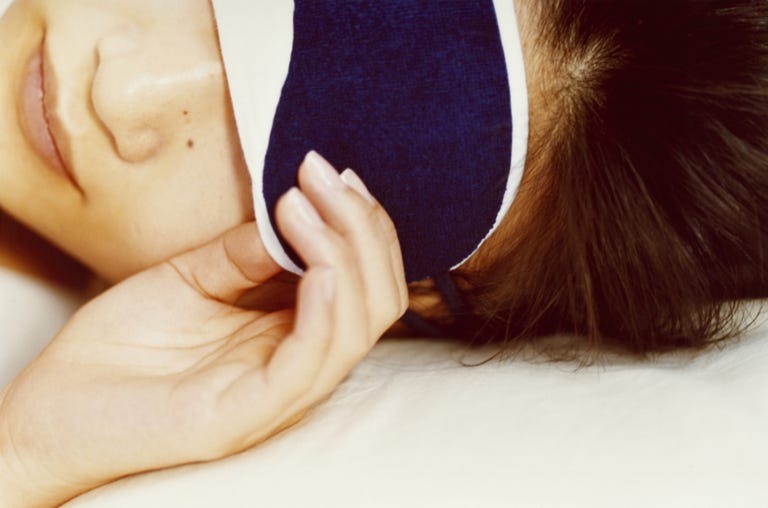 Sure, taking measures to actively self-nourish is important, but sometimes what you really need is to detach from it all. Which is why unplugging and being present in the moment can help you focus and reboot just as much as a hardcore sweat sesh or a meditative mani. Start slowly by disconnecting from your phone for 15 minutes a day; try forgoing your go-to podcast during your morning commute one day a week and "powering down" at mealtime. Another practical shift? Set a digital curfew in which you turn off every device—smartphone, laptop, tablet, TV—an hour before bed so you can wind down without all the external stimulation. You'll be surprised at how impactful a few moments of silence can be.
Source: Read Full Article