You Can Save up to 40% on These Kylie Cosmetics Products Right Now
View this post on Instagram
Our end of the year sale is LIVE! 🎉 Get up to 40% OFF on selected items now! Plus receive a FREE Kylie makeup bag when you spend over $100! 🎁🛍✨ Happy shopping! Kyliecosmetics.com
A post shared by Kylie Cosmetics (@kyliecosmetics) on
If you're like me, you have exactly zero dollars left after the holidays this year, but start looking under couch cushions for whatever you can find because Kylie Cosmetics just announced its end of the year sale—and it's good.
Products you've wanted to buy all year but weren't able to justify are now available for up to 40 percent (!) off. For instance, that stunning Halloween palette with shimmery earthy tones you've had in your shopping cart? It could be yours for $31.50 instead of $42. Or maybe you had your eye on the mini lip kit set that launched in honor of Kylie's birthday? You can save $14.40 on that if you shop right now. Or maybe you fell in love with the shades in the Koko Kollection face palette and want to stock up in case there's never a restock. Whatever your preference, there's something you can snag for a good deal, trust.
Some products, like the makeup brushes, are already starting to sell out, but don't stress! A whopping 50 products are included in the sale, because Kylie truly knows how to spread Christmas cheer. And if you spend over $100 (we all know that's easy to do with makeup even with a sale), you'll also receive a free makeup bag for storing all your new beauty loot.
The sale starts today, but, like all good things, it'll come to an end Dec. 28 at 11:59 p.m. PST. That should give you plenty of time to scrounge a few bucks hidden in your pant pockets, but don't wait too long because you won't want to miss out.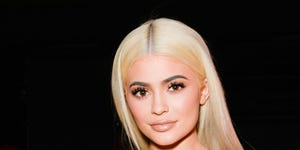 Source: Read Full Article