The 40 Cutest Royal Baby Photos of All Time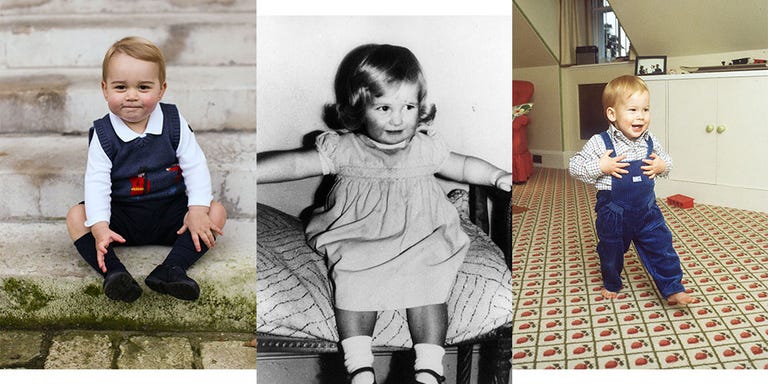 The British royal family added another adorable member on April 23, 2018 with the arrival of Kate Middleton and Prince William's third child, a baby boy weighing in at 8lbs 7oz. William's cousin, Zara Phillips, is also due to give birth to her second child this year. To celebrate all this joy, here's a look back (in no particular order) at the cutest royal baby photos of all time. And yes, Prince George and Princess Charlotte are on here a bunch.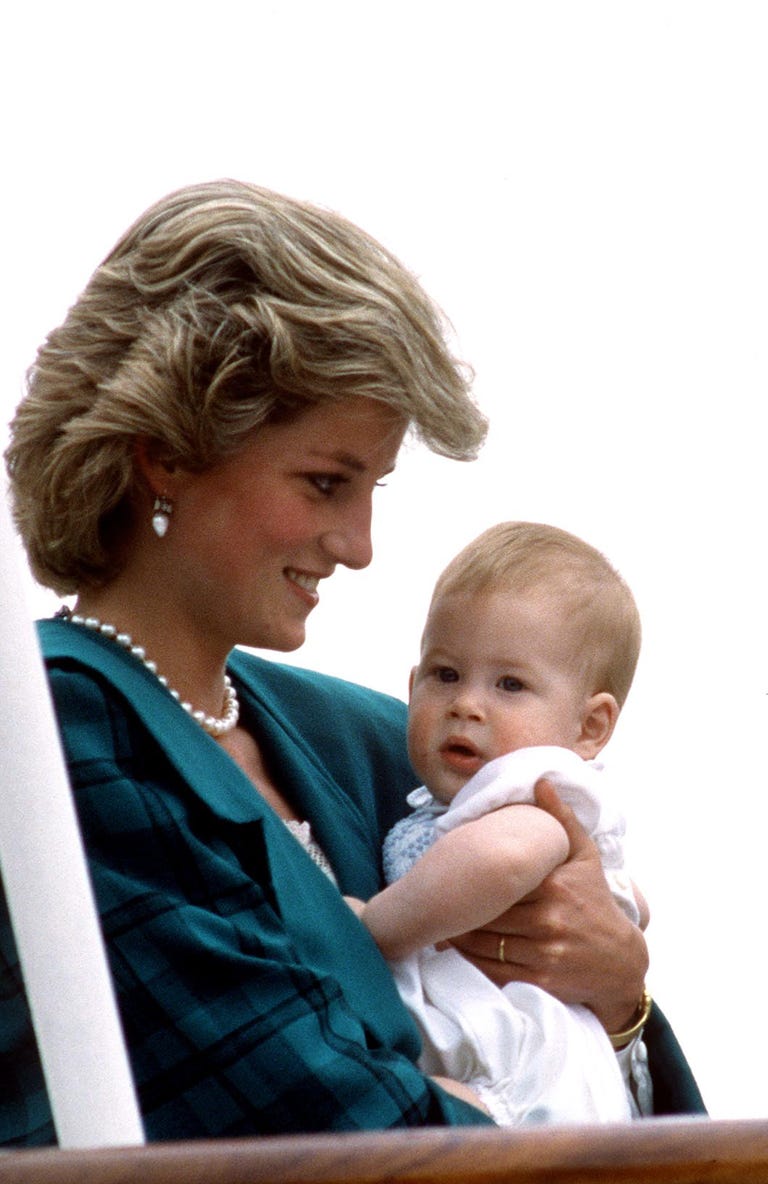 Harry, 8 months, is cradled by Princess Diana aboard The Royal Yacht Britannia during an official tour of Italy. In the 2017 HBO documentary, Diana, Our Mother: Her Life and Legacy, Harry said of his mother, "She would just engulf you and squeeze you as tight as possible. And being as short as I was then, there was no escape; you were there and you were there for as long as she wanted to hold you."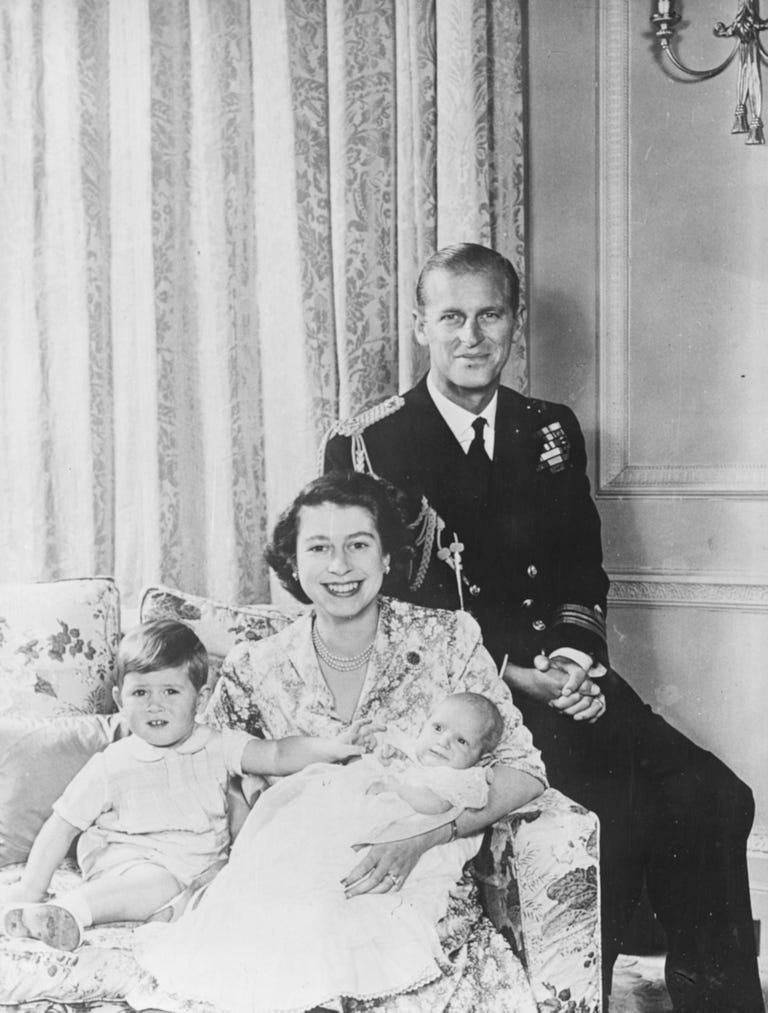 Princess Anne, 2 months, poses for a photo with her brother, Prince Charles, 23 months, and their parents, Princess Elizabeth and Prince Philip, at Buckingham Palace. Elizabeth would become queen just two years later.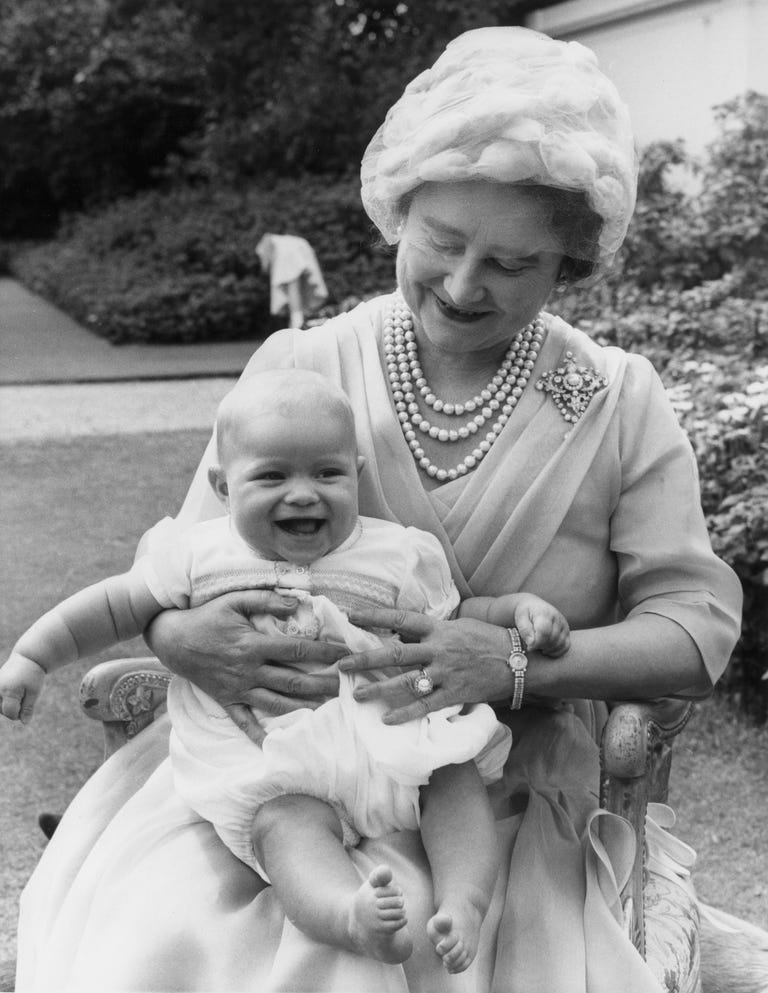 Prince Andrew, 6 months, is held by his grandmother, The Queen Mother, at Clarence House in London. That same year, Andrew and his family were filmed while they were on holiday at Balmoral Castle in Scotland. Footage of their vacation includes baby Andrew being pushed in his pram by Queen Elizabeth.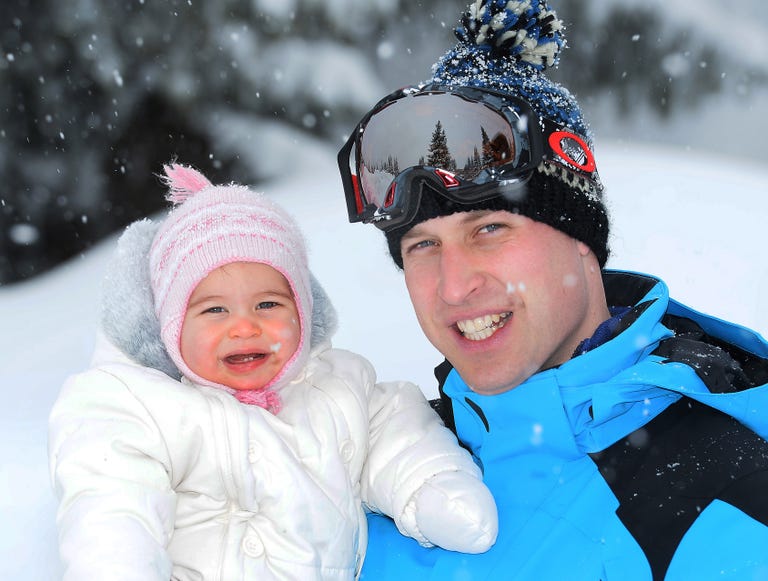 Princess Charlotte, who was born in May 2015, is all smiles while on a ski trip with her dad, Prince William, in the French Alps. Charlotte, big brother George, and their parents went to Courchevel, the same resort Kate and William visited before they were married in 2011.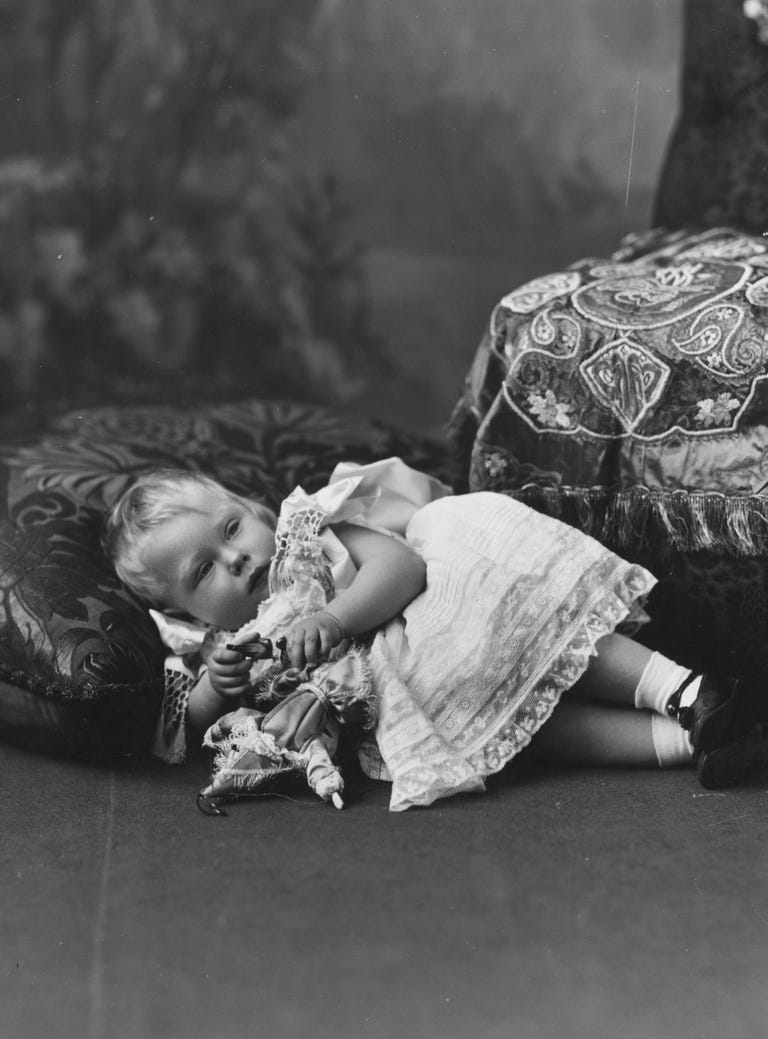 Edward, the eldest son of King George V and Queen Mary, is photographed resting on a pillow at around 6 months old. In 1936, Edward officially became King Edward VIII, but abdicated the throne in less than one year so he could marry American divorcée Wallis Simpson. Edward's brother, King George VI, took over the throne while Edward became the Duke of Windsor.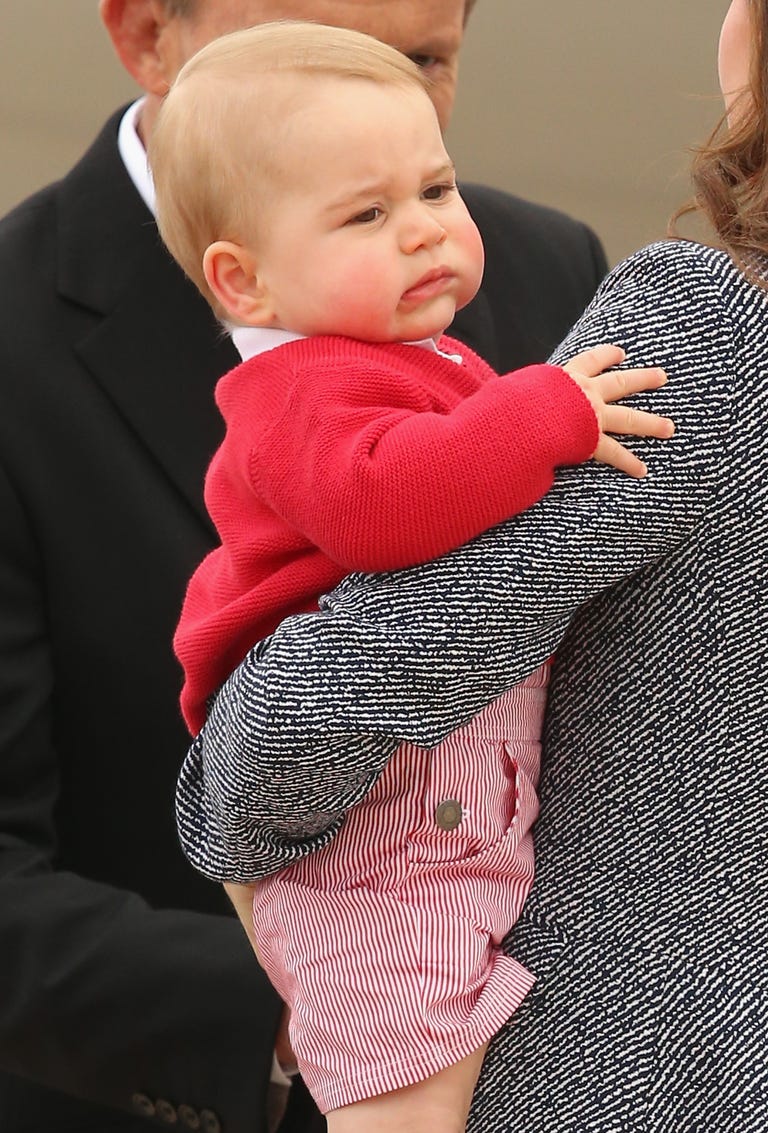 George, 9 months, makes a face while his mother Kate Middleton holds him at Fairbairne Airbase in Australia. The little prince joined the Duke and Duchess of Cambridge for his first royal trip that year and took a three-week tour of Australia and New Zealand.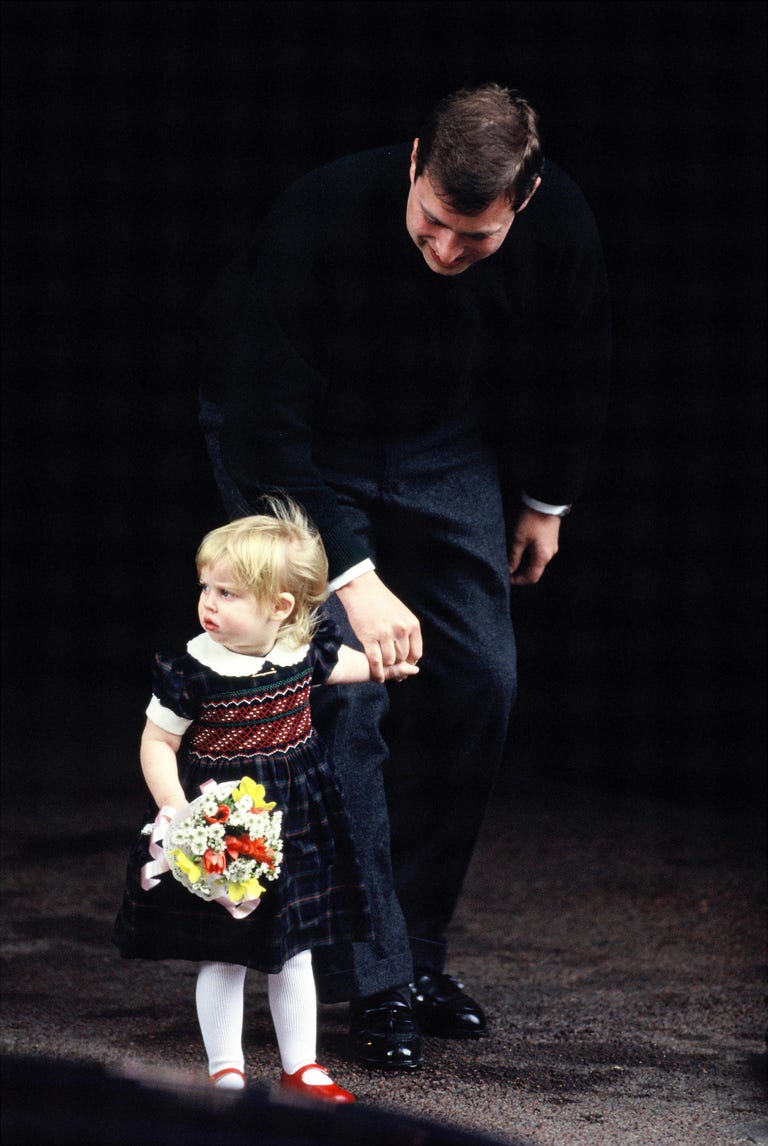 Princess Beatrice joins her father Prince Andrew at The Portland Hospital in London after the birth of Beatrice's new sister, Princess Eugenie. The sisters have remained close over the years.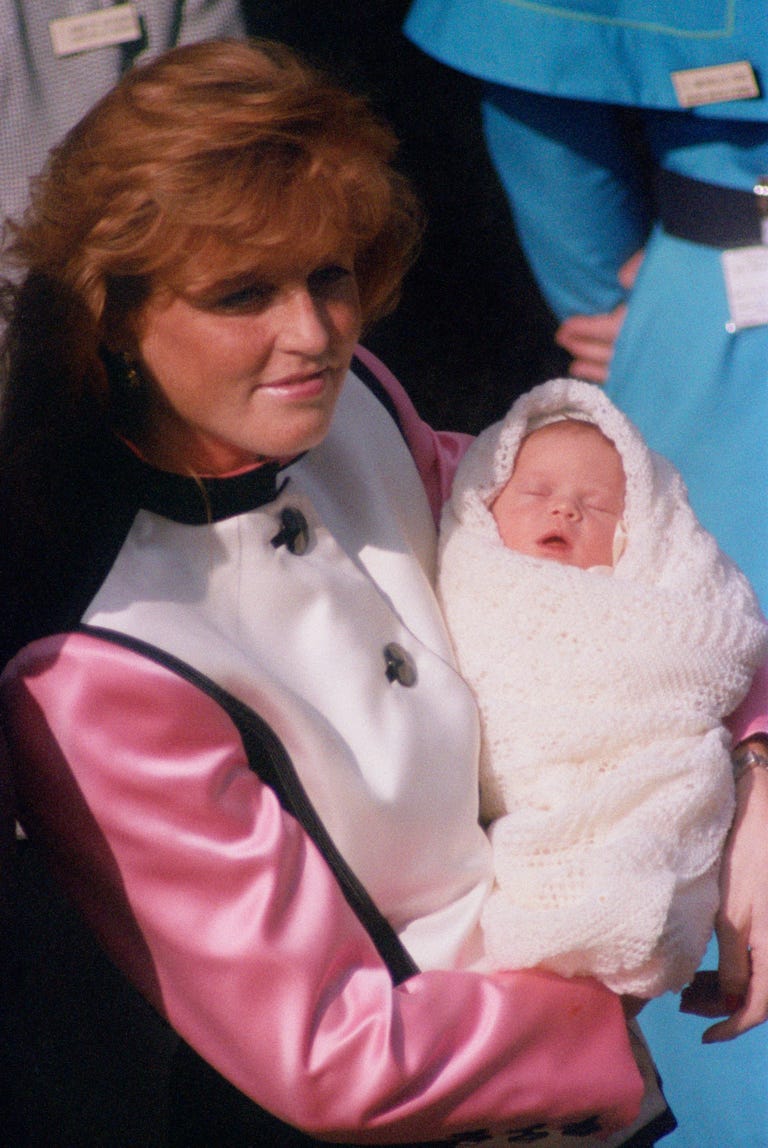 A newborn Princess Eugenie naps while her mother Sarah, the Duchess of York, cradles her outside the hospital in London. In 2017, Eugenie told Harper's Bazaar, "What can't I live without? My family. That sounds cheesy, but I really can't. Especially my mum. I wouldn't be able to make tough decisions without her. And my sister. My mum always says that we're the only ones who know exactly what's going on in each other's lives."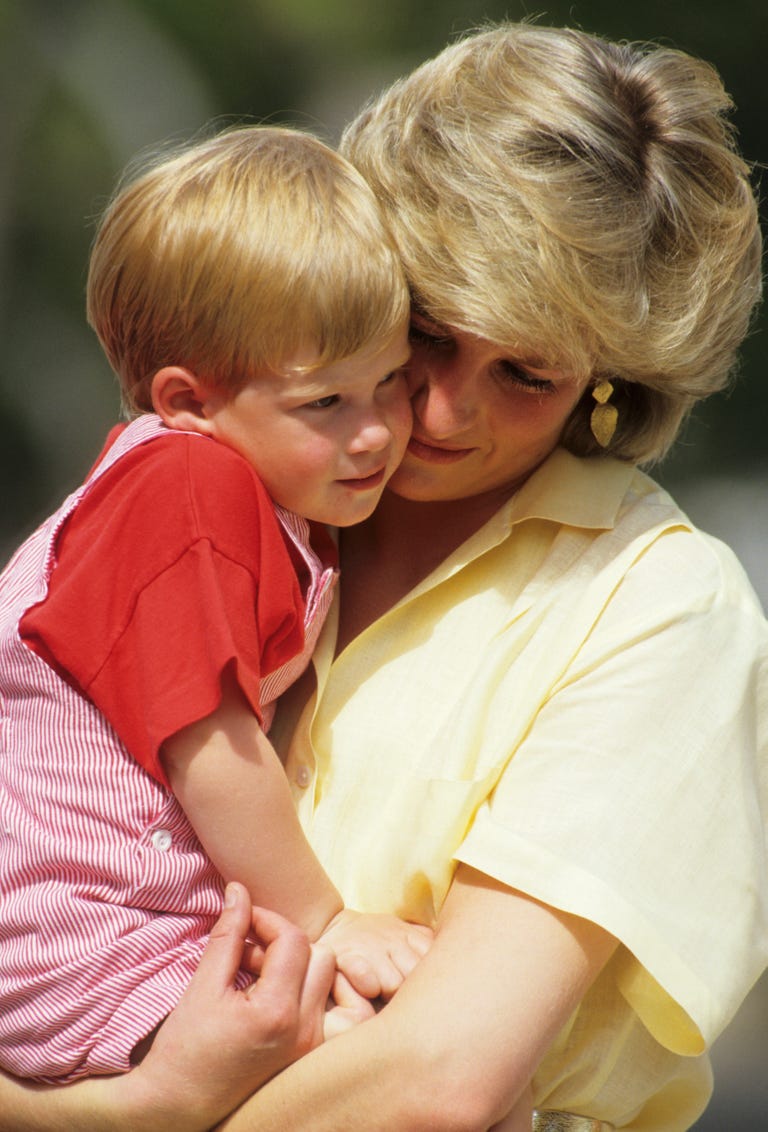 Princess Diana holds her nearly 3-year-old son, Prince Harry, while on holiday in Majorca, Spain in August 1987. In the same HBO documentary released in 2017, Harry said he can still feel Diana's hugs. "I miss that, I miss that feeling. I miss that part of a family, I miss having that mother… to be able to give you those hugs and give you that compassion that I think everybody needs."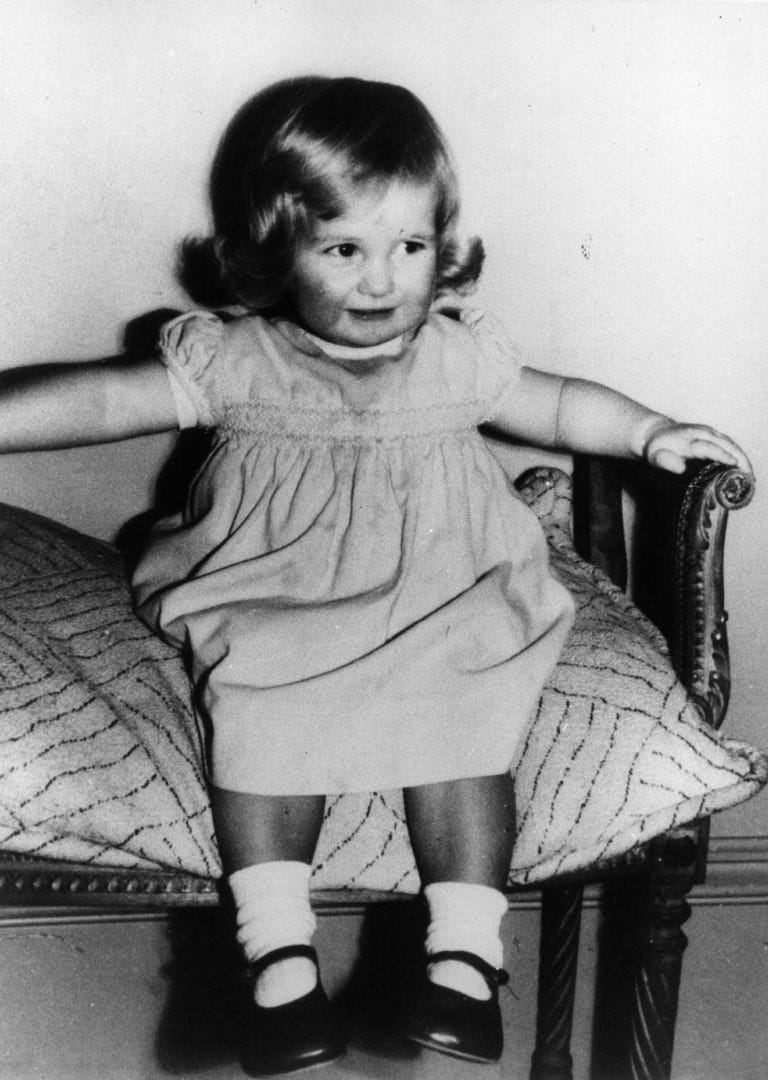 Diana is photographed on her 2nd birthday at Park House in Sandringham, Norfolk. In 2007, Inge Crane, one of Diana's nannies, opened up to CNN about Diana Frances Spencer's childhood. "There's always been something special about Park House. It's difficult to put a finger on what it is," Crane said, adding that Diana was a tomboy who loved the outdoors and animals. "She was quite a lovable child. She was very, very cuddly."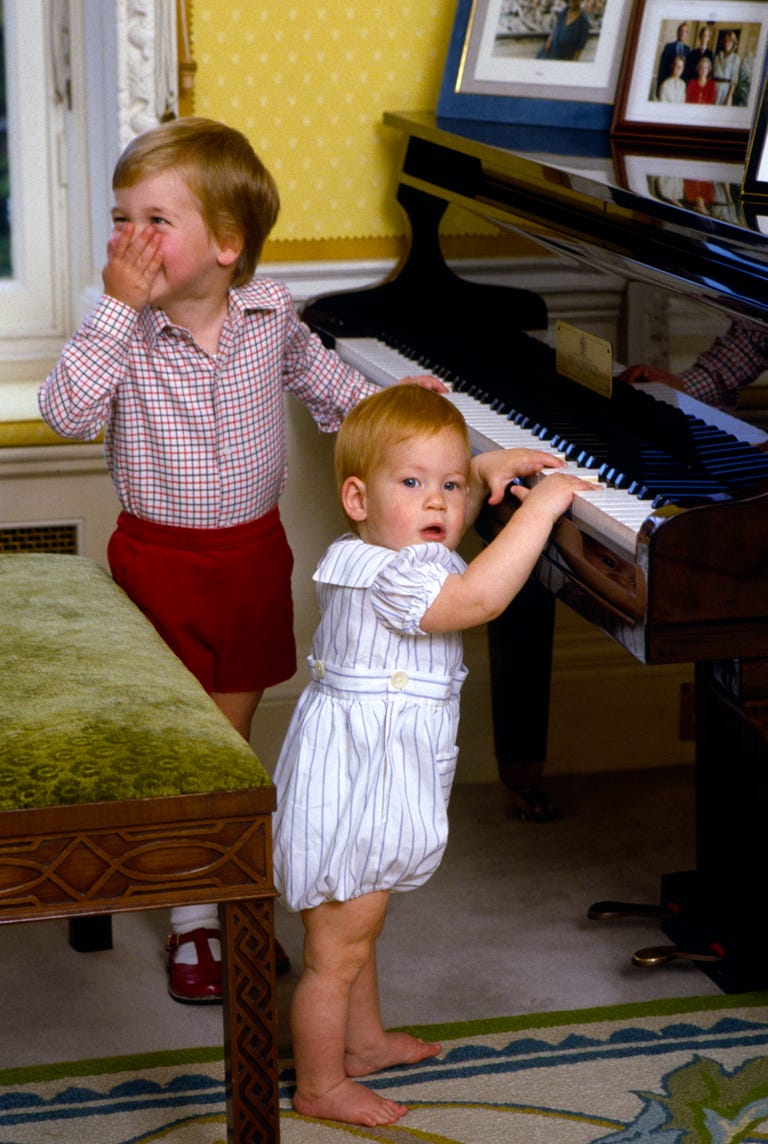 Prince William giggles while his brother Prince Harry fiddles with some keys on the piano at their home in Kensington Palace. The princes, who have lived in separate apartments within the palace over the years, have maintained a close relationship. Shortly after Harry announced his engagement in November 2017, William told reporters, "For me personally, I hope it means he stays out of my fridge, and stop him scrounging over my food like he's done over the last few years. I'm pretty excited."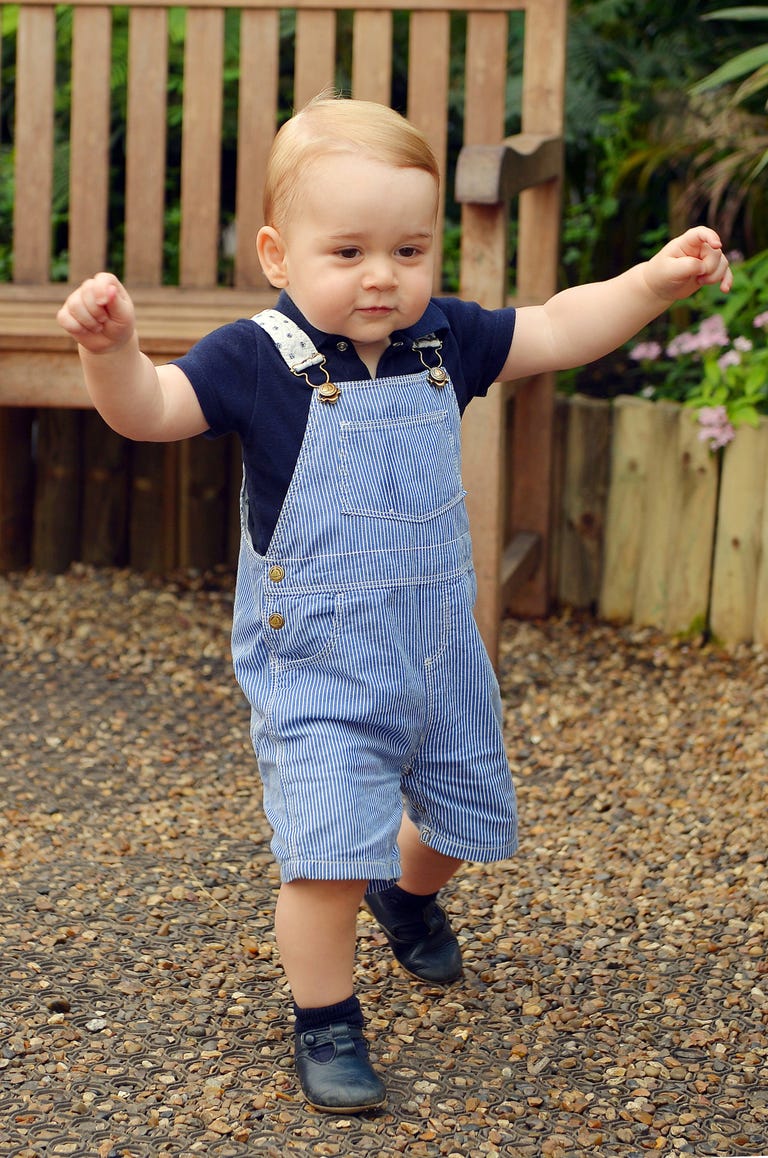 Prince George sports a stylish pair of overalls in a photo released to celebrate his first birthday. The photo was taken at the Sensational Butterflies exhibition at the Natural History Museum in London.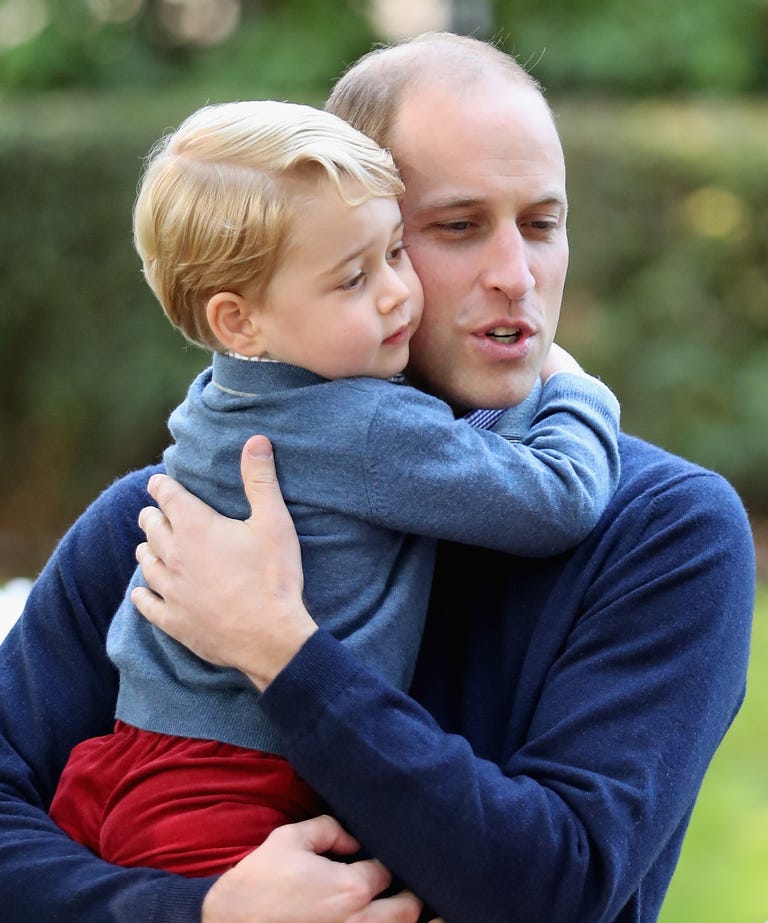 George and William share a hug at a children's party for military families in Victoria during an official royal tour of Canada in September 2016. In a 2017 interview with GQ, William stressed the importance of family, home, and his hopes for his children. "I want to bring up my children in a happy, stable, secure world, and that is so important to both of us as parents. I want George to grow up in a real, living environment, I don't want him growing up behind palace walls, he has to be out there. The media make it harder but I will fight for them to have a normal life."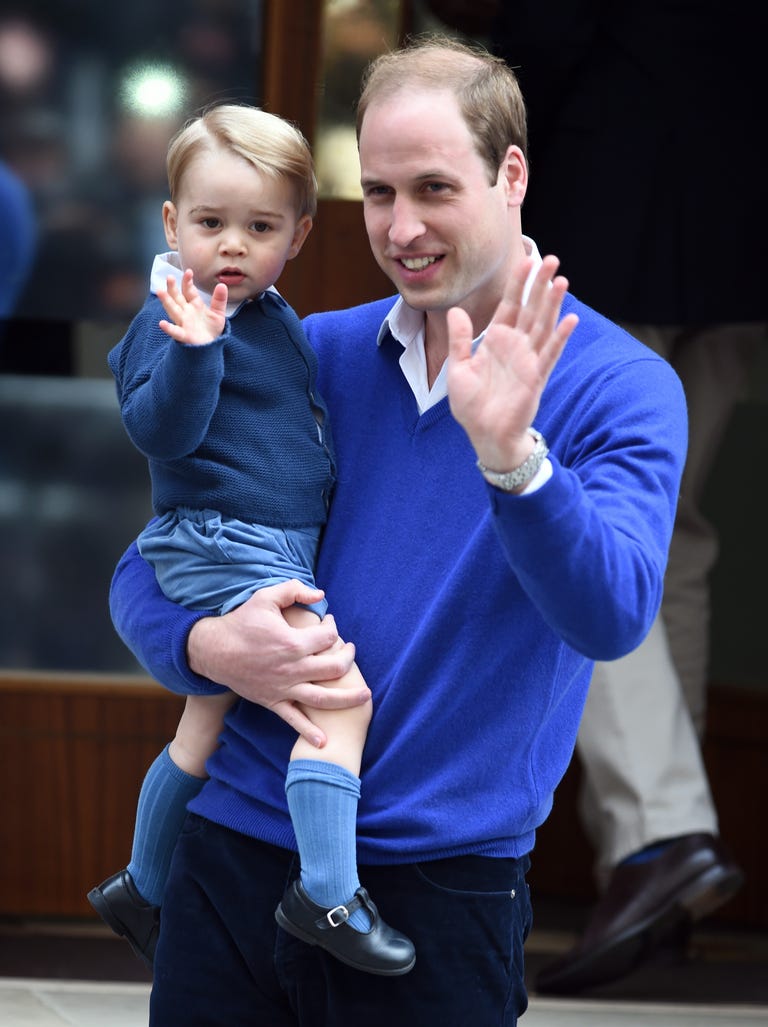 George and William wave to the press at the Lindo Wing at St. Mary's Hospital shortly after the birth of Princess Charlotte in May 2015. George is currently third-in-line to the throne, after dad William (second) and grandpa Charles (first).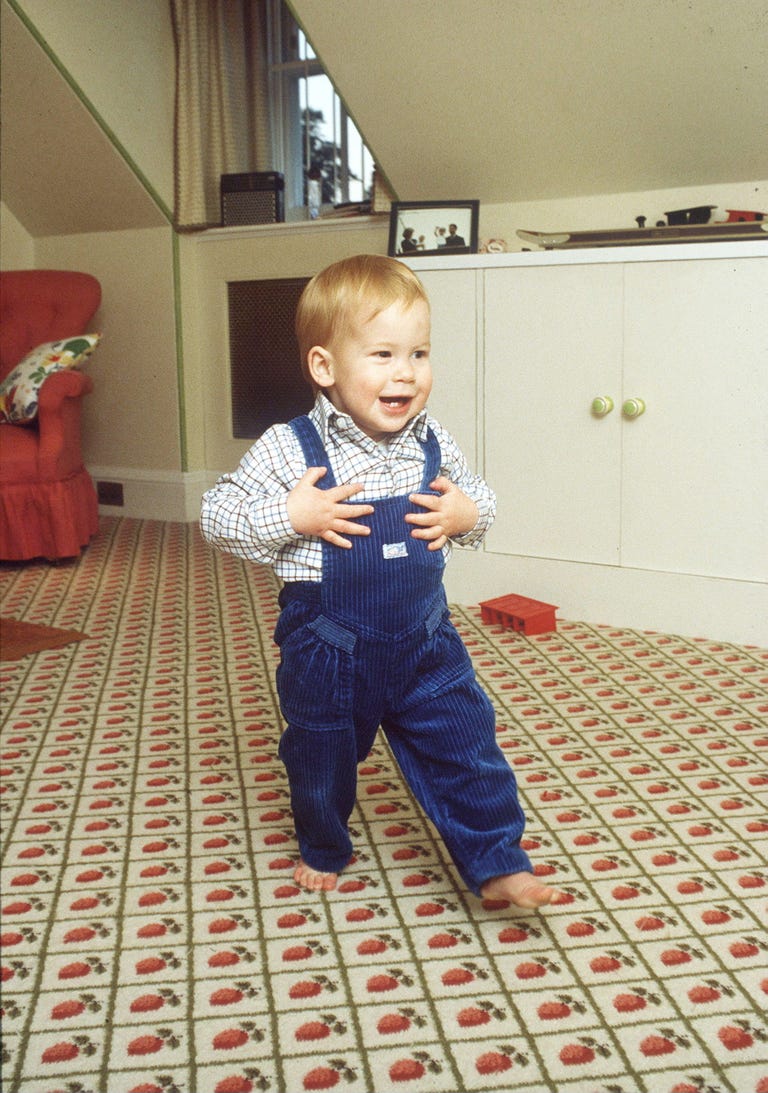 Prince Harry takes his first steps in the playroom inside Kensington Palace not long after his first birthday.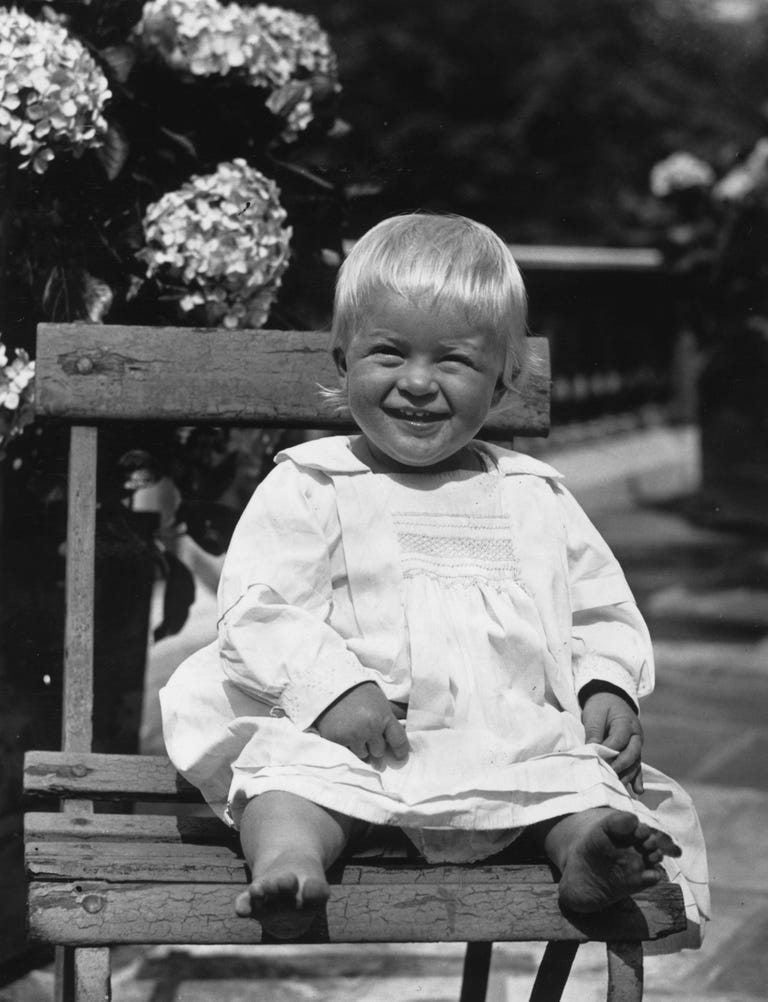 Philip, who was born in Greece in June 1921, was exiled from the country with his family when his uncle, King Constantine, abdicated the throne. Some six months after this photo was taken, Philip and his family boarded the HMS Calypso and headed to Paris.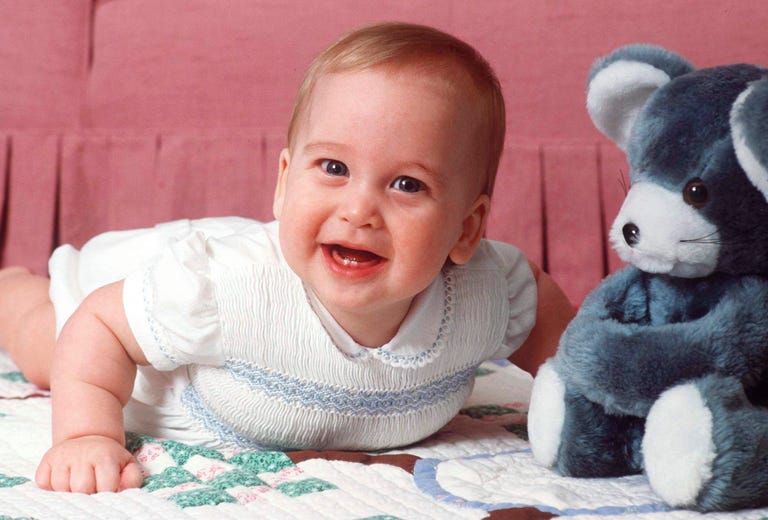 William, 8 months, shows off his new teeth during playtime at Kensington Palace.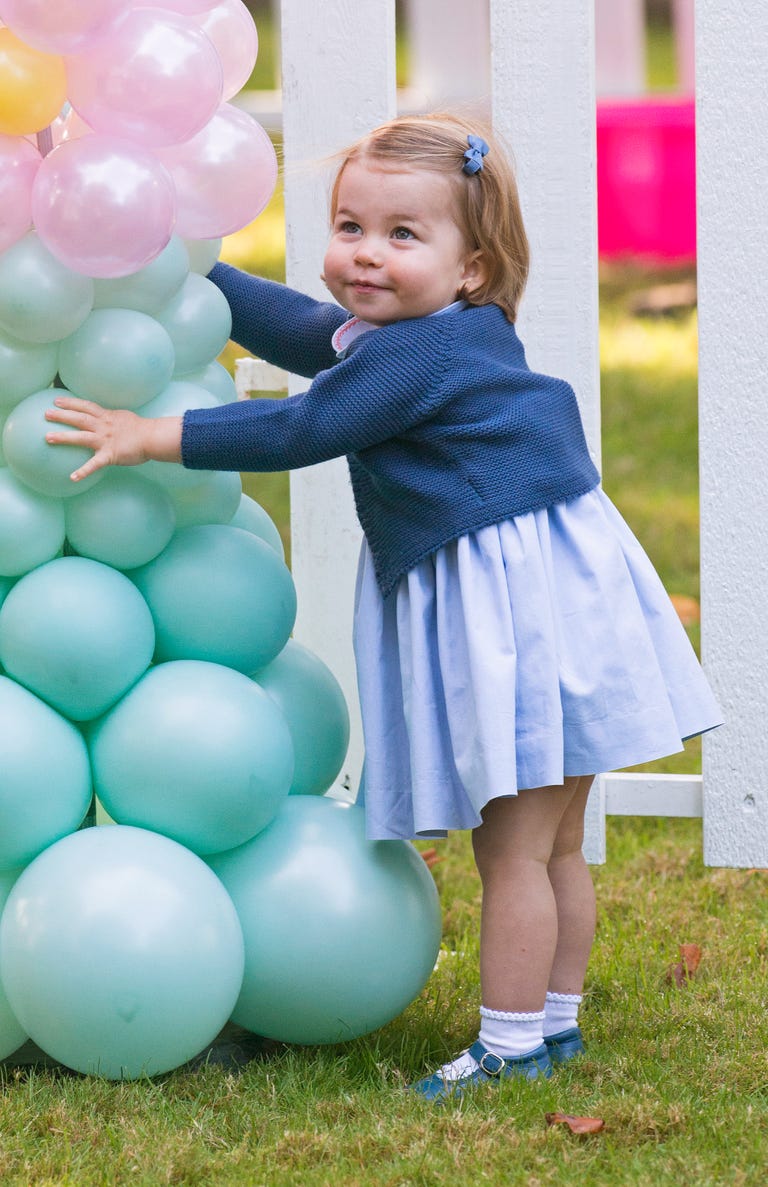 Charlotte is overjoyed at the sight of balloons during an official tour of Canada with her parents and big brother in September 2016.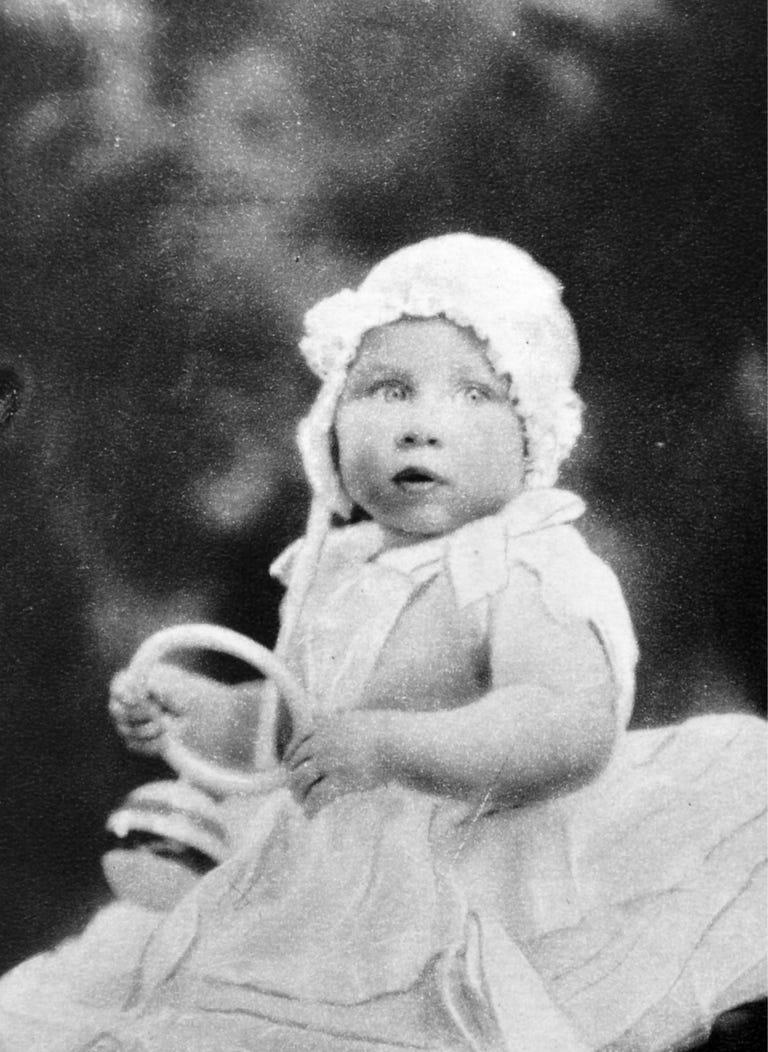 Princess Margaret, 5 months, plays with a rattle while posing for a photo in 1930. In 2013, Margaret's biographer Christopher Warwick revealed that the princess most enjoyed the drawing room at the palace. "On the ground floor, there were 4 reception rooms – the Drawing Room, Dining Room, Library and Garden Room – all of which overlooked a spacious and well stocked walled garden. But as the main living area in the house, the Drawing Room was where the Princess spent much of her time."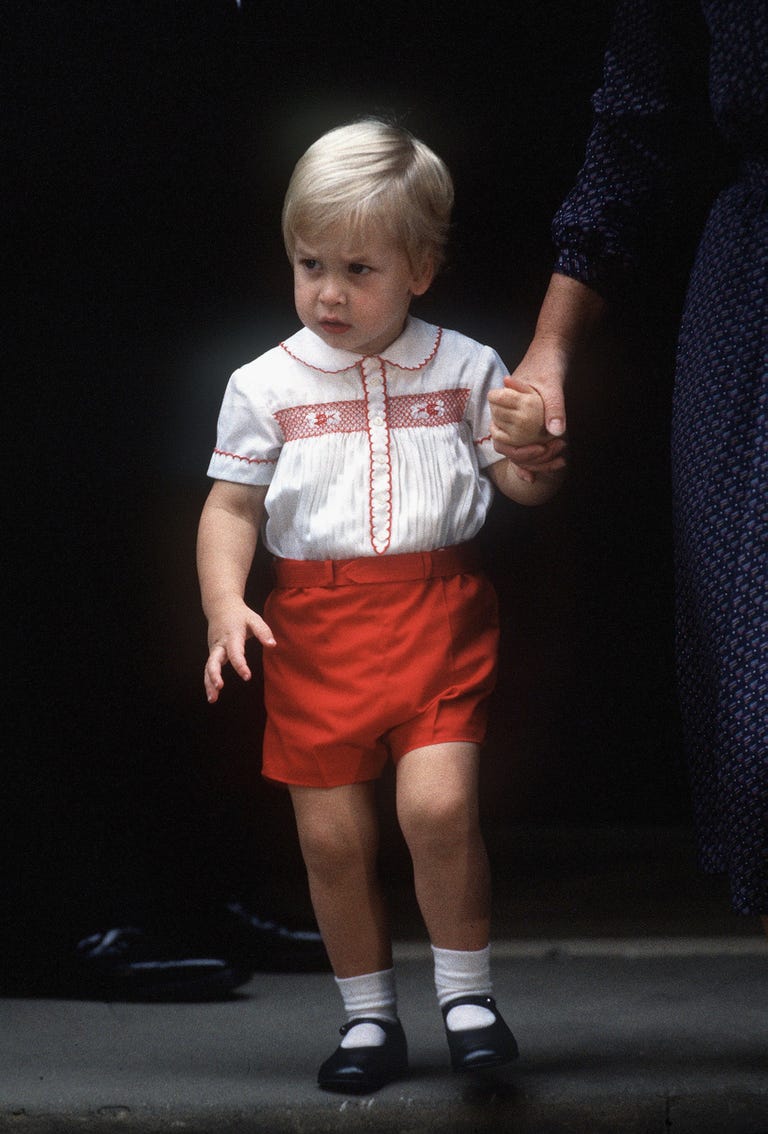 Prince William, 2, leaves St Mary's Hospital after visiting his newborn brother, Prince Harry. William's son, Prince George, would wear a similar outfit in 2015 at Princess Charlotte's christening.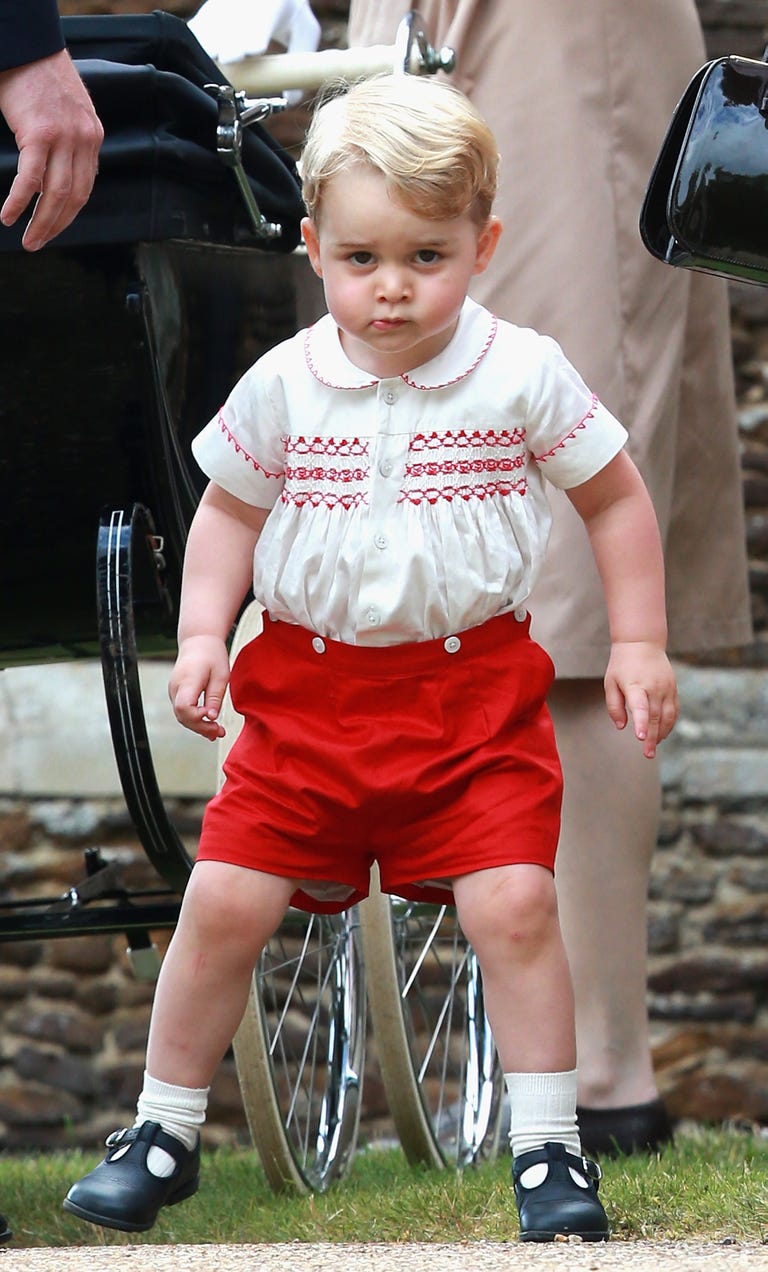 Prince George greets the media following the christening of his baby sister, Princess Charlotte, at the Church of St Mary Magdalene in Sandringham.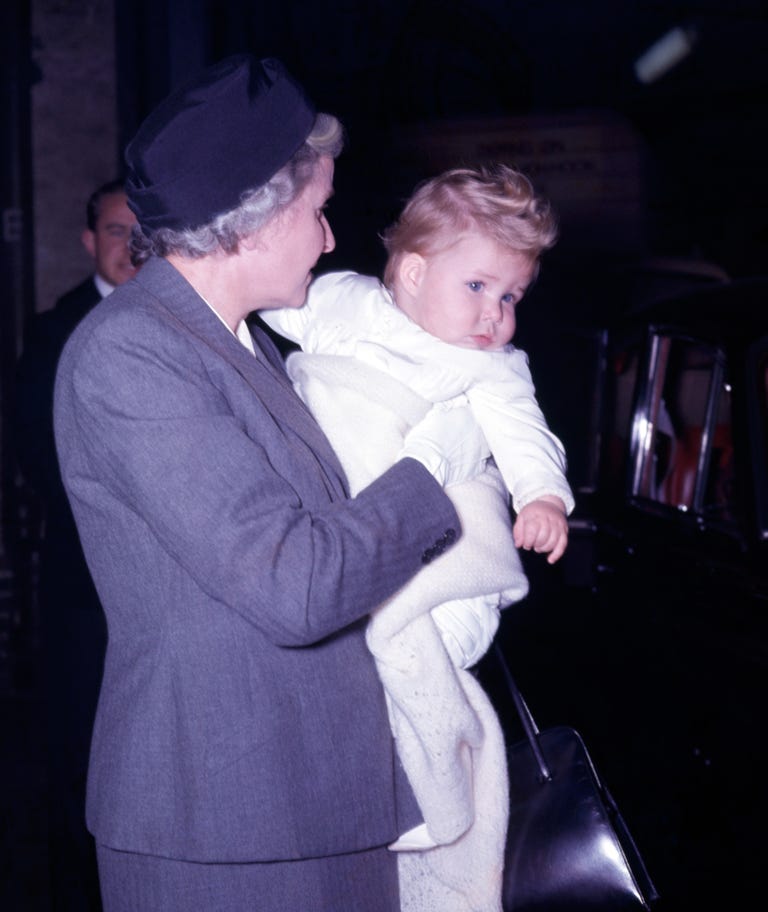 David Albert Charles Armstrong-Jones, son of Princess Margaret and Tony Armstrong-Jones, is cute as a button while arriving at Euston Station in London with his nanny ahead of the family's trip to Balmoral.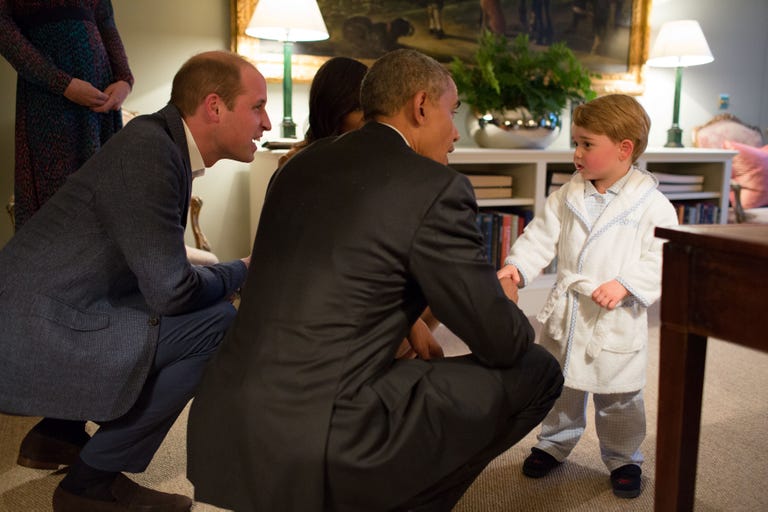 Prince George sports a personalized bathrobe while meeting U.S. President Barack Obama and First Lady Michelle Obama at Kensington Palace, with Kate Middleton and Prince William looking on.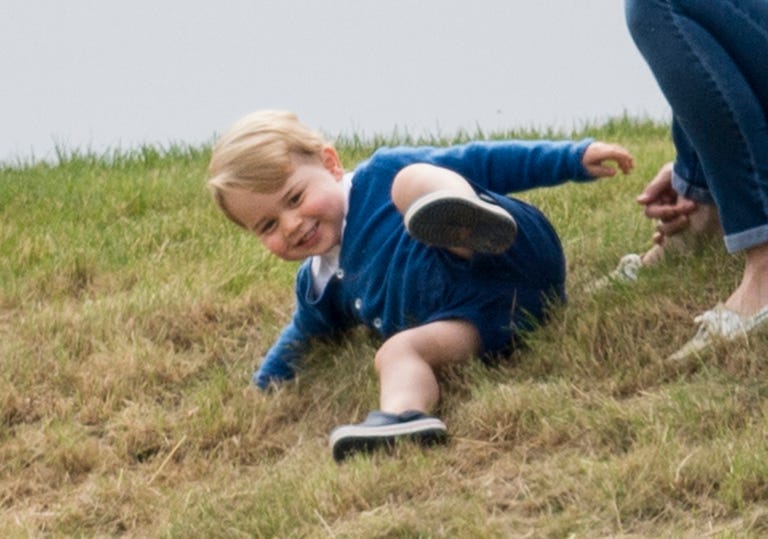 Prince George, 11 months, slides down a hill while watching his dad Prince William and uncle Prince Harry play a charity match at the Beaufort Polo Club.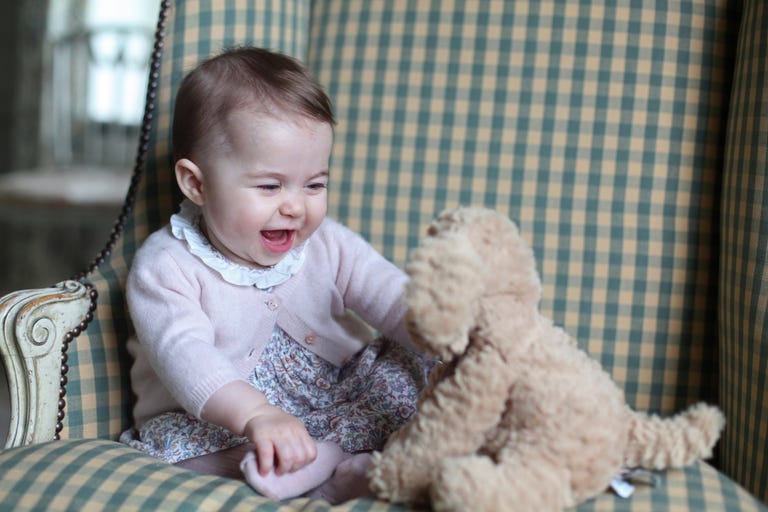 Princess Charlotte befriends a teddy in a photo taken by her mother, Kate Middleton, the Duchess of Cambridge. The photo was taken during the family's stay in Sandringham in October 2015.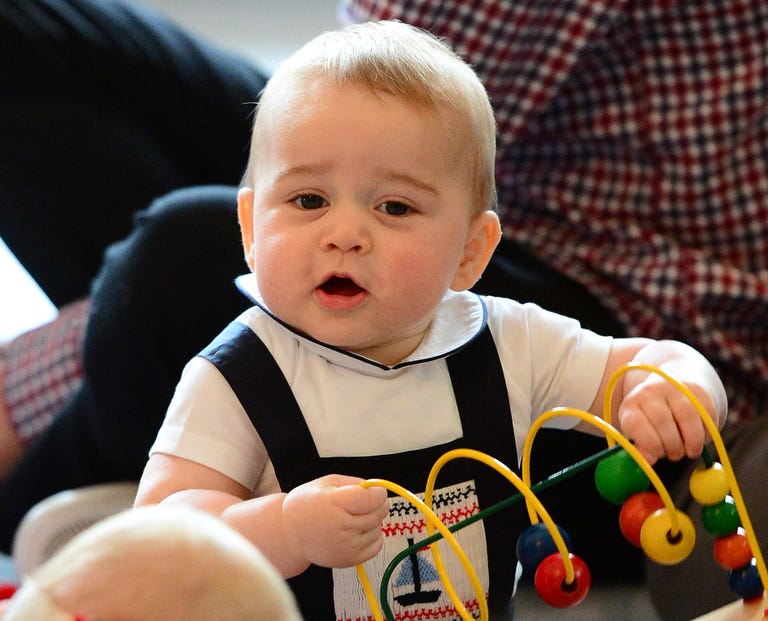 George, 9 months, hams it up while attending a play group at Government House in Wellington, New Zealand. The visit was part of George, Kate, and William's official three-week tour of Australia and New Zealand.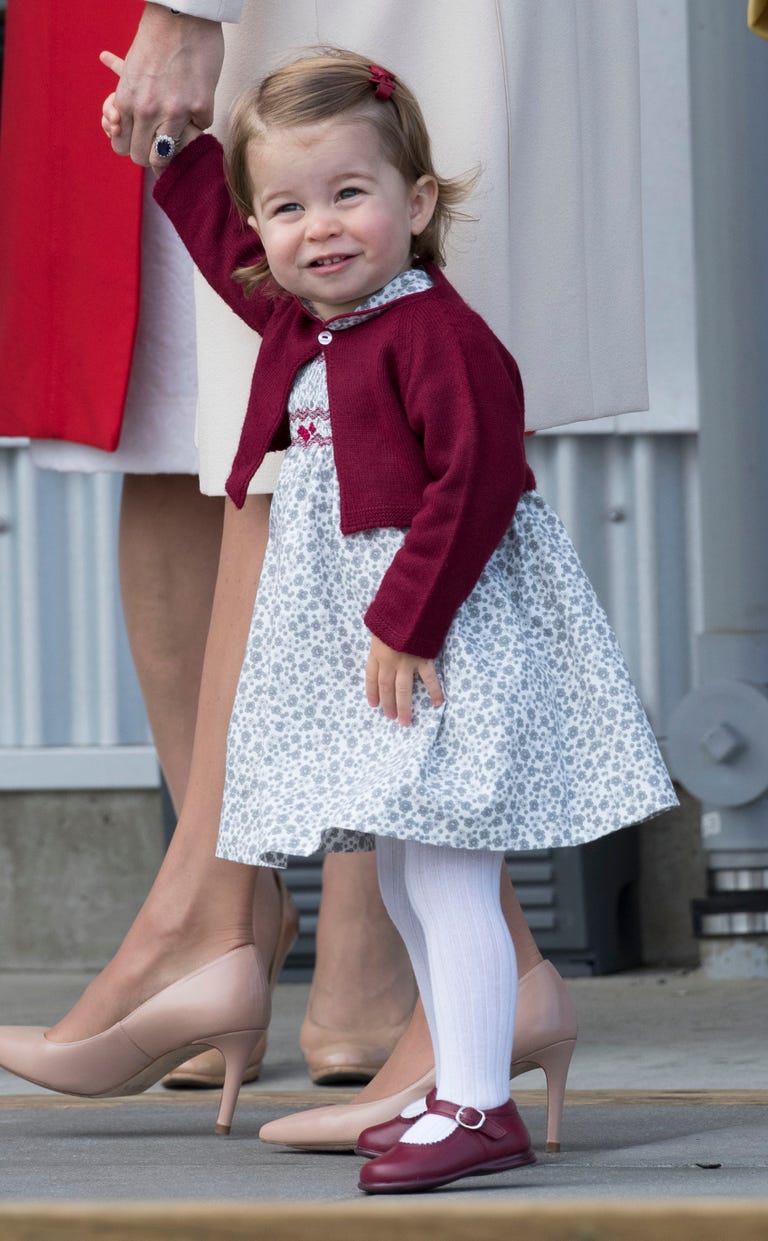 Charlotte, 16 months, marvels at the sight of something while waiting to board a sea-plane in Victoria, Canada. In September 2016, Charlotte and George joined their parents on an 8-day tour of Canada.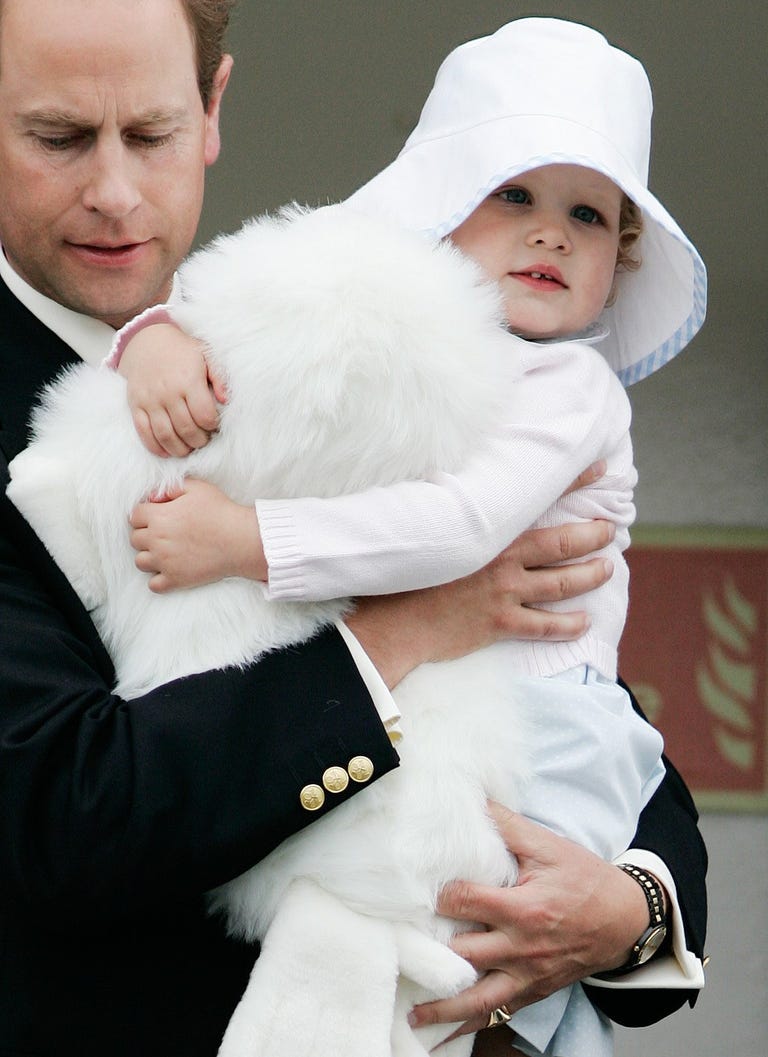 Lady Louise, 2, hugs a fluffy pillow while arriving in Scotland with her father, Prince Edward. In 2016, Louise's mother, Sophie, the Countess of Wessex, told the BBC that it took some time for Louise to realize that her grandmother was the queen. "Well, for Louise, actually, it was much more of a shock to the system. It was only when she was coming home from school and saying, 'Mummy, people keep on telling me that grandma is the queen.' And I asked her, 'Yes, how does that make you feel? And she said, 'I don't understand," she said. (via PEOPLE).
Prince Andrew, 5, and Prince Edward, 1, play with their toys in the sitting room of Windsor Castle.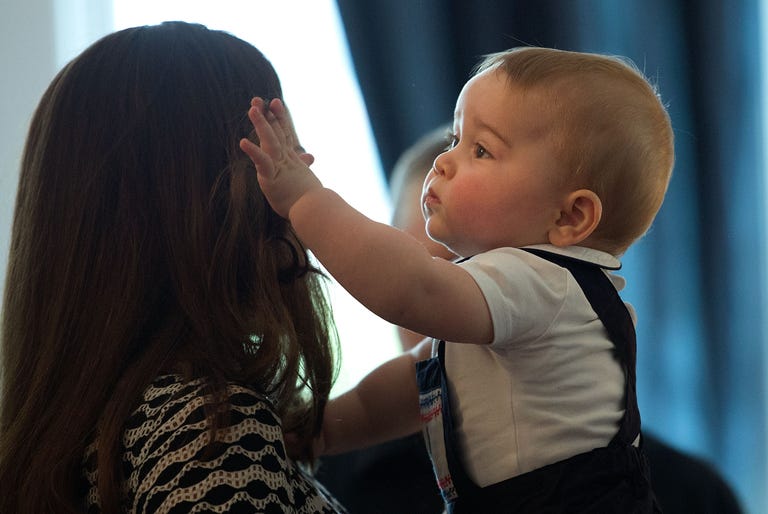 Prince George, 9 months, plays with his mother Kate Middleton's hair during an official visit to Government House in Wellington, New Zealand.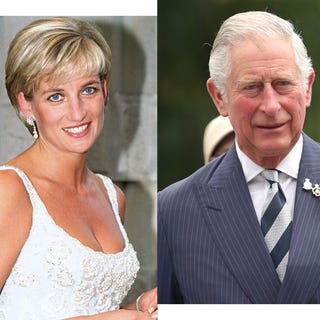 Source: Read Full Article