A Definitive Timeline of Zayn Malik and Gigi Hadid's Relationship
Since they first started dating four years ago, Zayn Malik and Gigi Hadid have appeared in two Vogue photo shoots, starred in a music video together, and appeared on each other's social media accounts countless times. There's enough break ups, make ups, and break ups (again) in this relationships to survive even the craziest of rollercoasters, but regardless…we have no choice but to ship. Relive their on-again, off-again relationship below.
November 2015: Zayn and Gigi first spark romance rumors a few short weeks after she ends thing with Joe Jonas. Photographs of them leaving Justin Bieber's American Music Awards after-party in L.A. surface, causing millions of Zayn fans to weep rivers. According to an Us Weekly source, the rumored new couple aren't using "boyfriend and girlfriend" terms just yet. "But seeing each other? Definitely. He's chuffed."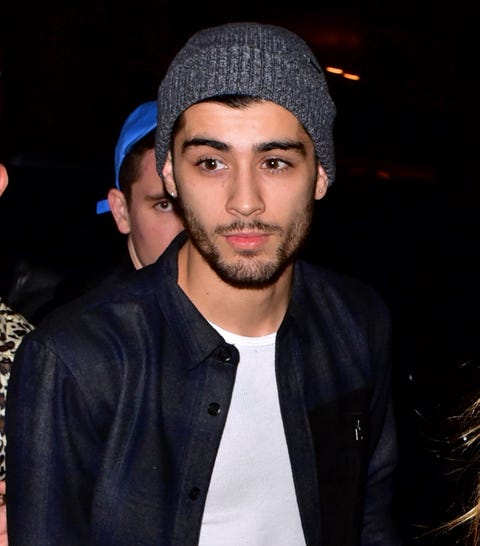 Days later, Zayn stirs more romance rumors when he takes a selfie wearing what appears to be Gigi's glasses.
pic.twitter.com/xE7sdcw3ww
On Nov. 29, Zayn and Gigi make things official by holding hands while leaving The Nice Guy together. This remains the most wonderful day for longtime ZiGi fans.
Before the month wraps, Joe Jonas quietly unfollows Gigi on Instagram and Twitter and deletes a #squad photo of himself with Zayn and Kanye West from earlier in the year.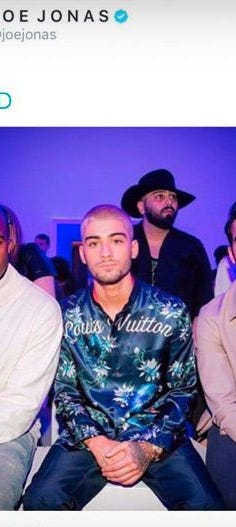 Gigi, meanwhile, posts and deletes four tweets likely directed at Joe. "Sometimes life just happens…For whatever reason in whatever timing. And sometimes it doesn't make sense til it does. That's it," reads one of the tweets.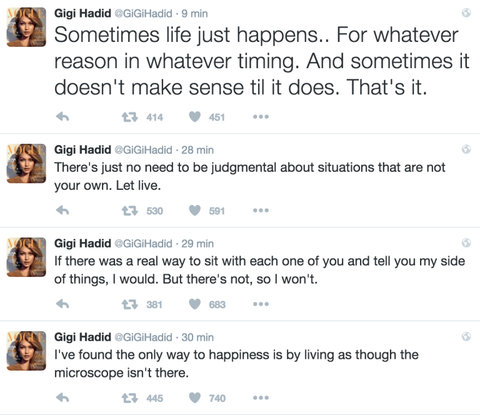 She also posts this extremely suggestive "CHILL" photo for Joe and everyone because it's less than one month into this new relationship, OK?
🙂 pic.twitter.com/I2DH8lv2hy
December 2015: *CUTE PHOTO BREAK*.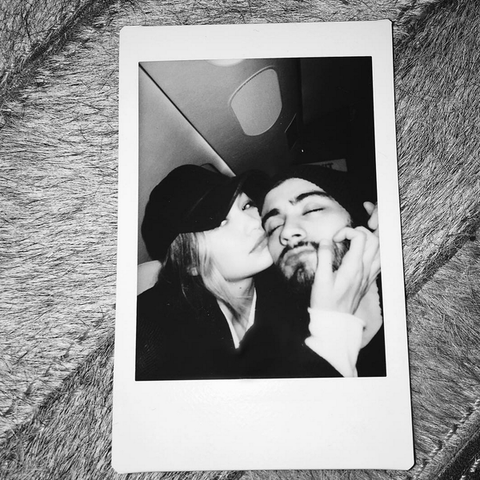 January 2016: Gigi takes things to the next level with a "Z" necklace. It first appears on her Instagram in a blink-and-you'll-miss-it moment.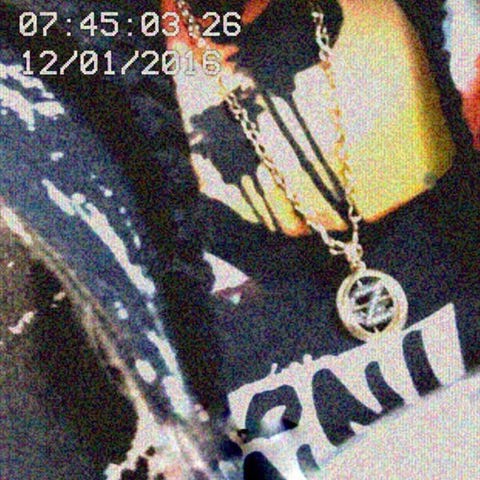 Next up: Zayn's face is spotted on Gigi's background image on her phone after she touches down at Charles de Gaulle Airport in Paris ahead of Paris Fashion Week. And because teasing is better than the real thing (?), Zayn says he and Gigi are "good friends, yeah" while appearing on Apple's Beats 1 radio show. Um, excuse me?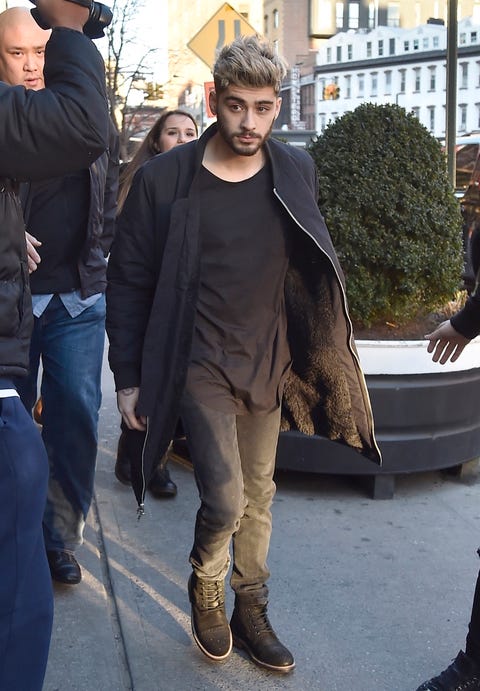 Meanwhile, Gigi and Zayn star in his new music video for "PILLOWTALK." It's his first music video as a solo artist and it's so hot. We even made an entire post dedicated to all the beautiful visuals. Look at them! Then watch this video. Again.
Gigi solidifies herself as Zayn's biggest fan by singing along to "PILLOWTALK" en route to somewhere nice in the wee hours of the morning.
It's confirmed, Gigi is Zayn's biggest fan pic.twitter.com/oXokPirovF
He returns the gesture by commenting on her work in the music video.
@zaynmalik nah musta missed it 😏😜
Jokes.. I wasn't looking at myself, trust me 😻🔥🔥🔥🔥🔥
Feb 2016: *CUTE PHOTO BREAK*.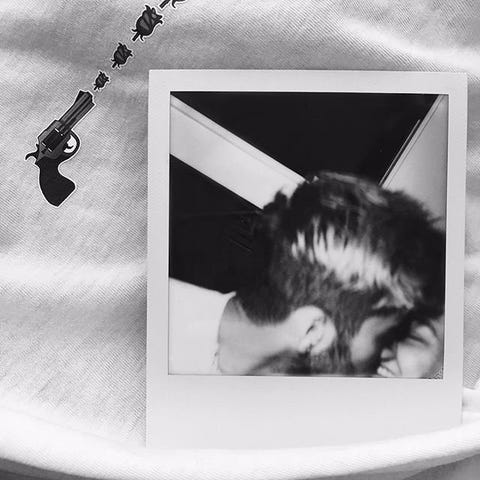 April 2016: Zayn and Gigi appear in their first photo shoot together as a couple for Vogue. They are so in love in Naples it hurts.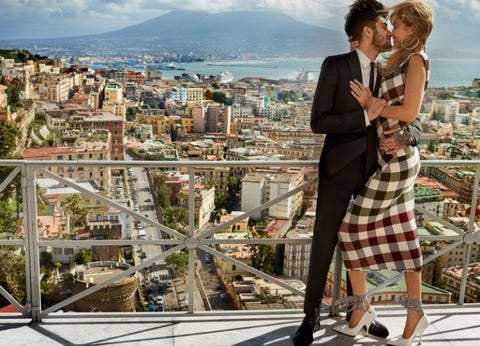 There's a behind-the-scenes video too and yes, it's also very pretty.
Meanwhile, Gigi's ex Joe Jonas weighs in on ZiGi, telling the Daily Mirror, "I think it's interesting that she moved on so quickly. I mean, it was definitely very quick." He also notes that people have been comparing him and Zayn "for years."
May 2016: Zayn and Gigi walk the red carpet together at the Met Gala and are the beau and belle of the ball in Versace and Tommy Hilfiger, respectively.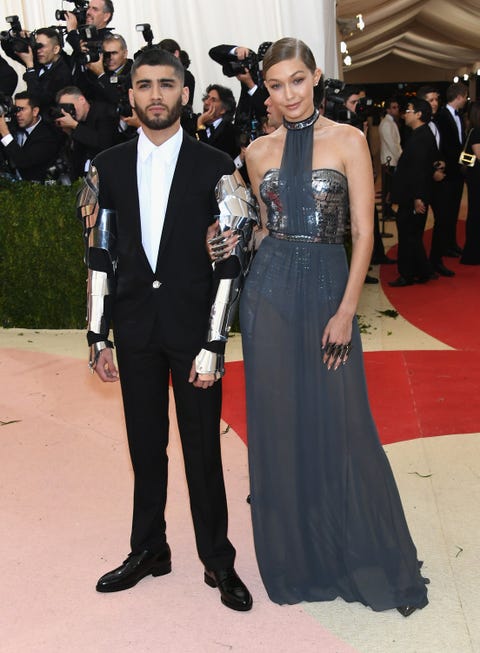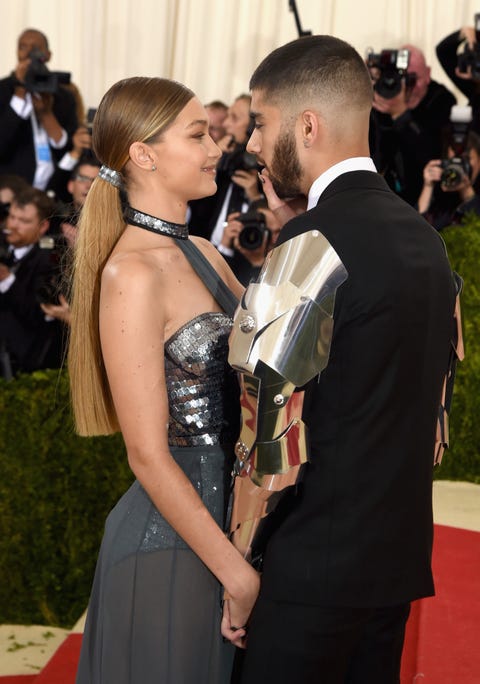 June 2016: E! News reports that Gigi and Zayn have ended their relationship after seven months of dating. Sources claim that they've actually broken up and reunited "multiple times," due to communication problems. Three days later, Gigi is spotted out in West Hollywood wearing her "Z" necklace, which could mean all is right in the world again.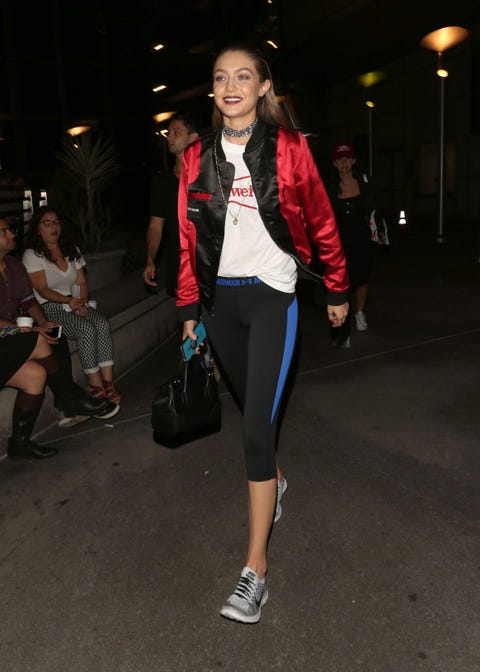 To further squash breakup rumors, Zayn and Gigi reveal his-and-hers Nutella containers in their New York kitchen via Gigi's Snapchat. It's the sweetest thing (get it?):
July 2016: *CUTE PHOTO BREAK*.
September 2016: Zayn wishes Gigi good luck ahead of her Gigi X Tommy capsule show in NYC. Two days later, Taylor Swift is spotted third-wheeling a ZiGi night out. Is this where Zayn and Taylor's Fifty Shades Darker song idea first started?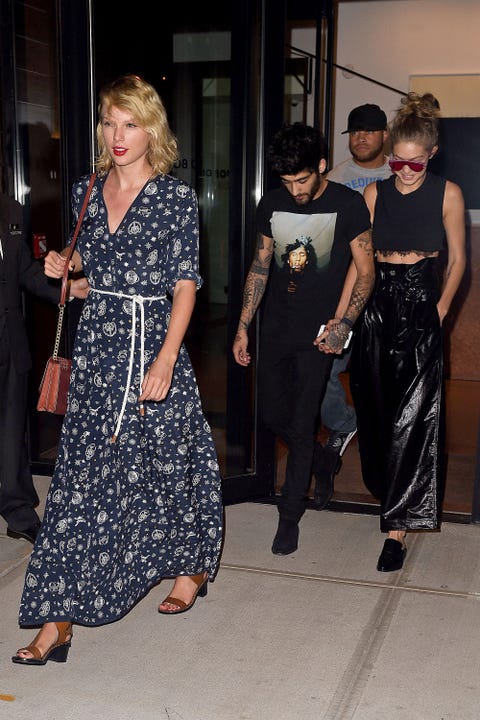 Zayn and Gigi jet off to London for Fashion Week, where they sit front row for the Versus Versace show.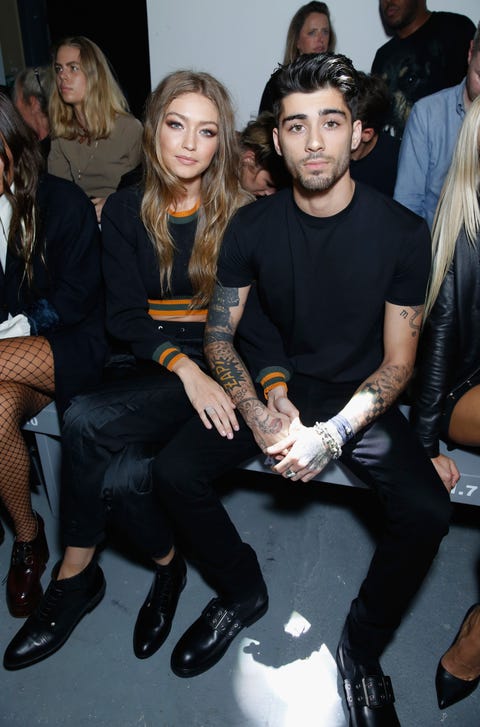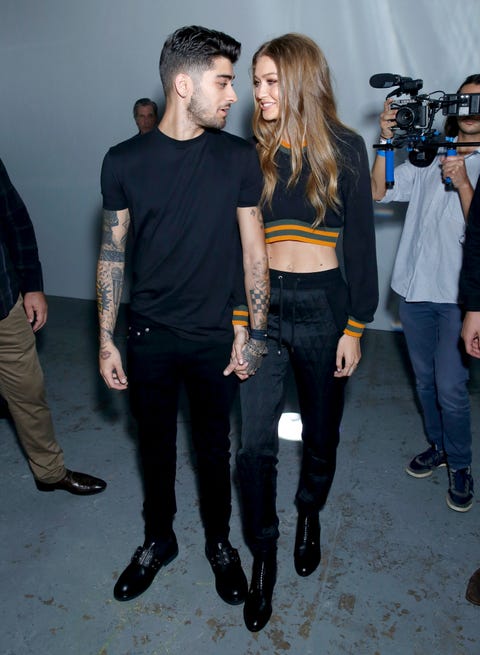 November 2016: Nearly one year to the day ZiGi was born, Zayn tells ES Magazine that he and Gigi met in early November 2015 at a Victoria's Secret party. He approached her after recognizing her "from her picture" and proceeded to ask her out, taking her to The Bowery Hotel's restaurant Gemma in New York City. "She's a very intelligent woman," he says of Gigi. "She knows how to carry herself. She's quite classy and that. She's not, like, arrogant in any way. She's confident. She carries it well. She's cool."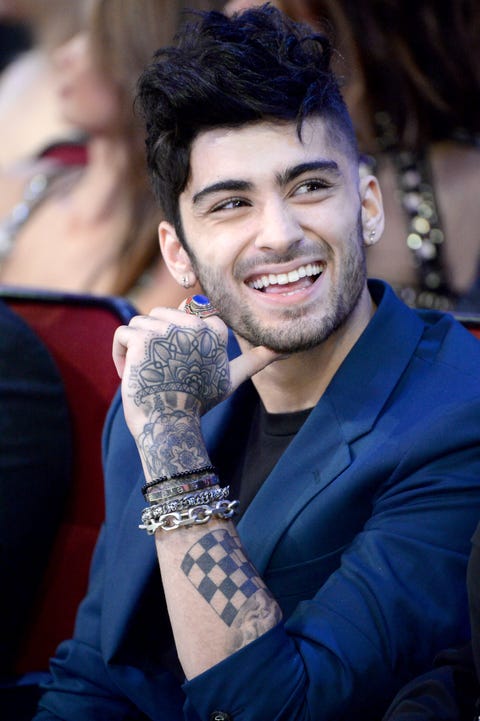 December 2016: In an interview on Sirius XM's Morning Mash Up, Zayn continues the ZiGi origin story. "I just asked her [out]. It was pretty straight up," he said. "I just asked her if she wanted to go on a date. I was in New York."
Surprise visit on @MorningMashUp!?! @zaynmalik talked #IDontWannaLiveForever, working with @taylorswift13, new album and holiday shopping! pic.twitter.com/GZ2j4qO5Ah
January 2017: Zayn and Gigi spark ~ENGAGEMENT RUMORS after Gigi is spotted with a pretty gold ring on that finger while out in New York City. The next day, Zayn reveals a new tattoo – LOVE – written in cursive on his right hand. What does it all mean?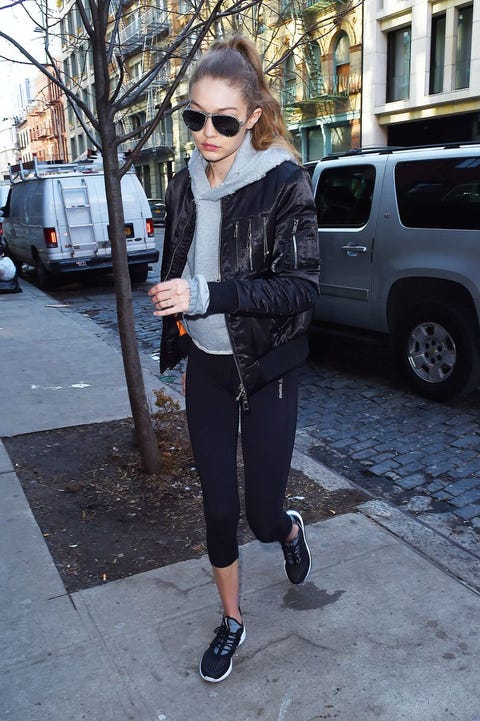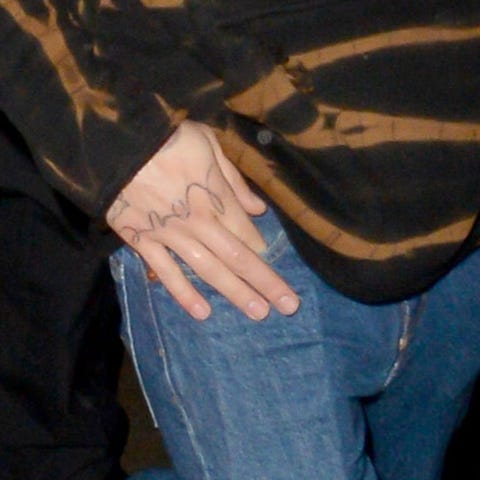 Should we take a *CUTE PHOTO BREAK*?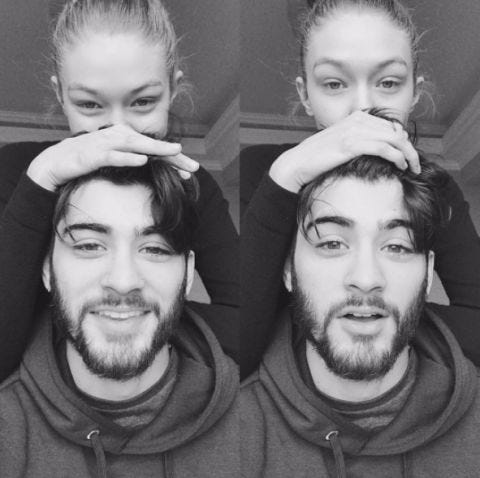 Meanwhile, in an interview with British Vogue, Gigi reveals her typical night in with Zayn when she's in L.A. For starters, they love "doing art" and cooking. "We like late-night movies and we order from this amazing place that does lattes and gingerbread cookies. I need coffee to stay up. I'm always like, 'Babe, let's go to a movie.' Then I fall asleep halfway through and he's like, 'You've seen the first half of every movie out there and you have no idea how any of them end.'"
February 2017: ZiGi spend their second Valentine's Day together and yes, there's a cute Instagram in honor of the big day.
She also calls him "Love of my life" in an Instagram story. Open your eyes Zayn! They're pretty and the world needs to see them.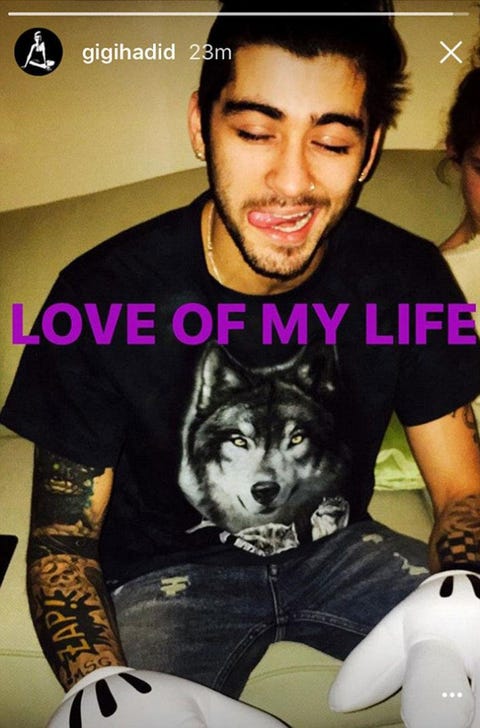 March 2017: Zayn and Gigi appear in a video together after he wins the Best Music Video award at the iHeartRadio Music Awards. The clip exists because he couldn't accept the award in person. It all worked out though, because even his co-star got to squeeze in a cute thank-you.
thank you 🙌🏽🙌🏽🙌🏽🙌🏽 #iHeartAwards pic.twitter.com/gxaJXQ2jVG
Gigi photographs Zayn for the spring 2017 Versus Versace campaign, along with model Adwoa Aboah.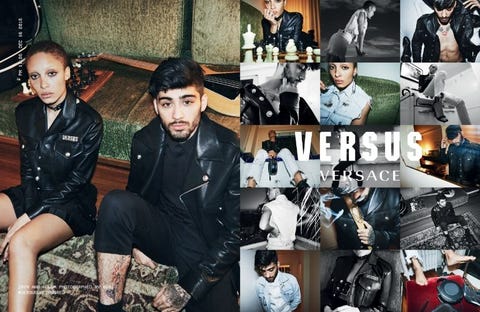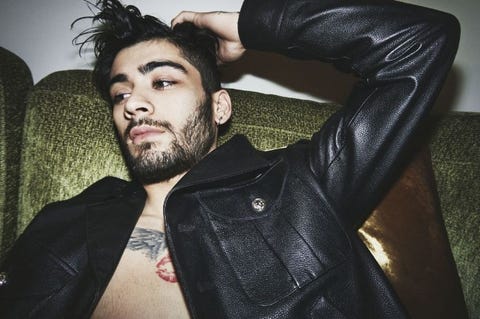 Speaking to the Sunday Times Style, Zayn reveals the couple's nicknames for each other. "I call her Gee, she calls me Zee. There's some other nicknames too, but I'll keep those private," he said.
April 2017: Zayn calls Gigi "my everything" in a birthday Instagram post.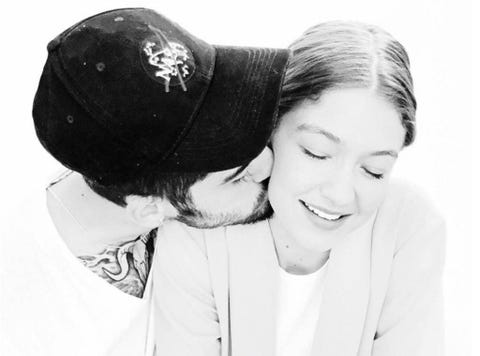 July 2017: ZiGi appear on the August 2017 cover of Vogue. While the pair look divine, their story raises many eyebrows after the magazine says Zayn and Gigi are "part of a new generation embracing gender fluidity."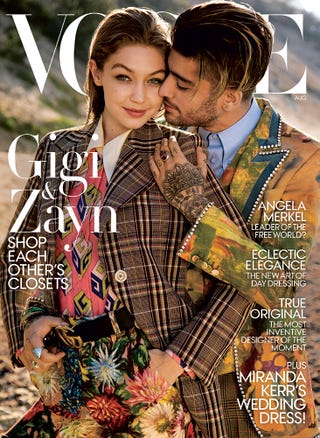 No #Vogue, #GigiHadid and #ZaynMalik are not #gender fluid just because they swap clothes https://t.co/joTh4Blb46 pic.twitter.com/HQtPHfRLxF
Vogue apologizes days later, with a representative explaining that the magazine "missed the mark."
September 2017: A shirtless Zayn hugs Gigi on her mom Yolanda Hadid's Instagram, with Yolanda using the hashtag #Family.
October 2017: Gigi shares a boomerang of Zayn doing pull-ups in a Spider-Man costume. Just try and watch this less than five times.
Shortly after, Gigi's own Halloween costume is revealed. Presenting, Spider-Man and Felicia Hardy, aka The Black Cat.
November 2017: In honor of their second anniversary, Gigi shares an Instagram story of her and Zayn kissing, along with the caption, "2 yrs w my favorite human." Just adorable.
January 2018: Zayn and Gigi step out in his and hers tiny sunglasses. That is all you need to know.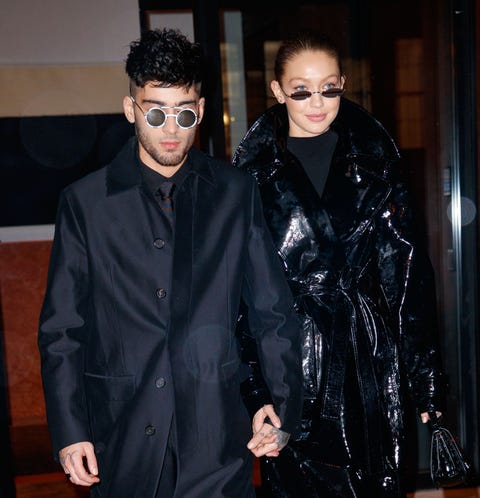 March 2018: After a flurry of rumors based on some Instagram unfollowing on both ends, Gigi and Zayn both confirm via Twitter they are indeed over. Zayn confirmed first, with a heartfelt statement.
pic.twitter.com/4st0iU9zHg
And Gigi followed up with one of her own.
pic.twitter.com/dEDHlyH8P3
April 2018: Zayn deletes every photo on his Instagram, including photos featuring Gigi. Sure, Gigi was never prominently featured on his account, but gone is the sweet birthday tribute from April 2017 and their Halloween-themed photo from October 2017. Before fans read too much into this purge, Zayn releases the official music video for "Let Me," which stars model Sofia Jamora and not Gigi Hadid. If you're a lifelong ZiGi fan, it's probably a good idea to skip this video.
Just a few short weeks later, Zayn is seen leaving Gigi's apartment wearing full-on morning after clothes. What's even more exciting is that before the month is up, ZiGi are spotted kissing on the streets of New York City. TMZ has the photo if you want to feel the joy. ¯\_(ツ)_/¯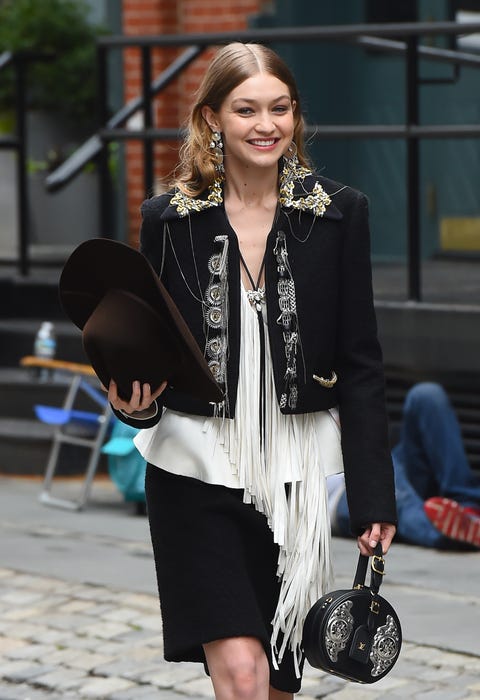 May 2018: According to E! News, while Zayn wants to get back together with Gigi, she's "a little bit more hesitant." The source continues, Gigi "does love him, but she isn't completely sure this is where she wants to be right now."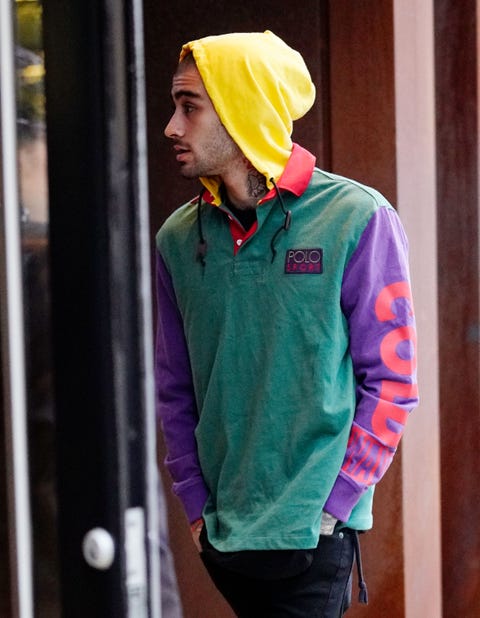 June 2018: ZiGi's on-again, off-again relationship is seemingly on again, if you are to believe Gigi's Instagram Story of her and Zayn chilling with some Pokémon. Yes, I said Pokémon.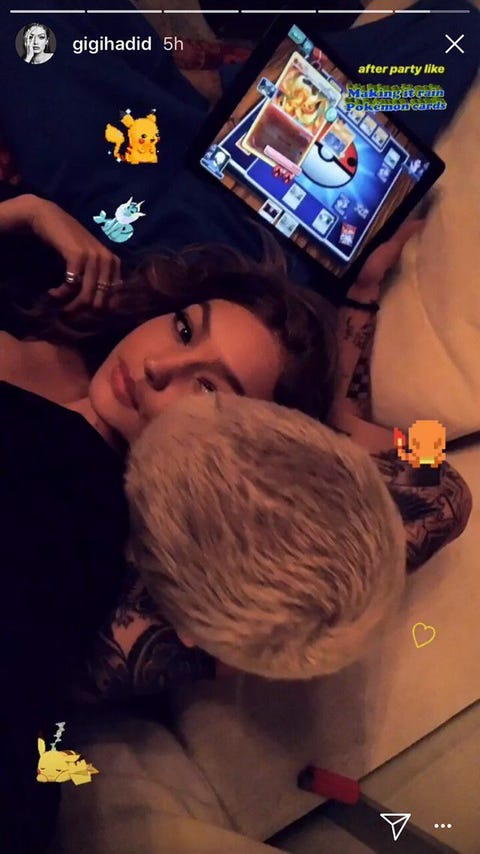 Zayn's also on the cover of GQ this month! And because of that, he opens up about his relationship with his possible girlfriend/ex-girlfriend—Gigi, duh—in the corresponding interview. Perhaps the most telling bit of the interview is that Zayn refuses to label their relationship because as everyone knows, it makes things v complicated.
"I'm really thankful that I met her…We're adults. We don't need to put a label on it, make it something for people's expectations. I had a very negative outlook on things [while recording my first solo album]," he said. "That might have been adolescence or testosterone or whatever the f*ck was running through my body at the time. She's helped me to look at things from a positive angle." Iiiiiinteresting.
July 2018: A fan run Instagram account, @exposingfakeeasszigiii, comes out of nowhere and starts posting "confessions" about Zayn and Gigi's relationship, calling it fake and for promotion only. And at this point, it looks like Zigi is hella official again, because Gigi is out here defending her relationship.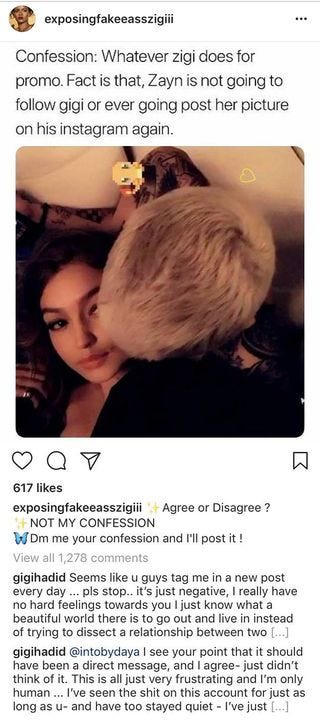 Gigi fires back and says that the account tagged her in all of their posts, which TBH is hella rude.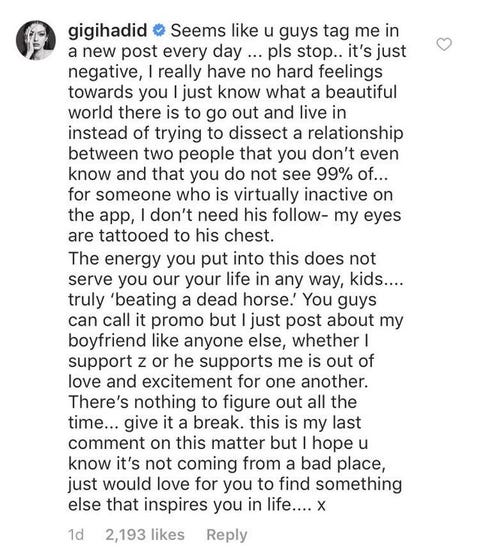 January 2019: Welp, it looks like Zayn and Gigi are broken up yet again. An E! News source credits their split to needed another break from each other.
"They are in different points in their lives right now and decided they needed the time to breath apart from each other. They are still in touch and both hope that things will work out, but their relationship is always up and down," the source said.
E!'s source added that Zayn's busy in the studio, while Gigi's taking some time to chill after the Victoria's Secret Fashion Show.
But literally two weeks later, Gigi is reportedly seen leaving Zayn's New York City apartment in the early hours of the morning. The Sun got the pics, and honestly, the whole thing feels pretty sus!
March 2019: Uh….so this happens:
@GiGiHadid love you
April 2019: Gigi is seen hanging out with her friend, Samuel Krost, where they appear to be getting a lil flirty. Gigi tweets this after people begin to speculate if she's dating Samuel or not:
If you outlets are going to continue writing bs headlines every time I'm seen with a friend of the male gender then there's gunna be a lot of unneeded confusion 🙃😑🤦🏼‍♀️
And Zayn goes on a huge Twitter rant, which everyone believes to be about the Gigi and Samuel dating rumors:
How about you all go fuck yourselves with your irrelevant bullshit 🤘🏽
This ain't a place for feelings.
And you aren't the person you said you were,
But the following day, Zayn clarifies his tweets had absolutely nothing to do with Gigi, and asks people to leave her alone.
My tweet was not about @GiGiHadid so leave her the fuck alone she is the most amazing woman I've ever known
August 2019: Gigi starts dating Tyler Cameron from The Bachelorette, meaning that all hopes of a proper Zigi reunion is out of the window…for now.
October 2019: Gigi and Tyler officially break up. "Tyler is single," a source tells Us Weekly. "He and Gigi Hadid are no longer together."
January 2020: Zayn and Gigi are spotted hanging out, and everyone thinks they're dating…again!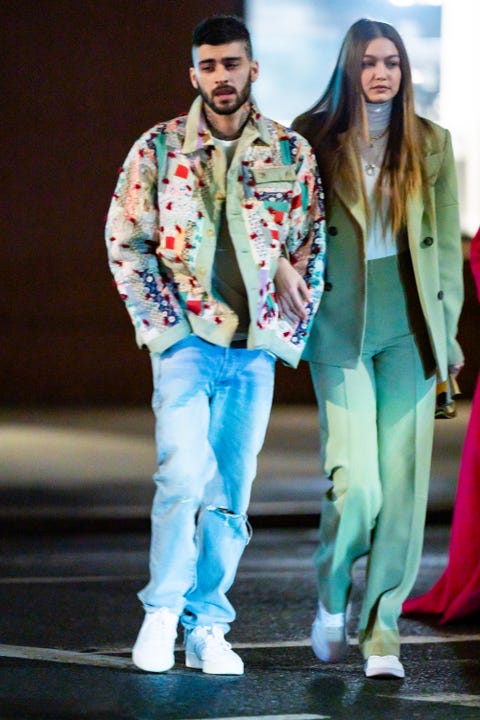 An E! source confirms that Gigi and Zayn reunited around the holidays, and that Gigi is ready to give their relationship another try. "Gigi and Zayn got back together right before the holidays in December," the source said. "Zayn has been reaching out to Gigi for the last month and she is giving him another chance."
"She has always loved him and the break between the two was needed," the source adds. "Zayn has been working on his past music and focusing on his health and is in a really good place currently."
February 2020: We get not one, but two relationship confirmations from Gigi herself! Gigi posts the sweetest polaroid of her and Zayn together on Instagram, and gosh darn it, it is wayyy too cute.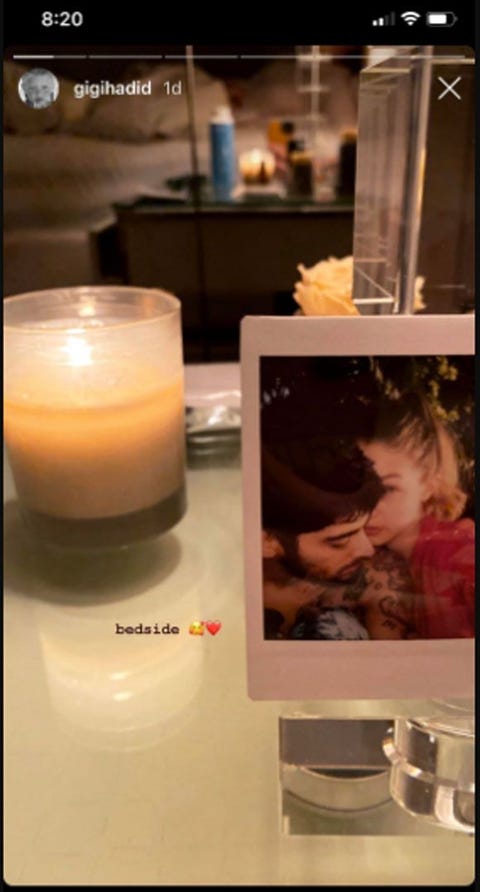 And because Gigi was feeling a little generous, she posts a picture of Zayn on her disposable camera account, @gisposable—on VALENTINE'S DAY!
That's it for now, but if Zigi's past is any indicator…I am almost certain that there will be updates.
Source: Read Full Article