A Look Back at How Justin Timberlake Was a Terrible Ex-Boyfriend to Britney Spears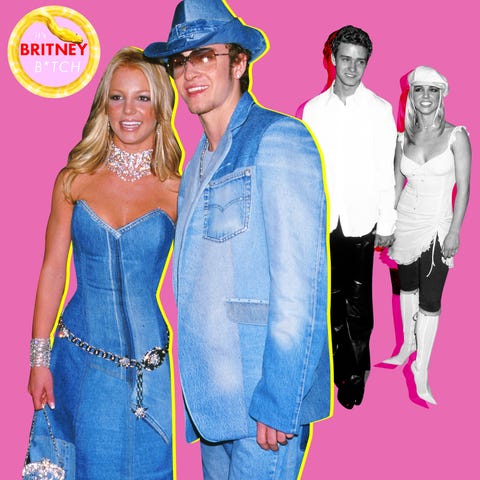 Oh baby, baby: 20 years ago this week, Britney Spears dropped debut single "Baby One More Time" and music hasn't been the same since. (Same goes for you, school-girl uniforms.) We're celebrating the O.G. princess of pop with a week's worth of stories—here's to Britney, b*tch!
I've been thinking a lot about the role of the capital-E Ex. Recently, Justin Bieber spiraled into his own soft depression following Selena Gomez's breakdown and Wilmer Valderrama dropped everything and rushed to Demi Lovato's side at the hospital after her reported overdose. Jennifer Garner couldn't have been a more supportive conscious uncoupler to Ben Affleck, despite the cheating scandals and alleged relapses. And basically, in conclusion: Justin Timberlake was a trash Ex to Britney Spears.
Yes, if Gen Z can obsess over Jelena until kingdom come, I can keep talking about the OG teen It-Couple, Britney Spears and Justin Timberlake. Let's take a trip down this Tiger Beat-covered memory lane, shall we?
Justin Timberlake was a trash Ex to Britney Spears.
The esteemed Mickey Mouse Club alums burned hot from 1998 to 2002, when the dreamy denim-loving duo utterly collapsed in one of the most dramatic breakups in our nation's history. Just two years later, Spears married childhood friend Jason Allen Alexander at the Little White Wedding Chapel in Las Vegas. The marriage was annulled 55 hours later. Then, just two years after that (in 2007) we reached peak breakdown Britney: shaved head and all.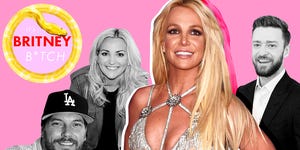 But who was constantly buzzing in Spears' ear, willing to drudge up her past mistakes and profit from her struggle? Good 'ole JT. Don't believe me? I invite you to take a look at this deep dive into Justin's toxic (heh) behavior over the years by Twitter user Romeo Santos:
In honor of today's Super Bowl halftime headliner, I wanna dedicate a thread as to why Justin Timberlake is trash✨✨✨
Pretty wild, right? Now, I could go on and on about how Justin took advantage of Janet Jackson?, his history of cultural appropriation, and how he consistently ignores the voices of those he marginalized, but that's for another day. Focus up, people!
The big problem here is not a few barbs thrown in Britney's direction or even a mega-hit vilifying her actions during their relationship (plenty of pop stars have made fortunes on a good breakup bop, to be fair). Even Britney has had her moments (check the video of her singing "Cry Me a River" and calling him a pussy.) What makes Justin so trash is how he punched down to build himself up, profiting off of her name DURING her own struggles with sobriety and mental health issues.
Justin's 2006 gem "What Goes Around… Comes Around," with its play on Britney's own use of ellipses in her original hit was quite clearly a rehashing of their breakup… a full four years after their relationship ended.
He punched down to build himself up, profiting off of her name DURING her own struggles.
Just a month prior to the song's release, Spears divorced her second husband Kevin Federline. Just a few months later she'd enter rehab before shaving her head. Could he really still feel that heartbroken? Especially when you consider that Britney may not have been the only cheater in their relationships, it feels like he was just trying to capitalize on age-old tabloid scandals for his own personal gain.
Timberlake then attempted to profit not just on their story or her image (gotta love a look-a-like), but her very career. If producer Timbaland is to believed, JT attempted to collaborate with Spears as a way to stage her "comeback" narrative. My girl is too damn smart for that. When that fell through it was more JT barbs in interviews and shading Las Vegas residencies.
In the age of supportive Exes (looking at you, Emma Stone and Andrew Garfield), who has time for vindictive shade? Keep your Man of the Woods tour, JT. I'll take two tickets to "Domination," please.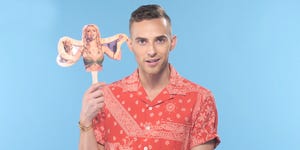 Source: Read Full Article