Bella Hadid and The Weeknd Reportedly Snuggled on a Dinner Date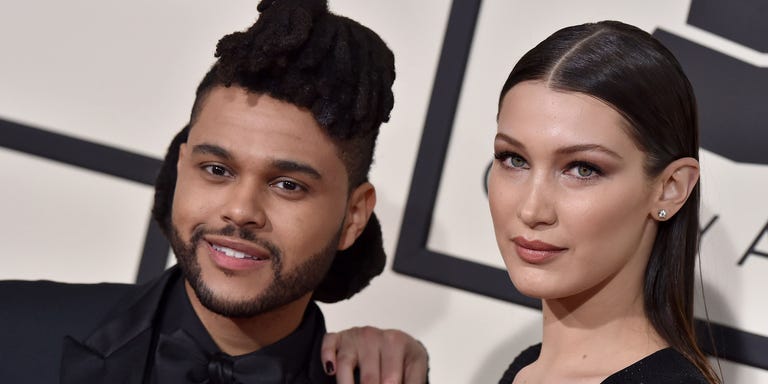 Days after getting entangled in dating speculation triggered by Drake's new album, Bella Hadid reportedly spent time with her famous former flame, The Weeknd (AKA Abel Tesfaye). The model, 21, and singer, 28, were spotted on a dinner date at Beverly Hills restaurant Matsuhisa on Sunday, Us Weekly reports.
The pair was "snuggled in the back corner," an eye-witness told the site. The insider added that Hadid and Tesfaye were "very sweet," laughing and whispering, and sitting on the same side of the table instead of across from each other. Sounds like some intense flirting.
Though there aren't photos from the alleged date, the Us Weekly source added that the pair both wore denim jackets and chatted with another couple. Are they sporting matching outfits and going on double dates already?
This marks the latest recent Bella-Weeknd sighting, further fueling speculation that they're back together. The pair, who broke up in 2016, were previously seen together on a date in Paris in mid-June. Tesfaye had apparently even shared a video from the outing on his Instagram story, and Bella's voice can reportedly be heard in the background.
Before that, there was some seriously telling evidence during Cannes Film Festival in May, where Bella and Abel were seen kissing at a party. They reportedly continued to hang out in the French Riviera the following day.
Over the weekend, however, the focus shifted from Bella's rekindled romance with Tesfaye to her rumored fling with Drake from last year. Some lyrics on the rapper's new album, Scorpion, were highly speculated to have referenced the model, but Hadid bluntly shut down the gossip. "Not me!!!" she tweeted. "That's disrespectful."
Even if the references were untrue, Drake isn't the first to call out Hadid in his music this year. In March, when The Weeknd dropped a surprise album, he included some nods to Bella, too.
Source: Read Full Article