Billie Eilish's Met Gala Look Is TOTALLY New for Her! Here Are the Best Photos of Her Red Carpet Moment
Not only is this Billie Eilish's first year attending the Met Gala (she was too young to attend in year's past!), but she's a literal co-chair. Which is definitely what I was also doing at 19 years old, don't worry about it!
Billie is co-chairing this year's event along with Amanda Gorman, Timothée Chalamet, and Naomi Osaka, and obviously there has been a lot of speculation about what she's going to wear considering she always looks amazing on the red carpet. Truly, so many fashion bucket hats, so little time.
But Billie's fashion moment at the Met Gala 2021 was a pretty huge departure from her usual red carpet style. The Grammy winner walked the red carpet wearing an extravagant nudey-pink tulle gown with an incredible train, designed by Oscar de la Renta. In the words of Vogue live stream host Keke Palmer, the look is giving big Marilyn Monroe energy!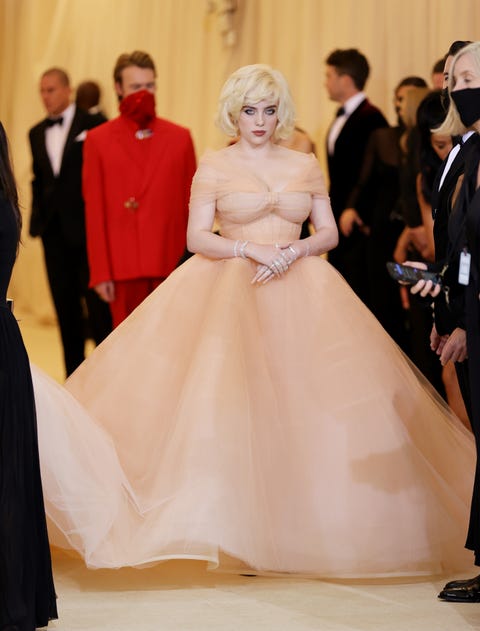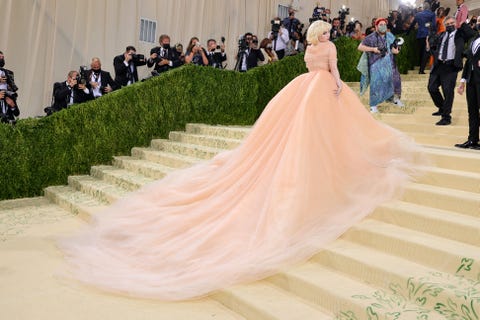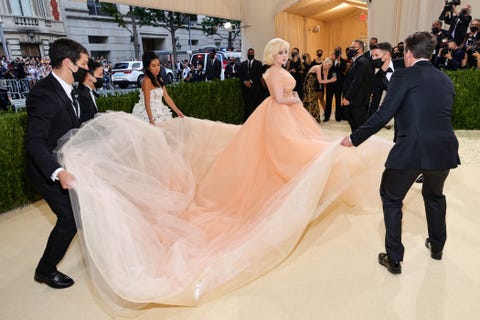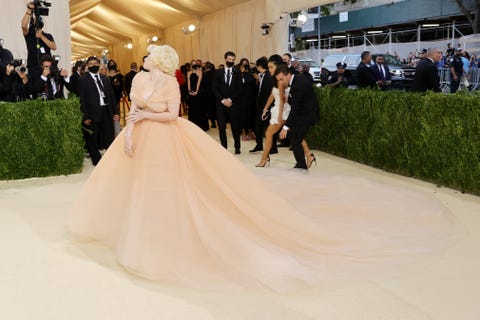 Billie debuted her new look earlier this year on the cover of Vogue UK, wearing a black catsuit and corset. She captioned the photo "i love these pictures and i loved doing this shoot. do whatever you want whenever you want. fuck everything else."
She shared a similar sentiment in her interview with the mag, saying, "My thing is that I can do whatever I want. It's all about what makes you feel good. If you want to get surgery, go get surgery. If you want to wear a dress that somebody thinks that you look too big wearing, f*ck it—if you feel like you look good, you look good."
https://www.instagram.com/p/COYIFeNFsvg/?utm_source=ig_embed&utm_campaign=loading
A post shared by BILLIE EILISH (@billieeilish)
"Suddenly you're a hypocrite if you want to show your skin, and you're easy and you're a slut and you're a whore," she continued. "If I am, then I'm proud. Me and all the girls are hoes, and f*ck it, y'know? Let's turn it around and be empowered in that. Showing your body and showing your skin—or not—should not take any respect away from you."
In other words, Billie can wear whatever the hell she wants. And she looked incredible at the Met Gala, so next!
Source: Read Full Article