Brad Pitt says he 'definitely writes' his speeches, with the help of 'very funny friends'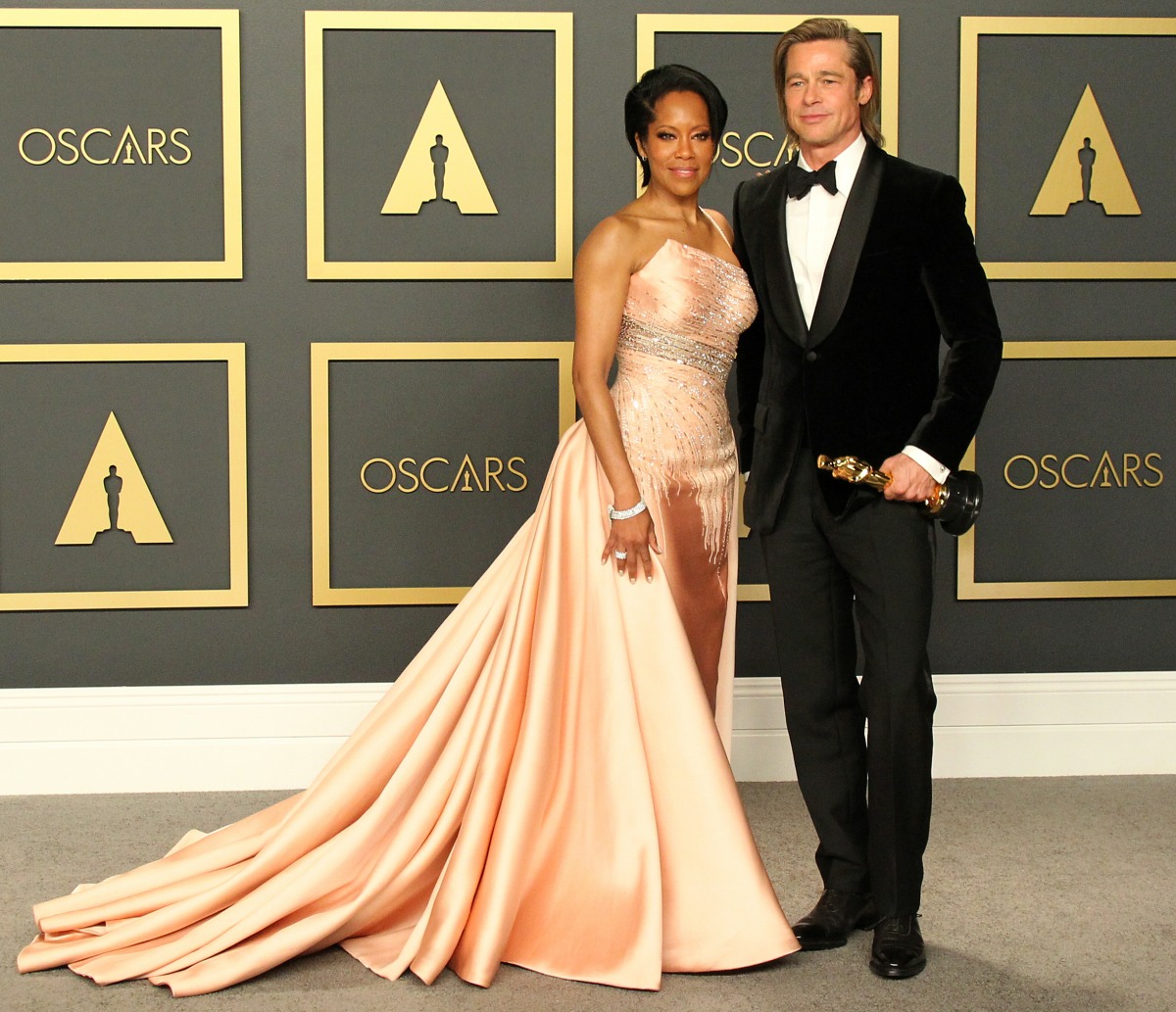 I'll say something nice about Brad Pitt to start off this story: the photos of Brad posing with last year's Best Supporting Actress Regina King are some of the loveliest of the night. They looked like each other's dates, and my guess is that they've probably known each other for a million years. Now, for all of the dumb sh-t. When Brad won his Oscar for OUATIH, it was the crowning of Hollywood's prom king, Hollywood's "most popular." And to drive it home, there were a million stories about how Brad was super-popular when he attended the Vanity Fair Oscar party, how he hung out with Tiffany Haddish, Elizabeth Banks, Kanye West and Kim Kardashian and more. But the best story? Brad claims he's been writing all of his speeches himself. Oh.
Brad Pitt insists he personally wrote all of his awards speeches — but did admit some "very funny friends" helped him with "some laughs." The actor, who achieved a full awards-season sweep including the Best Supporting Actor Oscar at Sunday night's Academy Awards, has been hit with speculation that he'd had professional speechwriters penning his unusually candid and funny speeches.

But Pitt said backstage at the Oscars after picking up his award for his role in "Once Upon a Time … in Hollywood, " Historically, I've always been really tentative about speeches, like, they make me nervous. So this — this round, I figured if we're going to do this — like, put some, like, some real work into it and try to get comfortable, and this is the result of that. No, I definitely write them. I have some funny friends. I have some very, very funny friends that helped me with some laughs, but, no, it's, you know, it's got to come from the heart."

He continued of his shyness on an awards stage, "For me, it was just about getting cozy, you know, up in front of a mass of people. I know that sounds antithetical given the profession I've chosen, but it's not necessarily my thing. So that's probably what I'll remember."

But of his political reference in his Oscar acceptance speech onstage — where he made a dig about John Bolton not being brought to give evidence before the Senate and said Quentin Tarantino (who likes a different historical ending) should make a movie about the impeachment — Pitt, 56, said, "I was really disappointed with this week. And I think when gamesmanship trumps doing the right thing, it's a sad day and I don't think we should let it slide. And I'm very serious about that."
[From Page Six]
He writes them himself but he has "very funny friends" who help him write the jokes? Yeah, he had a crack team of Alia Shawkat, Adam McKay, Quentin Tarantino and Bruce Vilanch working on his speeches. Let's be real. And it's a shame he can't properly identify the people.
And finally, Brad did reunite with Jennifer Aniston on Sunday night, probably to thank her for all of her help in hyping him and keeping the gossip positive and vintage.
Hollywood gossips on high alert for Brad Pitt and Jennifer Aniston sightings after last month's tantalizing rendezvous at the SAG Awards got another chance to glimpse the pair together after the Academy Awards ceremony. Spies told Page Six that newly crowned Oscar winner Pitt and ex Aniston both showed up at music bigwig Guy Oseary's famed annual bash in Los Angeles on Sunday night. But we're told there was no sizzle this time around. Spies say that while Aniston congratulated Pitt on his win, they didn't hang out long.

Madonna, who usually co-hosts the exclusive bash, missed it this year because she's on tour in Europe. But her absence didn't take any glitz off the guest list.
[From Page Six]
So they saw each other at one of the big (private, no-photo) parties and they only spoke briefly. Oh well. The only way we'll get another round of Bradifer gossip is when Jennifer is campaigning for an Emmy six months from now. Brace yourselves.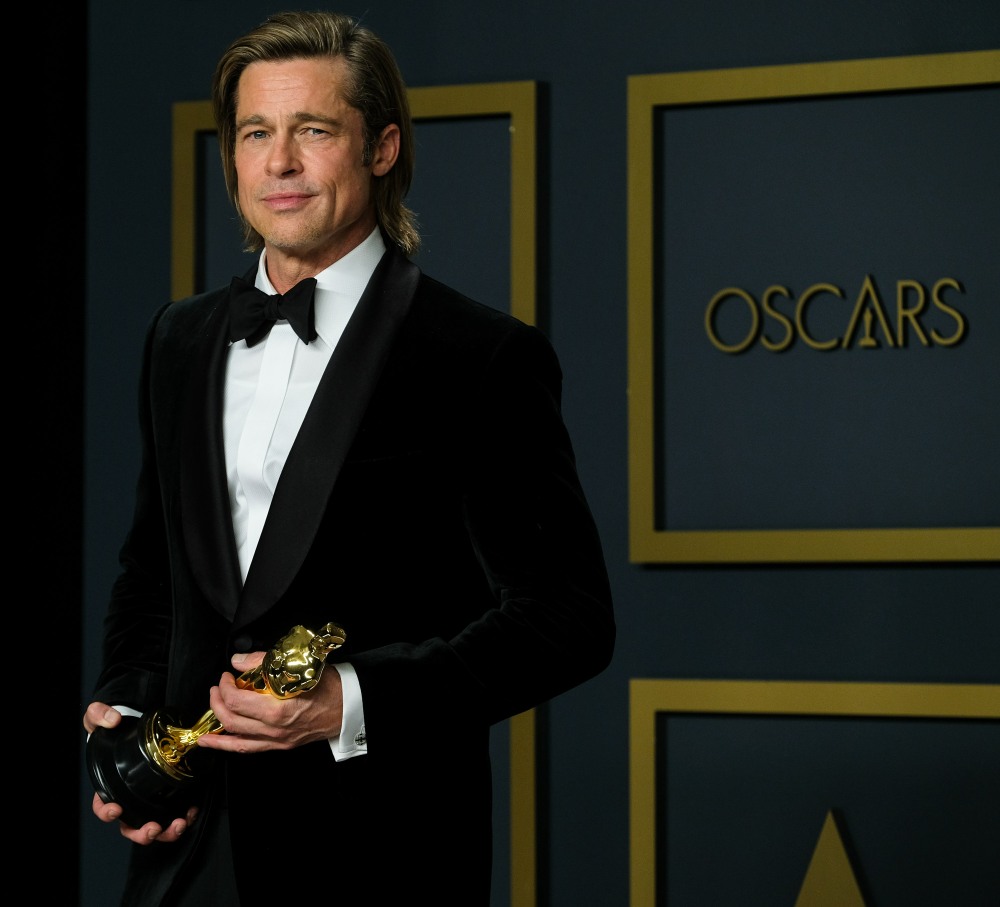 Embed from Getty Images
Photos courtesy of Getty, WENN.
Source: Read Full Article