How Broadway's 'Frozen' Reinforces The Feminist Message Of Disney's Original
When Michael Grandage was tapped to direct the Broadway adaptation of "Frozen," he felt the feminist message found in Disney's 2013 megahit movie could be expanded, given how pivotal the years since its release have been for women's rights.
The Prince Charming-free story of Princess Anna and Queen Elsa, loosely based on Hans Christian Andersen's The Snow Queen, "is now being acted out in real life," the Tony and Olivier Award winner told HuffPost.
"The female empowerment narrative at the center of it is something that's clearly gaining energy in the world today," Grandage said. "That tells you how forward-thinking [writer and co-director Jennifer Lee, who also wrote the musical's book] is. The world kind of caught up with the piece."
To be fair, Grandage's version, which opened March 22 at New York's St. James Theatre, maintains the themes of its source material. Nearly all of the film's beloved scenes — from a glittering coronation ball to a swirling blizzard to a snowman's summery pipe dream — are recreated in dazzling three-dimensional detail.
Many of the show's most memorable moments, however, are those in which Grandage and stars Patti Murin (Anna) and Caissie Levy (Elsa) are allowed to venture furthest from the film's now well-trodden plot. Of course, there would be no "Frozen" without "Let It Go," performed here by Levy with show-stopping vigor. For Broadway, composers Kristen Anderson-Lopez and Robert Lopez have delved even deeper into Elsa's inner turmoil with "Monster," one of 12 new songs that Levy has described as "a badass, Kelly Clarkson emo ballad."
Watch Caissie Levy perform "Monster" below. 
"Monster," which appears in the show's second half, acts as a sort of "Let It Go" counterpoint, but also sees Elsa going into unprecedented emotional territory for a Disney princess: contemplating suicide.
"For me, when I was offered 'Frozen,' it was 'Monster' that gave the show real gravity, actually," Grandage said. "There's an incredibly dark heart at the center of the song. Elsa talks to her dead parents … she charts whether she would help the chaos she's created by taking her own life and leaving this world."
"Monster" would, however, go through a number of incarnations before "Frozen" hit Broadway. When Grandage began working with Levy to stage the number during the show's out-of-town tryout in Denver, he and designer Christopher Oram had Elsa dressed in a "nightdress-negligee" inspired by Lady Macbeth (yes, really). By the end of the scene, Elsa is captured by Prince Hans (John Riddle) and his guards and transported back to the fictional kingdom of Arendelle, but the impact was underwhelming at best.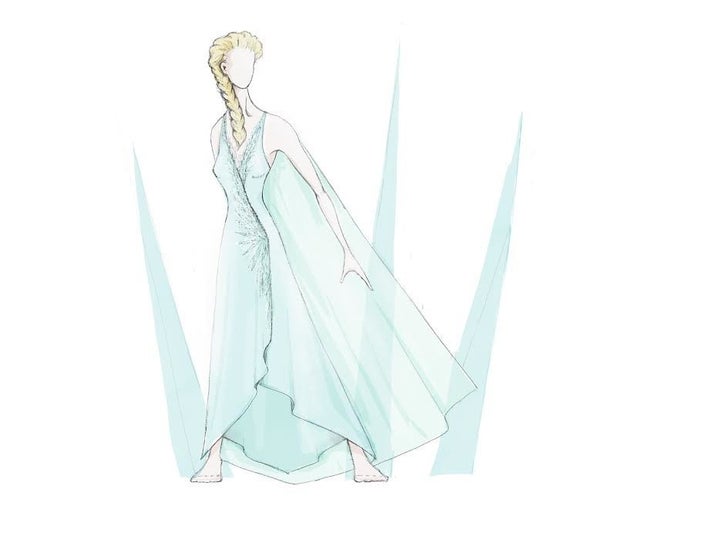 "We watched it in Denver, and something just felt very wrong with the resolution," Grandage recalled. For Broadway, the director and stars completely reconceived the scene so that Elsa's journey felt more deliberate, keeping it in line with the show's overriding message of self-empowerment.
Now, Grandage said, "Elsa entraps the men coming into her ice palace. Rather than them imprisoning her, she imprisons them … and when she releases them, she decides to give herself up rather than be captured, in order to strategize and move herself forward from what she's told us in the song."
The revamped interpretation of the scene, of course, required a new costume, so Oram opted to take another Disney departure by dressing Elsa in a bejeweled bodice and pants to "mirror the new axis of empowerment that came out of the song," Grandage said. This time, the inspiration was less Lady Macbeth, more Joan of Arc.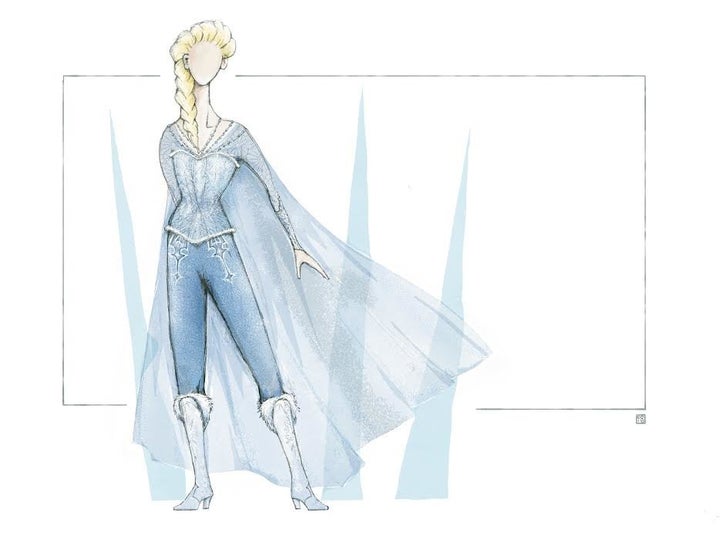 "It's a type of armor that's also feminine," Grandage said. "It takes Elsa's story on from the original movie." Given that most of the movie's creative team also lent their talents to the Broadway show, the director is hopeful that the costume will find its way into "Frozen 2," currently slated for a 2019 release. "We, as the Broadway show, are sort of joyously anchored between the two films. The development of Elsa in a pantsuit is something that they'll take on, I hope."
"I hope that, most particularly, young girls — who make up the vast amount of our audience — are going to watch this piece and be inspired by the journey within 'Monster,'" he added.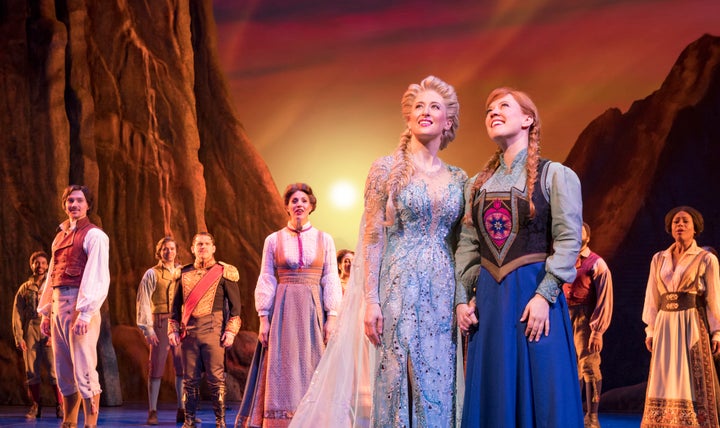 While reviews of the show have been mixed, Levy's performance in particular has generated ample buzz. One thing Grandage won't do, however, is try to predict how "Frozen" will fare May 1, when the nominations for the 2018 Tony Awards will be announced.
"It's been a very, very interesting year with a lot of extraordinary performances emerging, so that's not something that's helpful for me to do," the director, who is currently at work on the revivals of John Logan's "Red" and Martin McDonagh's "The Lieutenant of Inishmore" in London, said. Ultimately, he hopes the lengths he and the team have taken to strengthen its feminist message through "Frozen" and other scenes will be impactful in other ways.
"Whatever it does or doesn't get from awards or reviews … in the time we're living through now, I think there are messages that can be meaningful to a lot of people," he said. 
Source: Read Full Article