Chloë Moretz and Dylan O'Brien Are Reportedly Dating Seven Years After He Said He Had a Crush on Her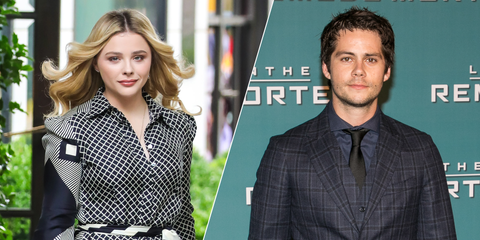 It looks like Maze Runner actor Dylan O'Brien got what he wanted seven years ago: a date with his crush Chloë Grace Moretz, who recently broke up with Brooklyn Beckham. According to People, Chloë and Dylan hung out at an Italian restaurant/ lounge in Los Angeles called The Nice Guy — one of young Hollywood's favorite hotspots, and an appropriate restaurant name if Dylan is trying to talk himself up to the 21-year-old. Of course, the rumor mill immediately started churning and sparked rumors that the two are dating.
The two reportedly arrived separately, and later, they hopped into the same car and headed to a nightclub called The Avenue with a group of friends.
Since neither one of the actors confirmed anything, the dating rumors are just rumors for now, but this news is especially adorable since Dylan confessed to Hollywire in 2011 that he had a crush on Chloë after seeing her in Kick-Ass. "I wanna give a special shout out to Chloe Moretz because she is the most badass little chick that I've ever seen," he said. "What she did in Kick-Ass is amazing and I have a crush on her."
Cute, right? But he retracted the statement a year later after having done a little more research on the actress. "I recently Wikipedia-ed Chloë Moretz and I saw how old she was," he told Hollywire. At the time, she was fourteen, while Dylan was nineteen. "So I would like to take it back and retract and say that I think Chloë is a very cute and talented girl. I don't have a crush on her."
As you might remember, Chloë broke-up with on-again, off-again Brooklyn after cheating allegations swirled back in April. Meanwhile Dylan was last linked to his long-time beau Britt Robertson who he met on the set of The First Time (2011), but The Blast reports that they haven't been spotted together since "the beginning of the year."
Follow Jasmine on Instagram.
Source: Read Full Article