Claire Danes Gives Birth to Her Second Child with Husband Hugh Dancy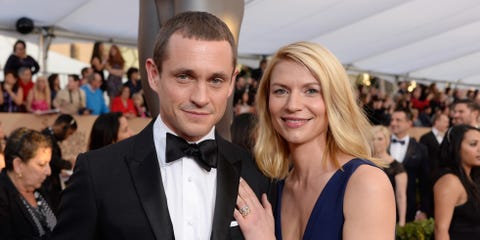 Some happy baby news to start your weekend—Claire Danes has given birth to her second child with fellow actor husband, Hugh Dancy.
The couple's publicist shared the news with The Associated Press last night, revealing that Danes had given birth to a baby boy on Monday (August 27) in New York. Danes and Dancy already share a 5-year-old son called Cyrus Michael Christopher, making them the happy parents of two boys. The Homeland star married the Hannibal actor back in 2011, after meeting on the set of the 2007 movie, Evening.
People confirmed the birth of Danes' second baby with her husband Dancy, having also spoken to the actress during her pregnancy. Danes told People in June 2018, "I feel pretty knocked up at this point. I am definitely with child," while also revealing that she planned to take some time off from work with her second baby.
Hugh's screen grab our Face Time sesh, where he called me out on my Instagram game. He said, "you're a couple of selfies away from totally disappearing." ?!
A post shared by Claire Danes (@clairedanes) on
The Romeo and Juliet star said, "It feels like a huge luxury. When I was pregnant with my first son, I worked until I was in my eighth month, so this feels like a huge gift, to have a chance to kick my feet up a little bit."
Danes revealed news of her second pregnancy on Howard Stern's SiriusXM show back in April 2018. She told the host, "I am pregnant. I'm seriously preggo. I'm deep into my second trimester." And it seemed as though the actress knew she was having a baby boy even then, as when quizzed by Stern she retorted, "I'm going to keep that to myself."
Congratulations are most definitely in order.
Source: Read Full Article