Emilia Clarke Wants To Prepare You For Episode 5 Of 'Game Of Thrones' — 'Bigger'
The Battle of Winterfell was intense to watch — and even more intense for the Game of Thrones cast to film.
But, according to Emilia Clarke, Episode three's fight against the army of the dead was nothing compared to what's in store for the second half of the final season!
The Daenerys Targaryen portrayer stopped by Jimmy Kimmel Live! on Wednesday night and teased that Episode five would be even "bigger" than The Long Night, which left fans shattered after the heroes defeated the Night King — largely thanks to Melisandre's (Carice van Houten) fire spells and some stealthy assassin-ing from Arya Stark (Maisie Williams).
As explosive as that battle was, however, Clarke revealed that the upcoming episode would be even more epic, teasing:
"Episode five is —I mean, four and five and six, they're all insane, but like…Find the biggest TV you can."
Duly noted, your grace.
As we reported, fans were quite emotional after watching the episode that claimed the lives of quite a few beloved characters. Watching the battle was just as — if not more — emotional for the actress, seeing as it took the cast and crew 55 long night shoots to complete the episode.
Clarke told Jimmy Kimmel she was "shaking and crying" when she got to watch the entire episode with the world on Sunday evening, explaining:
"It was nuts. I mean, being in—what you saw was really what it was like shooting it. You saw blood and mud and angry, screaming people. And then backstage there was blood and mud—and asleep people… It was amazing we didn't actually kill anyone. It was extraordinary."
Ha!
Jokes aside, quite a few beloved characters did perish in the battle; namely, Theon Greyjoy (Alfie Allen) Lyanna Mormont (Bella Ramsey), and Jorah Mormont (Iain Glen), Kahleesi's right hand man and not so secret admirer since Season 1.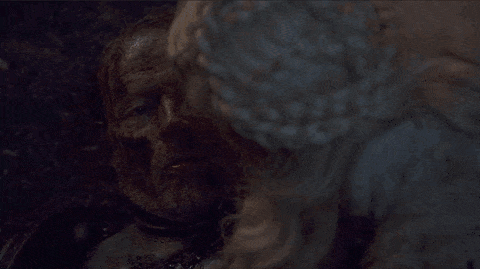 Despite those grim fatalities, many fans were surprised that more characters didn't kick the bucket. Dany, Arya, Jon Snow (Kit Harington), Sansa Stark (Sophie Turner), The Hound (Rory McCann), Jaime Lannister (Nikolaj Coster-Waldau), Tyrion Lannister (Peter Dinklage), Bran Stark (Isaac Hempstead Wright), Brienne of Tarth (Gwendoline Christie), and Tormund Giantsbane (Kristofer Hivju) all made it out alive — a victory Thrones fans just aren't accustomed to by this point in the series.
But, as Clarke implied, the real heartbreaking casualties will go down in the final FINAL fight against Cersei Lannister (Lena Headey).
Are you prepared?
Watch the actress' interview (below) to hear her discuss filming the episode, the awkwardness of watching her sex scenes with family members, and more!
Source: Read Full Article