Everything You Need to Know About Prince Harry and Meghan Markle's Royal Wedding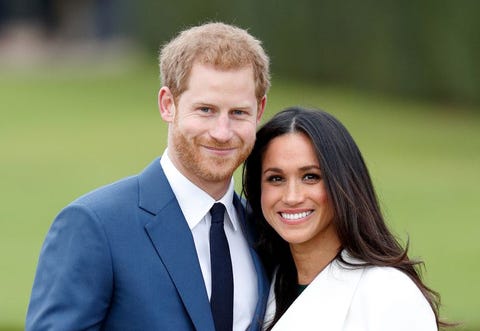 The royal wedding of Meghan Markle and Prince Harry is just around the corner. Here's a cheat sheet of everything you need to know about the big day:
The Date
On Dec. 15, Kensington Palace announced that Meghan and Harry will tie the knot on Saturday, May 19, 2018.
His Royal Highness Prince Henry of Wales and Ms. Meghan Markle will marry on 19th May 2018.
Today's announcement follows earlier confirmation of the month of the wedding and its location at St George's Chapel, Windsor Castle. pic.twitter.com/7pgdRM90Na
When Meghan and Harry's engagement was first announced on Nov. 27, 2017, Kensington Palace only confirmed that their wedding would take place in "Spring 2018." The next day, the palace offered a little bit more:
The marriage of Prince Harry and Ms. Meghan Markle will take place at St. George's Chapel, Windsor Castle in May 2018. pic.twitter.com/lJdtWnbdpB
Other notable May weddings in the British royal family: Princess Margaret and Antony Charles Robert Armstrong-Jones (May 6, 1960) and Peter Phillips (Princess Anne's son) and Autumn Kelly (May 17, 2008).
The Time
On Feb. 12, 2018, Kensington Palace announced that Meghan and Harry's wedding ceremony will begin at 12 p.m. London time (7 a.m. EST; 4 a.m. PST), followed by a carriage procession one hour later around Windsor Town. The couple will also celebrate with a reception at St. George's Hall, according to the Palace.
On the same day, the Palace announced that The Archbishop of Canterbury will officiate the wedding with The Dean of Windsor conducting the service.
The wedding service will begin at 12noon at St George's Chapel. The Dean of Windsor will conduct the service and The Archbishop of Canterbury will officiate as the couple make their vows. pic.twitter.com/dTS56fy22c
The Cost
As noted in the official announcement, the Royal Family will take care of Meghan and Harry's wedding bill. For comparison, Kate Middleton and Prince William's 2011 wedding cost an estimated $34 million, with $32 million going to security alone (via CBS News).
The Location
According to Kensington Palace, Meghan and Harry will say "I Do" at St. George's Chapel in Windsor Castle, where Harry was christened when he was three months old in 1984. According to The Guardian, the chapel holds about 800 guests (compared to Westminster Abbey's 2,000). As noted above, Harry's cousin Peter Phillips tied the knot there with his Canadian bride, Autumn Kelly, in 2008. St. George's Chapel is also where Harry's father, Prince Charles, and the Duchess of Cornwall, held their televised religious blessings after their civil ceremony in 2005.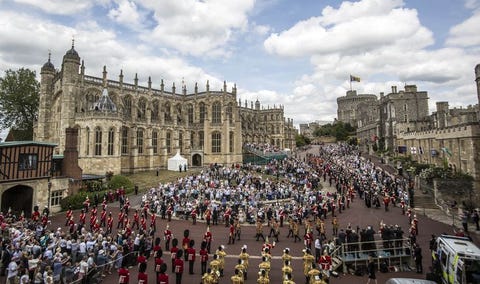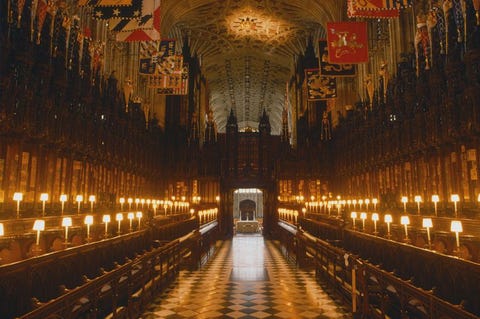 The Palace announced on Feb. 12, 2018 that Harry's father, Prince Charles, will host a private evening reception for the newlyweds, their close friends, and family.
The Cake
On March 20, 2018, Kensington Palace announced the Harry and Meghan asked pastry chef Claire Ptak of Violet Cakes in London to make their wedding cake, which will be a lemon elderflower creation "that will incorporate the bright flavors of spring." (So, not the previously rumored banana cake. Too bad.) The cake will be covered with buttercream and adorned with fresh flowers. Meghan and the pastry chef have a special connection: she was previously interviewed for Meghan's lifestyle site The Tig.
For their wedding cake Prince Harry and Ms. Meghan Markle have chosen pastry chef Claire Ptak, owner of the London-based bakery @violetcakes. pic.twitter.com/Rx36WBt7kC
The Flowers
On April 1, 2018, Kensington Palace announced that London-based Philippa Craddock has been hired to provide everything floral on May 19th. Craddock, who is self-taught, will locally source flowers from the Crown Estate and Windsor Great Park gardens to decorate both St. George's Chapel and St. George's Hall. While it's unclear what exact flowers will be used for the big day, flowers that bloom naturally in May include branches of beech, birch, hornbeam, white garden roses, foxgloves, and Meghan's favorite, peonies.
The Photographer
Meghan and Harry announced via Kensington Palace on April 13 that Alexi Lubomirski will be taking official photos at Windsor Castle following the wedding ceremony. Lubomirski is the same photographer who snapped the gorgeous engagement photos of the couple at Frogmore House.
Prince Harry and Ms. Meghan Markle have selected Alexi Lubomirski to take the official photographs at Windsor Castle following their wedding at St George's Chapel on 19th May.
Alexi is a well-known portrait photographer, and photographed Prince Harry and Ms. Markle last year at Frogmore House, Windsor, to mark the news of their engagement. pic.twitter.com/p42g8QRjmY
The Music
On April 24, Kensington Palace confirmed Meghan and Harry's plans for their service music. According to an announcement, the couple took "a great deal of interest and care in choosing the music for their service," which will include several "well-known hymns and choral works" under James Vivian, Director of Music at St. George's Chapel. Among the performers is 19-year-old cello prodigy Sheku Kanneh-Mason, who confirmed that Meghan personally called to ask him to play.
FYI this is just for the wedding ceremony so don't lose hope on that Spice Girls reception rumor just yet!
Meghan's Baptism
Along with the wedding date announcement on Nov. 28, Kensington Palace revealed that Meghan will be baptized and confirmed into the Church of England before her May 2018 wedding. While Meghan attended a Catholic high school, she was not raised Catholic, with her father being an Episcopalian and mother a Protestant. Kate Middleton underwent something similar in the weeks prior to her wedding to Prince William in 2011.
According to PEOPLE, Meghan was secretly baptized into the Church of England on March 8 in a ceremony conducted by the Archbishop of Canterbury.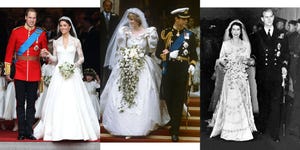 The Invitations
Photos of Meghan and Harry's wedding invitations were released on March 22nd. Taken at the workshop of Barnard and Westwood in London, England, the photos reveal that the invitations will use Harry's legal name, "Henry," and that guests will head to a lunch reception at St George's at the invitation of Queen Elizabeth. According to Kensington Palace, the invitations feature the three-feathered badge of Prince Charles printed in gold ink.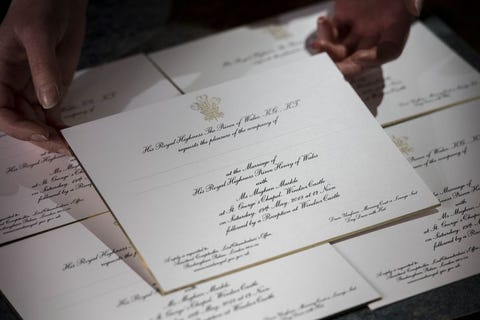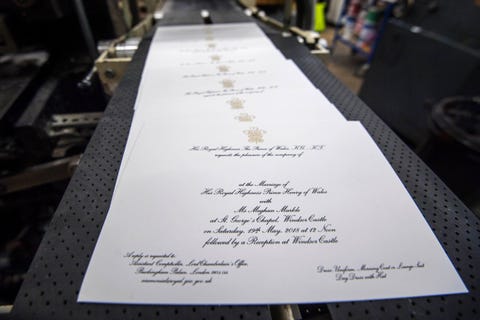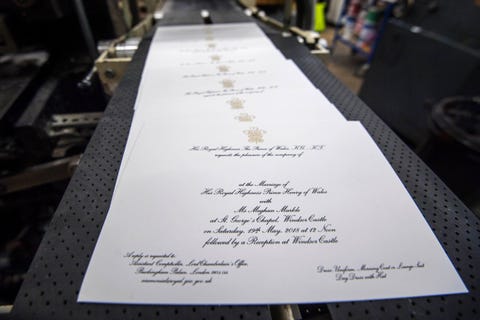 The Guest List
While nothing has been officially announced, a dream guest list would include the Obamas (who have worked on various charitable initiatives with Harry), the Trudeaus (Meghan is close friends with First Lady Sophie Gregoire Trudeau), Serena Williams (also another BFF of Meghan's), the cast of Suits, the Beckhams (who also attended Will and Kate's wedding in 2011), Priyanka Chopra (Meghan once interviewed her for her lifestyle website The Tig), Misha Nonoo (rumored to be the mutual friend who originally set up Meghan and Harry), and Rihanna (Harry and the Bad Gal met up to bring awareness on World Aids Day in 2016 and volunteered to take HIV tests together).
On April 10, 2018, Kensington Palace announced that after consultation by Her Majesty's Government, "an official list of political leaders — both UK & international — is not required" for the wedding. Royal reporter Rebecca English also points out that since Harry is not a direct heir to the British throne, a formal guest list is not required. Plus, St George's Chapel can't hold that many people so, some cuts are expected.
Kensington Palace said: It has been decided that an official list of political leaders – both UK & international – is not required for Prince Harry and Ms. Markle's wedding. Her Majesty's Government was consulted on this decision, which was taken by The Royal Household.
The Other Guests
On March 2, 2018, Kensington Palace announced that Harry and Meghan have "invited 2,640 people" to the grounds of Windsor Castle to watch the bride and groom's arrivals, their wedding guests' arrivals, and the carriage procession following the ceremony. The group includes 1,200 members of the public "from every corner of the United Kingdom" nominated by nine regional Lord Lieutenant offices; 200 people chosen from charities and organizations Harry and Meghan "have a close association with"; 100 students from two local schools in the Windsor Castle community; 610 Windsor Castle community members; and 530 members of the Royal Households and Crown Estate.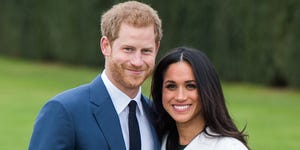 The Dress
Ahead of a Suits episode in 2016, when her character Rachel Zane wore a wedding dress, Meghan spoke to Glamour to talk all things well, wedding dresses. At the time, Meghan revealed that she's "a lot more relaxed" than her character but that she loved the low ballerina inspired neckline on Rachel's dress.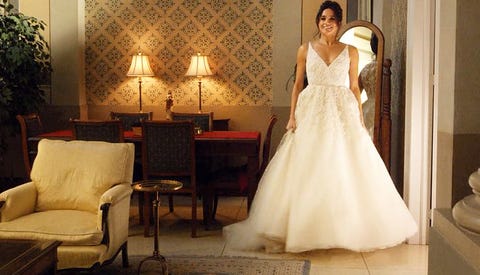 Of her dream wedding gown, Meghan offered this:
In the same interview, she revealed that her favorite celebrity wedding dress belonged to Carolyn Bessette Kennedy, calling the gown, "Everything goals."
One designer Meghan might turn to for wedding dress inspo is her stylist and close friend Jessica Mulroney, who is also known for styling Sophie Gregoire-Trudeau. FYI, Mulroney knows a thing or two about "all things bridal and style." Below, Meghan and Jessica on a 2016 trip to Italy.
The Wedding Will Probably Be on TV
According to a spokesperson for the engaged couple, Meghan and Harry will try to involve the public as much as possible, which could mean airing their big day around the world. "The couple of course want the day to be a special, celebratory moment for their friends and family," the spokesperson said. "They also want the day to be shaped so as to allow members of the public to feel part of the celebrations too and are currently working through ideas for how this might be achieved." (via The Guardian)
The Engagement Ring
As previously revealed, Harry designed the three-stone diamond ring with British jewelers Cleave and Company. The center stone is from Botswana, a place close to the couple's hearts, and the two side stones are from Princess Diana's personal collection. The yellow gold is Meghan's "favorite," according to Harry.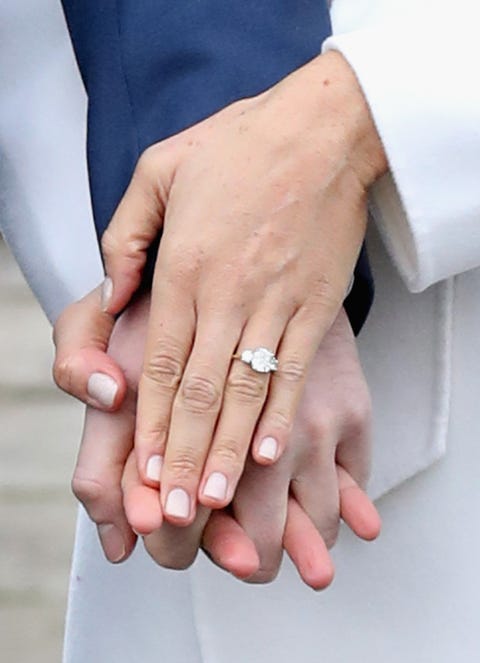 The Proposal
As the couple told the BBC's Mishal Husain in their first joint interview since getting engaged, Harry proposed over a typical cozy roast chicken dinner at their cottage in early November. "It was a nice moment, it was the two of us," Harry said. "I think I managed to catch her by surprise as well."
Follow Peggy on Twitter and Cosmo Celeb on Facebook.
Source: Read Full Article