Here's What Is Coming To Hulu In May 2018
If you're using Hulu this May, it will probably be for "The Handmaid's Tale" and the many new movies the service is adding this month.
The second season of "The Handmaid's Tale" premiered April 25 and will have new episodes on a weekly basis through May. Hulu adds only one other original show this month ("All Night") so "Handmaid's" will likely take up your attention.
You'll be able to choose from quite a few movies, though, including "I, Tonya" from last year and popular series like the "Rocky," "Matrix" and "Nightmare on Elm Street" movies. That said, "I, Tonya" doesn't join until May 31, so you'll have to wait a few weeks.
Many movies are also leaving Hulu this month, but not too many notable ones. It's a shame that "Fred: The Movie," "Fred: Night of the Living Fred" and "Fred 3: Camp Fred" are all disappearing, but you had your chance with those Criterion Collection shoo-ins.   
Check out the full list of arrivals and departures below. And if you want to stay informed on what's joining streaming services on a weekly basis, make sure to subscribe to the Streamline newsletter.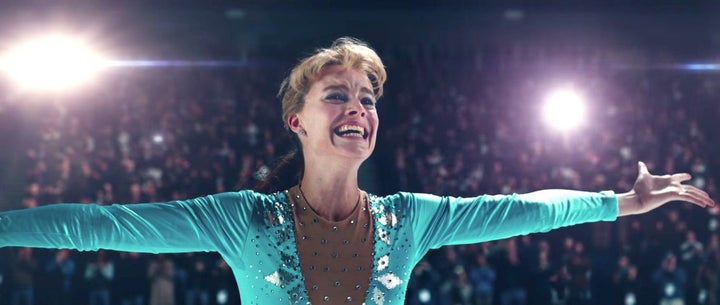 This is part of Streamline, HuffPost's weekly recommendation service for streaming shows and movies. Every Saturday, Streamline ranks the best shows to watch online, including a specific focus on Netflix.
Arrivals
May 1
"3 Ways to Get a Husband"
"A Nightmare on Elm Street"
"A Nightmare on Elm Street 2: Freddy's Revenge"
"A Nightmare on Elm Street 3: The Dream Warriors"
"A Nightmare on Elm Street 4: The Dream Master"
"A Nightmare on Elm Street 5: The Dream Child"
"A Very Brady Sequel"
"The Brady Bunch Movie"
"Baby Boom"
"Back to School"
"Barefoot"
"The Beatles: Made on Merseyside"
"The Box"
"Booty Call"
"Breakable You"
"Bride and Prejudice"
"Bull Durham"
"The Counterfeit Traitor"
"The Crow"
"The Crow II: City of Angels"
"The Crow III: Salvation"
"The Crow IV: Wicked Prayer"
"Demolition Man"
"Dirty Pretty Things"
"Eight Men Out"
"Elizabethtown"
"Emperor"
"Executive Decision"
"Foxfire"
"Gator"
"Godzilla"
"The Hangman"
"Here to Be Heard: The Story of the Slits"
"Hot Boyz"
"The House I Live In"
"Immigration Tango"
"Iron Eagle IV: On the Attack"
"Kalifornia"
"Lost in Vagueness"
"Love Is a Gun"
"Malena" 
"Man of the House"
"Manhunter"
"Mansfield Park"
"The Matrix"
"The Matrix Reloaded"
"The Matrix Revolutions"
"Men in Black II"
"Men With Brooms"
"Never Back Down"
"New Guy"
"New Rose Hotel"
"Ninja Masters"
"No Greater Love"
"The Pallbearer"
"Pink Panther 2"
"Pret-A-Porter"
"Priest"
"Race for Your Life, Charlie Brown"
"Rocky" 
"Rocky II"
"Rocky III"
"Rocky IV"
"Rocky V"
"School Ties"
"Set Up"
"She's All That"
"Starting Out the Evening"
"Strategic Air Command"
"The Swan Princess Christmas"
"The Swan Princess: The Mystery of the Enchanted Treasure"
"Thief"
"To Rome With Love"
"Traffic"
"Untamed Heart"
"Valkyrie"
"Wes Craven's New Nightmare"
May 5
"Drunk History" (Season 5A)
"Mobile Suit Gundam The Origin" (Season 1)
"The Longest Week"
"Warrior"
May 7
"Star vs. The Forces of Evil" (Season 3) 
May 8
"Running Wild With Bear Grylls" (Season 4 Premiere)
May 9 
May 11
"All Night" (Season 1, Hulu Original) 
"Claws" (Season 1)
"Bleeding Heart"
"Into the Fade"
May 12
"Baywatch"
"Frank Serpico"
"Jane"
"Still Mine"
"Talladega Nights: The Ballad of Ricky Bobby"
May 13
May 15
"Animals"
"How to Be a Latin Lover"
"It's a Disaster"
"Periods."
"Soul of a Banquet"
"Take Every Wave"
"The Other F Word"
"The Snapper"
"The Strange Ones" 
May 16
"12 Monkeys" (Season 3)
"The Strain" (Season 4)
"Knights of the Damned"
"The Mummy: Tomb of the Dragon Emperor"
May 19
"Beatriz at Dinner"
"Shooters"
May 21
May 23 
May 24
May 25
"Hollywood Game Night: Red Nose Day Special"
"Mad to Be Normal"
May 27
May 30
"America's Got Talent" (Season 13 Premiere)
"World of Dance" (Season 2 Premiere)
May 31 
"American Ninja Warrior" (Season 10 Premiere

)

 

"I, Tonya"
"Please Stand By"
"Rain Man"

 
Departures 
May 31
"1984″
"The Accused"
"A Feast at Midnight″
"Antitrust″
"The Big Wedding″
"Boulevard″
"Branded″
"Breakdown″
"Captivity″
"Chaplin″
"Diablo″
"The Doors″
"Earth Girls Are Easy″
"Fantastic Four: Rise of the Silver Surfer″
"Finder's Fee″
"Fluke″
"Forces of Nature″
"Fred: The Movie"
"Fred: Night of the Living Fred″
"Fred 3: Camp Fred″
"The Glass Shield″
"Glitter″
"Gordy″
"Happythankyoumoreplease″
"Harriet the Spy″
"Hart's War″
"He Named Me Malala″
"Hesher"
"High School"
"Honey″
"Honey 2″
"Jack Goes Boating″
"Jennifer 8"
"John Q"
"Kingpin″
"Love Crimes″
"Show of Force″
"Manhattan″
"Manny″
"The Million Dollar Hotel"
"National Lampoon's Dirty Movie"
"National Lampoon's Dorm Daze 2: College @ Sea″
"No Stranger Than Love″
"Outlaws and Angels″
"The Pick-up Artist″
"Regarding Henry″
"The Secret of N.I.M.H."
"Southie"
"Sprung″
"The Thomas Crown Affair″
"Wristcutters: A Love Story″
Source: Read Full Article