Here's How To Get Starbucks' Cheesecake Frappuccinos, Because It Won't Be Easy
For those foodies who can't decide whether they want coffee or dessert, now you don't have to choose. Just when I thought the iconic coffee chain couldn't impress me any further, they've once again proved me wrong. So everyone, here's how to get Starbucks' cheesecake Frappuccinos, because finding them might be a little tricky.
It's not uncommon for the world-wide coffee chain to unveil new items to their lengthy menu, but these additions might just take the cake (see what I did there)? On July 21, Starbucks took to Instagram to share their new, and delicious, cheesecake Frappuccinos. As if the concept of a cheesecake Frappucino didn't already sound absolutely incredible, apparently these tasty treats come in three flavors: mocha, blueberry and caramel and are topped with cookie pieces to finish. Hello, yes. I'll take all three.
These drinks sound like absolute heaven, but unfortunately not everyone will be able to sit back and enjoy these masterpieces. To my absolute devastation, Starbucks' cheesecake Frappuccinos are only available in the United Kingdom at the moment. So, either book your plane ticket now, or patiently wait for them to hit the United States. Here's to hoping they'll be making their way to my local Starbucks sometime very soon.
Even though I may not be able to personally enjoy these drinks, at least I can live vicariously through the U.K. residents. Plus, they're arguably the most Instagrammable menu items Starbucks has yet to roll out.
Elite Daily reached out to a representative for Starbucks to find out if we can hope to see these in the States anytime soon, and I'll keep you updated.
Seriously y'all, my mouth hasn't stopped watering since I saw that Instagram. Not only is this a combination of my two favorite things: cheesecake and coffee, but apparently these drinks can also be made "light" just in case you're not feeling quite as indulgent that day. However, if you want my opinion, I say go big or go home.
So many Starbucks items, such little time. Even though I'll have to impatiently wait for these coffee desserts to hit the United States, in the meantime I'll be able to enjoy the other new drinks that the coffee retailer has introduced. I don't know about y'all, but I'm still not over how aesthetically pleasing the new Starbucks Dragon Drink is. The latest drink made its debut on July 19, and its hues of pink and creamy texture basically begs for a post on social media, and clearly it tastes delicious too since it's now a permanent item on Starbucks' menu. So, while you wait for these cheesecake Frappuccinos to hit your nearest Starbucks, at least you can sip on a delicious (and gorgeous) drink in the meantime.
Or, better yet, here's an idea. Grab one of your favorite, non-speciality, Frappuccinos from Starbucks, head to your favorite dessert place or grocery store, purchase a slice of cheesecake, and create these concoctions all on your own. Just imagine a Vanilla Bean Frappuccino combined with a hefty slice of Oreo cheesecake or a Mocha Frappuccino combined with the classic cheesecake. There are so many options and possibilities awaiting us as we wait for those specialty drinks to come to us.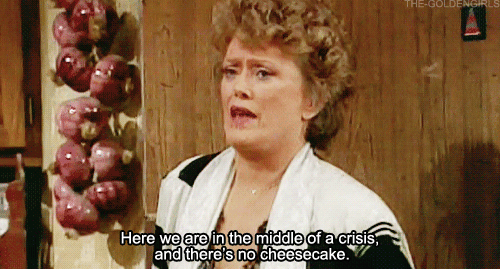 I have to say, I'm feeling like millennial Golden Girl craving this cheesecake Frappuccino. Save me a seat at the table, ladies.
Source: Read Full Article