'Jersey Shore' Star Deena Cortese Is Pregnant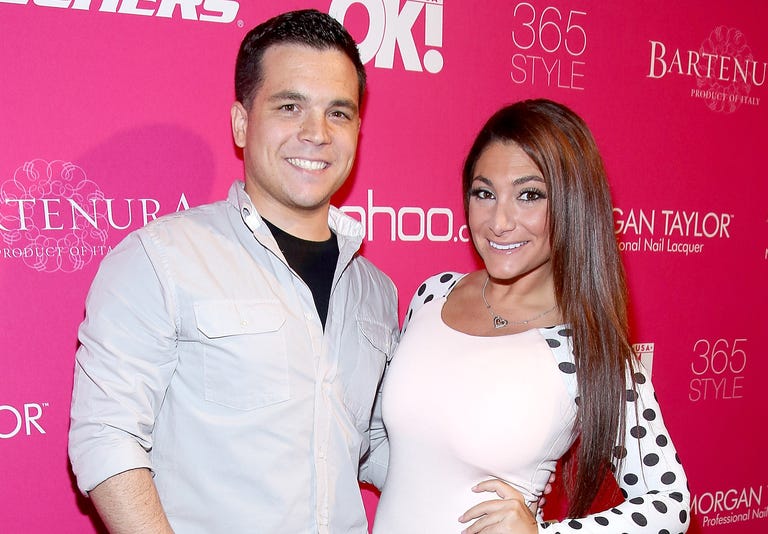 Deena Cortese has a little meatball in the oven and the Jersey Shore star thinks pregnancy is a blast in a glass baby bottle. But in an Instagram post Monday, Cortese explained why she kept the news secret from her fans for a few months.
"Chris and I Decided to wait until we were ready to spill the beans! Now that we are safely into our second trimester.. us and our little monkey are ready to tell the world Our little family is growing!" she captioned the photo below.
The picture of Cortese and husband Chris Buckner features a sign that reads, "We're excited to say a little firecracker is on the way!" in honor of the upcoming Fourth of July holiday. And although the 31-year-old waited a few months to reveal she was expecting, Cortese did not hold back on dropping some major details about her new bundle of joy, including when the baby is due, his gender, and name.
"We have a sweet little boy on the way!," she also wrote in the post. "We Are truly blessed and our hearts are filled with so much joy and happiness? December can't come soon enough! Daddy and Mommy can't wait to meet you Christopher John❤️ you are going to be the most spoiled little boy ever!!!!"
Some of Cortese's fellow MTV cast members immediately congratulated the new mom-to-be, including Mike "The Situation" Sorrentino and Nicole "Snooki" Polizzi, who wrote, "YASSSSSS my meatball is having a meatball."
Buckner also shared an adorable post on his profile that featured the couple's pet dog with a sign that read, "It's official. I'm getting a new best friend."
This will be the first child for both Cortese and Buckner, who were married in October 2017 in New Egypt, New Jersey.
Source: Read Full Article