John Legend Dressed up as the Arthur Meme and the Video Is Everything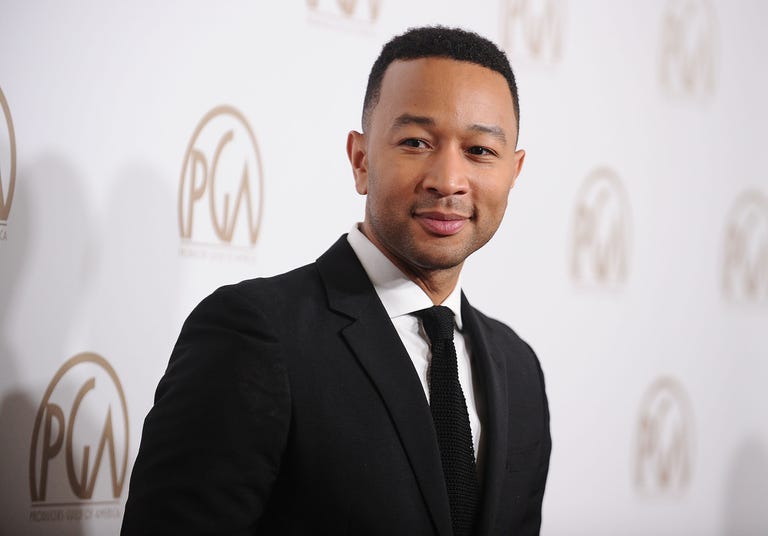 It's been a year since the internet first started comparing John Legend to the Arthur meme, and he and Chrissy Teigen are getting in on the joke in the most hilarious way.
John stars in a commercial for Google Duo, and in it, he tries on various outfits and video calls Chrissy for her opinion. His final option, his Arthur outfit, is by far the best. Watch the video for yourself.
Thanks to #GoogleDuo, my stylist is always on-call. #ad pic.twitter.com/UqrysVpBYC
John apparently isn't loving the comparison, and in the video he responds to Chrissy by making the quintessential Arthur clenched fist.
Here's a recap of how this all came about, in case your internet memory is rusty. Twitter user Emily Sowah was the first to make the comparison between the singer and cartoon character last year when she tweeted this side-by-side shot. "John Legend look like Arthur lowkey," she wrote in the caption.
John Legend look like Arthur lowkey pic.twitter.com/bfeG3cYo4M
The post went viral, and to date it has 76,000 retweets and 228,000 favorites. Chrissy eventually responded, making her own joke about how John reacts to the comparison, hence him making the fist in the video.
John when you tell him he looks like Arthur pic.twitter.com/0NW3NDtAb1
This newest funny couple moment comes during a weird social media week for the couple. Two days ago, when Kanye West started tweeting about Donald Trump, John responded by basically subtweeting him in regards to his political beliefs.
I love that great, brilliant artists have the power to imagine a better future. But artists can't be blind to the truth.
But then, after everyone made the connection that he was talking about Kanye, John texted him to clear the air, and Kanye responded by tweeting screenshots of the entire conversation.
pic.twitter.com/L9a7OeywJ6
Don't worry though, their friendship is still in tact.
pic.twitter.com/zxcloMEj9I
As is Chrissy and Kim's!
Yes but maybe no phones ?????? https://t.co/zIEZS28DXC
So all is right in celeb land, and you can go back to laughing at John's Arthur outfit.
Follow Emma on Instagram.
Source: Read Full Article