Lizzos Most Iconic Outfits Revealed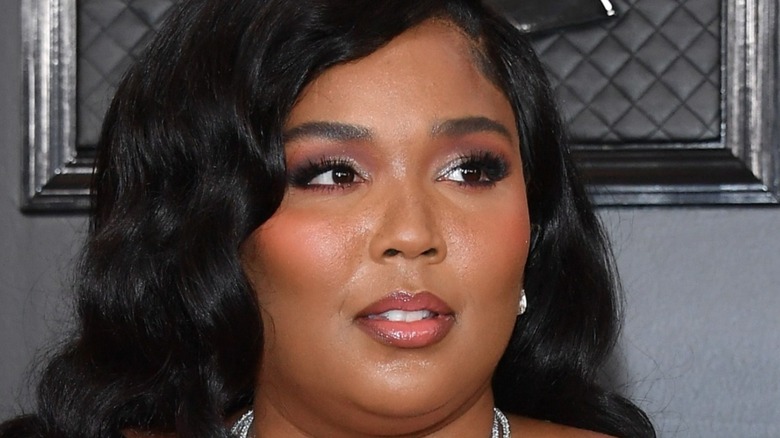 Amy Sussman/Getty Images
By Cassandra Rose/Aug. 30, 2021 11:10 am EDT
Singer, rapper and flutist Lizzo regularly makes history with her music releases, lively performances, and intricate costumes. She's a three-time Grammy-winning artist (via Recording Academy), was named Time's "Entertainer of the Year" in 2019, and even had Houston mayor Sylvester Turner campaigning to officially recognize her with a day in her hometown (via ABC News). Lizzo's 2021 single "Rumors" featuring Cardi B debuted at number 1 on their Hot R&B/Hip-Hop Songs Chart, reports Billboard, and is her third time earning the top spot. Over on YouTube, the catchy song's music video racked up over 20 million views at the time of writing. Her expansive music accomplishments, and her willingness to use her platform to speak out against serious issues like body shaming makes every win feel like a win for all of us.
Lizzo's also had some of the biggest fashion moments in the game, and has used her closet to advocate for wearing whatever makes you feel good as hell. In an August 2021 Instagram post, she turned the non-stop hate and fatphobic comments she received after the "Rumors" music video dropped into a giant statement. In the shot, she wore a black graphic t-shirt with a cheeky picture of herself in underwear with the words "Enuff to feed the needy." This is just one of many iconic outfits and moments in the entertainer's tenure.
A toast to Lizzo's love of wedding gowns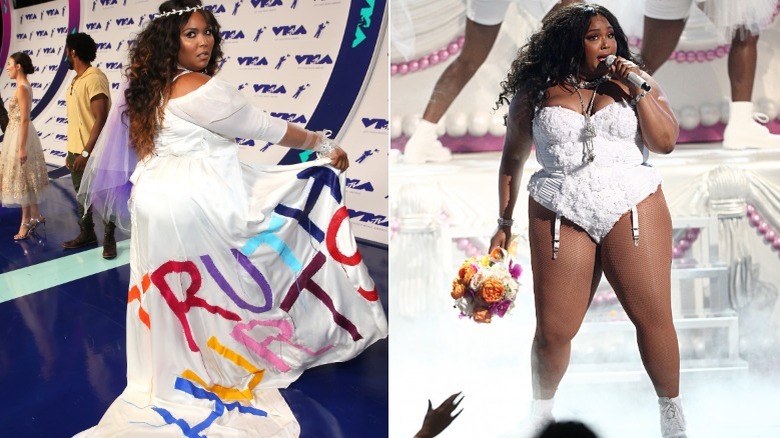 Lizzo manifested the success of her sleeper hit "Truth Hurts" at the 2017 MTV Video Music Awards, which she attended in a flowing wedding dress with the title of the single embedded into the gown's train, per BET. Her long, wavy locks and crown made her look like a goddess. Originally released in 2017, it took two years for the song to take off, reports EW. Lizzo stuck to the bridal theme at the 2019 BET Awards. After its rise on the music charts, the multi-hyphenate performed her smash single wearing another wedding gown that converted into a bodysuit (via ET Canada).
That same year, her iconic VMAs moment also came around full circle that same year when Lizzo performed at the awards ceremony. On August 22, 2019, she posted a tweet commemorating her growth, writing "TBT to the @vmas 2017 when I wore TRUTH HURTS on my dress to promote my new single … now I'm performing on that same stage!!! I'm so thankful y'all … don't stop fighting for your passion because your time is coming."
Celebrating pride
For her 2018 performance at New York's Pride Parade (via YouTube), Lizzo used her platform to shine a light on LGBTQIA+ voices. She rocked a rainbow bodysuit with a matching coat and thigh high socks, and complemented the style with neon braids in a sky high ponytail (pictured above). Lizzo's outfit was actually a labor of love, according to Yahoo!, and was designed by fashion designer Grace Insogna as part of their senior thesis project for the Fashion Institute of Technology. The LGBTQIA+ flag was the inspiration behind the vivid colors used in the knitwear, which fit in perfectly with the theme of unity and inclusion at Lizzo's performance. 
In a viral TikTok, Insogna opened up about the vision behind their design and reflected on their experience dressing Lizzo for the performance. One of their main goals was to create clothing that promoted size inclusivity and body positivity. Size inclusivity is a major issue in the fashion industry where some brands shy away from clothes in extended sizes. Per Insider, the fashion designer was the first student to use a plus-size model during their school's runway show. Lizzo spotted the gorgeous outfit on Insogna's Instagram page, and asked if she could wear it for her performance. Lizzo has always been an advocate for body positivity, so her collaboration with fellow advocate Insogna was iconic.
Lizzo is the pioneer of the tiny purse trend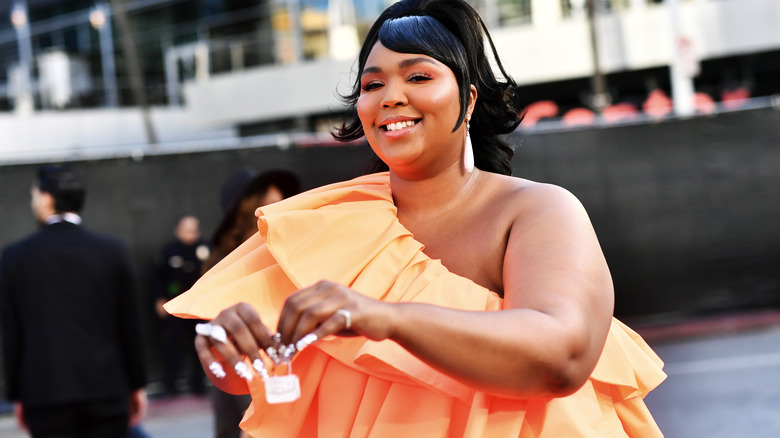 Lizzo didn't just revive the tiny purse '90s fashion trend, she completely elevated the look. The "Rumors" rapper showed up to the November 2019 American Music Awards with a stunning orange Valentino ruffled tier dress and, with her sense of humor on full display, paired it with the tiniest white purse (via CNN). She posted a close up shot of her innovate look on Instagram, and captioned it "@Maisonvalentino bag big enough for my f**** to give. Big body b**** in a Valentin-HO custom look for @amas".
Lizzo's bold choice of accessories left fans wondering how they could live out their own micro purse fantasies and, what exactly she could fit in there. The songwriter kept everyone guessing for a few months before revealing all in a January 2020 Instagram video. Well, kind of. In the brief video, she playfully spoofed her original white purse with another equally small and seemingly bottomless one. Lizzo hilariously pulled out multiple items that no one was expecting, including a TV remote, bottle of wine, full outfit change and her wig.
She's on a one-woman campaign for small bags, per Page Six. On July 17, 2021, she turned to Instagram again to show off lime green braids and a micro Fendi bag. Though it's more of a fashion statement, CR Fashion Book argues that the micro purse trend can actually be liberating since you're no longer stuck carrying items you don't need.
This t-shirt dress was controversial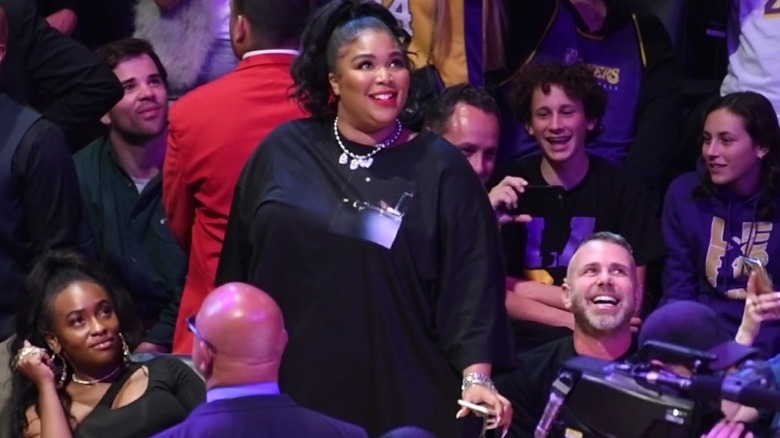 On December 8, 2019, Lizzo made headlines at the Los Angeles Lakers vs. Minnesota Timberwolves basketball game. Donning a plain black t-shirt dress (pictured above), the "Juice" rapper hyped up the crowd with her infamous dance moves as her hit single played in the background. But according to Teen Vogue, her seemingly outfit caused a huge stir. Lizzo's dress had a cut-out back that revealed a matching thong and fishnet tights. Per People, she received a lot of backlash for her outfit choice.
It's difficult to ignore that some comments had fatphobic undertones. On December 9th, the body positive advocate posted an Instagram live video calling out the constant criticism and double standards for celebrating her body (via The Shade Room). "Who I am and the essence of me and the things that I choose to do as a grown-ass woman can inspire you to do the same," she began. "You don't have to be like me. You need to be like you. And never ever let somebody stop you or shame you from being yourself."
She also added that she intentionally ignores negative comments from critics, and doesn't let them affect her.  "Like, this is who I've always been. Now everyone's looking at it and your criticism can just remain your criticism … Negative criticism has no stake in my life, no control over my life, over my emotions. I'm the happiest I've ever been, I'm surrounded by love."
All of her 2020 Grammys looks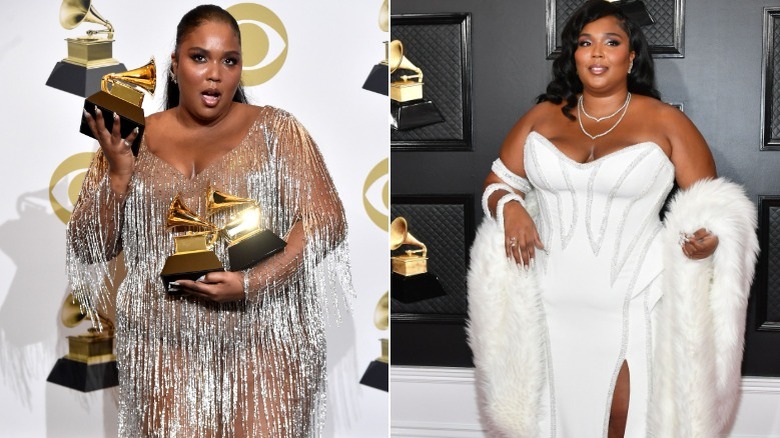 Lizzo was the most nominated artist at the 2020 Grammys Awards with eight nominations (via Recording Academy), but the music icon's amazing accolades weren't the only things that had people talking. Throughout the night, the "Juice" singer rotated through a myriad of glamorous looks. In true Old Hollywood starlet fashion, she arrived on the red carpet in a pristine white Versace gown with Swarovski crystals, per Insider, and completed her outfit with a faux fur stole, pictured above. 
Her stylist Marko Monroe told Page Six the inspiration behind her iconic hand embroidered gown, which was two months in the making. "The inspo was 'iconic status,'" he explained. "I was thinking about the powerful, iconic women who have come before her, and the imagery they've relayed when it comes to glamour — of course, with a little Lizzo twist. If you're a pop culture history lover, you'll understand the influences." Her overall look was a tribute to music legends Cher and Diana Ross.
Lizzo had three more costume changes that night, and every single one of them slayed. She opened up the Grammys in a sparkling black, off the shoulder Christian Siriano gown, before changing into a neon jumpsuit and bedazzled combat boots (via Us Magazine). Her final look of the night — a sheer, curve-hugging dress with silver fringe — earned her the best dressed award in our eyes (as seen above).
This artsy outfit was a fan favorite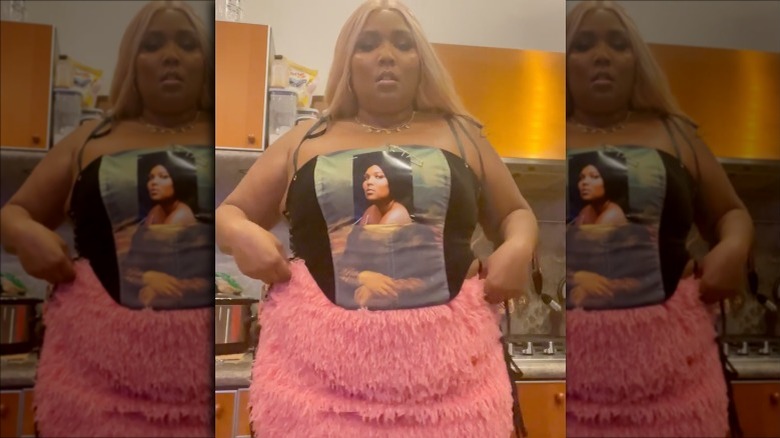 Lizzo knows how to put together a masterpiece. On June 26th, 2021, "Good As Hell" singer made a huge statement when she grabbed dinner with friends in a bright pink, fluffy skirt and jacket set, per Insider. But her corset top stole all of the attention. She pinned a photo of her "Cuz I Love You" album art over literal art, Leonardo da Vinci's Mona Lisa painting. 
She documented her genius outfit in an Instagram post the next day. Both her fans and famous friends rushed to her comments section to praise the fashion forward outfit. Singer SZA simply wrote "OMG" and ended her comment with a heart face emoji. Lizzo originally called her look "Lizzo Lisa," according to Yahoo!, but fans quickly took it a step further and dubbed it the "Mona Lizzo," which has a nice ring to it. Lizzo's stylist Jason Rembert was behind the creative outfit, and hair stylist Shelby Swain styled her sleek waves to perfection (via Insider).
Source: Read Full Article