Love Triangles Can Be Messy. Just Ask These Celebs.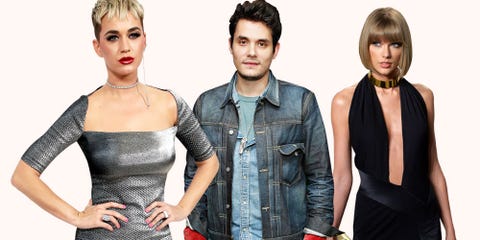 It may only take two to tango, but it takes three to make some delicious gossip. From teenage drama to marital affairs with nannies, here are 33 of the most scandalous celebrity love triangles of all time.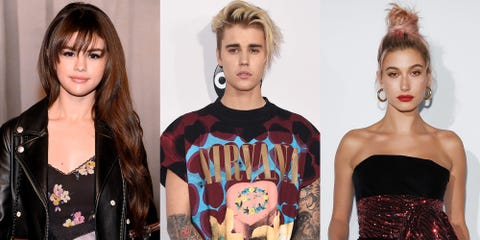 Not long after Jelena broke up for the umpteenth (and seemingly, final) time in late-spring 2018, Justin and Hailey announced their engagement in June 2018. Like Selena, Hailey has always had an on-again, off-again relationship with the Canadian singer over the years. FYI: Justin proposed with a $500,000 diamond sparkler, which made its debut on the cover of Vogue Mexico in August 2018.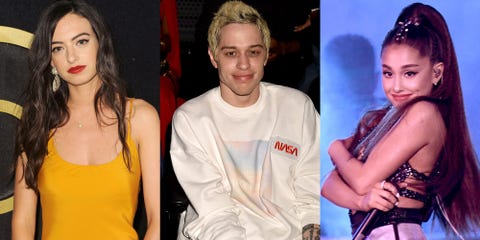 As Cazzie and Pete's relationship (they dated for two years) winded down in the first half of 2018, Ariana also ended things with Mac Miller (they also dated for two years). Pete and Ariana's courtship began shortly after and a minute later—in June 2018, to be exact—the couple announced their engagement! They broke up four months later.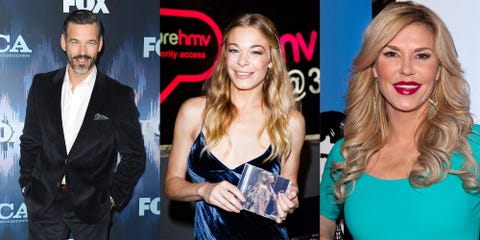 A hot and heavy affair between Cibrian and Rimes on the set of their Lifetime movie Northern Lights led to both stars leaving their spouses. Glanville, who went on to become a cast member of The Real Housewives of Beverly Hills, detailed in her tell-all the night of karaoke when she realized Cibrian and Rimes were having an affair. "When… LeAnn awkwardly pulled my husband (not hers!) onstage for an awful karaoke rendition of Sonny and Cher's 'I Got You Babe,'" Glanville wrote, "I just about lost it… Was she serious? I felt like I was in the twilight zone."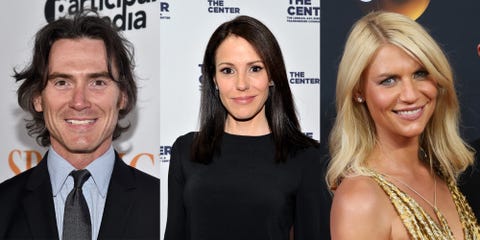 Back in 2003, The West Wing star Mary-Louise Parker had been dating Almost Famous's Billy Crudup for eight years—and was seven months pregnant with their son!—when Crudup left her for his Stage Beauty costar Claire Danes, who was dating singer Ben Lee. "I was just in love with [Crudup]," Danes said years later. "I didn't quite know what those consequences would be."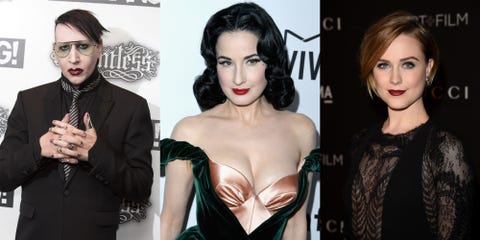 Manson and burlesque star Dita Von Teese began dating in 2001 and married in 2005, but Von Teese filed for divorce after just over a year of matrimony. Many an eyebrow was raised when Manson began dating Evan Rachel Wood very soon after. "People were cruel," the Westwood star later told Net-a-Porter about being called a "homewrecker." "You build immunity to that sort of thing, but I wasn't used to negative feedback, so it got to me."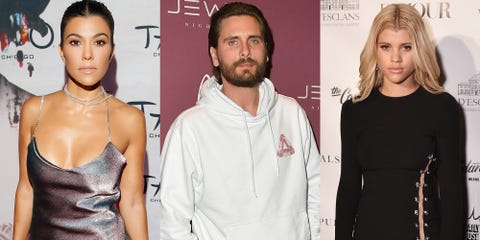 Kourt and Scott haven't been romantically involved in years but he continues to be a big part of her life because of their three kids. On a season 15 episode of Keeping Up with the Kardashians, it was revealed that the exes had been going to co-parenting therapy together. On the same episode, Kourt lashed out at Scott after he introduced Sofia (his GF since fall 2017) to the kids without warning. For a minute, Younes Bendjima was part of this triangle (which I guess would make it a love square), but he and Kourt split in August 2018.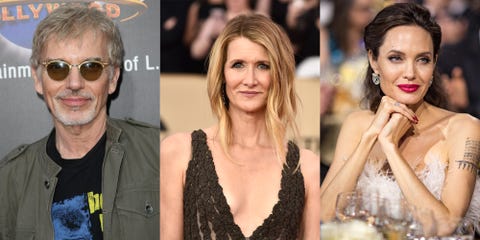 In the late '90s, Thornton was living with his girlfriend Dern when he broke off the relationship and married Jolie. "I left our home to work on a movie," Dern told Talk magazine, "and while I was away, my boyfriend got married, and I've never heard from him again."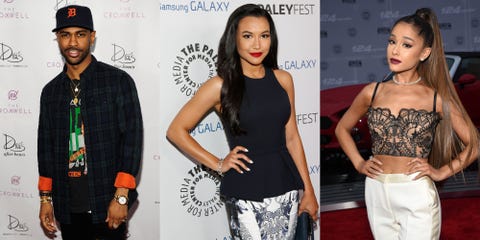 In Rivera's memoir Sorry Not Sorry, the Glee star revealed that while she was engaged to Big Sean, she walked in on someone whose name "rhymes with Smariana Schmande" chilling on the rapper's couch. Sure enough, after Rivera and Sean called it quits, Sean and Ariana Grande became an item.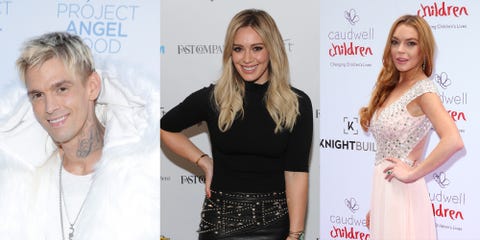 Carter himself told this story best: "I started dating Hilary on my 13th birthday. I was dating her for like a year-and-a-half and then I just got a little bored so I went and I started getting to know Lindsay, dating Lindsay." He then broke up with Lohan and returned to Duff, naturally.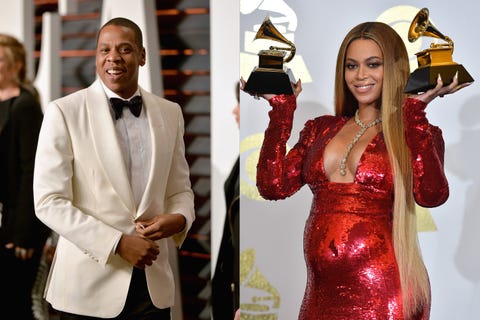 Bey stunned the world with the drop of her deeply personal album Lemonade, not least because she confirmed long-running rumors that Jay had cheated. In the track "Sorry," she famously declared, "He better call Becky with the good hair." The internet went nuts trying to decipher who Becky was, with the Beyhive pointing to designer Rachel Roy over her use of "Good hair don't care" in an Instagram caption. Roy denied any involvement, as did Rita Ora, who also was fingered for the crime.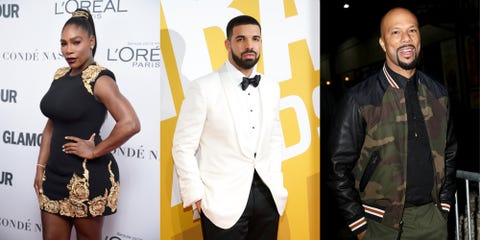 A bitter feud broke out between Drake and Common via a pair of tracks in 2012, and two years later, Common admitted it all boiled down to Drake dating his ex-girlfriend, Williams. "At that time, I think it was the Drake-Serena situation," he said. "So unfortunately the war might have been over a girl."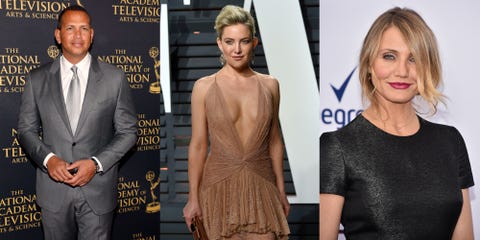 Just a few months after Hudson and A-Rod split, Diaz was reportedly seen leaving the baseball player's penthouse with "overnight bags." Us Weekly quoted an "insider" claiming Hudson was "pissed" at Diaz as a result.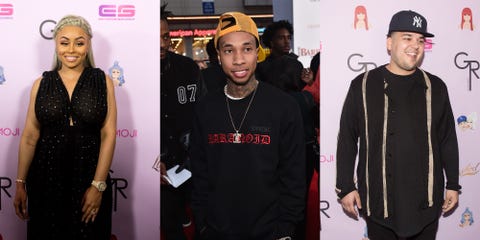 These folks sure know how to keep it in the family! Tyga and Blac Chyna began dating in 2011 and had a son together before splitting up in 2014. Afterwards, both set their sights on the Kardashian klan. Tyga and Kylie got together that same year, and Chyna first publicly linked up with Rob in 2016 before giving birth to their daughter, Dream.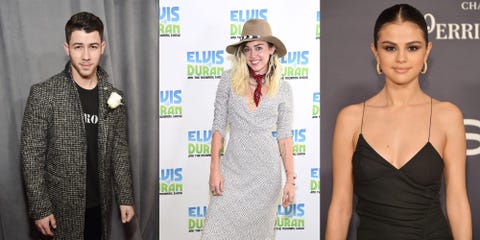 When Jonas and pal Demi Lovato joined James Corden for some "Carpool Karaoke," the topic of Jonas's dating life from his Disney days came up, and Lovato was quick to spill the beans. "[He dated] Miley and then Selena, and then [he was] back with Miley," she said. Gomez addressed the alleged riff between her and Cyrus in an interview with W magazine, saying, "We never feuded. We both liked the same guy when we were 16."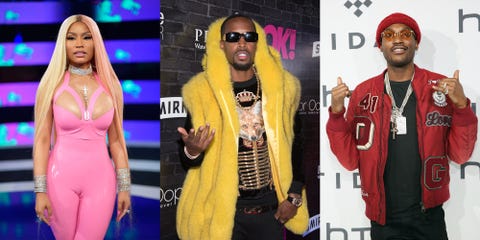 In late 2014, Minaj and her longtime boyfriend/rapper Safaree split, and the following year, he dropped a track bemoaning her new relationship with Meek Mill. Minaj responded by tweeting that Safaree shouldn't have cheated on her, and "just for the record, I'm in love with Meek."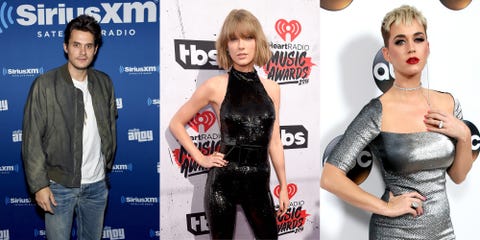 The "bad blood" between Swift and Perry is no secret, with both pop stars claiming the feud stems from a spat over backup dancers. But many have wondered if the fact that they both dated Mayer might have added fuel to the fire. Mayer and Swift were an item in 2009 (an item that, by the sounds of "Dear John," did not end well), and Mayer and Perry first got together in 2012.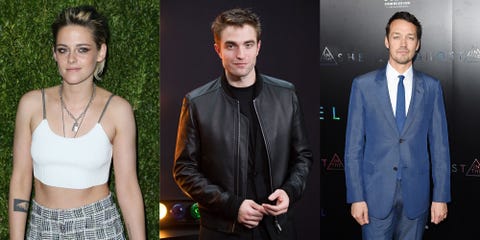 K-Stew's best known love triangle was on screen in the Twilight series… until she was caught cheating on her boyfriend Pattinson with her Snow White and the Huntsman director, Sanders. Both couples seemed to be trying to work things out, but the next year, Sanders's wife Liberty Ross filed for divorce, and Pattinson moved out of Stewart's home.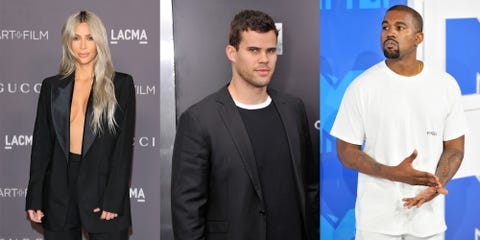 In West's 2012 track "Theraflu," he rapped, "And I'll admit, I had fell in love with Kim / around the time she had fell in love with him / Well that's cool, baby girl, do your thing / Lucky I ain't had Jay drop him from the team." The bars seemingly confirmed that West was interested in Kardashian while she was still involved Humphries, who then played for the Brooklyn Nets, which Jay-Z partly owned.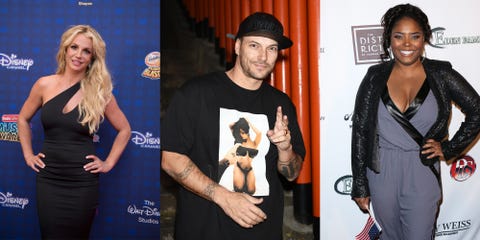 In 2004, K-Fed left his pregnant fiancée, Moesha star Shar Jackson, to get toxic with Spears. Spears got pregnant with her first son not long after. As for Jackson, she started a cosmetics line called RelationLips with the first lip gloss named "He Cheated."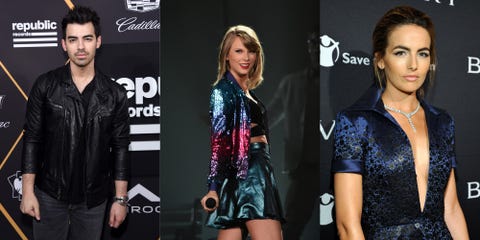 Swift famously revealed on an episode of The Ellen DeGeneres Show that Jonas had broken up with her in a 25-second phone call. She then told Us Weekly that he'd done it because he'd met actress Camilla Belle. Swift chronicled the break-up in the savage song "Better Than Revenge," which featured the notorious lyrics, "She's not a saint/ and she's not what you think/ She's an actress/ She's better known/ for the things that she does/ on the mattress."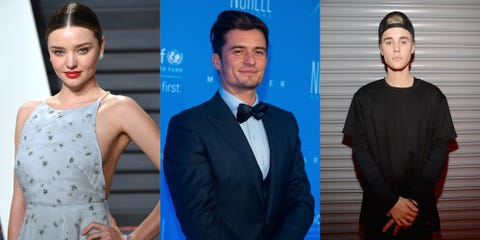 Never forget that time Orlando Bloom punched Justin Bieber. It all went down in a restaurant, with the beef reportedly heating up over Bieber's flirting with Bloom's then wife, Miranda Kerr, after the 2012 Victoria's Secret Fashion Show. Is it too late now to say sorry? Yes. Yes, it is.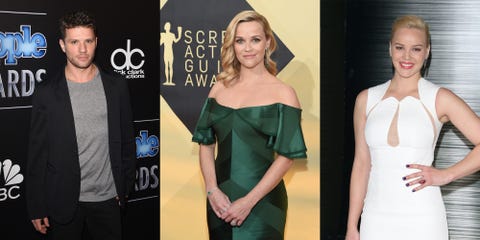 When Cruel Intentions costars Witherspoon and Phillippe split in 2006 after seven years of marriage and two kids, rumors persisted that Phillippe had had an affair with his Stop-Loss costar, Cornish. Cornish and Philippe did begin dating that year, ultimately splitting four years after that.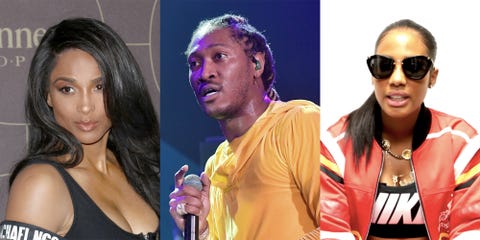 Only three months after giving birth to their son, Ciara and fiancé Future called off their engagement. Us Weekly reported that she'd just discovered the rapper was cheating on her with his wardrobe consultant, Tyrina Lee. Future later denied the report, saying that the couple just "grew apart" and that he was the one who decided things weren't working.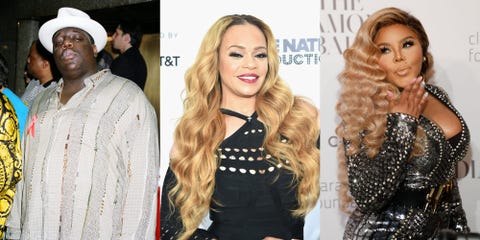 Evans revealed in her memoir that while married to the Notorious B.I.G., she walked in on Lil' Kim in their bed, and Biggie subsequently admitted to having a lengthy affair with her. Years later, though, the two women have made amends. "My issues with Kim really went out the window when B.I.G. passed, to be quite honest," Evans told a radio show.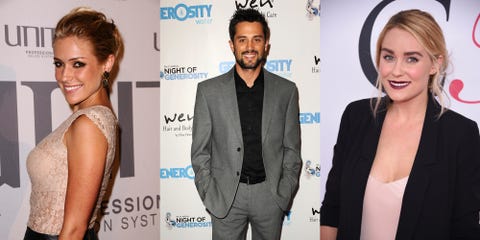 A major plotline of The Hills-precursor Laguna Beach was the love triangle between Cavallari, her boyfriend Colletti, and his friend, Conrad. Years later, Cavallari told Buzzfeed that the issue was real, but that the show made it worse. "I think [MTV] sort of kept it going by having my boyfriend at the time going and hanging out with Lauren, which was hard!" she said.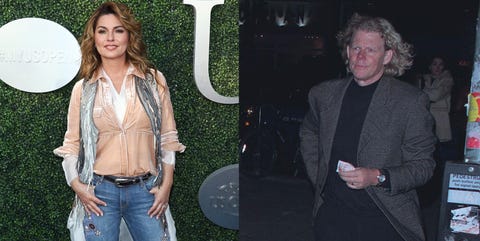 Country superstar Shania Twain's life came crashing down around her when her producer and husband of 14 years, Mutt Lange, left her for her best friend, Marie-Anne Thiebaud. In a twist that's stranger than fiction, Twain found love again with Marie-Anne's ex-husband, Frédéric. The two are now married.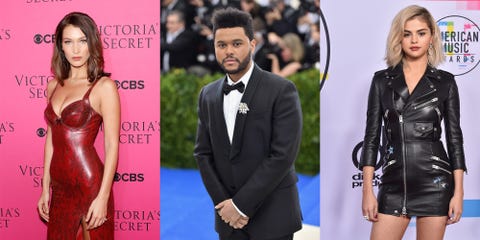 After 18 months of dating, Hadid and The Weeknd called it quits in November 2016. Enter Gomez, who was soon seen necking with The Weeknd, causing Hadid to unfollow her on Instagram. A year later, Gomez and The Weeknd ended their own relationship, Gomez was spotted shortly after kissing her old flame, Justin Bieber, and Hadid and The Weeknd were hanging out again. Cut to fall 2018, Jelena is no more (again) while Bella and The Weeknd are better than ever.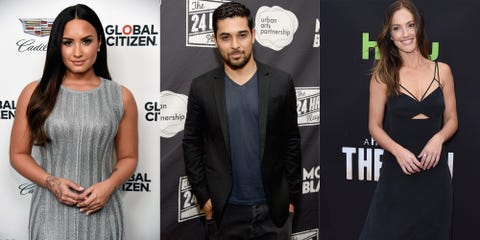 After six years of on-again, off-again dating, Lovato and Valderrama announced their split for good on Instagram in June 2016. But when reports arose in September that Valderrama had reunited with Friday Night Lights star Minka Kelly, Lovato posted a cryptic tweet widely believed to be about Valderrama: "You have to be capable of being honest with yourself before you can get honest with other people."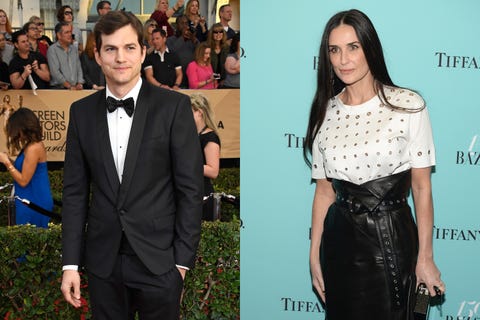 Plus, Scott Eastwood. Is there such thing as a love pentagon? In 2011, Us Weekly ran a cover story claiming Kutcher had cheated on Moore, his then wife, with two women in a hot tub at the San Diego Hard Rock Hotel. The couple of eight years soon separated. Several years later, Scott Eastwood revealed a new layer to the scandal when he admitted that at the time, he was dating one of the women who slept with Kutcher.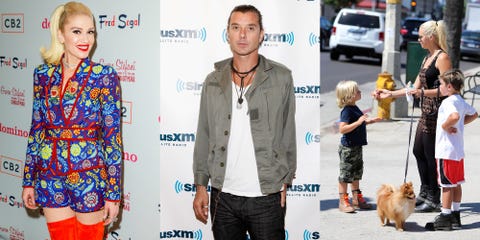 After 20 years together — 13 of those, married — Stefani and Rossdale released a statement in August 2015 announcing their separation. Sources soon claimed the cause was Rossdale's alleged affair with Mindy Mann, the nanny to their three sons. Stefani later revealed to Harper's Bazaar that she'd discovered the infidelity that February. "It was the beginning of hell," she said.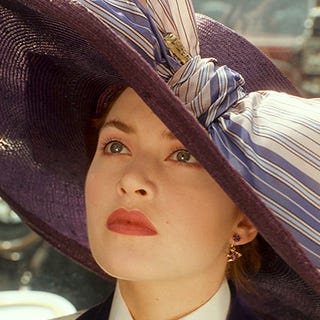 Source: Read Full Article