Marjorie Taylor Greene was stripped of her committee assignments by a House vote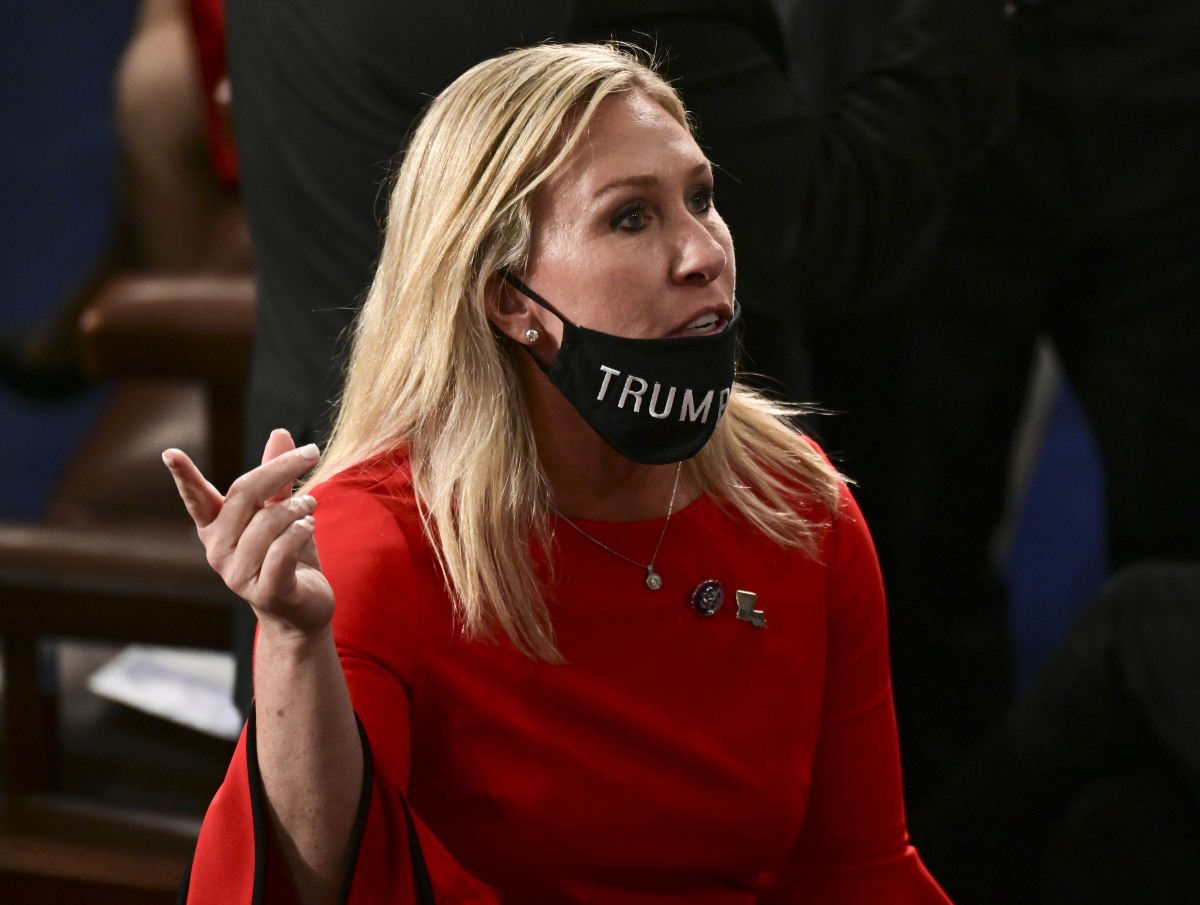 As I've gotten older, the conspiracies have gotten increasingly stupid and offensive. Like, in the 1990s, there were more interesting conspiracies which seemed to be rooted in some kind of vague reality, like "Tupac is still alive" or "Stanley Kubrick faked the moon landing footage." These days, conspiracies are ridiculously unhinged. Like, sit there and really think about how bonkers the QAnon sh-t is. Or the "false flag" bullsh-t. You literally have to be nuttier than a fruitcake to believe any of that. Which brings me to Marjorie Taylor Greene, the QAnon believer, false flag conspiracist, Jewish Space Lasers bigot and representative from Georgia. After the QOP failed to remove Greene from her committee posts, Speaker Pelosi called for a House vote. Greene was stripped from her committee posts by a 230-199 vote.
The House approved a resolution Thursday that removes embattled GOP Rep. Marjorie Taylor Greene from her assigned committees. The final vote tally was 230-199 and 11 Republicans voted in support of the resolution: Reps. Adam Kinzinger of Illinois, Brian Fitzpatrick of Pennsylvania, John Katko of New York, Nicole Malliotakis of New York, Fred Upton of Michigan, Carlos Gimenez of Florida, Chris Jacobs of New York, Young Kim of California, Maria Salazar of Florida, Chris Smith of New Jersey and Mario Diaz Balart of Florida.

Greene, a vocal supporter of Trump's unsubstantiated claims of election fraud, has been condemned by Democrats and many Republicans for embracing numerous conspiracy theories in videos and social media activity before she took office this year. In posts and videos from 2018 and 2019 reviewed by CNN, Greene appeared to endorse violence against prominent Democrats, including House Speaker Nancy Pelosi, and suggested that the Sandy Hook and Parkland shootings were staged "false flag" operations. They have since been taken down.

Greene defended herself in a speech ahead of the vote and expressed regret over some of her past remarks — which some viewed as doing too little, too late. "These were words of the past and these things do not represent me, they do not represent my district and they do not represent my values," Greene said of her past posts and interactions on social media. "I am beyond grateful for this opportunity, and I'll tell you why. I believe in God with all my heart, and I am so grateful to be humbled, to be reminded that I'm a sinner, and that Jesus died on the cross to forgive me for — to forgive me for my sins. This is something I absolutely rejoice in today to tell you all. I think it's important for all of us to remember, none of us are perfect. None of us are."

Greene also said that she believes "9/11 absolutely happened" and "school shootings are absolutely real and every child that is lost, those families mourn it."

But she also attempted to blame "cancel culture" for her troubles and the media for how she's come across, saying, "big media companies can take teeny, tiny pieces of words that I said, that you have said, any of us, and can portray us into someone that we're not."

Republican Leader Kevin McCarthy, R-Calif., has previously condemned Greene's past remarks but stopped short of taking disciplinary action. Speaker Pelosi told reporters Thursday she is "profoundly disturbed" that Republican leaders decided against removing Greene from her committees.

"That's just so unfortunate," she said. "You would think the Republican leadership in the Congress would have some sense of responsibility to this institution."
[From ABC News]
"I think it's important for all of us to remember, none of us are perfect. None of us are." I would say that if I was trying to excuse myself after I overslept, or ate a second dinner three hours after my first dinner, or I forgot an unimportant appointment. You don't get to use the "none of us are perfect" excuse when you've literally threatened violence against coworkers, when you've threatened and harassed survivors of school shootings, when you actively incite terrorism because you believe a cabal of pedophiles rigged the election and that democracy needs to be violently overthrown. I feel it's important to really sit here and list all of that, because this is not cancel culture. This is a violent, terrifying, crazy AF ideology taking hold in a major political party.
— Scott Dworkin (@funder) February 4, 2021
It doesn't even prove that you don't still believe those things. Greene isn't sorry, she's just getting more clever with her wording https://t.co/4Hprv1H9cK
— Kendall Brown (@kendallybrown) February 5, 2021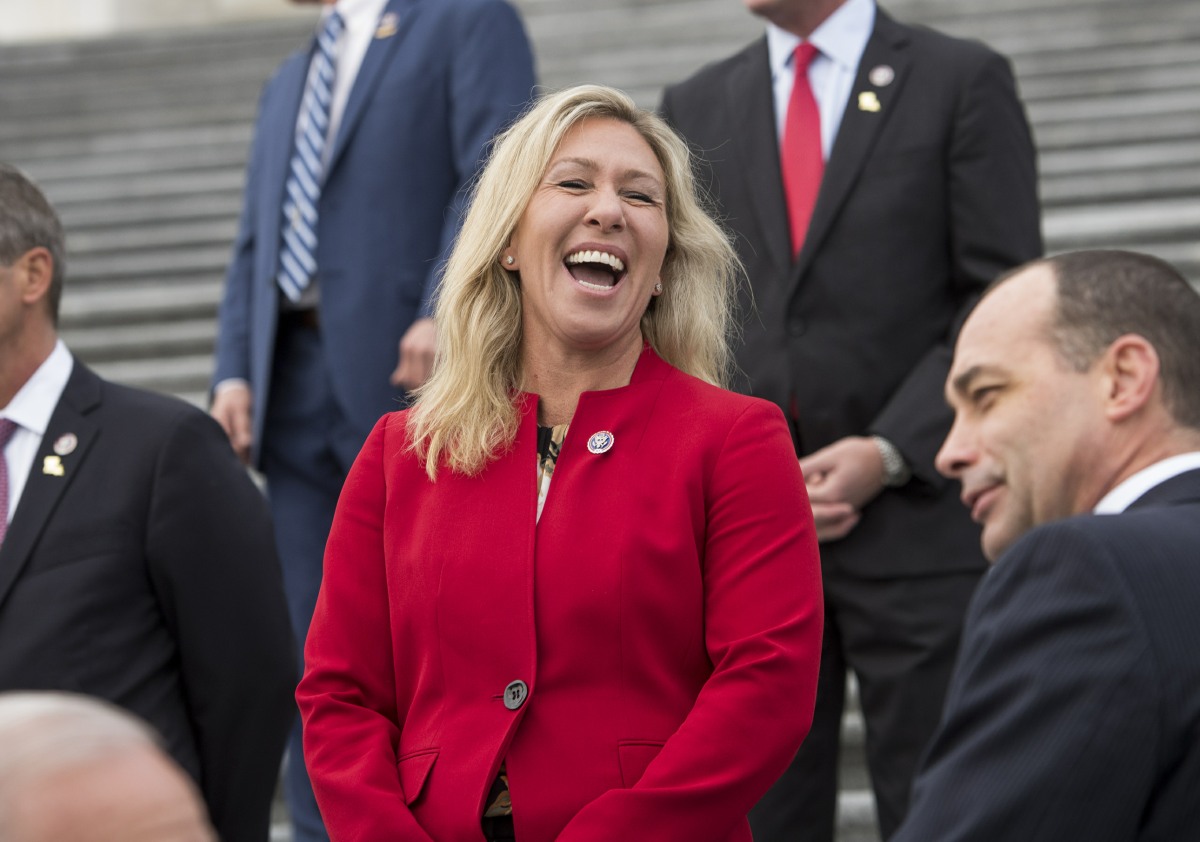 Photos courtesy of Avalon Red.
Source: Read Full Article