Meet DWTS' Two New Pros – Daniella Karagach & Pasha Pashkov!
Dancing With The Stars are introducing two new pros to the ballroom this year, Daniella Karagach and Pasha Pashkov!
The married couple actually started dancing together in 2009 and together, they are 7-time United States 10-Dance Champions and Latin Champions. Daniella is the youngest US competitor to ever hold this title. So cool!
With Dancing With The Stars set to premiere next Monday, September 16th on ABC, JJJ got Daniella and Pasha to spill 10 Fun Facts about themselves to help viewers get to know them more!
Click inside to learn more about Daniella Karagach and Pasha Pashkov now!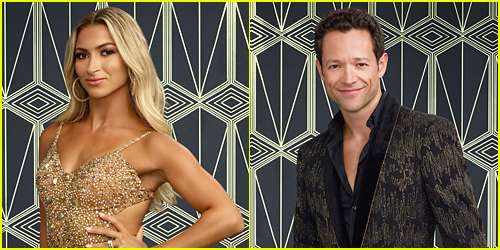 DANIELLA
I was born and raised in Brooklyn NY.
My family is from Moldova.
I speak Russian.
My favorite food is pizza.
I'm obsessed with peanut butter and Cheetos.
My middle name is Brittany.
My favorite TV shows are Friends, How I Met Your Mother and Sabrina
I only have one dimple on my right cheek.
I'm afraid of the dark.
I really enjoy spending time with my husband and traveling/dancing around the world with him.
PASHA
I moved to the US in 2001 when I was 15 years old.
My legal name is Pavel.
I'm a huge soccer fan, and I flew to Russia to watch 2018 FIFA World Cup live.
I love watching soccer, but I enjoy playing it with my friends even more!!! Get that cardio in!
I'm married to the most amazing girl in the world, but you already knew that.
My favorite vacation spot is anywhere in the Caribbean with my family.
My favorite novel is "The Alchemist" by Paulo Coelho
My favorite shows that are on repeat in my house are Friends, The Office, How I Met Your Mother, Rules of Engagement, and Big Bang Theory
I love food. All food. Every cuisine. Any type of food. Just food. Food.
I'm originally I'm from Perm, Russia. It's a city in the Ural, next to Siberia 🙂
Source: Read Full Article