Meghan Markle's 'Suits' Husband Patrick J. Adams Just Realized She's Marrying Prince Harry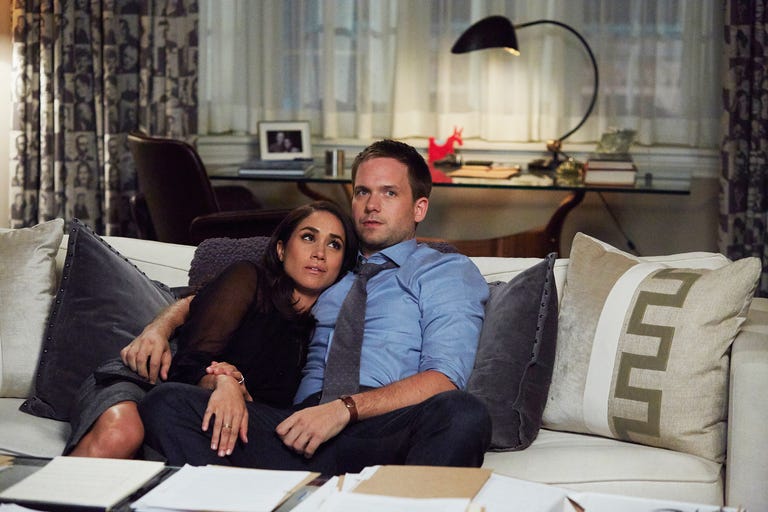 It's a big year for Meghan Markle weddings—today she marries Prince Harry and, earlier this year, her Suits character Rachel got married in the actress' last episode on the USA series.
It seems her on-screen love interest Mike, played by Patrick J. Adams, may have (jokingly) just found out about her real-life love interest.
Markle's good friend Adams Instagrammed a photo Saturday morning of the front page of the The Times, which features a photo of Markle with her mom Doria Ragland at the royal wedding rehearsal yesterday with the caption: "I'm beginning to think she might not actually be out getting milk. #royalwedding."
Markle, who became friends with her Suits co-stars in her seven years on the legal drama, invited most of the cast to the royal wedding. They just arrived at the ceremony at Windsor Castle and will attend the luncheon hosted by Queen Elizabeth II, but not the reception at Frogmore House, which will be a smaller affair.
Adams, along with Gabriel Macht, Gina Torres, Sarah Rafferty and Rick Hoffman arrived in England earlier this week.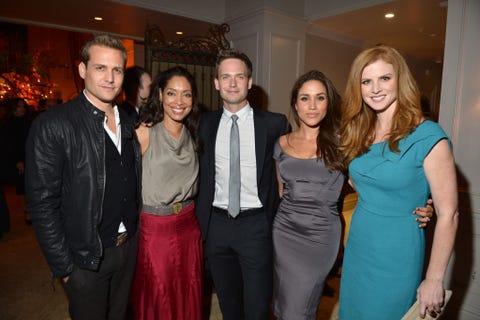 The whole cast went out to dinner at Barn restaurant last night to toast their soon-to-be royal friend on the eve of the wedding. Adams posted a photo of the group on Instagram, captioning it: "The last supper #royalwedding."
In an interview with Esquire earlier this year, Adams said he deleted his Instagram account after posting a photo with Markle early in her relationship with Harry.
"I posted this old photo I had found of Meghan and I on set," he said. "I went to bed, and woke up in the morning and realized 'Oh, yeah. I live in a world where you can't post things about Meghan.'"
Torres, who played Jessica Pearson on Suits, went on the Today show yesterday and admitted the cast knew about Markle and Harry's relationship before the rest of the world.
Torres revealed: "We knew she was excited and there was reason to keep it close to the vest."
It seems the secret is out!
Source: Read Full Article