Meghan Trainor still loves her side-by-side toilets: 'I don't have to wait for him'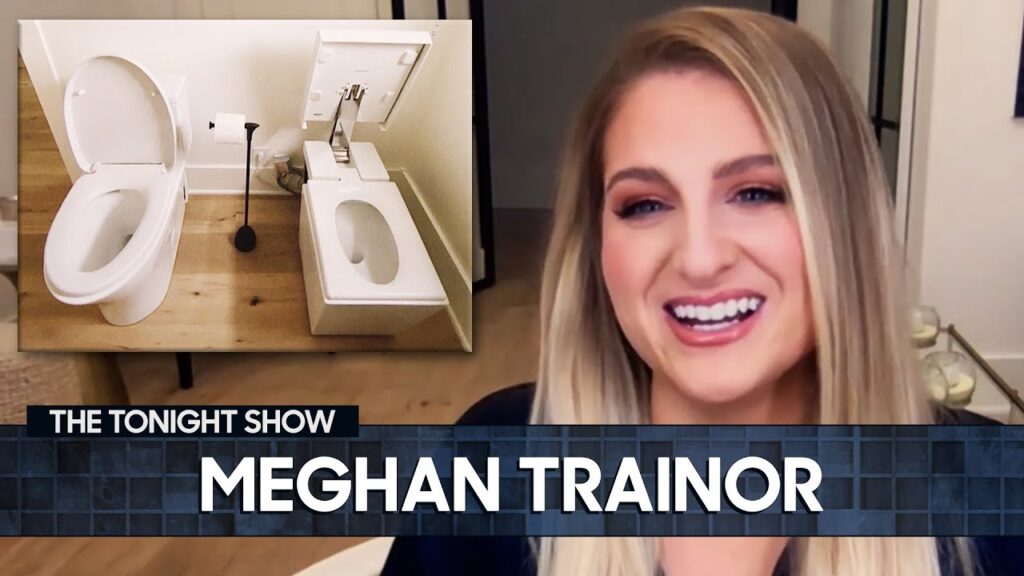 Oh my word – we're back to the Twin Toilet story. For those who are blissfully unaware, Meghan Trainor's brother unleashed this story on us last year. Meghan and her husband, Daryl Sabara, have side-by-side toilets in their bedroom suite, so they can "poop together." Once that information got out there, folks ran with it. Meghan had a couple explanations for her choice. One was that it was easier with a small child to use the toilet simultaneously. Then it became about Meghan not wanting to be away from Daryl because she loved him so much. In all of her stories, Meghan fully embraced her decision to have her unique restroom layout. And she still does. While promoting her partnership with McCafé At Home for Ronald McDonald Charities, Meghan was talking about the toilets again. Not only did she not expect us to be so interested, she's doubled down on her double-pots. She said the frequency with which they pee at the same time in the middle of the night makes it all worthwhile.
Meghan Trainor is all about having dual toilets in her bathroom.

In an exclusive candid chat with E! News about her partnership with McCafé At Home to help raise awareness surrounding Ronald McDonald House Charities, Meghan addressed all the buzz surrounding her family's unconventional bathroom setup.

"I didn't see it coming," she said, noting that she had previously "mentioned it before but it didn't blow up" until she spoke about her toilets on an episode of Spotify's Why Won't You Date Me? podcast. "Then, it was everywhere."

Though the Internet had thoughts about it, Meghan has no regrets getting twinning porcelain thrones for herself and the Spy Kids alum.

"The amount of times that we pee at the same time in the middle of the night makes me so grateful that I have two toilets because I don't have to wait for him or he doesn't have to wait for me," she explained. "We're so in sync. It is gross, but I love it."
[From E! News]
Meghan specifically designed the bathroom to have toilets next to each other. Clearly, she was committed to the idea enough to spend the cash and deal with any future resale hiccups that detail might cost her. So I'm honestly glad that she and Daryl are so happy with their investment. Like Meghan, I make changes to my home based on my wishes regardless of what a seller would think, which explains why the sale of my last home was such a nightmare. However, I fully accept when I do something odd that people will definitely talk about it. I had a heater removed that was leaking carbon monoxide and the new system was too big for the old heater's closet. So I converted the old closet into a cat nightclub for my Calypso. I knew everyone would make fun of me for it and they do (it's great publicity for the club). So I am a little surprised Meghan didn't think people would want to talk about her double-dooty bathroom – a lot. But she said she'd mentioned it before and it didn't get traction, so I guess she didn't expect the second wave to be so big.
I am still confused by the synched peeing, though. I raised my babies in a home with one bathroom and we just did not have this issue of having to go at the exact same minute. Whatever works. Meghan and Daryl have the bathroom of their dreams, no one has to wait to pee, and we have something to talk about. We all win.
https://www.instagram.com/p/CctZmwCPh3t/
https://www.instagram.com/p/CaVlysePOBg/
https://www.instagram.com/p/Ca3Qvxvp9Um/
Photo credit: YouTube and Instagram
Source: Read Full Article