Nicola Peltz Shows Off Diamond Wedding Ring in New Selfies
In a series of pictures shared on her social media account weeks after marrying Brooklyn Beckham, the Bradley Martin depicter on 'Bates Motel' gives a closer look at her sparkly, oval-shaped diamond bling.
AceShowbiz –Nicola Peltz has something grand to show off. One month after marrying her husband Brooklyn Beckham, the Bradley Martin depicter on "Bates Motel" offered a good look at her diamond band through a series of selfies posted in her social media account.
On Monday, May 9, "The Last Airbender" actress uploaded the photos on her Instagram account. In two of the pics, she could be seen casually looking into the camera with her finger touching her bottom lip, displaying her sparkly diamond bling. The sparkler itself had an oval-shaped diamond with trapezoid stones.
One particular selfie also saw Nicola posing with her new hubby. While she was looking straight ahead, the model son of David Beckham and Victoria Adams was resting his chin on her shoulder.
Nicola put out the selfies without caption. Still, the post managed to garner compliments from shook fans. One gave a smiling face with tear emoji with an additional message that read, "The ring." Another speechless fan wrote, "Processing that ring wow." A third one left a remark about the weight of the ring, "Doesn't your hand feel heavy??"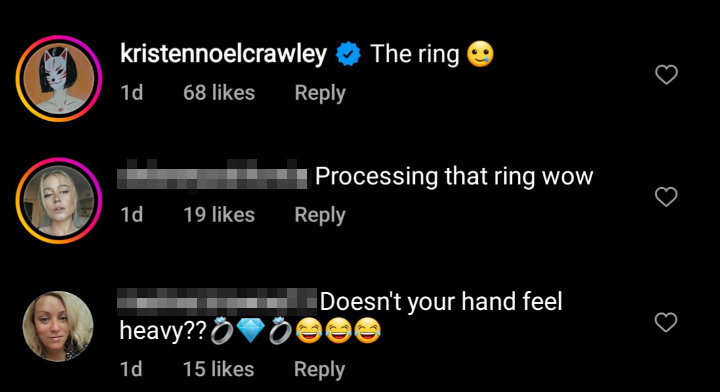 Fans flooded Nicola's comment section with compliments.
This was actually not the first time Nicola shared pictures of the treasured wedding ring. The 27-year-old actress first gave a peek of the new bauble days after her April 9 wedding via Instagram. She also flaunted the gorgeous ring when gracing the red carpet of 2022 Met Gala on May 2.
Providing details about the wedding ring, Jenny Luker, president of jewelry company Platinum Guild International USA, previously offered her observation. "Nicola's new ring appears to feature a very large oval-shaped diamond, approximately 6 to 8 carats," she said to Page Six, "With trapezoid diamonds on the sides, all set on a shiny platinum band."
Jenny further added, "Since platinum is naturally white, you can see that her center diamond sparkles even brighter!" She also gave an estimated price for the diamond stone which could be around $2 million, with an additional $90,000 for the matching band rings.
The gorgeous sparkler was not the first expensive yet gorgeous piece Nicola received from her beloved husband. When he first proposed to her, he gave her an emerald cut diamond engagement ring. Shannon Delany-Ron, director of communications at JamesAllen.com, shared to E! News that the "timeless style" engagement ring was estimated to cost around $150,000- $200,000.
Source: Read Full Article