NKOTB to tour with Tiffany, Debbie Gibson, Naughty by Nature & Salt-N-Pepa
Embed from Getty Images
Holy 80s! If you grew up in the days of neon clothes, MTV (when it showed videos) and new Coke, get ready to relive your past as New Kids on the Block are once again hitting the road – and they're bringing some of your other childhood/high school/college favorites with them.
On Sunday night Donnie Wahlberg, Jordan Knight, Jonathan Knight, Joey McIntyre and Danny Wood, better known as NKOTB, performed at the Apollo Theater in New York to mark the 30th anniversary of their album Hangin' Tough. Feel old yet?
The band last performed at the legendary theater 30 years ago, during the theater's amateur night, where they sang "Please Don't Go Girl." Donnie told the sold out crowd on Sunday that "We're celebrating our 30th anniversary of Hangin' Tough, our 30th appearance at the Apollo and the 30th anniversary of the day we all fell in love with all you amazing fans." They also used the concert to announce their 2019 MixTape tour, featuring fellow late 80s/early 90s hit makers Tiffany, Debbie Gibson, Salt-N-Pepa and Naughty by Nature.
During the show, which featured all of the acts on the upcoming tour, the band debuted their new single, the obscenely catchy "80s Baby." Salt-N-Pepa's Cheryl "Salt" James said of the new song, "It's all '80s, taking you back to the time that you love." I can't lie, it's kind of a great song.
NKOTB also made an appearance on Monday's Today Show, where Donnie talked about the tour, saying, "We're creating a mixtape on tour every night in every city, It's going to be fun, happiness, emotions, tears, joy, love, most of all." The band also confirmed that Hangin' Tough is getting a special anniversary re-issue in 2019 featuring unreleased tracks.
The 53-city MixTape Tour kicks off on May 2nd in Cincinnati and ends in Hollywood, Florida on July 14th. Tickets go on sale to the general public starting this Friday. Okay, take my money. I'll dig out my acid washed jeans and relive my college days with you guys.
View this post on Instagram
What an absolutely incredible night! WE LOVE YOU GUYS! Still so much more to come… See you tomorrow morning on the @TodayShow! #HANGINTOUGH30 #BHLove ?: @mjambriz
A post shared by New Kids On The Block (@nkotb) on
Embed from Getty Images
Embed from Getty Images
Embed from Getty Images
Embed from Getty Images
Embed from Getty Images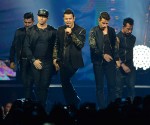 Photos: Getty and WENN
Source: Read Full Article