Noah Cyrus Wore a Sheer Gown on 'Jimmy Kimmel' Last Night, and It's an Incredible Look
Noah Cyrus has literally made our collective jaws drop with her *chef's kiss* fashion choices, so it's no surprise that she's done it again—this time with a sheer, red gown while performing on Jimmy Kimmel Live. The singer took the stage for the show's latest episode on Wednesday night, which featured guests Nicolas Cage and Vanesa Bayer, and she performed her new song "I Burned LA Down." Here's a pic for your viewing pleasure (you're welcome):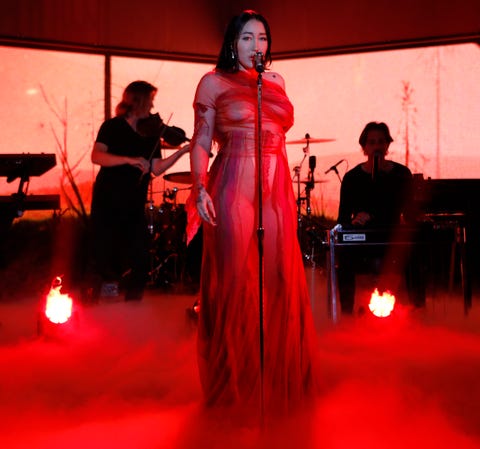 Noah's seriously stunning gown was made by none other than Jean Paul Gaultier. Designed by Glenn Martens, the piece featured a sheer, red texture with additional accents in nude, brown, and pink. (TBT to when the "July" singer wore a sheer bodysuit to perform "This Is Us" at the CMT Awards. We're not saying Noah invented sheer fashion…but we're not not saying it.)
Anyway, back to the Jimmy Kimmel number…the dress also featured long sleeves and a flowing train for added coverage, bc obviously. As for footwear, the musician stepped into a set of to-wer-ing platform sandals that likely totaled at least 5 inches in height with thin ankle straps, a rounded toe, and thick soles. Always a fan of accessorizing, Noah topped the look off with a bevy of layered rings.
Let's take another peek at the look, shall we?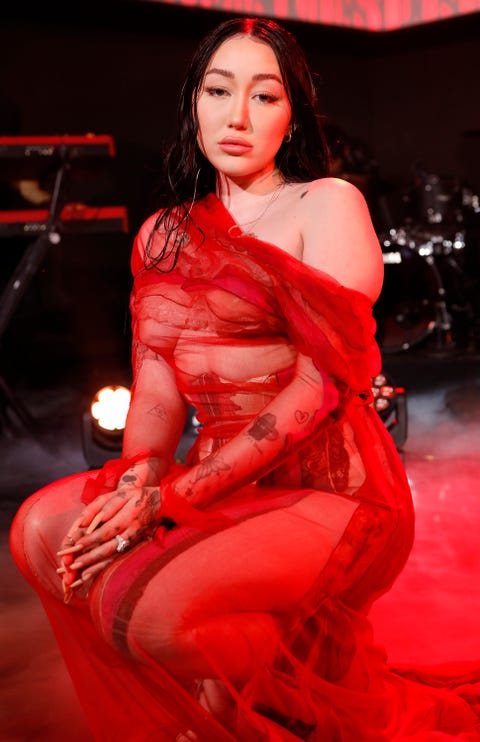 Obsessed!
The youngest Cyrus has been v busy these days given that she just announced her debut album, The Hardest Part, and also released an emotional music video for its lead single, "I Burned LA Down."
Talking about the inspiration behind the track, the 22-year-old said, "All this internal, emotional pain I was feeling was intertwined with the anxiety around this out-of-control fire and climate change in general. The song took shape around the idea that the only way my ex could comprehend the scale of my emotions was if I became this agent of chaos and set the entire city on fire."
The full album is due for release on July 15 but (!!) because we'll never leave you high and dry, here's the "I Burned LA Down" music vid to fully put you in your feels until then.
Source: Read Full Article