Patrick J. Adams Says He's Too "Intimidated" to Call Meghan Markle: "I Don't Know What I Would Say"
Meghan Markle and Patrick J. Adams were close friends on the set of Suits, but apparently they haven't stayed in touch—partly because Patrick is too "intimidated" to call her.
"Quite frankly, I think I'm intimidated," he told Radio Times (per The Daily Mail). "I have no doubt I could pick up the phone and call her at any moment, but I don't know what I would say."
He added that the pair have exchanged some texts about their growing families, but that's about it: "After our children were born, there were some texts sent and gifts sent, but I guess I'm a little scared. I think it's pure fear. I guess I'm scared about the idea of breaking through whatever walls exist to have that conversation."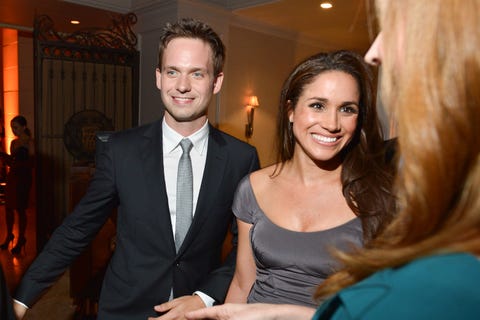 He went on to add that he knows how much Meghan's been dealing with lately, saying "We've spoken and texted a couple of times, but Meghan's life is incredibly full and she's been navigating a lot. We don't spend any time together, but that's not because of anything other than how completely enormous her life has become in so many ways."
I mean, the royal family is definitely a little intimidating, I guess, but Meghan seems like the most down to earth and approachable person ever so here's to hoping Patrick gets over it.
Source: Read Full Article