Pete Davidson Is Rich But Kim Kardashian West's Net Worth Destroys His
Rumors are swirling that Pete Davidson and Kim Kardashian West are Hollywood's latest couple. When Kardashian West was the host of Saturday Night Live! the pair shared a brief kiss. Not too long after, they were photographed together holding hands on a rollercoaster in an amusement park. Naturally, this sent the Internet into a frenzy, with fans and critics making jokes about their potential coupling.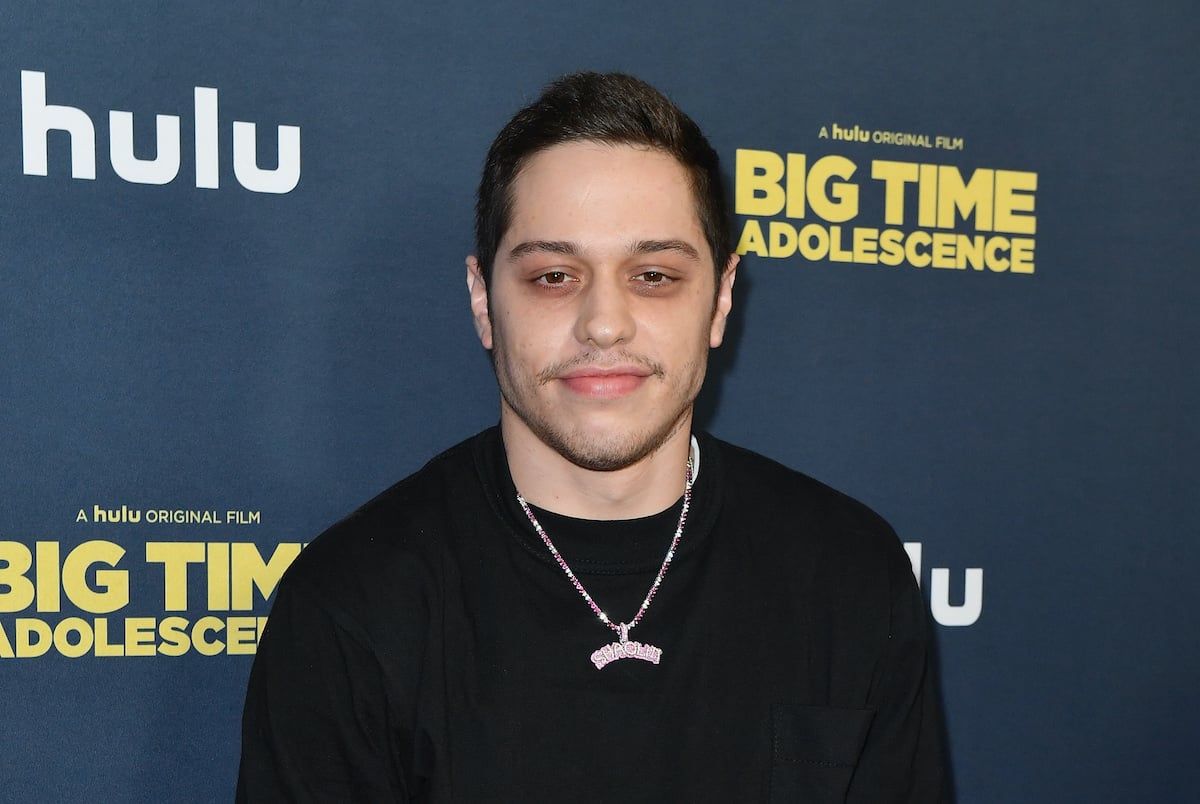 Davidson has made a habit out of dating famous women. Back in 2018, he shared a whirlwind romance with pop singer, Ariana Grande. The two even got engaged before splitting. The comedian has also been romantically linked to Margaret Qualley, Kaia Gerber, Kate Beckinsale, and Phoebe Dynevor. Of course, all those women have been closer in age to Davidson than Kardashian West.
What is the age difference between Pete Davidson and Kim Kardashian West
Part of the reason that fans were so surprised by the reality TV star and the SNL cast member holding hands is because of their significant age difference. Davidson, who was born on November 16, 1993, recently turned 28. Kardashian West, on the other hand, was born on October 21, 1980, and celebrated her 41st birthday not too long ago. As there is a 13 year age gap between the pair, some fans think it would make more sense for Davidson to date Kardashian West's younger sisters. Certainly, Kendall Jenner and Kylie Jenner could potentially have more in common with the comedian.
The 'SNL' comedian's net worth pales in comparison to the reality TV star's immense wealth
While the age difference between Kardashian West and Davidson is significant, it's nothing compared to the staggering difference in net worth. For his part, Davidson's wealth is something that most people only dream about. According to Celebrity Net Worth, the comedian is worth $8 Million. While that number is nothing to sneeze at, it's just a drop in the bucket when looking at Kardashian West's wealth. The Keeping Up with the Kardashians alum is worth a tremendous $1.4 Billion according to Celebrity Net Worth.
What is the height difference between the alleged couple?
Net worth isn't the only staggering difference between Davidson and Kardashian West. The King of Staten Island star is a great deal taller than the KKW Beauty founder. In fact, Davidson stands over a foot taller than the Skims founder. While the SNL cast member stands at 6 feet 3 inches, Kardashian West is only 5 feet 2 inches.
Neither Kardashian West nor Davidson have confirmed that they're dating despite photos of them holiding hands
It seems that differences between height, age, and wealth aren't stopping Kardashian West and Davidson from forming a connection. Davidson recently celebrated his birthday with Kardashian West and her mom, Kris Jenner, by wearing matching Skims pajamas and spending time with Flavor Flav. Furthermore, the pair were photographed again recently holding hands in public. Still, neither Davidson nor Kardashian West has confirmed that they are, in fact, in a relationship. Only time will tell if they eventually set the record straight.
Source: Read Full Article