Prince Harry and Meghan Markle's Wedding Car Is Going into Production at Jaguar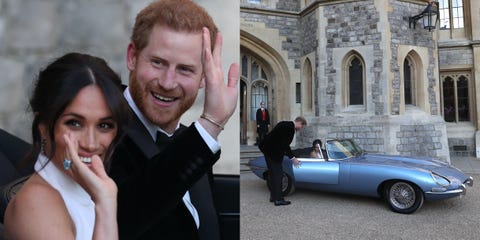 Fans of the royal wedding will most definitely remember the stunning electric Jaguar that Prince Harry drove Meghan Markle in to their evening reception. Well it's just been announced that Jaguar plans to put the car into production and release it to the general public soon.
According to Bloomberg, the car, which will officially carry the name of the Jaguar E-Type Zero, will properly go into production in 2020.
Speaking to the publication, director of Jaguar Land Rover Classic, Tim Hannig said, "We've been overwhelmed by the positive reaction to the Jaguar E-Type Zero concept." Despite making a very public appearance at the royal wedding in May 2018, the car's already iconic design first launched in September 2017, and is in demand.
Following a successful debut of the #Etype Zero concept in 2017, #JaguarClassic is pleased to announce that 'the most beautiful electric car in the world' will move into production. #JaguarElectrifies
A post shared by Jaguar (@jaguar) on
The exclusive car is expected to carry a high price tag, with experts speculating that it could sell for around $500,000. It's currently unknown how many of the vehicles will be produced, but Jaguar Classic is already taking orders.
Based on a classic Jaguar design, updated for a new generation, Bloomberg is also reporting that the new version of the car will have a plethora of extra features. From an integral touchscreen, to smart LED headlights, the Jaguar E-Type Zero will truly be a modern car in a classic body.
It's clear that Prince Harry and Meghan Markle's wedding has helped to make the vintage Jaguar all the more attractive to a new audience. Considering how many people watched the royal wedding, the vehicle is sure to be on a lot of wish lists.
Source: Read Full Article