'Real Housewives' Star Meghan King Edmonds Welcomes Twin Boys
'They made it. Everyone is safe and healthy,' Jim Edmonds, the 'Real Housewives of Orange County' alum's husband, announces on his Instagram Story.
AceShowbiz –
Reality TV star Meghan King Edmonds gave birth to twin boys early morning on Wednesday, June 6. The star's husband, former baseball player Jim Edmonds, announced it on his Instagram Story on the same day.
"They made it. everyone is safe and healthy," the former baseball player announced to his followers. Along with the announcement, Jim shared a picture which sees his arm wearing hospital bracelets. There were ink footprints of their newborn twins depicted on the arm. "Little foot each," he said, showing the ink footprints.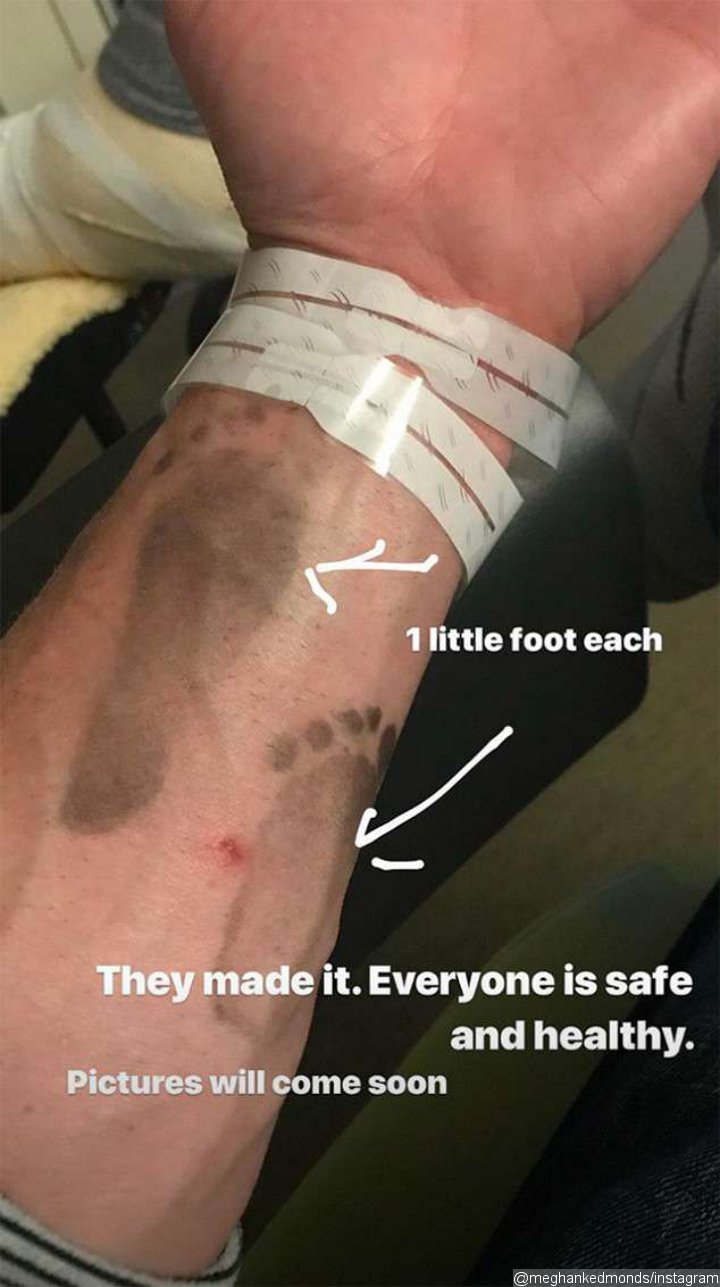 Meghan followed it up later on the same day with a picture of the twins posted on her official Instagram account. The black-and-white picture features her babies' torsos, legs and feet while their faces are out of frame. "Announcing our perfect, beautiful, and healthy twin baby boys! They arrived at 10:48pm and 11:32pm on June 5 weighing 6lbs 15oz (20″) and 6lbs 0oz (19.25″). Everyone is doing well. Stay tuned for names and birth story," she wrote on the caption.
On June 8, the couple finally revealed their newborn twins' names. Meghan explained on her blogs how she and her hubby chose the names. "Both are family names: Hayes (who looks like Jimmy) is Jimmy's great-grandma's maiden name, Hart (who looks like me) is my great-great-great grandpa's first name," she shared. "Our family is now completely complete."
The former reality TV star also proudly explained how she prepared her body before the labor and how she chose to give birth without medication. "I love knowing my body can handle childbirth, it's such a beautiful gift to experience a vaginal delivery drug-free," she wrote.
"It's not scary, it's exhilarating! It's badass! It's spiritual! It hurts like hell but I can handle it! And I'm looking forward to each mind-blowing contraction because out comes two babies at the end," the blonde beauty claimed.
"I do hope it's quick and relatively easy but if not, I can handle that because I have before. I've prepped my body by treating it like a temple through nourishment, I've prepped my mind by breathing and meditating, I've prepped my spirit by praying, I've got this. Let's do it," Meghan expressed her excitement.
Source: Read Full Article