Regina Hall: Ive always washed my face before bed and use argan oil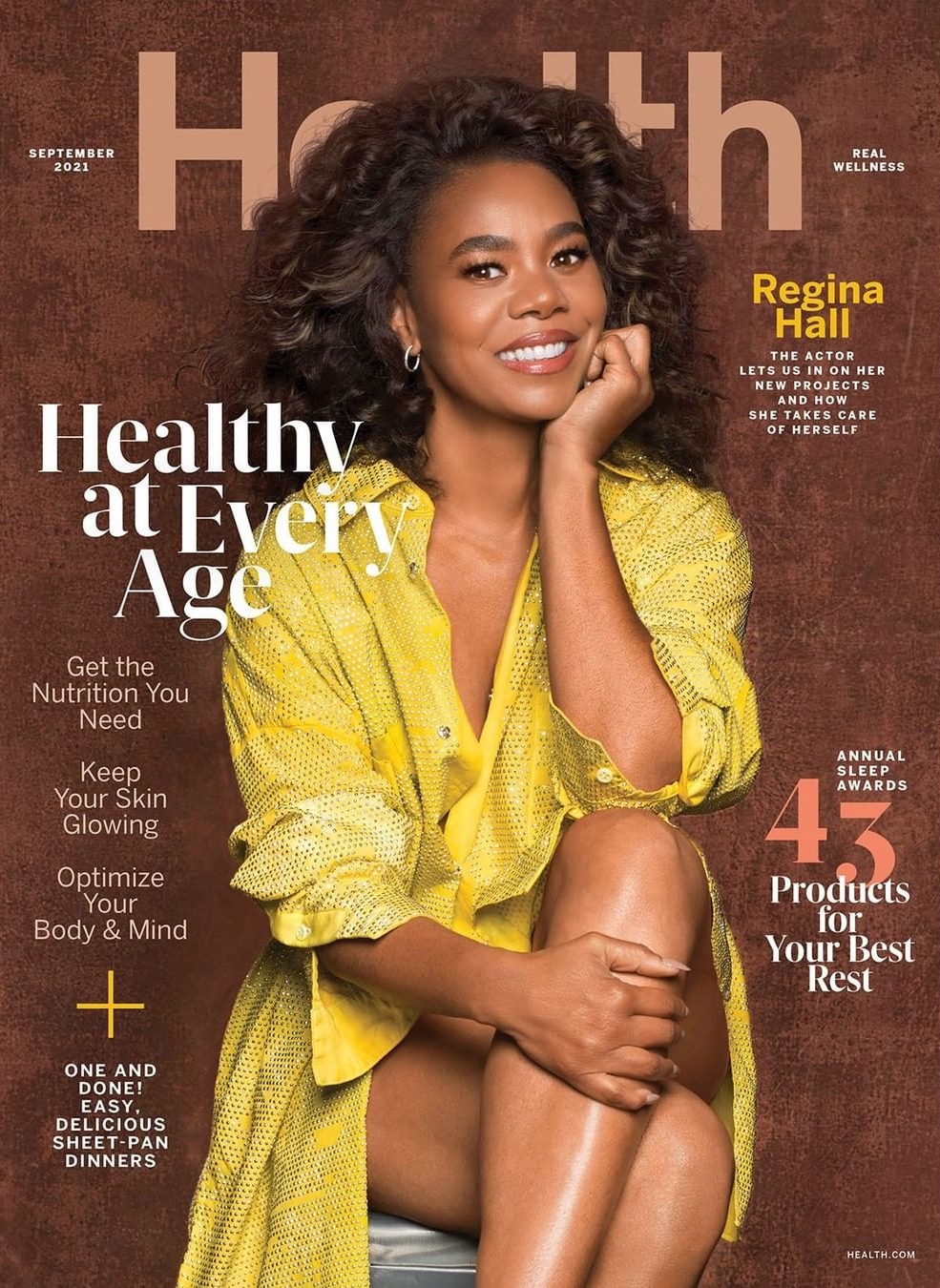 Regina Hall is promoting her role in Nine Perfect Strangers, based on a book by Liane Moriarty and also starring Melissa McCarthy, Nicole Kidman and Michael Shannon. I'll watch at least the first episode, it premiers Wednesday on Hulu. (I need a new show now that The White Lotus is over.) Regina covers Health Magazine and I really think they captured her well in that photo. She just looks so content and like she's glowing. Regina has a production company and just made a deal with Showtime, a network she's worked with for years on Black Monday. Health asked her about skincare, wellness and turning 50. She has such a great outlook on that – it's get older or die basically. She's said that before and I love it. Here's more:
On if 50 feels like a milestone
Definitely. I think in the collective consciousness of the world, it's considered a big milestone—so there's no way for it to not be exactly that. But it's also not abnormal—you either have another birthday…or you don't. It's that or death, right? Life is an ever-evolving thing and process. You just keep knowing more and changing—at least that's the hope.

What wellness practices make you feel best?
I love when I eat right and when I feel spiritually centered and connected. I love when I'm meditating—that ebbs and flows. Sometimes I pray, sometimes I meditate, and sometimes it's just about being in nature. My mom just passed, so it's been a rough time, and I haven't been able to meditate. But I have been able to talk to God and be in nature and be present in the beauty of that.

She was complimented on her skin and asked about her skincare
My mom had great skin, too. Growing up, she told me to take care of my skin. So, I always wash my face before bed. I've always moisturized, too. Now I use argan oil on my face. Your skin changes—it's different in your 20s than it is in your 30s than it is in your 40s and so on. So you have to constantly be looking at your complexion and assessing what it needs.

On if she's excited about the future
Absolutely! One of the most beautiful parts of life is that sometimes there are things that you don't even know you want to do and then they present themselves to you. To grow, I think you have to constantly challenge yourself. You have to think about what helps challenge you and move you—and do those things!
[From Health]
This interview was probably conducted before the great "celebrities who don't bathe" debate. I'm sure she showers frequently. As for her great skin most of that is probably genetic, but consistent skincare helps. I love how she said "there are things that you don't even know you want to do and then they present themselves to you." Yes this is so true, and I've found the more open I am to to things the better my life goes. Also I didn't realize her mom just passed. She was very close to her, I remember her mom calling during an interview last year, and I hope she's doing ok. Being in nature is healing as she said. I hope she has friends and other family around her.
Regina was on Jimmy Kimmel with Sarah Silverman hosting last week. They bonded over both being Sagittariuses/ Regina said she did psychedelics with some of the Nine Perfect Strangers cast so they could connect with their characters. (Their characters do psychedelics on a wellness retreat.) Regina wouldn't say who else did with her, but I'm thinking Michael Shannon, Luke Evans and Melissa McCarthy.
https://www.instagram.com/p/CQo12vRnLlB/
A post shared by Regina Hall (@morereginahall)
https://www.instagram.com/p/CSgEFlGrMSx/
A post shared by Regina Hall (@morereginahall)
Source: Read Full Article