The Royal Baby Already Broke a Record in the Most Adorable Way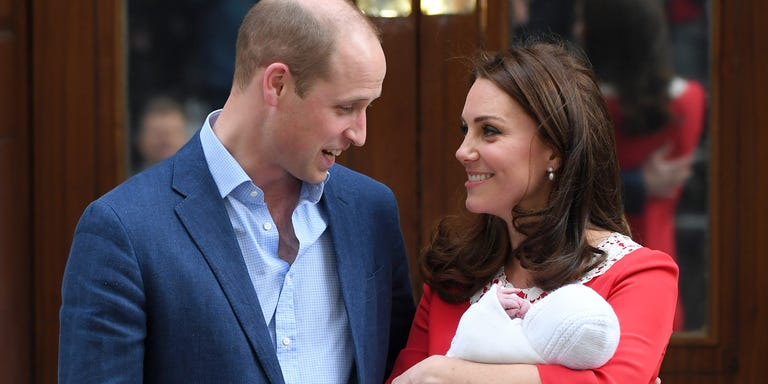 In September, the Duke and Duchess of Cambridge announced they're expecting another royal baby—their third child, after Prince George, 4, and Princess Charlotte, 2. Although Kate Middleton initially suffered from acute morning sickness (hyperemesis gravidarum) during this pregnancy, which prevented her from fulfilling her royal duties, she soon returned to the public sphere.
Now, the royal baby, a little prince, is finally here. Here's everything we know about Prince William and Kate Middleton's newest addition so far.
The baby boy was born on Monday, April 23.
Kate Middleton gave birth on her expected due date. Early in the morning, she was reported to be in labor in the hospital. Hours later, Kensington Palace announced that the Duke and Duchess of Cambridge welcomed a son at 11:01 a.m. London time (6:01 a.m. ET). Prince William was present for the birth.
Sources tell BAZAAR.com that Middleton made a hush-hush arrival at around 5:20 a.m. She gave birth less than six hours later.
The new baby's birthday is a little more than a week before Princess Charlotte's (May 2), and a few months ahead of Prince George's (July 22). It's also just two days after his great-grandmother Queen Elizabeth II's, April 21.
The child's name has not been revealed yet.
The Duke and Duchess haven't revealed names yet either, but a flood of royal fans are already placing bets on the names Arthur and Albert after news broke that the Duchess gave birth.
He weighed 8 pounds, 7 ounces, breaking a royal record.
This royal baby turned out to be the heaviest of William and Kate's children at birth. Prince George was 8 pounds, 6 ounces when he was born, and Princess Charlotte was only 8 pounds, 3 ounces, Marie Claire points out.
He's also heavier that Prince William (7 pounds, 5 ounces), Prince Harry (6 pounds, 14 ounces), and grandfather Prince Charles (7 pounds, 6 ounces) were when they were born, according to Hello!.
Middleton gave birth at St. Mary's Hospital in London.
Prince George and Princess Charlotte were both born at the Lindo Wing of St. Mary's Hospital in Paddington, London. The same happened for baby number three. The Duke and Duchess presented their youngest to the public just outside the hospital steps, as they did with their first two children. (George and Amal Clooney's twins, Ella and Alexander, were also born here.)
The photo call was only seven hours after Middleton gave birth.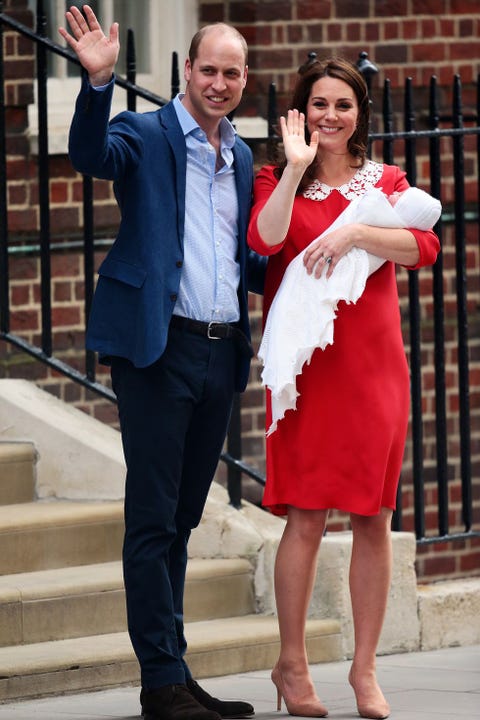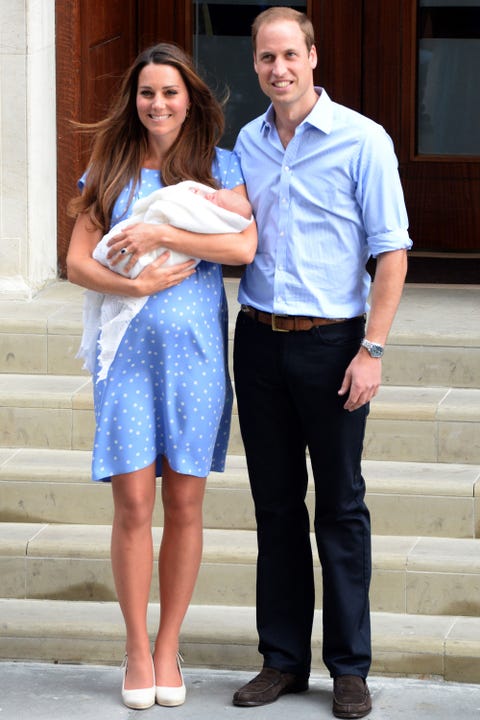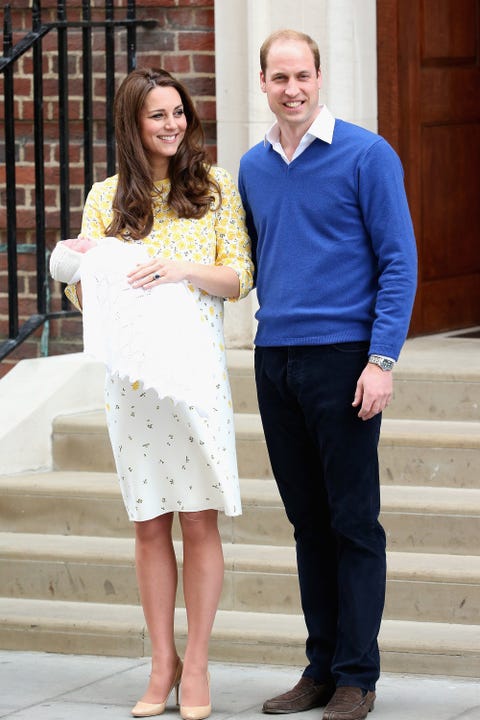 The baby is now back at Kensington Palace.
After stopping for a photo opp, the Duke and Duchess of Cambridge returned home with their newborn. Prince George and Princess Charlotte had already returned to the palace home after meeting their new baby brother.
The new royal is fifth in line for the throne.
The Duke and Duchess' third child will follow these family members in the British line of succession: Queen Elizabeth, Prince Charles (the child's grandfather), Prince William, Prince George and Princess Charlotte. The baby will bump Prince Harry down to sixth place in line for the crown, The Telegraph reports.
This is also a historic event for Princess Charlotte, who becomes the first female member of the royal family to not get bumped down in the line of succession by a younger male heir.
The baby's birth was announced on an easel outside Buckingham Palace.
After the baby is born, an official letter noting the child's birth date and time, as well as the sex and weight, was posted on an easel outside Buckingham Palace, following royal tradition.
"He Royal Highness the Duchess of Cambridge was safely delivered of a son at 11:01 a.m. today. Her Royal Highness and her child are both doing well," the notice reads.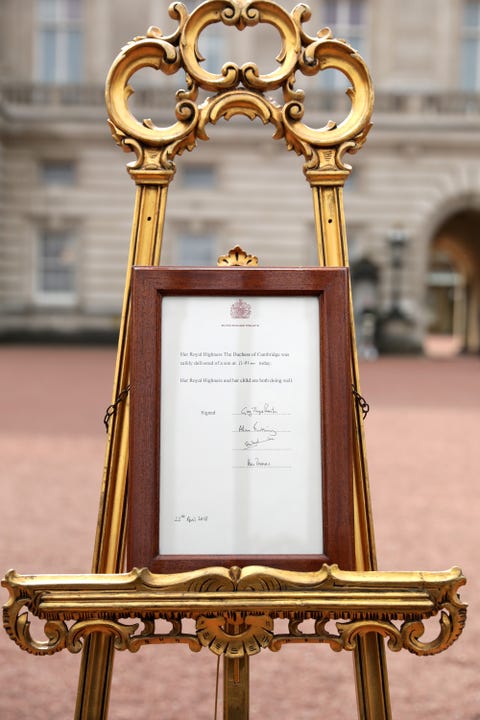 Now, however, the announcement is also emailed to media outlets and shared on social media for the world to see.
This is the Queen's sixth great-grandchild.
In addition to the royal newborn, Queen Elizabeth II's other great-grandchildren currently include Savannah Phillips, 7, Isla Phillips, 5, Mia Grace Tindall, 4, Prince George, 4, and Princess Charlotte, 2.
The child's royal title will be a mouthful.
According to their birth certificates, George's full name is "His Royal Highness Prince George Alexander Louis of Cambridge" and Charlotte's is "Her Royal Highness Princess Charlotte Elizabeth Diana of Cambridge."
If William and Kate follow tradition (which they usually do), their third child's title will follow the same format: His/Her Royal Highness Prince/Princess [name] of Cambridge.
The child will not have a surname.
"The royal baby will not have a last name," royal historian and writer of Royal Musings blog Marlene Koenig told Town & Country. "The name on the birth certificate will say HRH Prince or Princess, and all three names of Cambridge." The same happened with Prince George and Princess Charlotte, who did not have last names on their official birth certificates.
Security was tight for the baby's arrival.
Middleton's maternity suite at the Lindo wing, which reportedly costs more than $9,650 per day, had been on "lock-down" since mid-March, a source told Us Weekly. Security checks the room regularly, which is sealed with tamper-proof tape, and the crawl space above it as well. "It's a high-security operation," the insider added.
When the Duchess goes into labor, she and Prince William are expected to drive directly to the maternity ward, which is less than two miles away from Kensington Palace. The hospital will only get a five minute notice of the royal couple's arrival, the source noted, to avoid the info getting leaked that they've left home. The insider also told Us that there's a designated "baby team" set at Kensington Palace to prep the official birth announcement.
"Everything is planned to the tiniest detail," the royal source said, but if anything goes wrong (which we hope it won't), there's also "a backup plan for everything."
The hospital got ready for the the delivery about a month ago.
The Duke and Duchess usually pose at the gates outside the Lindo Wing after the baby is born for thier first photo op with the child. (They did the same with Prince George and Princess Charlotte.) At the end of March, the gates were spotted mid-renovations, hinting that preparations for the royal family's arrival was underway.
More recently, authorities were seen erecting barriers outside of the entrance. New restrictions have also been put on street parking by the wing from April 9-30.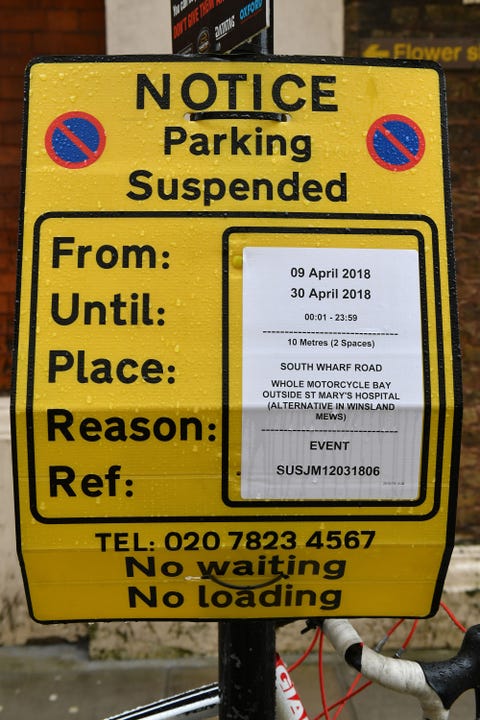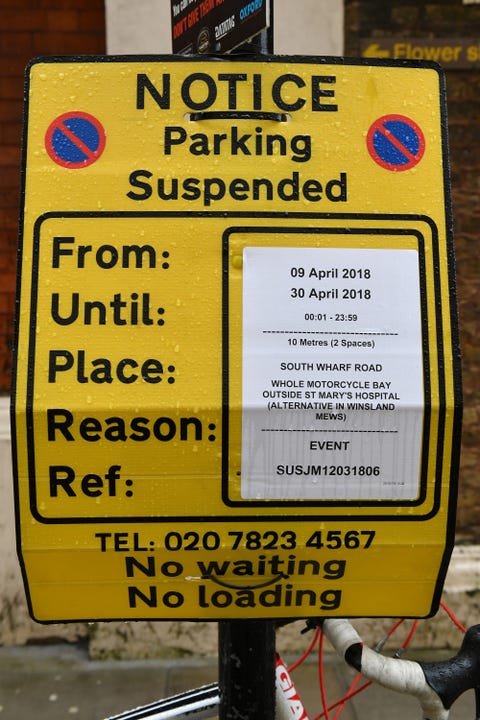 Royal photographer Tim Rooke also told Town & Country that the media could start staking out by the Lindo wing as early as April 9, which could explain the barriers. Traditionally, the media positions are organized two weeks before the baby's birth, according to Rooke. However, photographers and journalists can't stake out in front of the doors until it's been announced that the Duchess of Cambridge has been admitted to the hospital.
Check back here for more details on the new royal baby.
Want more royals? Now you can watch all of the best episodes from Bazaar's Royal Watch—right here on Prime Video.
Source: Read Full Article