Salma Hayek: 7 of Her Fiercest Selfies on Instagram
Salma Hayek is a big name in Hollywood. Her career has spanned decades and when the actress is not in front of the camera starring in films such as Frida or Desperado, she's working behind the scenes as a producer. And she doesn't just stick to the film industry. The Mexican-Lebanese actress has branched out to other things outside of Hollywood too. She has a skincare and makeup brand, Nuance by Salma Hayek, and is behind the organic juice company, Juice Generation. On top of all that she's also an activist.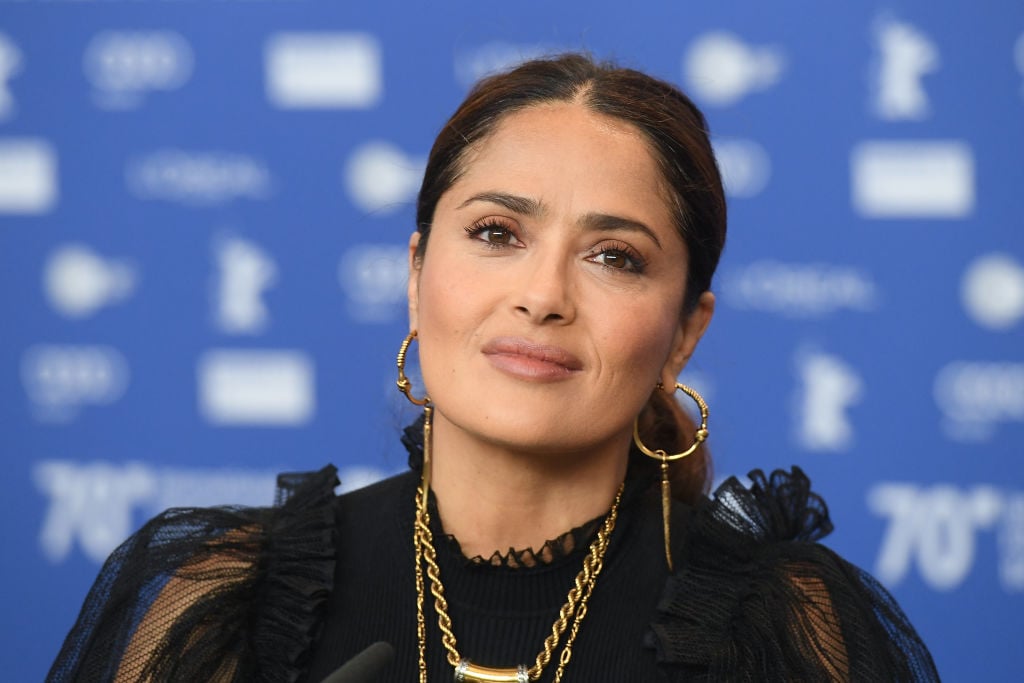 When she's not busy doing everything we just mentioned or spending time with her husband, François-Henri Pinault, and their daughter, Valentina Paloma Pinault, Hayek takes to Instagram to give fans an inside look at her life. Scroll through her grid to see Hayek clearly dominates the selfie game. Praised by fans for her makeup-free photos, Hayek's Instagram is full of some seriously fierce selfies. Ahead, check out just a few of the many selfies Hayek has shared with her 14.7 million (and counting) Instagram followers. 
She loves 'playing with light' in photos
Hayek doesn't mess around when it comes to the lighting in her photos. She's all about it when it comes to her social media snaps. Why? Because it can dramatically alter a photograph, she wrote in an Instagram post on Aug. 19, 2019, with a series of selfies.
"I love playing with light. If you get to know it it can make you 👀 younger or mysterious, sexy, or sweet but be careful because it can also make you look old and ugly," she cautioned her followers.
RELATED: How Salma Hayek and Francois-Henri Pinault Became the Richest Celebrity Couple in the World
On Nov. 26, 2019, she posted a selfie wearing sunglasses. "Touched by the light," she wrote in the caption. 
And earlier the same year on April 24, 2019, Hayek gave her followers a glimpse of a "secret tattoo" her character, Sonia Kincaid, has in The Hitman's Wife's Bodyguard, the sequel to The Hitman's Bodyguard. The artful photo is further proof she likes to experiment with light.
RELATED: Salma Hayek's Hollywood Struggle Included Directors Telling Her to 'Sound Dumber'
Not a traditional selfie but Hayek recorded a quick video of herself with a sunset in the background and posted it to her Instagram on Nov. 22, 2019.
Again it's all about the light: "There was a beautiful sunset but every time my face came into frame it scared the colors away," she wrote. 
Salma Hayek isn't afraid to keep it real on social media
In a photo she posted to her Instagram on May 3, 2020, Hayek shared a close up of herself with graying roots encouraging people to be proud of their changing hair while at home due to the coronavirus.
"Be proud of your roots," she wrote in the caption along with the hashtags #Hair #SilverFox #Roots and a fox emoji.
Three months earlier to the day, Hayek did something similar. On Feb. 3, 2020, she she proudly showed off a few white hairs among her darker locks. Smiling for the camera, Hayek captioned the post "#Proud of my white hair."
She goes without makeup on Instagram
Hayek isn't afraid to post photos of herself when she's not decked out for the red carpet. She's been known to share a number of makeup-free photos with her followers from time to time.
On May 13, 2020, she posted a makeup-free selfie in the water with the hashtag, #NoMakeup.
RELATED: Salma Hayek Reveals the 1 Workout She Counts On to Look Amazing
On another occasion, wearing what appears to be pajamas or some cozy loungewear, Hayek snuggled in some seriously comfy-looking pillows and blankets completely makeup-free. 
"Have a dreamy Sunday," she captioned the photo adding the hashtags, #Dream, #NoMakeup, and #NoFilter.
Here's to more fierce selfies from Hayek!
Source: Read Full Article