'Saturday Night Live's Royal Wedding Skit Is Amazing & Kate McKinnon Plays The Queen
Now that royal wedding weekend is wrapping up, everyone is recapping their favorite moments from the beautiful day. Sadly, we weren't able to see what went down during the post-wedding reception, but Saturday Night Live's royal wedding skit has got us covered. From what I can see, it looked lit.
Famous sketch show Saturday Night Live celebrated the royal wedding in their own way, just a few hours after Meghan Markle and Prince Harry said "I do" on May 19. In the video, Prince Harry (played by Mikey Day) served as the commentator of the night and took viewers on a Cribs-style tour of the U.K.'s hottest wedding reception. During the tour, we see familiar faces including a tipsy Kate Middleton and "party animal" Prince William, as well as a few random guests such as Russell Brand (played by Pete Davidson) and Elton John (Addie Bryant), but perhaps the true star of the skit is Kate McKinnon's impression of Queen Elizabeth. In the video, Queen Elizabeth sits next to Meghan Markle's great uncle (Kenan Thompson) who chats to her about topics ranging from The Crown to visiting Philadelphia.
"She has got to start watching The Crown because they make her look like a b*tch on that show!" Thompson exclaims.
It might have looked like a friendly enough chat, but McKinnon's horrified expression throughout is a spot on Queen Elizabeth. Just watch the clip and see for yourself.
Even though SNL's wedding reception skit is truly iconic, nothing will compare to the royal wedding itself. On May 19, thousands flocked to St George's Chapel in Windsor, U.K. to catch a glimpse of bride Meghan Markle, Duchess of Sussex, and groom Prince Harry, Duke of Sussex, in complete marital bliss. Not only that, but hundreds of thousands tuned into their televisions to watch the royal wedding take place, and it was seriously breathtaking. From Markle's dress to Prince Harry's whispered "you look amazing," I doubt that there was one dry eye in the house. We might not have been able to see exactly what happened during the wedding reception, but we got the inside skinny on a few details.
During the reception, Prince Harry and Meghan Markle performed speeches, and a royal wedding guest told People that Prince Harry's speech was a combination of lighthearted fun and lots of sincerity.
The royal wedding guest said,
There's not enough tissues in the world to dry all the tears I've been crying over the past few days.
However, Prince Harry wasn't the only one taking center stage during the reception. Meghan Markle also delivered a post-wedding speech of her own, and even though we might not know exactly what she said, I have no doubt it was just as impressive as Prince Harry's. One thing is for sure though, she absolutely stole the show with that reception dress.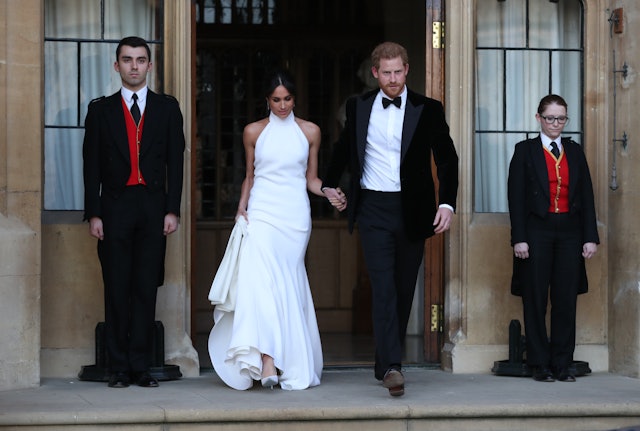 So I guess that's a wrap on the royal wedding weekend, folks. After all the months of anticipation, I truly cannot believe that this fairytale has come to an end. Here's to wishing the newlyweds a lifetime of happiness, and perhaps we'll be seeing a cute little redheaded baby on the way soon? I'm already excited to see what the future holds for this nontraditional royal couple.
Source: Read Full Article