'Selling Sunset' Star Christine Quinn Slams 'F**king Sick' Hater Over Fake Pregnancy Accusation
The realtor, who welcomed her and husband Christian Richard's son in May, shares on Instagram Story a screenshot of a DM from a user who asks her, 'Why did you fake your pregnancy?'
AceShowbiz -"Selling Sunset" star Christine Quinn has had enough with haters. The 33-year-old realtor, who shared her motherhood journey in season 4 of the show, took to her Instagram account to hit back at someone who accused her of faking her pregnancy.
On Saturday, November 27, Christine shared on Instagram Story a screenshot of a DM from a user who asked her, "Why did you fake your pregnancy? It's totally OK to admit to having a surrogate but don't set unrealistic expectations for PP moms when you didn't even carry the baby yourself." The person went on to call the TV star "deceitful and a shame."
In response to the message, the Oppenheim Group realtor wrote over the picture, "K y'all are beyond f**king sick." She doubled down on her statement in a tweet which read, "For all yall still mad on pregnancy gate please go look at my ig stories. And apologize. This is seriously so hurtful."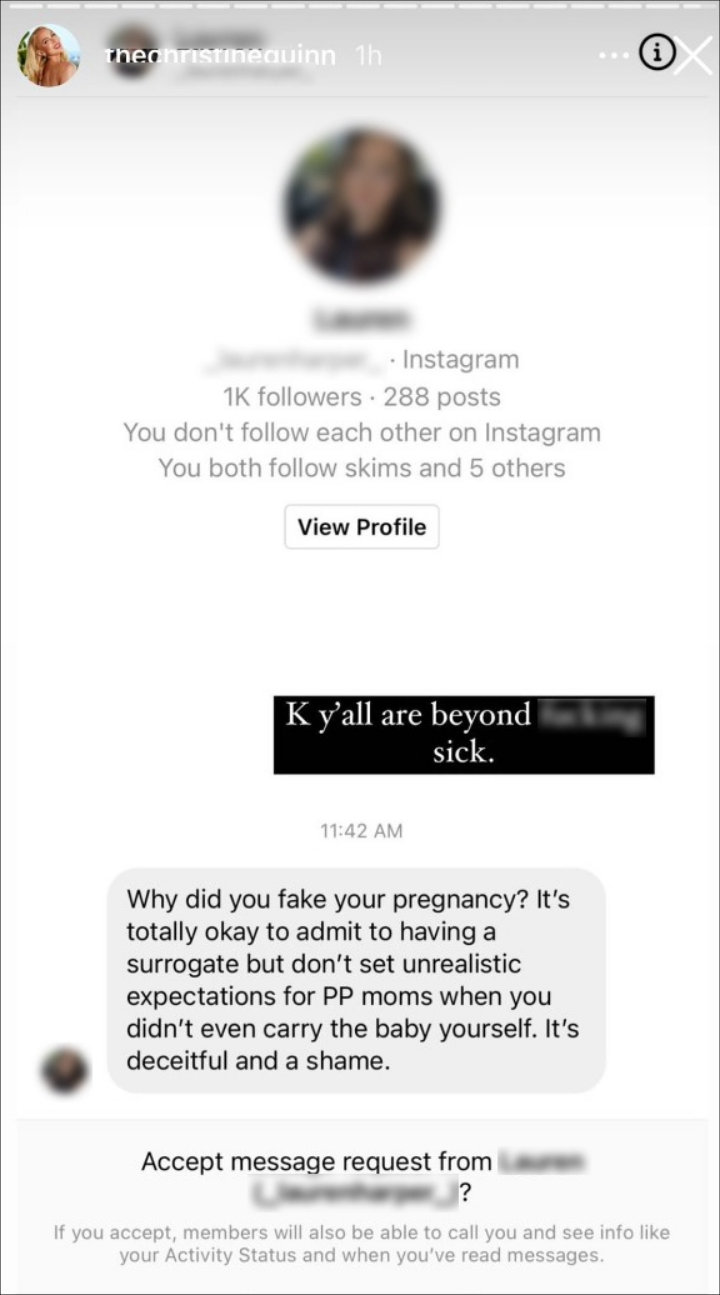 Christine Quinn slammed fake pregnancy accusation.
Her fans came to her defense upon catching wind of her posts. "fr tho what's wrong with people?!!!" one person questioned. Another wrote to Christine, "Im so sorry:( people are so rude. You deserve way better." Meanwhile, someone else said, "they're so pathetic, you're so strong bestie."

She doubled down on her statement on Twitter.
One other fan added, "You can post a picture of giving birth and these conspiracy people still won't believe you. Kinda sick." To that, Christine replied, "[Haha] so true babe."
Christine showcased her growing baby bump and held over-the-top baby shower in season 4 of the Netflix hit. In the new season 5, meanwhile, Christine shared her traumatic story of giving birth to his son Christian, whom she shares with husband Christian Richard, with fellow "Selling Sunset" star Vanessa Villela and Amanza Smith.
"He was coming out sideways, and his umbilical cord was wrapped around him," Christine recounted at the time. "They said his heart rate's going down. All I hear is, 'Emergency C-section. Let's go, let's go!' [Christian] was absolutely freaking out. … My heart rate was going down, the baby's heart rate was going down, and then one of the nurses went up to Christian and said, 'You need to make a priority right now. You have to choose one.' He was like, 'Both.' "
Source: Read Full Article