Serena Williams shows off her new Florida mansion to Architectural Digest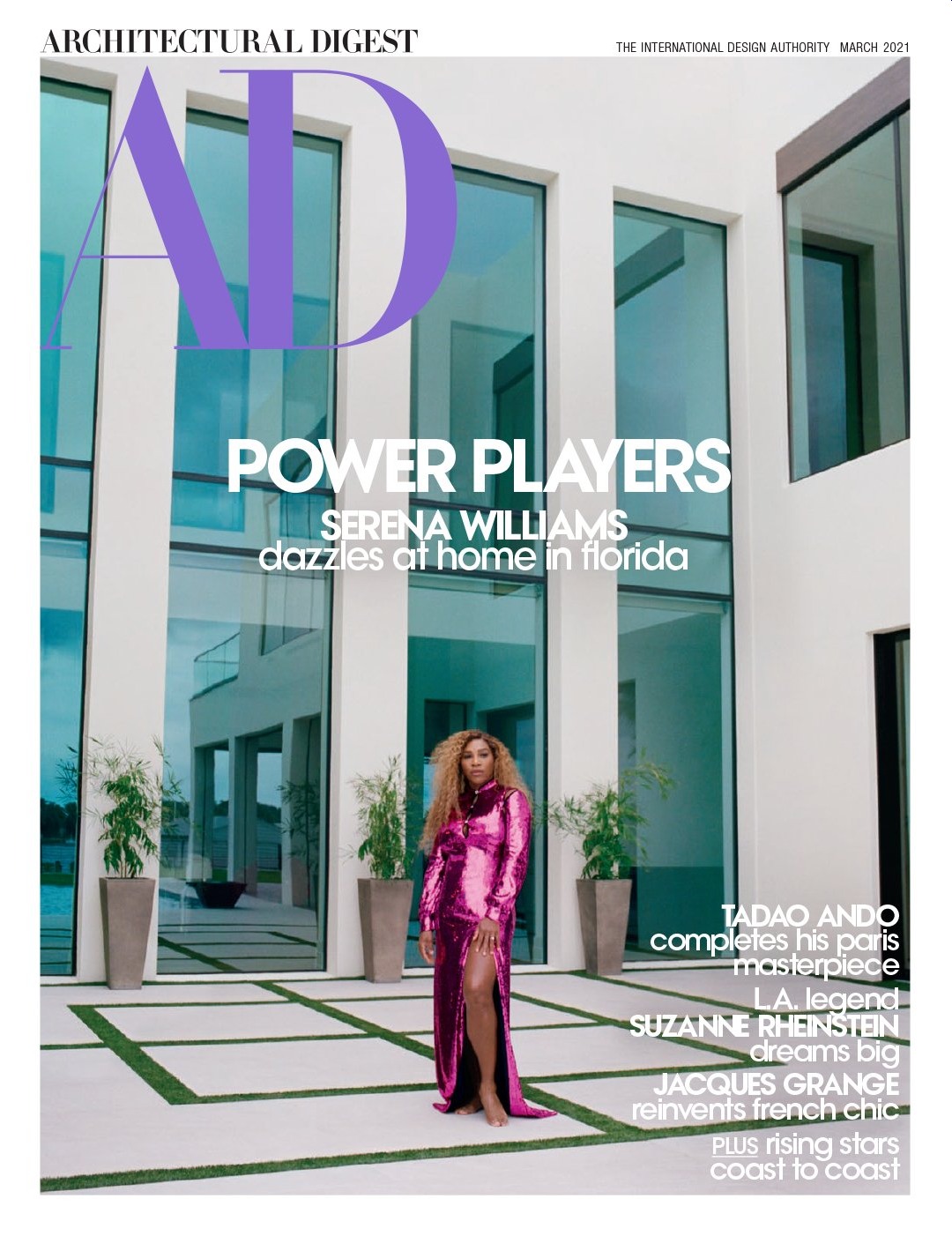 If you follow Serena Williams on Instagram or Snapchat, or even if you watched Being Serena a few years ago, you have seen bits and pieces of her home in Palm Beach Gardens, Florida. The thing is, Serena quietly sold that property at the beginning of this year, and now she wants to show off the massive new mansion she bought for herself and spent years renovating. LOL – so much for moving to California with Alexis, which is what she promised him before they were married. To be fair, I think Alexis is fine with it. He knows how important it is to be around her family, all of whom are Florida-based. Speaking of, Serena got her sister's interior design firm to decorate her new mansion. You can see the Architectural Design photos of the interiors here. I like the spaces and colors, and the design is sort of somewhere in between gauche and reserved.
Serena Williams purchased a sprawling waterfront property of her own, with breathtaking views in a coveted enclave north of Miami, just minutes away from Venus and their parents. To help make the house ideal for her own family, naturally she turned to V Starr, Venus's world-class design firm.

"I was moving away from Venus for the first time in my life, so I wanted it to be really meaningful," Serena says. While mixing family with business can be risky, the secret to their success as siblings and creative collaborators is simple: "You have to know your lane. I'm really good at playing tennis; I'm not as good at interiors. But I was able to learn through just watching Venus."

As with any other client, Venus says, her priority was catering to Serena's vision—which did a complete 180 during the design process. After she purchased the 14,500-square-foot Spanish Mediterranean–style home, Serena's traditional tastes suddenly felt out of step with this new phase of life. She credits her love of modern art and technology for ushering in a more modern, minimalist aesthetic. Then, of course, there was the burgeoning romance with tech tycoon Alexis Ohanian. The high-profile couple had only recently begun dating just after Serena embarked upon this massive real estate project, but Sonya Haffey, principal of V Starr, says Serena's future family goals were an integral part of the design plans all along.

Last July—after three years, including a gut renovation—Serena finally moved into the completely reimagined, ultra-modern, intracoastal property with a husband and toddler in tow. As the old adage goes, "If you build it, they will come." Though, they all maintain, it was mostly Serena's singular imagination—with guidance from V Starr—that spearheaded the design.

"We had just met," Serena says regarding Ohanian. "And I wasn't going to be like, 'Hey, let's do this together.' That would have been really weird for him," she says with a chuckle. "Yeah. That would've been kind of creepy," Venus chimes in.
[From AD]
I'm sorry, I love that Serena and Venus just did this mansion by themselves without any input from Alexis. That's hilarious to me. "You know how I said I would move to California? Yeah, I demolished and rebuilt a Florida mansion and this is our permanent home now and no, you don't get a say in how I decorate it with my sister." Venus built a Karaoke Room in the mansion for Serena but there's no attached tennis court or anything. Which doesn't surprise me? Serena and her family have owned their own tennis court property in Florida for years.
I could honestly watch this forever. I love her. Everybody's talking about her trophy room but what you have to understand is that those are only a fraction of her trophies!! Chica has won over 70 trophies in JUST singles. She's also got more than 20 doubles titles. And where in the world are all of her Olympic gold medals?
— Architectural Digest (@ArchDigest) February 4, 2021
Cover courtesy of AD, additional photo courtesy of Serena's IG.
Source: Read Full Article