So, Clare Crawley Clearly Has a Lot of Conflicting Feelings About Her "Messy" Breakup with Dale Moss
Clare Crawley and Dale Moss have been a *saga*. They fell for each other fast and she ended up blowing up her season of The Bachelorette and ending her televised love journey after just 12 days, accepting a proposal from Dale and peacing out for her happily ever after.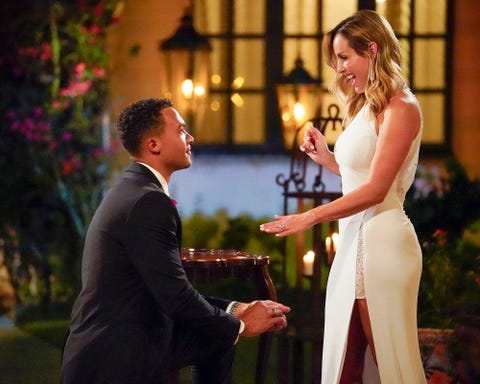 Except, as anyone in Bachelor Nation knows, Clare and Dale's love story did not end in happily ever after. In fact, the ending was more Shakespearean tragedy than rose-tinted rom-com. The couple split for the second (and, by all accounts, final) time in September and the drama included rumors that he was hooking up with fellow Bach Nation alum Abigail Heringer during the relationship and reports that Clare had gone nuclear and fully blocked his number.
This week, Clare appeared on Jana Kramer's podcast, Whine Down to discuss her feelings about Dale, their relationship, and the breakup. The biggest takeaway was that Clare has a *lot* of feelings about all of the above and that those feelings are really a mixed bag.
Here's a little taste of the many emotions of Clare when it comes to the whole Dale drama.
She regrets everything from trusting the Bachelorette love system to trusting Dale personally—but also has no regrets about loving the relationship and also her "deep love" for him hasn't gone away overnight.
The breakup was messy and she wishes people knew both sides of the story—but she also doesn't really want her side of the story to be out there, TBH.
It's painful that the relationship ended and she wishes there could have been a sit down conversation for closure—but the fact she didn't get her closure convo kind of is the closure.
Is a lot of that very contradictory? Yep. Are the feelings we go through during a really difficult, painful breakup ever simple or linear or not a little (or a lot) contradictory? Nope. The fact that Clare's feelings are all over the place in the wake of the breakup is probably the most normal, down-to-earth thing about her entire relationship with Dale, TBH.
Here's another contradiction about the breakup for you, but it's the most hopeful and relatable contradiction to feel during a devastating split. Ready for it? Here we go:
Clare is openly, deeply heartbroken about the way things ended with Dale:
But she's also openly, deeply optimistic about what the future holds for her:
Source: Read Full Article