What Does Starbucks' Salted Cream Cold Foam Cold Brew Taste Like? It's Delicious
I'm definitely a salty-and-sweet type of gal. I always reach for the chocolate chip cookies with sea salt sprinkles, and I dip my fries into milkshakes at every chance I get. Heck, I'd be a happy camper pouring salt onto any and all of my desserts, hands down. However, I never thought I'd like a bitter-sweet cup of coffee, but I think Starbucks just proved me wrong. On July 10, the company released the Salted Cream Cold Foam Cold Brew, and it sounds like the drink of my dreams. Now, I can't help but wonder what Starbucks' Salted Cream Cold Foam Cold Brew tastes like. Although I haven't gotten a chance to try it, I'm living vicariously through people who already have. Let me tell you: I am craving a cup of my own.
Before I get into the delicious details from real coffee drinkers who have tried the treat, let's talk about Starbucks' description of it. According to a press release, the Salted Cream Cold Foam Cold Brew is made of actual cold brew that's flavored with a hint of caramel. Then, it's topped off with salted cream Cold Foam. In other words, it should taste like caramel-flavored cold brew with fluffy, salty-and-sweet Cold Foam on top.
Dang. Even though I've already had my fair share of coffee for the day, I could really get into one of these right now.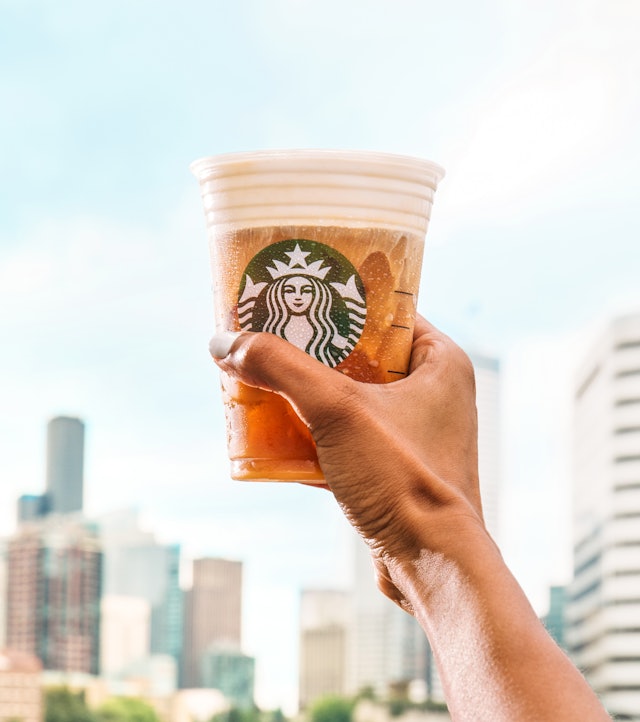 If both descriptions didn't convince you to give this selection a try, maybe Twitter will. Ever since the new brew was released, Starbucks customers have been tweeting about it. Based off their reactions, the drink definitely something to try… especially if you like salt.
One user said it's "the most delicious thing I've tasted in my 21 years of life." Let that sink in.
Other people are digging the saltiness.
Some customers think it tastes like butterbeer.
I think the main consensus is that adding a "little sweet" to the saltiness will make this drink unforgettable.
Maybe you're still not sold on the salt — and that's totally OK. Starbucks released a different drink alongside the Salted Cream Cold Foam Cold Brew, and it sounds simple and sweet. The second new bev' is called the Iced Vanilla Bean Coconutmilk Latte. To make it, baristas mix Coconutmilk and vanilla bean with ice, and then pour shots of Starbucks espresso on top. It was also added to the permanent menu, which means you have a long time to try it.
I don't know about you, but my patience is running thin. I'm going to try both of these drinks ASAP (especially the salty one).
Source: Read Full Article