The Real Reason Chrissy Teigen Deleted Thousands Of Tweets
Chrissy Teigen is one celebrity who has always had a lot to say, both online and off. In fact, some of her comments and opinions from the past have managed to come back and bite her in the you-know-what. After Courtney Stodden revealed that she was bullied by the former Sports Illustrated model back in 2011, Teigen tried to make her wrongs into rights. She wrote a blog post in which she apologized for her words and her actions while also reflecting on her past behavior. "As you know, a bunch of my (awful, awful) tweets resurfaced. I'm truly ashamed of them," she wrote on Medium. "As I look at them and understand the hurt they caused, I have to stop and wonder: How could I have done that?"
But Stodden's claims — or Farrah Abraham's or Michael Costello's, who also made complaints about the mom of two, for that matter — aren't the reason why the model deleted over 60,000 of her past tweets. Yes, you read that right: 60,000 tweets. While Teigen is yet to offer a personal apology to anyone that she has done wrong to on Twitter in the past, as detailed by Page Six, she was very quick to set the record straight abut her tweet purge. Keep scrolling to find out why she did it. 
Chrissy Teigen purges her past on Twitter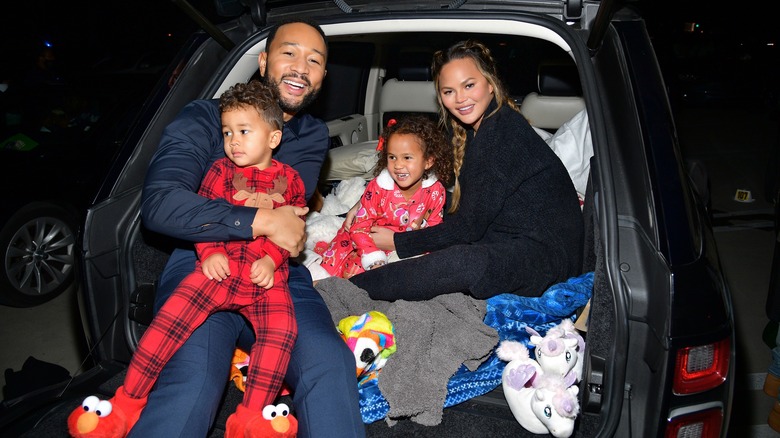 In 2020 — before her online bullying scandal — Chrissy Teigen was forced to delete over 60,000 of her old musings on Twitter because, as she said, she was harassed by trolls. Teigen was forced to deny online conspiracy theories that suggested there were flight logs from Jeffrey Epstein's private plane, "Lolita Express," with her name on them, according to Page Six. Epstein died in prison in 2019 while he was awaiting sex trafficking charges. 
Teigen was so upset by the rumors and the reports that she took to her Twitter account to clarify a few things. "If we wanna play with your lie just for fun, do you understand that if I were on the flight for the date of this 'manifest,' I'd be a victim," she wrote back in July 2020, while also making her Twitter account private to just her 13 million fans at the time.
If that weren't enough, Teigen was not too pleased over the fact that some people brought up her questionable comments about the reality show, "Toddlers and Tiaras," which she happened to be a big fan of. Things got so bad that Teigen said she was even worried about her family's safety, which includes her husband, John Legend, and their two children, Luna and Miles (pictured above). Keep reading to find out what Teigen said next.
Chrissy Teigen won't let her tweets get in the way of her family's safety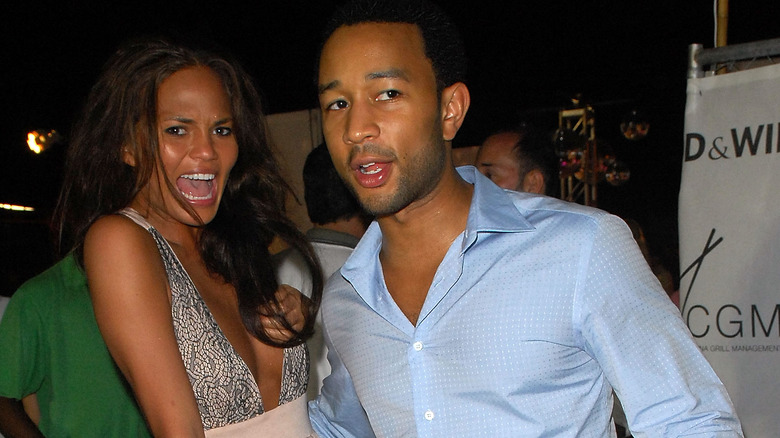 After one Twitter follower suggested again that Chrissy Teigen allegedly was on Jeffrey Epstein's plane, she really went off. When the troll suggested that she deleted her tweets because she supposedly wanted to erase any evidence that connected her to Epstein, Teigen fired back with another tweet that said, "I actually deleted 60,000 tweets because I cannot fucking STAND you idiots anymore and I'm worried for my family. Finding me talking about toddlers and tiaras in 2013 and thinking you're some sort of f*cking operative."
There was no evidence that suggested Teigen was ever on a flight with Epstein at the same time, as detailed by the Daily Beast. But the outspoken celebrity did end up taking some time off from social media — as she's done several times now — just to return again with new head-turning and  unfiltered things to say. There's no denying that Teigen is a celebrity with very thick skin, and if there's one thing we've learned about her, it's that she doesn't mind battling it out with her trolls.
Source: Read Full Article