Time for a Deep Dive on Demi Lovato's New Boyfriend Max Ehrich
Demi Lovato broke things off with her ex-boyfriend Austin Wilson a few months ago because "their lifestyles were not meshing," and now she's out here social-distancing with her new boyfriend Max Ehrich, who she met "just a few weeks ago." In case you're looking for proof, dude not so subtly captioned this post of himself "4D🌹<3"
Annnnnd Demi accidentally popped into his IG Live the other day, much like I keep accidentally popping into the background of my family members' Zoom meetings (apologies to literally everyone):
Demi Lovato's rumored boyfriend Max Ehrich was on IG Live and Demi Lovato accidentally popped in. 👀 pic.twitter.com/NXZhoztwwb
So, whomst is Max Ehrich? I'm thinking he must be relatively cool for Demi to voluntarily hole up in a house with him during self-isolation, so let's do some digging while we all sit around in leggings sweatpants underwear.
He's a Successful Soap Star
Twenty-eight-year old Max is a Young and Restless alum, and played the *incredibly* named character Fenmore Baldwin. Oh, and he was also in Walk. Ride. Rodeo. on Netflix.
WATCH HERE
He's Been Nominated for a Casual Emmy
And as you surely guessed, it was for playing the very important role of FENMORE BALDWIN. However, I think we can all agree he should have been nominated for his role in iCarly:
He Had a Stalker and Had to Go into Hiding
Apparently, a real estate agent became obsessed with Max in 2018, and pulled a gun on him in what TMZ described as a "fit of rage." Max was so freaked out, he went into hiding and "hired full-time security." He spoke about the incident a bit on Insta:
He Recently Posted This Photo of Himself
That's all. No further comment in this section.
He's Dated Model Sommer Ray
They were together in 2017, with a source telling ET, "It's pretty new. They're taking things one day at a time. They've been inseparable for the past two months." Also, apparently Bella Thorne set them up, which, lol.
P.S. Before Sommer, Max was in a relationship with Disney Channel star Veronica Dunne.
He's a Singer!
Max, or as I call him Fenmore, is MULTI-TALENTED, guys.
And He's Maybe a Poet?
Peep the caption. Your move, Cody Simpson.
Anyway, here's to hoping Demi and Max have an uplifting time in social isolation together while I carry on an exciting conversation with this slice of pizza.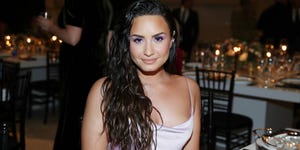 Source: Read Full Article