Wendy Williams Slams Beyoncé and Jay Z for Sitting During Super Bowl National Anthem: 'You Should Have Stood Up'
Wendy Williams loves to speak her mind. Her opinions are what give her show so much character. And each morning on The Wendy Williams Show, Williams discusses the newsworthy celebrity gossip. On February 3, she shared her opinions of the Super Bowl. But one thing that stood out to her was something Beyoncé and Jay Z did not do: stand for the National Anthem.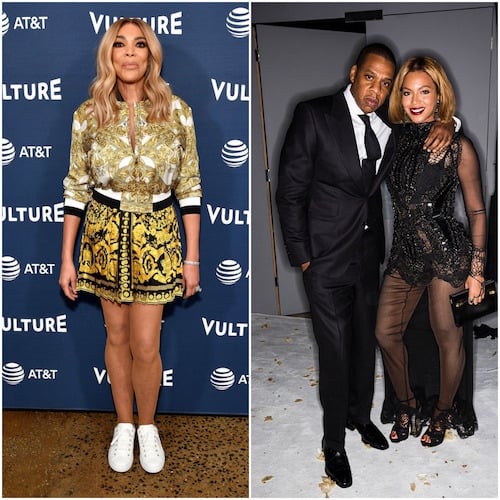 Williams has created controversy over her opinions
Williams' opinions are part of what makes her such a popular television host. She never stops herself from saying what's on her mind, even though it can result in some disagreement. In late January, Williams slammed Rob Kardashian's new girlfriend, Love & Hip Hop star Tommie Lee, and the reality television star fought back by trashing Williams on her social media accounts. Occasionally, too, Williams' audience disagrees with her opinions, though it still doesn't stop her from saying how she feels.  
She recently shared her thoughts on the Super Bowl halftime show
On February 3, Williams kicked off her show with "Hot Topics," which is a segment based on the latest celebrity news and gossip. Of course, there was plenty to say about the Super Bowl. Williams said she liked the halftime show overall and felt that both women did a great job. Ultimately, though, she felt Jennifer Lopez "won" the show. She said Lopez's more glamorous look and dance moves are what sold her. The audience seemed to agree, though it's clear both singers did a great job.
Williams condemned Jay Z and Beyoncé for sitting during the National Anthem
It was hard for people not to notice that two of the world'sbiggest stars didn't stand for the National Anthem. Beyoncé and Jay Z attendedthe Super Bowl (Jay Z's company, Roc Nation, helped put together the halftime show).And when Demi Lovato sang the Star Spangled Banner, most everyone stood up withtheir hands over their hearts. But the Carters didnot.
Some people supported the couple sitting and suggested they were making a strong statement, but Williams did not. On her show, Williams condemned the couple for not standing to honor their country. "I don't know about you, and our country might be in a bad way, but there's no place I'd rather live than America," Williams said. The audience cheered.
She told the couple to 'be proud' of being American  
Williams' main point to Beyoncé and Jay Z was that they should be proud to be Americans and show that pride by standing during the anthem. When she discussed the halftime show, she mentioned Shakira and Jennifer Lopez singing "Born in the USA" and suggested that they were proud to be American. She then reminded Beyoncé and Jay Z that they, too, should "be proud" of where they come from. "You should have stood up."
There has been controversy surrounding the Star Spangled Banner in the NFL for several years now due to the protests started by Colin Kaepernick. And it seems that Beyoncé and Jay Z were standing with those protesters by not standing at all. Williams joked that she knows she'd be fighting with the "Bey Hive" for what she said, but she's never been one to shy away from the spotlight.
Source: Read Full Article