Who Are The Radio Hosts Who Died From COVID-19?
There is still so much COVID-19 anti-vaccination talk going around and so many people doubting that the vaccine works, despite the fact that people who are actively spreading disinformation are now becoming sick and dying from the disease. Since early August, not one, not two, but four conservative radio talk show hosts, who have spouted openly about how distrustful they are of the vaccine and who have constantly encouraged people not to get it, have become sick and died from coronavirus.
The Washington Post reported that four hosts had taken ill and died after vehemently denying the COVID-19 vaccine's efficacy and speaking out against mask mandates. All four were white men above age 60 living in either Florida or Tennessee, both Republican-majority states with lax coronavirus precautions, where the Delta variant of the disease has hit strongly. Some feel the deaths illustrate just how influential talk radio is in spreading coronavirus disinformation among right-wing audiences. It also illustrates, in some cases, how lax radio companies are to take a public stand. While Cumulus Media, one of the two largest talk-station companies, has mandated vaccines for their employees, the other, iHeartRadio, has not. Though it can be said that the radio stations are telling their public, made up largely of self-identified Republicans, what they want to hear, it's hard to say whether talk radio has generated these ideas or merely reflected them.
In any case, let's learn a little bit more about these broadcasters and how they died.
Marc Bernier called himself Mr. Anti-Vax, and Dick Farrel called Anthony Fauci a freak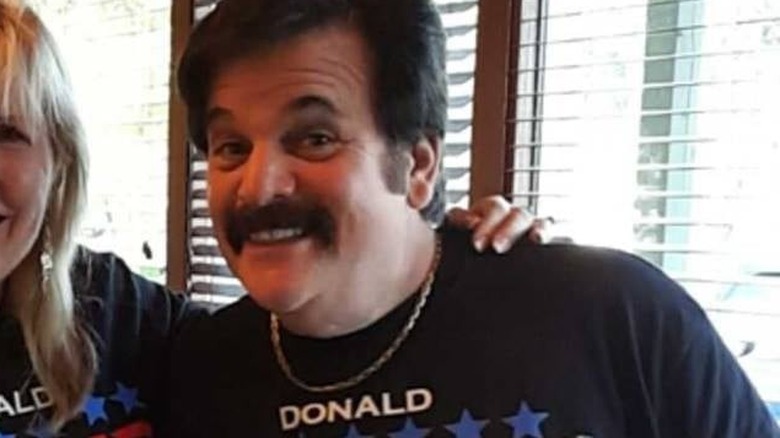 Sixty-five-year-old Marc Bernier was a host on WNDB in Daytona Beach, Florida, a station he'd been with for more than 30 years, according to The Washington Post. When the first coronavirus vaccine appeared in December 2020, Bernier told his listeners he refused to get it, and said, "I'm Mr. Anti-Vax." He even said the government was "acting like Nazis" in the way they urged people to get the vaccine. The station announced that Bernier was in the hospital with COVID-19 in early August, and on August 28, he died from the disease.
Also from Florida, host Dick Farrel (pictured here), born Farrel Austin Levitt, was 65 years old and had programs in Miami and Palm Beach, and also worked for the ultra-conservative Newsmax TV. Farrel referred to the efforts to contain the virus as "a scam-demic," per the Post, and called disease expert Dr. Anthony Fauci "a power-tripping, lying freak" in a Facebook post. Farrel changed his mind about the disease once he became ill, at least in private. His longtime friend Amy Leigh Hair told the Post that Farrel had texted her saying, "This pandemic ain't no joke. Get the shot." She said, "he definitely admitted he hadn't taken it seriously. At the end of the day, he was sorry about that." She also felt he would have survived if he'd been vaccinated, but he died shortly after his birthday, on August 4.
Phil Valentine sung parodies while Jimmy DeYoung promoted conspiracy theories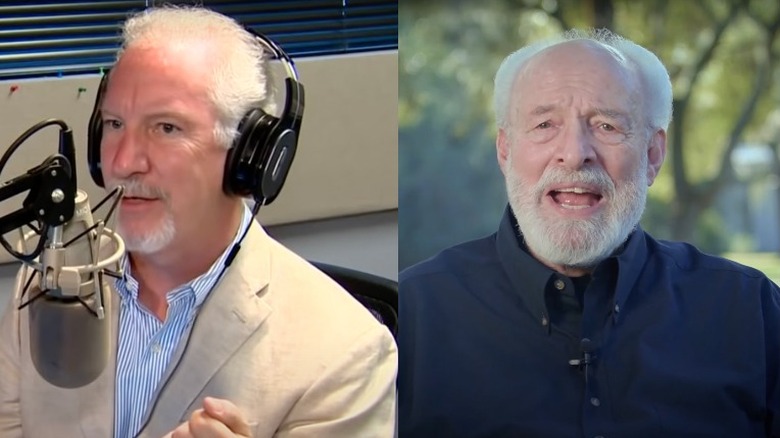 Both from Tennessee, Phil Valentine was 61 years old and hosting a nationally syndicated radio program on WTN in Nashville, while Jimmy DeYoung was an 81-year-old preacher with a daily syndicated show called "Prophecy Today."
Valentine employed a favorite format often used by the late Rush Limbaugh to put across his disinformation: song parody. According to The Washington Post, he released a song in June where he rewrote the lyrics to the Beatles' "Taxman," calling it "Vaxman." In July, Valentine was hospitalized with the virus. Valentine changed his tune after he got sick, according to his family, who released a statement while he was in the hospital: "Phil would like for his listeners to know that while he has never been an 'anti-vaxer' he regrets not being more vehemently 'pro-vaccine,' and looks forward to being able to more vigorously advocate that position as soon as he is back on the air…" However, that never happened; WTN announced Valentine's death over social media on August 21.
DeYoung promoted vaccine conspiracy theories, per Daily Beast, and asked a guest whether the distribution of the vaccine could be "another form of government control of the people." He was hospitalized with the disease on August 7, and died on August 15.
While Howard Stern, not the bastion of morality, mocked the hosts on his September 8 show, his co-host Robin spoke for many when she said, "I have trouble drumming up compassion, and I think that's a terrible thing…"
Source: Read Full Article