Why La La Anthony Says She's Unsure About Finding Love Again
It's complicated for any celebrity couple to work through their relationship issues when they are under public scrutiny. La La Anthony and Carmelo Anthony tried to make it work but ultimately went their separate ways. Now that divorce is imminent, La La is back on the market. But she doesn't know if she'll find love again. In the meantime, her career is on fire.
La La Anthony discusses the difficulty of filing for divorce from Carmelo Anthony
The former MTV VJ told Charlamagne Tha God that she never saw divorce in her future, having been with the NBA player since they were 21 and 19, respectively. With the rumors of him cheating, she hints at it being true but notes that despite being with an athlete and their reputation that she "didn't think that was gonna happen…So, it happened, and it was a learning experience, and it's just another chapter in my life that I can learn from," she explained. 
Making the choice to end her marriage, The Chi star admits it was "an incredibly hard decision. However, she learned from it that she's capable of anything she puts her mind to.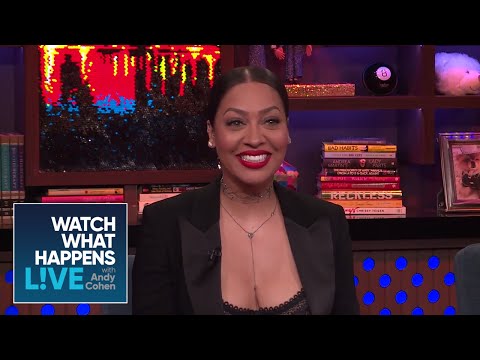 The socialite argued that staying in the comfort of a long-time relationship is easier than walking away. Before divorcing, the couple separated, reconciled, and finally opted to go their separate ways for good.
"Walking away on your own and trying to rebuild a life by yourself…I was with him when he was 19 years old, like that's all I've known," she added. "To step away from that and try to build my own life and still keep my sanity and keep things normal for my son who only knew his mom and his dad together — that wasn't the easier decision, but I had to make a decision for myself. So now it's like, wow, if I could do that, I could do anything."
She says she's not hopeful she'll find love again
Now that La La and Carmelo are no longer together, many are wondering when she'll get back into the dating scene. But it's not her first priority. Even more so, she confesses that she isn't sure if another love and marriage are in her future.
"Sometimes I'm like, maybe it's just not in the cards for me. Maybe an incredible son and an incredible career is like — that's for me, you know?" she said. "I definitely pray that it will happen, but I'm also at a place where if it doesn't, then I'm gonna still have fun. I have great friends. I have great family. I'm not lacking. I would love it. But it's just, it's slim pickings. It's hard to trust when you've been scarred in a sense… but I'm in therapy. I'm dealing with my own stuff, and I would love to find love and a companion to do fun stuff with and someone I can rely on."
But she does have a little hope due to seeing her friends, like Ciara and Russell Wilson, have successful marriages after heartbreak. However, La La isn't looking for it at the moment.
Her focus has been on her booming acting career
While her marriage may not have worked out, her career is booming. La La has starred in the hit STARZ drama-crime series Power. She also currently stars on BFM and The Chi and has a few film credits under her belt.
"I am just really about self-love and taking care of myself. Obviously, my son, Kiyan, is 14, in high school, he is my priority, but I'm really just about tapping into me and what do I like to do and what do I enjoy," she told Charlamagne. "It has always been about everyone else but me and this year I kind of want to make it a little bit about me."
Source: Read Full Article