10 Luxury Brand Monograms Celebs Look Amazing In (And 10 Looks That Went Too Far)
The last time designer monograms were this "in," Kim Kardashian was still Paris Hilton's stylist. These two would wander the Hollywood boulevards in head-to-toe Louis Vuitton and the message was clear: "Check out our social status – oh, and good luck shopping this look." The designer monogram is back (and it's bigger than ever). Celebrities aren't satisfied simply shopping at Fendi. Or Gucci. Or Chanel. They need some meaty evidence. Yes, that logo.
Rihanna recently wore an entire Gucci monogram outfit. Nicki Minaj recently stepped out in head-to-toe Burberry. From the Louis Vuitton bathing suits that Kylie Jenner adores to the Versace outfits that Hailey Baldwin wears, we'll be taking a careful look at the Y2K rebirth. For some people, displaying a luxury brand's logo is a way of expressing their love of it. For others, it's a distasteful, overdone way to cheapen an expensive name. Either way, it doesn't look like we have much choice in the matter. Gigi and Bella Hadid have joined the Fendi bandwagon. Kim K is wearing Dior bikinis. Beyonce's On The Run tour may as well be sponsored by Gucci. Welcome, fashionistas and celeb lovers. Here are 10 luxury monograms that celebs have been wearing (plus 10 that went too far).
20

NICKI MINAJ IS PUSHING IT WITH BURBERRY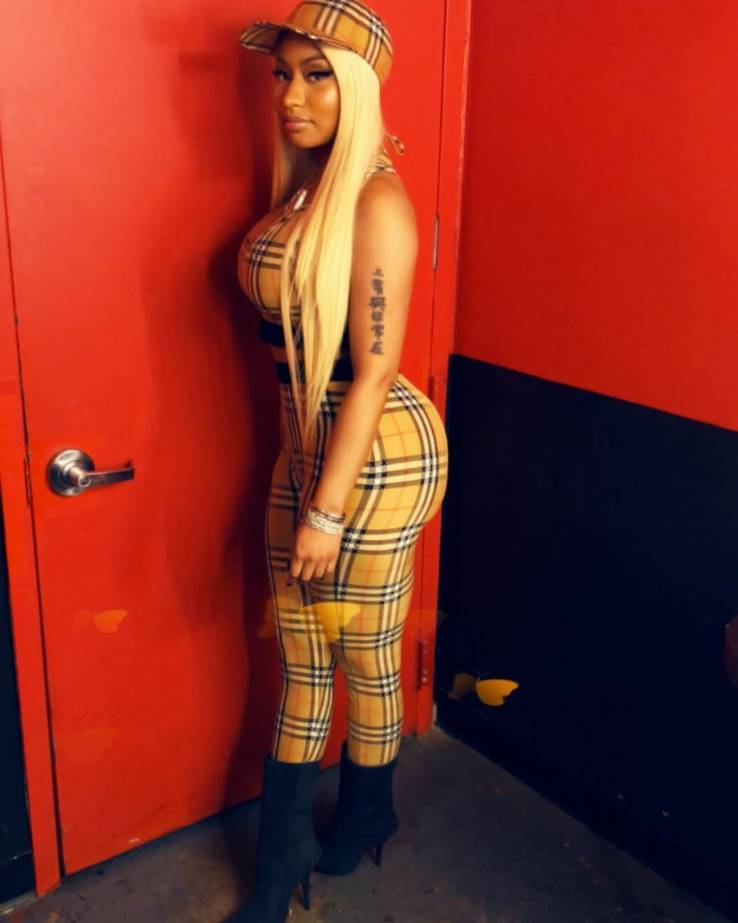 Eye-popping as ever, Nicki Minaj isn't one to go low-key with her outfits. Just recently, Nicki stepped out in this head-to-toe Burberry outfit, complete with a matching baseball cap and "Chun Li" necklace. BET estimated that the outfit is worth $3000, although that's small potatoes when you've just been announced as hip-hop's most bankable woman.
"Styled on them in this Burberry trench." At least Nicki's lyrics match the clothes.
Nicki called herself "Burberry Barbie" on her Instagram just before wearing the British fashion house's iconic monogram. Beyonce has worn similar just recently as part of her On The Run tour. Looks like Burberry is back.
19

ARIANA PICKS HER LOUIS VUITTON CAREFULLY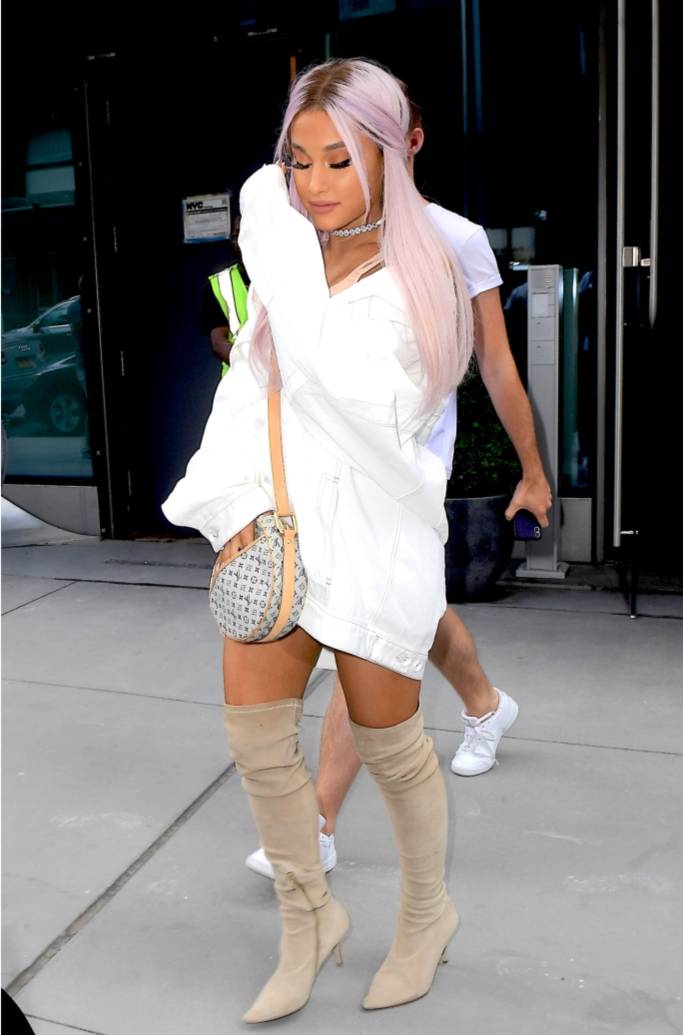 It feels like Ariana Grande has become a fashion icon virtually overnight. Well, she kind of has. The "Ariana look" of over-the-knee boots, baggy sweatshirts, and that signature high ponytail is one of the most re-created looks on social media. You've got to admit – Ariana is rocking it. After stepping out in a Louis Vuitton monogrammed skirt (complete with matching cat ears) in 2018, Ariana continued her love of the LV monogram with several purse looks. Instead of going for the brand's iconic brown leather monogram, Ariana chose powder blue to contrast her pink hair. Slightly pricier, but so much better, right?
18

KIM K IS ALWAYS THROWING US CURVEBALLS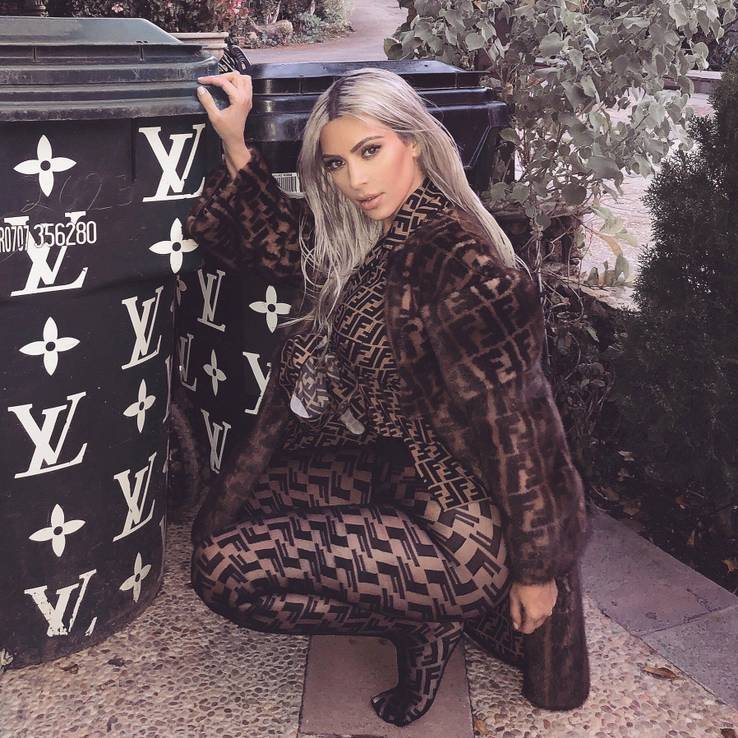 Another day, another designer outfit, right? Kim Kardashian has never been one to hold back when it comes to the shock factor. Then again, this multi-millionaire and mom of three also has a sense of humor. In 2018, Kim rocked the internet all over again by throwing us double whammy designer vibes. She posed in a full Fendi bodysuit next to… yes, Louis Vuitton trash cans. What the designers over in luxurious Italy and France thought of this questionable take on high fashion remains to be known.
"There's a lot of baggage that comes along with our family. But it's like Louis Vuitton baggage," Kim once famously said
17

HAILEY BALDWIN CAN KEEP IT CLASSY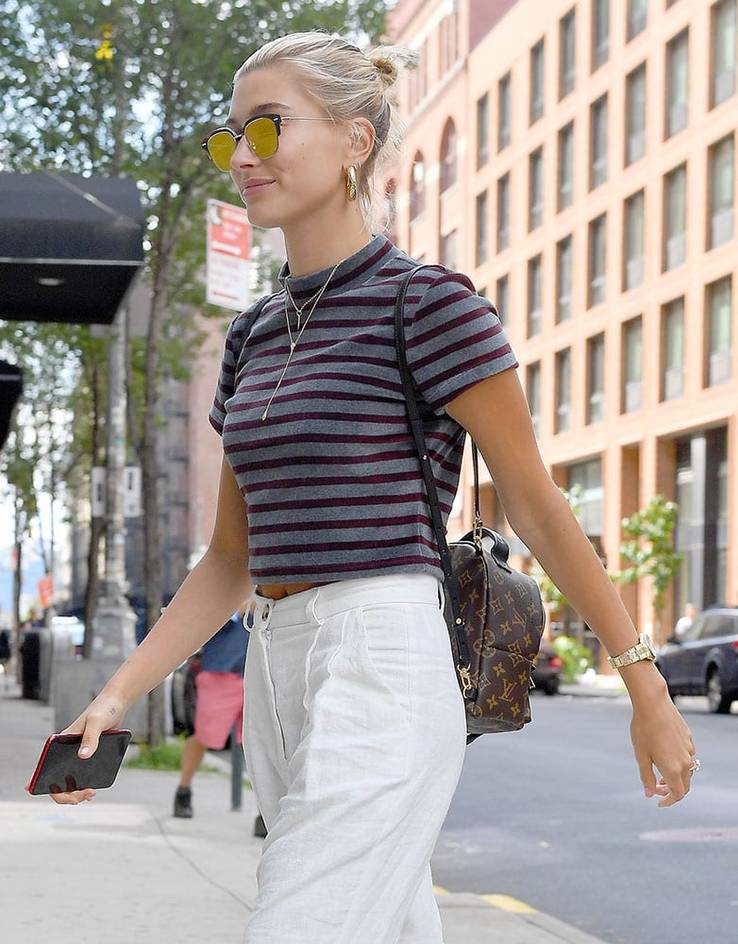 Louis Vuitton has been famous for over 150 years. Hailey Baldwin has been famous for what feels like five minutes. The model and new fiancée to Justin Bieber might not have the longest career history, but Hailey's style files have earned her a rising spot towards the A-List. Hailey is currently the face of Fendi and Adidas, but this girl's wardrobe is far more extensive. In July 2018, Hailey looked cute as a button in this itsy bitsy Louis Vuitton backpack. The price? At over $1700, it's a little less itsy bitsy on the wallet. Consider this an example of designer monogram "done right."
16

THEN AGAIN, HAILEY'S VERSACE OUTFIT WAS A BIT MUCH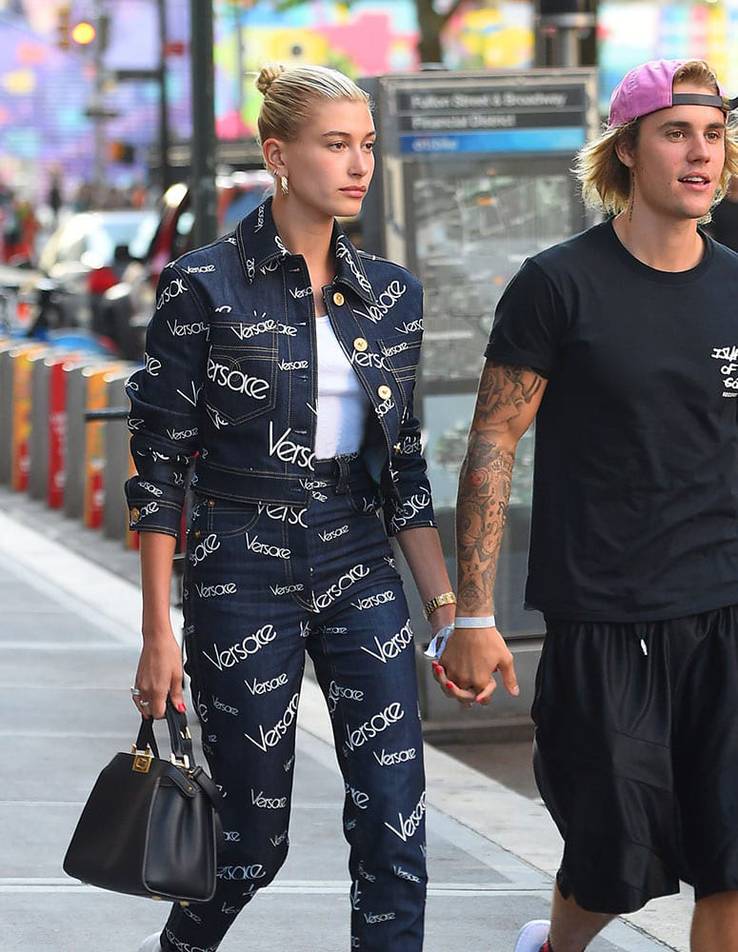 Hint: The hidden message from this outfit is: "I shop at Versace and I can afford it." Hailey Baldwin's Versace outfit from July 2018 continues to be one of the most talked-about looks of this year. The denim logo stamp jacket and jeans retail at $1,350 and $1,250, respectively. Yes, that's quite the price tag for denim. Then again, this isn't any old denim. It's Versace denim. Versace remains the symbol of extravagant Italian luxury (at pretty extravagant prices). Hailey was spotted wearing this out in NYC. She matched the look with $80 Adidas sneakers and a $3,390 Fendi Peekaboo bag. Oh, and Justin on her arm.
15

BELLA HADID IS ALL UP ON THE FENDI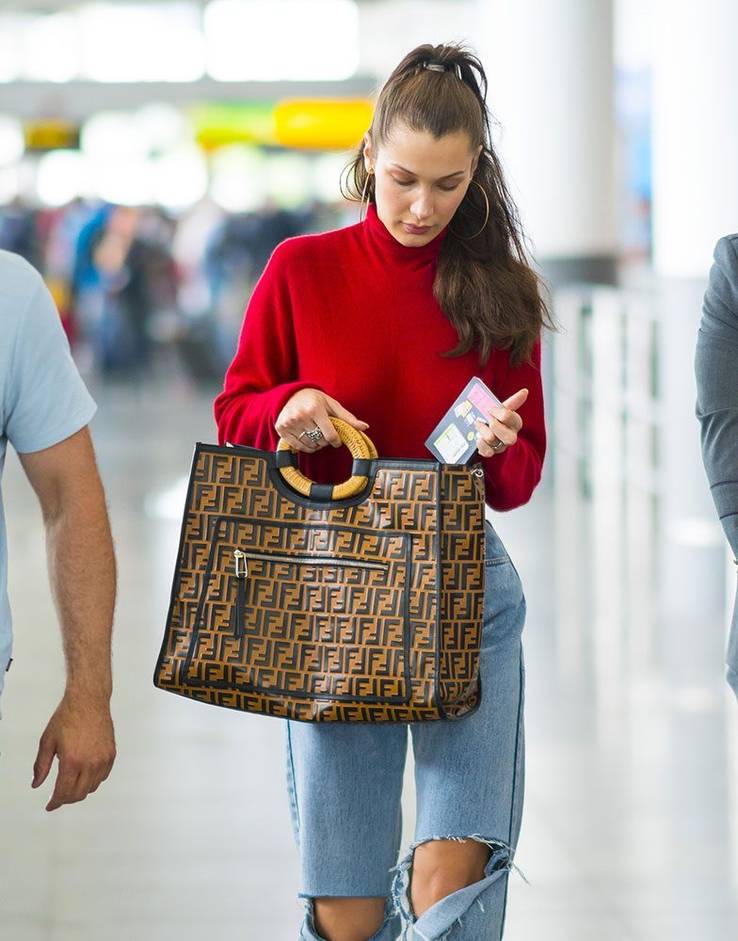 And with good reason. Bella and Gigi Hadid are a supermodel sibling duo with power contracts to match. Both sisters are currently the face of the Italian luxury brand, Fendi.
There are literally no words for how huge Fendi is right now. Nicki Minaj made it clear with: "Bentley tints on, Fendi prints on" in her Queen album.
Three generations of Kardashians currently front the Fendi #Peekaboo campaign. Bella went for an ultra-casual look here at New York City's JFK Airport. Her Fendi Runaway Tote retails for $3,690. Fendi celeb fans also include Rihanna, Beyonce, and Lady Gaga.
14

THE FENDI LOOK THAT IS WAY INTENSE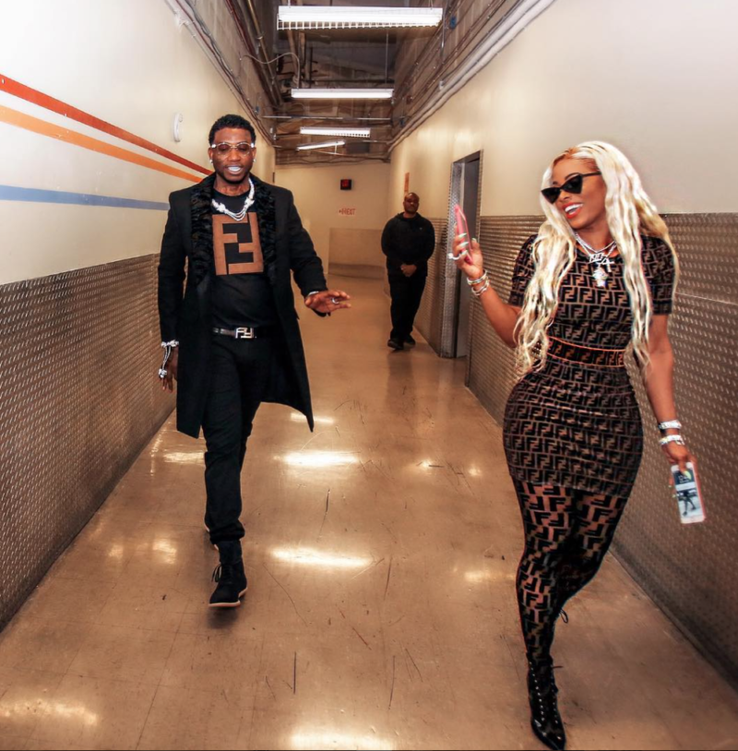 We're not sure it's massively obvious, but it's slightly possible that Gucci Mane and Keyshia Ka'oir quite like Fendi. This rapper and wife duo have Instagram accounts that are literally a daily update of monogrammed looks. The style-conscious couple recently stepped out in Las Vegas in a joined clothing statement that says: "Props, Fendi." Gucci Mane's sweater retails for $950. Keyshia's logo dress sells for well over $1400. Add on the stockings, coats, furs, belts, and shoes… you can rack up a 10K look pretty easily in Fendi. Quite where it becomes a bit too much is a matter of taste. (Er, the decision also requires taste)
Featured Today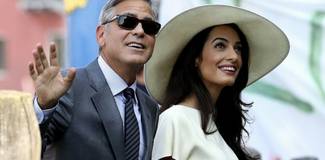 21 Celeb Weddings From The Last Decade That Normies Could Only Dream About

12 Of The Best Products Celebs Would Pick Up From Sephora (12 That Are Useless)

25 Things Kylie Jenner Spends Her Millions On (That We'd Question Buying)

13

ARIANA RETURNS WITH THOSE GUCCI BOOTS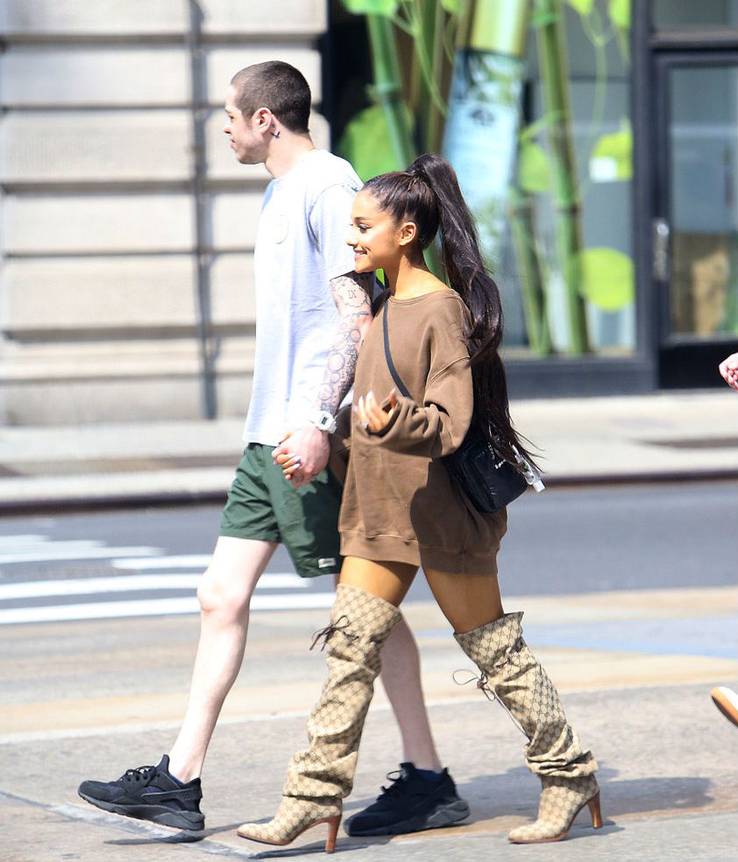 You know that you're a classy lady when you're featuring multiple times on this list– and in the distinctly "classy" section. Ariana is a girl with a lot of cash to spend. There's her newly released Sweetener album. There's also her contract with Reebok – Gal Gadot is getting paid $10 million for her part, according to Harper's Bazaar. In June 2018, Ariana stepped out with Pete Davidson (and a little Gucci). These over-the-knee Gucci Original GG Boots cost $1,790. Ariana wore them with a Yeezy Season 6 sweatshirt and her $93,000 custom-made Greg Yuna engagement ring. Bling, but totally chic.
12

SOMEHOW, BEYONCE'S GUCCI MISSED THE MARK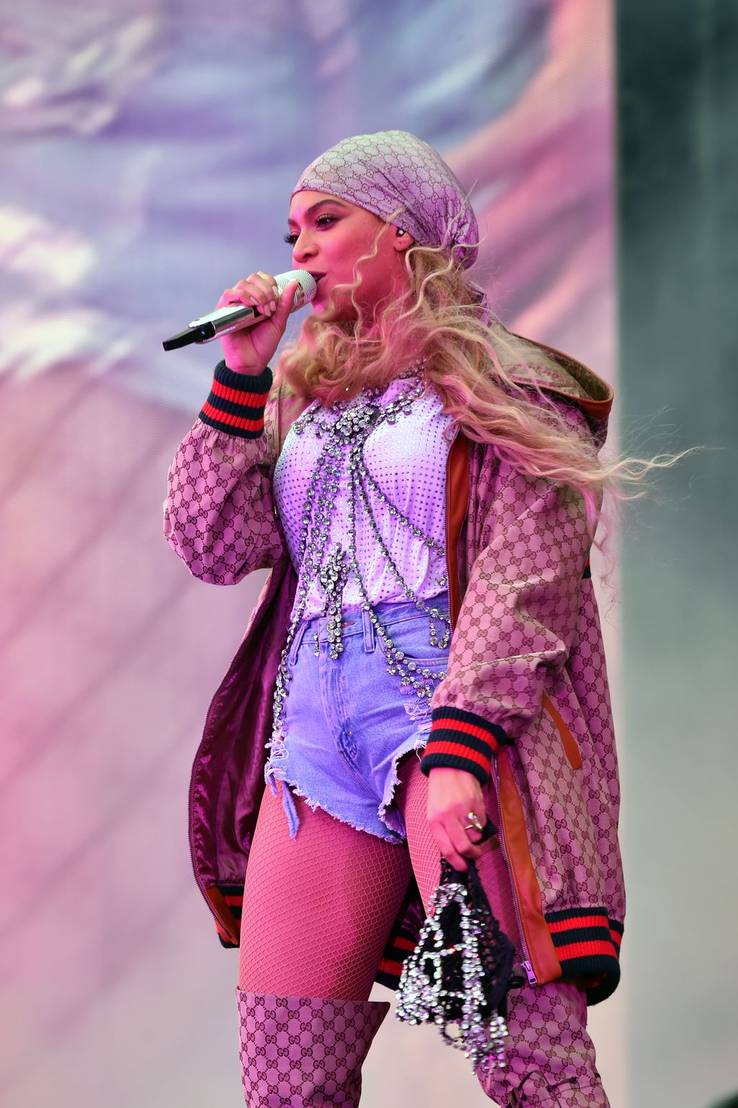 Well, she's definitely embracing the monogram. Beyonce will always be an icon of feminine empowerment, beauty, and fashion know-how. Bey is currently performing her On The Run tour with Jay Z, and yes, they've chosen some high-profile outfits. That Nicki Minaj Burberry outfit you saw earlier was recreated into shorts for one of Beyonce's shows, but it's this Gucci look that caught our eye. There's nothing wrong with it per se – it's just inching its way towards "too much" territory. $1.16 billion is what this power couple is worth, according to Forbes. Does it all need to be spent at Gucci?
11

KYLIE KEPT IT CLASSY IN CHANEL
Anything girly and expensive is good in Kylie Jenner's books. Then again, this soon-to-be-billionaire is proving that she's a lot classier than some of the other ladies out there. Kylie seems to have done a real 180 since becoming a mom to Stormi Webster in February 2018. She is fronting Forbes magazine as the "youngest self-made billionaire." Her grip on the business world appears very sound for someone so young. While Kylie adores brands like Louis Vuitton and Givenchy, she will always adore the quintessential French elegance of Chanel. Here she is in a classy Chanel bodysuit with matching sneakers.
10

DJ KHALED TOOK IT A BIT FAR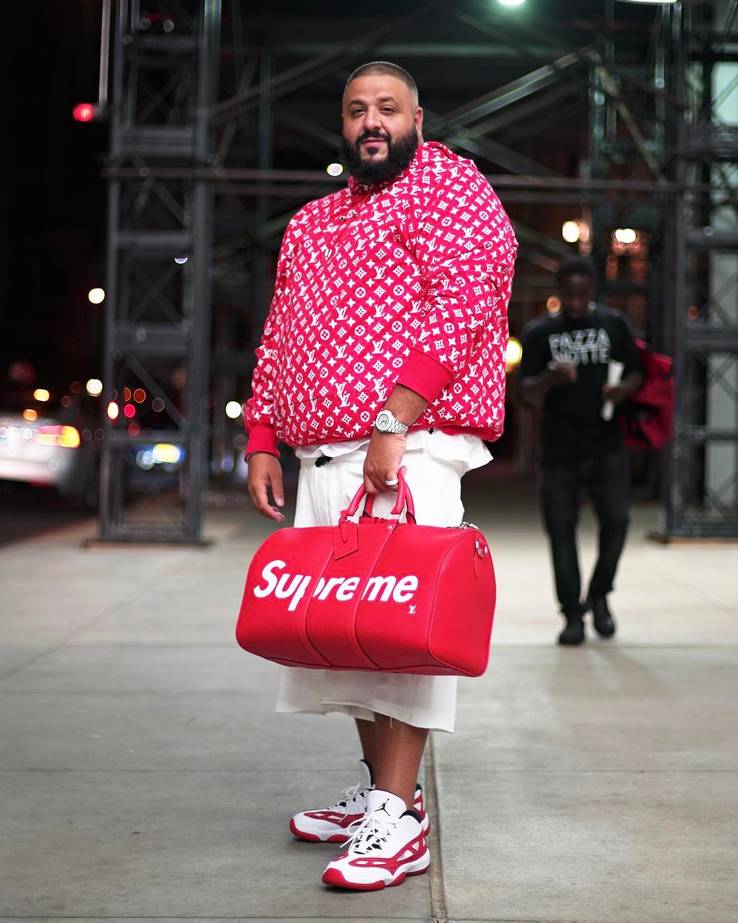 Hello, rich rappers. The celeb world has high earners all over the place. For some reason though, it's the world of hip-hop that makes a beeline for the loud labels and designer monograms. Leonardo DiCaprio can definitely afford it, but it's on DJ Khaled that you'll see the Louis Vuitton x Supreme. In 2018, DJ Khaled stepped out in this bold Louis Vuitton x Supreme Hoodie, matching bag, and Air Jordan 11 sneakers. You're looking at well over $25,000 worth of merchandise.
To be fair, DJ Khaled does mention LV multiple times in his lyrics – including the fact that "it ain't cheap."
9

J-LO'S LOUIS VUITTON LOYALTY RUNS DEEP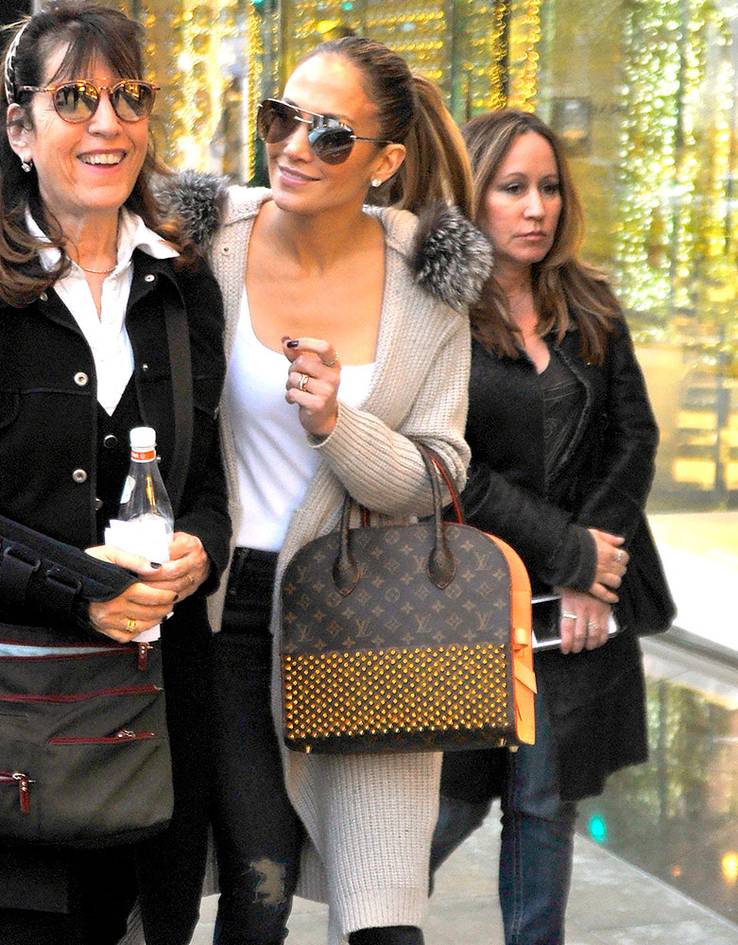 Wearing Louis Vuitton as a celebrity doesn't exactly make you unique. Being the face of Louis Vuitton is a different matter, though. The luxury French designer currently has Emma Stone facing its campaigns. Previous celeb faces have included Selena Gomez, Angelina Jolie, Scarlett Johansson, and yes, Jennifer Lopez. In 2003, J-Lo fronted a series of billboards holding those monogrammed bags. Not surprisingly, her love for all things LV has continued. This is a Louis Vuitton x Christian Louboutin purse that Taylor Swift also owns. Great minds think alike? It might not be "Jenny from the block," but it's chic, understated, and a good look.
8

EVERY TIME GUCCI MANE'S WIFE WORE FENDI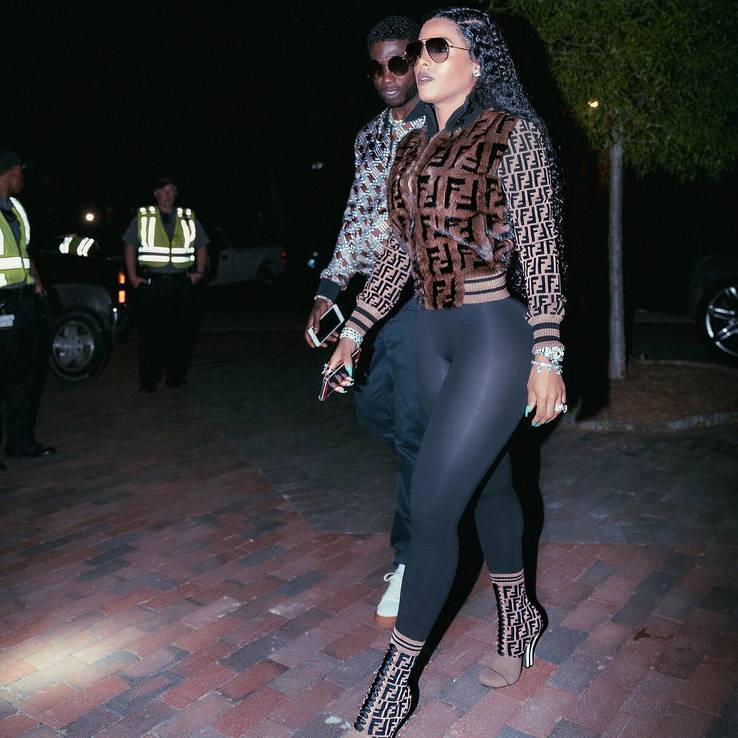 From a fashion nut who personally likes to have a quick Instagram browse – "I knew Gigi Hadid would pick the Louis Vuitton High Arch Sneaker!" – this is a little bit painful. The fact that Gucci Mane loves designer fashion is cool stuff. The fact that he took on a stage name from the fashion world? Even cooler. As Gucci Mane and his wife, Keyshia Ka'oir feed fans a daily stream of head-to-toe designer monograms, though, it's time to question when enough is enough. Monday, it's Versace. Tuesday, it's Fendi. Wednesday, it's Gucci. Admittedly, it is adorable to see them as a solid couple. Just, you know, tone it down a bit?
7

RIHANNA OWNED HER GUCCI LOOK HERE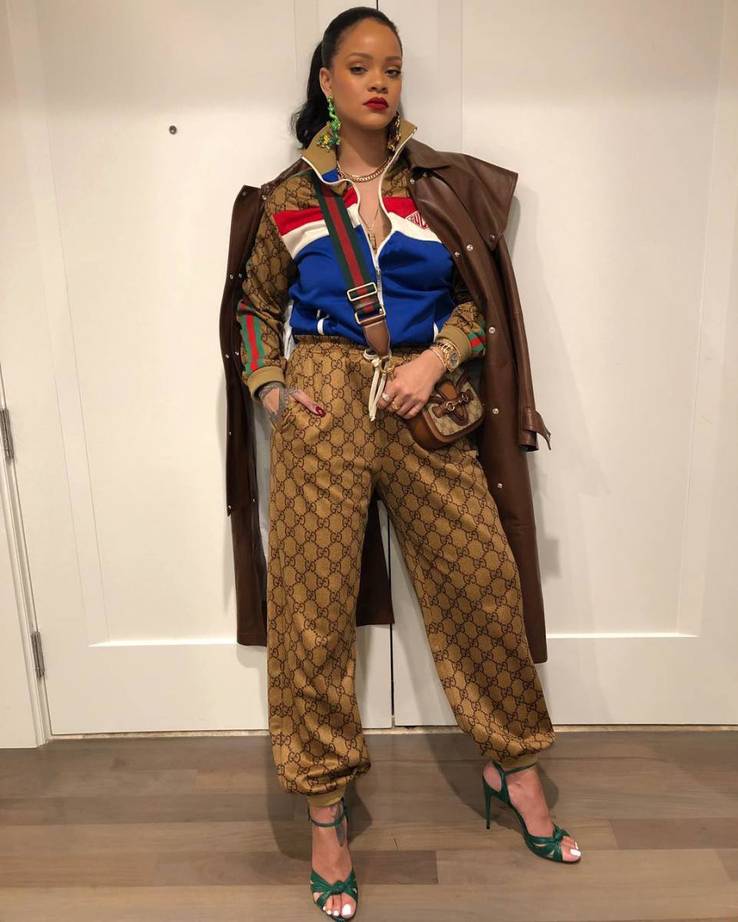 This isn't even our opinion. Harper's Bazaar is way bigger an authority on fashion than we could ever dream to be. When Rihanna wore this head-to-toe Gucci outfit on Instagram in 2018, the magazine called it "epic." Shortly following her Gucci Coachella outfit, Rihanna returned to the Italian designer for this look. A Gucci tracksuit bearing the brand's double-G logo and red, white, and blue color blocks gave us just enough variety –while still channeling the brand's monogram. Rihanna rarely gets is wrong when it comes to fashion. Not surprisingly, Rihanna has been creative director at Puma, alongside having her own clothing line.
6

THE FENDI LOOK THAT DIDN'T DO RITA ORA MANY FAVORS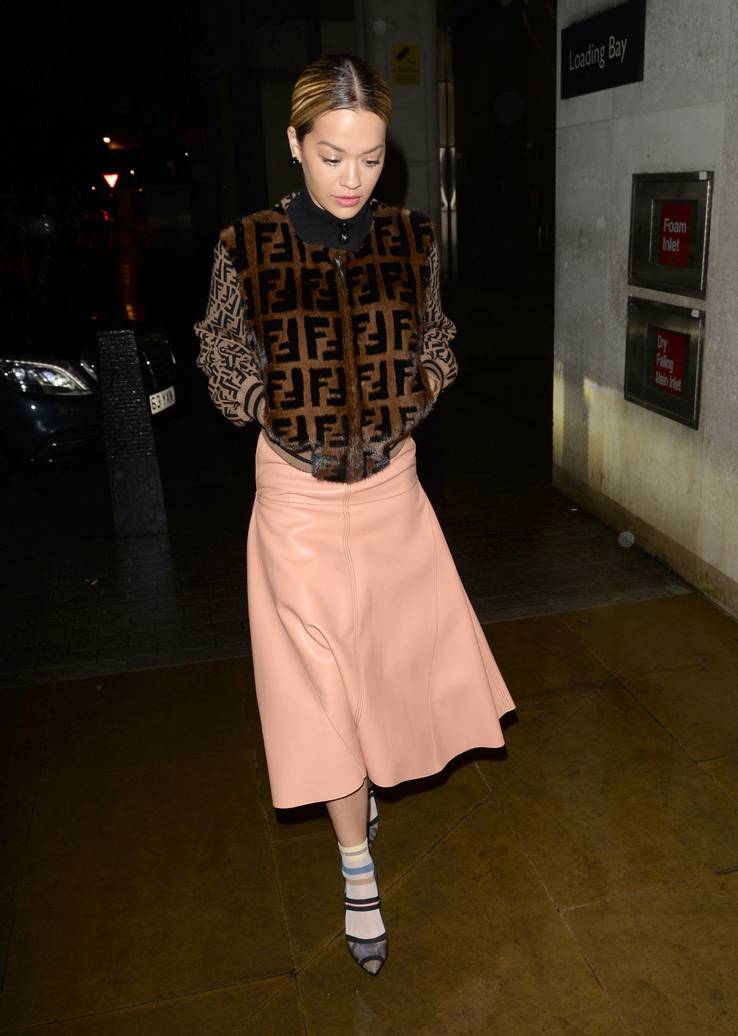 Fans were on the fence with this one. Rita Ora wasn't looking in any way cheap here, but you've got to admit, the Fendi look is a bit "full-on." In 2018, Rita stepped out in London wearing Fendi's monogrammed fur bomber. She paired it well with a powder pink skirt that had a 1950's feel, but many fashion experts felt that the look would have benefited from a quieter finish.
This inlaid mink and knitted fabric Fendi bomber jacket retails for $9,184.
The Fendi monogram is definitely in as the highest-ranking monogram of 2018, but how far you take it is your choice.
5

THE TIME THAT GIGI HADID MADE IT WORK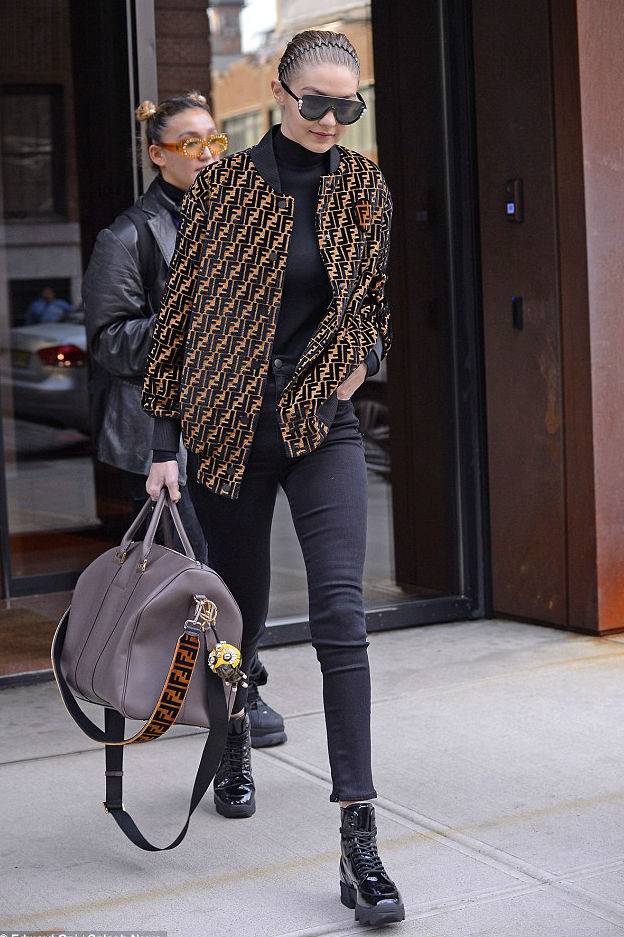 Okay, so being a supermodel kind of helps. Gigi Hadid is the "it" girl that nobody can get enough of in 2018. She is welcome in Taylor Swift and Kendall Jenner's squad. She is the face of Adidas, Tommy Hilfiger, and Fendi. She may no longer be dating a member of One Direction, but Gigi has carved out her own direction. While the Fendi monogram here is definitely intense, it does kind of work. The pared-down pants just about balance out the loud jacket and monogrammed bag, and the colors really work. Gigi and her sister, Bella are currently fronting Fendi's campaigns.
4

EVERY TIME KENDALL HAS LOOKED LOUIS VUITTON PERFECT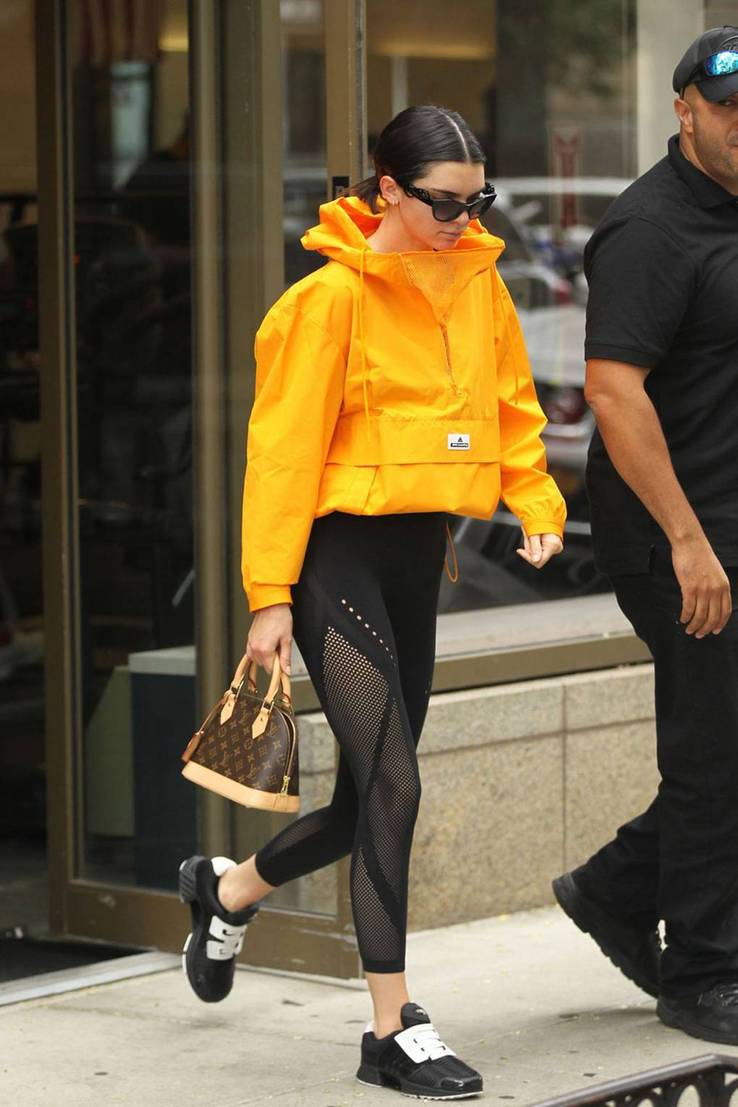 Kendall Jenner's fashion is so on-trend, there's rarely a look of hers that isn't copied a thousand times over. In 2017, Kendall became the highest-paid model, raking in $22 million, according to Forbes. Kendall may have an offbeat vibe, but her taste is expensive – and that includes the casual looks. This look blends ultra-casual sportswear with a touch of Louis Vuitton class. Price-wise? It's pretty mixed. The Adidas by Stella McCartney Hooded Shell Jacket and $60 sneakers are within reach. The $530 Givenchy shades and Louis Vuitton Alma BB Bag (which retails for $1,200)? Those, less so. We loved this look from Kendall.
3

SCOTT DISICK OVERDID IT JUST A TAD HERE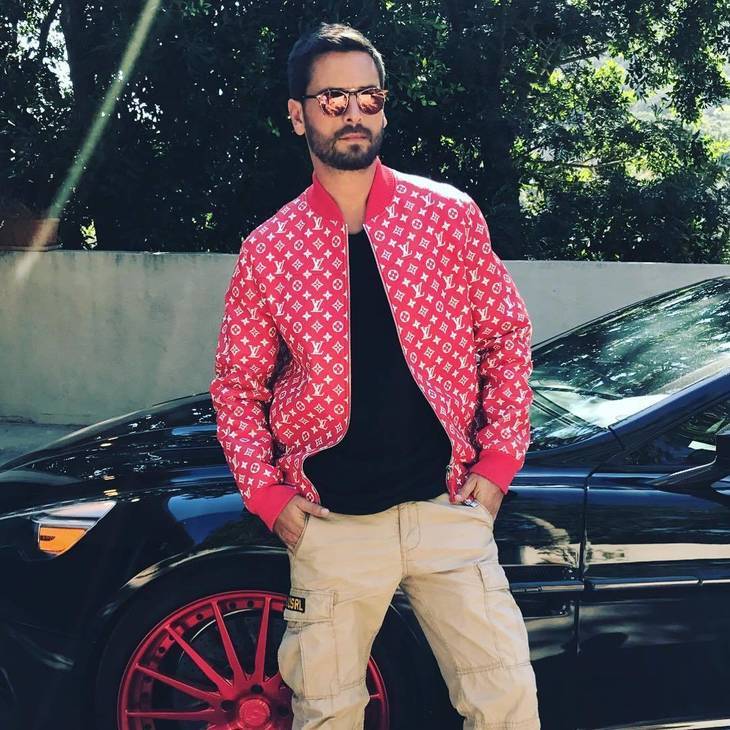 When your self-proclaimed alter ego is "The Lord," it's expected that you have a wardrobe to match. Scott Disick is a celebrity with major connections – Scott may not be with Kourtney Kardashian, but he'll always be a baby daddy to those three kids. As Scott dates Sofia Richie and rakes in the cash from his various entrepreneurial endeavors, so does "The Lord" spend. Scott definitely looked his usual chic self here, but we can't help but wonder: is the Louis Vuitton too loud? Louis Vuitton's collaboration with Supreme brought out a lot of celeb love. Justin Bieber and Drake have worn the monogram, but somehow with them, it was more relaxed.
2

RIHANNA NAILED BALENCIAGA CHIC HERE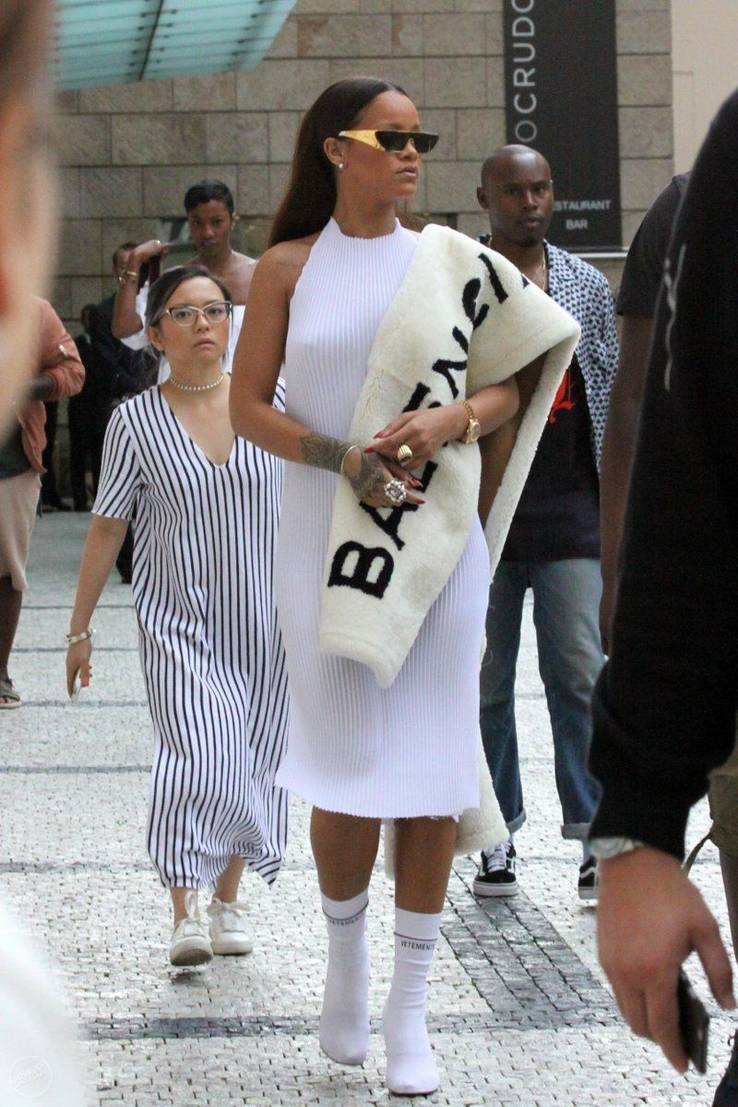 Balenciaga might not have the grand associations that Louis Vuitton make you picture, but make no mistake. This luxury Spanish brand is right up there with Versace and Gucci. Cardi B rapped that "I like those Balenciagas. The ones that look like socks." A$AP Rocky has penned: "I can't forget Escada, and that Balenciaga." Rihanna wore the brand's emblem scarf in 2018. She joins Balenciaga sneaker fans like Kendall Jenner and Hailey Baldwin. This particular scarf retails at a staggering $4000. Rihanna paired it with $1,745 Vetements sock boots and Rihanna for Dior shades. Take notes, kids. This is how it's done.
1

WHEN TYGA LOVED FENDI A LITTLE TOO MUCH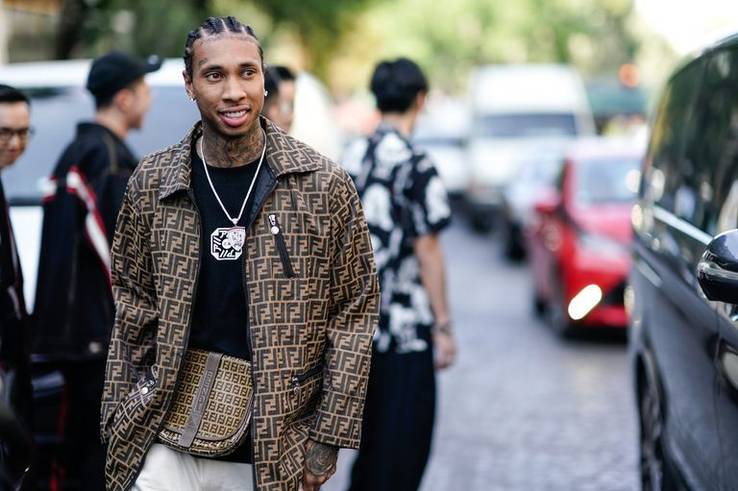 There's a lot to love with Fendi, but you've got to get it right. The "New Arrivals" section of Fendi's website is overloaded with the iconic monogram. While you can layer on the looks to be a giant walking Fendi, you might want to think twice before doing it. Tyga did it here at the 2018 Fendi Show in Paris, and it wasn't the best look. The rapper was definitely showing brand loyalty here, but the jacket alone would have been enough.
Hit share on Facebook for anyone you know who lives for these brands (or these people). Ariana has done really well here. Gucci Mane… less so. Leave us a comment with your opinions. We always read them.
Source: Read Full Article